Other Cricket Homepages in Japan:

(English)

Japan Cricket Association
Bangladesh Tigers C.C.(Tokyo)
British Embassy C.C.
Doshisha University C.C. (Kyoto)
Ezo C.C. (Hokkaido)
Gunma University C.C.
HIBA (Sapporo) C.C.
Hiroshima International C.C.
Ichihra C.C.
Indian Engineers C.C. (Tokyo)
K. C. A. (Kanto)
Kobe Regatta & Athletics Club
Lalazar Sports C.C. (Sendai)
Matsuyama C.C. (Shikoku)
(also in Japanese)
Nagasaki C.C. (Kyushu)
Osaka C.C.
Saga Cricket Club (Kyushu)
Shizuoka Kytes C.C.
Tokyo Bay Districts C.C.
Yokohama C. & A. C.
Tokyo Wombats C.C.

------

Sakhalin C.C. (Russia/E-mail only)
JAPAN UNIVERSITIES NATIONAL SQUAD

As of 2004, a Coaching Programme has been initiated to establish a National Universities Squad!
Click here for complete information!

-----

Latest:
-Shizuoka Kytes C.C. 20th Anniversary series: -
Kytes beat British Embassy in thriller
-2 members of the Japan National Squad chosen to play vs. New Zealand!
-Shizuoka Kytes C.C. 20th Anniversary series:
Kytes C.C. beat new club Golden Sachs C.C.
-Japanese teams doing well in Hong Kong 6's, especially the ladies and Ema Kuribayashi (Wyverns C.C.)!
-Kanto Cricket league Final: Tokyo Giants won record fourth consecutive Final with emphatic win over Yokohama C. & A.C.:
Click on pic for larger details!
Read all the current cricket news in Japan here!
Talk to us at:

CRICKET GROUNDS OF THE WORLD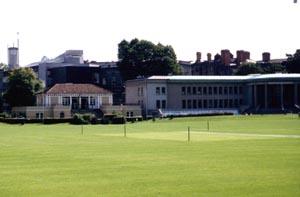 Trinity College C.C., Dublin, Ireland. 26/09/2000
---


---

Hampshire CCC Expats Page
---
WEATHER FORECAST
(For Cricket players)