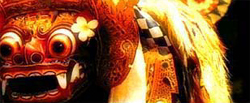 BALI FOR YOU
(A Must! by Lisa Zimmerman)
http://www.baliforyou.com/bali/
-----
CHANGGU
HOTEL TUGU
Address: Pantai, Batu Molong, Changgu, Bali
Tel.: (62)(361)731701
Fax: (62)(361)731704
Near Kuta, far from the tourists, a rich Javanese antiques collector has constructed a lavish temple to luxury.
Private pools. massages. Sea shore.
UBUD
HOTEL ALAM JIWA
Address: Nyuhkuning Village, Ubud, Bali.
Tel. & Fax: (62)(361)977463
Near Ubud, with a dozen magnificient suites.
View over the rice fields.