ASUNCION

PORTA WESTFALICA APAR-T-OTEL
Owner: Mr. Friedhelm Angersbach
Address: Dr. Camacho Duré 555 c/Cañete, (Stma. Trinidad), C.C. 13061, PY- 1749 Asunción
Tel: (00595-21) 298 906
Fax: (00595-21) 293 855
Celular: 0971-208 572
http://www.paraguay-aparthotels.com
E-Mail: Paraguay@web.de
Business travellers or private visitors, looking for a very special personal atmosphere will enjoy the elegantly furnished Apartments. After a hard days work or outings to places of interest in the surroundings one will find plenty of possibilities to relax an the outdoor pool. Elegance and cosiness will make you feel at home.
Thanks to its tasteful family flats the family Aparthotel Porta Westfalica is the right place for parents and children.
In short distance from the hotel resorts.Situated just between the International Airport " Silvio Petirossi", down town and exibition fields - very close to the most exciting and modern Shopping Centers (Malls) of Paraguay, the International Tenis-Club and Golf Course, Bowling, Bingo and Paraguay Beach-Park, Recreation Park Ñu Guazú for jogging, sports, body-building,the private Aero-Park with possibilities of parachuting and the Botanic Garden with a small Zoo.
International Restaurants with German, Italian, French, Chilean, Chinese, Japanese Paraguayan and Brazilean cuisine.

HOTEL SELVA NEGRA
http://www.paraguay-hotels.com/selvanegra/

HOTEL WESTFALENHAUS

Owner: Mr. Friedhelm Angersbach
Address: C.d.C. 13061, PY-1749 Asunción
Tel: (00595-21) 292 374
Fax: (00595-21) 291 241
http://www.paraguay-hotel.com/
E-Mail: westfalenhaus@pla.net.py
The Hotel Westfalenhaus is in a quiet but central location of Asunción and should be your starter point for all the adventure and city trips as well as recreational activities. A big modern Fitness Center is just around the corner.We have a MEDICAL emergency system.
A beautiful swimming pool with shady terrasses and garden-bar, conference-rooms, restaurant, nice yards and parking space.
Fax, internet, mobile-phone service, e-mail, international direct phone access available.
The Zoo, the reservation of the Maká-Indian tribe, the EXPO circuit and much more are just minutes away by car or city-bus.
They love to organize trips for you into the country, ranches, and the majestic Yguazú Falls...

ITAPUA

HOTEL PAPILLON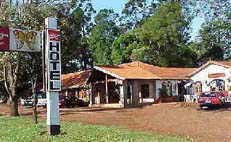 Address: Bella Vista,Ruta VI Km. 45 - Itapua
Tel.:595-767-235/280
Fax.:(0767) 298
http://www.paraguay-hotels.com/papillon/
E-Mail: papillon@itacom.com.py
A special place to be at , in a beautifull environment South of Paraguay. They offer at the moment 28 comfortable rooms with phone, A/C,cable TV and privat bath .
A friendly team is at your service almost 24 hours a day . Swimming pool. Country style restaurant has a great variety of dishes, from German and Paraguayan specialities up to their giant mixed grill.
On Saturday night guest can enjoy Paraguayan music.
The Jesuit ruins , Parana river and the National Park of San Rafael nearby.