KYOTO (HYOGO KEN)

HANA KAREN
(Japanese)
Address: 604 Kyoto Shi, Chuukyo Ku, Kawara Machi, San Jyo Kudaru, Ajibiru Lawara Machi Bldg, 2F
Tel.: 075-2231431
Opening hours: 11:30~23:00
An interesting and practical restaurant especially for lunch on between two cisits.
Single menu (7disjes) Japanese-style + all the sushi you can eat (But only at the end of the course), the whole for Yen 3,000. Staff take the pains to explain every dish although the atmosphere is easy-going. Can be crowded at times.
Credit Cards OK.

IPPINKO
(Chinese)
Address: 604 Kyoto Shi, Chyuukyo Ku, Ponto Cho, Shi Jyo Agaru, 20 Banrouchi
Tel.: 075-2112493
Opening hours: 17:00~22:30
Closed on Thursdays.
Located in a dead-end street, the better kind of Chinese restaurant. Not cheap but the quality warrants the prices. Chinese Chef prepares succulent Shanghai cuisine. My favourites: Shrimp "Shuumai", Chinese Seafood Salad, Shrimps & Egg in Chili Sauce,
Boiled Dumplings ("Sui Gyooza"), etc. Check the "Specials" of the Day. Guiness available.
Credit Cards OK.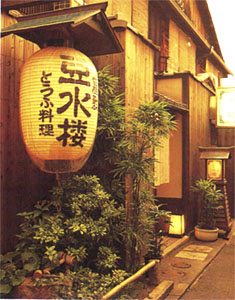 TOUSUIRO
(Japanese)
Address: 604-8001 Kyoto Shi, Chyuukyo Ku, Kinoya-machi Doori, San-Jyou Agaru, Kani Osaka Machi, 517-3
Rel.: 075-2511600
Opening hours: 11:30=13:30, 17:00~21:30, 12:00~20:30 0n Sundays & National Holidays).
Closed Mondays.
Reservayions advisable in season.
Located along the so-famous Kamogawa River (although accessible through the back alley only), this is the place to taste Yuu-Doofu (Soft White Bean Curd), the speciality of Kyoto.
I would advise you to choose one of the 3 courses (Yen 3,500. 5,000 & 6,000) to fully apprexiate Kyoto cuisine although dishes can be ordered individually gor very small appetites.
Crdit Cards OK.

YONEMURA
(French-Japanese)
Address: 604-Kyoto Shi, Kinoya Machi, Ni Jyo, Kita Gawa
Tel.: 075-2569222
Fax: 075-2569223
RESERVATIONS ONLY! (Ask for directions on the phone, too)
Opening hours12:00~14:00, 17:00~21:00
Closed on Tuesdays and girst Wednesday. Irregular holidays in summer, please check beforehand.
3 courses for lunch.
One single course for dinner (Yen 9,500).
THE BEST FRENCH RESTAURANT IN KYOTO!!! (I'm not even willing to check other claims!)
Mr. Yonemura who I jokingly compared to a Japanese Jean-Paul Gaultier prefers to avoid classifying his cuisine as Japanese or French and I afree with it will decide the composition of the course on the day he goes shopping for the best products & produce avalaible. The entrance in modern Japanese style opens on a somewhat different but charming dining room with a long counter sitting a maximum of 20 guests looked after by no less than 7 staff in all kinds of garb, all extremely professional nit not as aloof as you would think. At least they understand why you do not want to refill your glass until you have finished (few people seem to understand why!).
The food is well... try it and you will ubderstand why I am happy to pay the hefty bill! Take somebody very special will make it even more an unforgettable experience!
What did we have last time we went there (5th of January 2000)? We must have tasted 10 dishes altogether: Tuna Tartare, Raw Sole & Caviar with olive oil & fresh cream, Lobster & Taro Root Gratin, Lime perfumed Spaghetti, Beef Prime with Mustard & Garlic Puree, Pear & Orange Compote, French Cheese, Tea Creme Brulee and Caramel Ice-Cream and what else...? We chose a full bottle of 1997 Gevrey-Chambertin (They readily accepted to decant it!). The bill?: Yen 38,000 for the two of us, and I do not regret it a single second! (I'm definitely going back there all the way from Shizuoka!)
Credit cards OK.