FUKUOKA (Fukuoka Prefecture/Kyushu Island)

HAKATA NO ODEN

(The "Mistery" Oden Yatai)

Address: Fukuoka City, Nakasu, 2 Chome (which street, I don't have a clue, but look around, there is only one of its kind!)
This family has looked after this minuscule Yatai (Foodstand) for 4 generations and ahve always served "Oden", a typical Japanese delicacy difficuolt to describe you can find all over the country in different forms. I called it the "Mistery" oden yatai because during my sole trip (circa December 2001) in Fukuoka, I discovered it by pure luck (and I was still sober!), but it seems to be well-known as customers filed until late at night for take-outs!
Try and find it and tell me what you think of it!

IPPUDO DAIMYO HONTEN

(Ramen)

Address: Fukuoka City, Chuo Ku, Daimyo, 1-13-14
Tel.: (81)92-7710880
Opening hours: 11:00~late at night
Closed not established yet!
http://www.ippudo.com/
Ramen or Chinese noodles in soup have long been an institution in Kyushu and fukuoka City in particular. Its most famous exponent is probably the Ippudo Restaurants Chain founded in 1985.It even has restaurants in Tokyo and Yokohama and Osaka!
This palcewas the last to be inaugurated on October 16th, 2001 and is considered as the best.
Very simple formulamenu, reasonable price and above all great quality!
Always long queues to take, but it's worth it!
My favourite is "Shiromaru moto-Aji"!

KITAMAE YABURI TAKADA YA

(Izakaya)

Address: Fukuoka City, Hakata Ku, Nakasu, 2-2-7, Shi Nakasu Bldg., 1F
Tel.: (81)92-2635400
Open:18:00~late at night
Opened in may 2001, it is one more Japanese-style "Izakaya" restaurant, part of a successful chain of very well-conceived diners.
very warm and young staff showing more expertise than their age would indicate.
very good products at a reasonable price. Some rarities as raw whalemeat (first picture with raw octopus).
The sake portions are extremely generous! Beer, wine and others available.
The place is constantly crowded so reserve unless you wish to wait at least 30 minutes.
Cards OK.

KITA NO SAKANA

(New Japanese)

Address: Fukuoka City, Chuo Ku, Daimyo, 1-9-11, Arita Tenpo Bldg., 1f
Tel.: (81)92-7142033
It took quite some time to find the place (luckily, we knew the phone number!), but it was definitely worth it!
An exponent of the more and more popular "New Japanese Cuisine" with great products, natural ingredients, great freshness, a very modern but traditional decor, young staff and great sake!
You can either sit at the counter (if you are lucky!) and look at the food being cooked or at a table. Take your shoes off and glide on the wooden parquet!
Very warm welcome and staff always ready to answer your questions!

SANUKI UDON (Japanese Noodles Shikoku-style)

Address: Fukuoka City, Chuo Ku, Daimyo, 1-12-3
Tel.: (81)92-7140994
Opening hours: 11:00~21:00
Closed on Sundays & first 3 days of the year.
One of those unremarkable and unremarked places you discover through sheer luck, just to find that once you passed the door, the restaurant is crowded with locals a sure sign of the good quality of the food served there.
Three people are working hard at making generous (430~600 yen) udon of all styles, all in the manner prevalent in the Shikoku Island, a true Japanese taste.
Definitely the lunch place you'd like to introduce and keep secret at the same time!

YATAI (Food Stands)

"Yatai" or traditional Japanese food stands are the oldest form of eateries in this country and a permanent feature in Fukuoka City in spite of rampant modernism.
Each has its own particuliar or peculiar specialties from "oden", "tempura" to Fried food" served with local "sake" or "Shochu" ( a very potent drink from satsuma potaoes). You have to see and taste for yourself!
My favourite are located along the river near Nakasu District but locals might defer on that!

.

HAKODATE (Hokkaido)

GOTOKEN (European-style curry)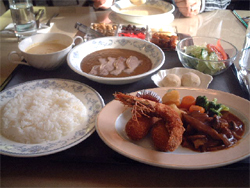 Address: 049-0101 Hakodate Shi, Isobe, Kami Isobe cho, Oobun, 3-2-19
Tel.: (81)138-498866
Fax: (81)138-497575
http://www.gotoken.hakodate.jp/
Opening hours: 09:00~17:30. Closed on Sundays. Lunch and Cafe only.
A very interesting address for hungry foreigners who want plenty for their money. Check the 2,2200 and 2,400 yen sets! The curry is not too hot, and European taste-oriented!
Cards OK

KIHARA Sushi)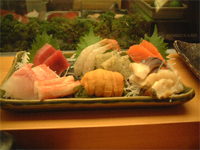 Address: Hakodate Shi, Yukawa, 2-1-2 (Yu no Kawa Hotsprings)
Tel.: (81)138-578825
Opening hours: 11:3~23:00
Closed on Wednesdays
http://www.hakonavi.ne.jp/kihara/
The best sushi restaurant in Hakodate, in my own biased way, it opened in 1995 and moved to the present address in 1999.
Very warm welcome. The chefs are always ready to explain their fares in the minutest way to all customers, whoever they happened to be.
Fisrt-class quality ingredients in a city renown for its marine produce. May unusual items according to season. Always ask the best way to savour the fish, either in sashimi or sushi!
A great list of no less than 52 "sake", even including a Shizuoka brand!
Reservations advised.
Cards OK!

KURASHIKI (Okayama Prefecture)

GIN ZUSHI (Sushi)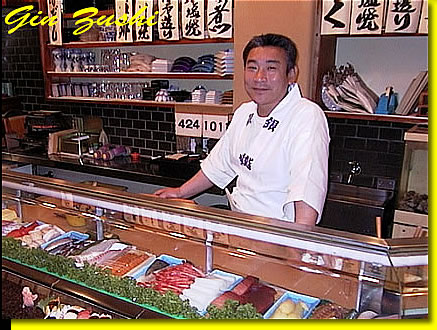 Address: Kurashiki Shi, Achi, 3-3-10
Tel.: 086-4241011
Opening hours: 18:30~01:00. Closed on Sundays & National Holidays.
In Chad Edwards' words:
Being from Boston and Los Angeles and having travelled extensively, I know the difference between real sushi and the American California Roll (you won't find it here).
But, what you will find is authentic sushi by a master who studied the art for fifteen years in Osaka before opening his own shop there in his hometown of Kurashiki in 1986. After 4 years in Japan, I haven't tasted anything close to the freshness or quality of Gin Zushi.
There aren't any English menus or prices. The master speaks very little English. just pointand chose what what you'd like to try. However, keep in mind that Gin Zushi, though best sushi in Kurashiki (and in my experience, the best in all Japan) is also one of the most expensive. Expect to eat and drink moderately and 5,000 yen ($45 US) per person...
To know more, have a look at Chad's page, it's really worth it!
http://www.ginzushi.com/

HIGASHIDA

Address: Okayama Ken, Kurashiki Shi, Achi, 2-2-18
Tel.: 086-4272248
Opening hours: 18:00~23:00
Closed Sundays
Don't mind the relative coldness of the staff, you will able to savour first class sushi as well as traditional Japanese food, especially seafood harmonised with products of the nearby mountains for which this area is famous. A bit pricey, though but definitely worth the experience. Beautiful old traditional Japanese interior.

CHOOYA

Address: Okayama Ken. Kurashiki Shi, Achi, 2-8-10
Tel.: 086-4254159
Opening hours: 18:00~23:00
Closed Sundays
Interesting mixture of traditional and modern decor for this "Nomiya"-style traditional Japanese bar-restaurant. Remarkable for its simple but inventive food. Master a great character and pleasant staff.

YAE

Address: Okayama Ken, Kurashiki Shi, Hon-cho, Kurabo Kinen Doori
Tel.: 086-4221626
Opening hours: 18:00~23:00
Closed Sundays
A very traditional Japanese Japanese restaurant patronised by the locals (definitely a good sign!). Very good fish in all kinds of manners. Ask for advice to the master, a very friendly and talkative chap in the old mould. Some great local sake too!

KYOTO

EDOKYO
(Sushi)
Chef: Mr. Jun Murakami
Address: 605-0009 Kyoto Shi, Higashiyama-Ku, San-Jyo Ohashi, Higashi Hairu, Kohu-Kaikan Blfg., B1F
Tel.: 075-7625355
Opening hours: 12:00~23:00
http://www.edokyo.com/
taisho@edokyo.com
The chef, Mr. Jun Murakami opened his second reaturant of same name in September 2000. The interor decoration itself is worth the visit: very modern in material byt very traditional in the details: flagstones everywhere, wood, enormous wall calligraphy, all in predominant beige to brown colours.
Edomae style sushi. Ingredients relevant to season. Great quality. Slightly expensive.
Cards OK.
| | | | |
| --- | --- | --- | --- |
| Amaebi (sweet Shrimp) | Anago (Conger Eel) | Tamago (Japanese Omelette) | Maguro Zuke (Marinated Tuna) |
HANA KAREN

(Japanese)
Address: 604 Kyoto Shi, Nakagyo Ku, Kawara Machi, San Jyo Kudaru, Ajibiru Lawara Machi Bldg, 2F
Tel.: 075-2231431
Opening hours: 11:30~23:00
An interesting and practical restaurant especially for lunch on between two visits.
Single menu (7 dishes) Japanese-style + all the sushi you can eat (But only at the end of the course), the whole for Yen 3,000. Staff take the pains to explain every dish although the atmosphere is easy-going. Can be crowded at times.
Credit Cards OK.

THE HILL OF TARA (Irish Pub)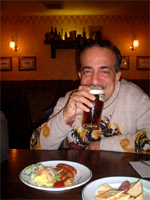 Chef: Mr. Tagd McLoughlin
Adress: 640-0924 Kyoto, Nakagyo Ku, Oike Dori, Kawaramachi-Higashiiru, Millennium Bldg, 1F & 2F (just after the kyoto Hotel Okura)
Tel.: (81)752133330
Opening hours: Sunday~Thursday: 17:00~24:00. Friday~Saturday: 17:00~25:00
http://www.thehilloftara.com/
On two floors, near the Kamo River, The Hill of Tara is a very warm and welcoming bar, especially on the second floor!
Tagd Mcloughlin prepares true irish fare and the food comes quick on your table!
Very reasonable prices, all c.o.d, pay as you order, with no cover charge or other hassles so typical of this touristic city!
Draught Guinness and Kilkenny Yen 800.
Irish Whiskey and other Spirits Yen 600.
Traditional Irish stew (1,500 yen), beef and Guinness (1,500 yen), Irish Steak, Kilkenny Fish & Chips (1,200 yen), Donky Ford's Fish and Chips, Seafood Chowder (600 yen) and so on.
Definitely high on the scale of irish pubs in Japan!

INODA COFFEE HONTEN

(Cafe/Coffee/Breakfast)

Address: Kyoto Shi, Nakagyo Ku, Sakai Machi, Doori Sagaru, Nishigawa
tel.: 075-2210507
Opening hours: 07:00~23:00, Breakfast until 17:45
Probably the most famous and best coffee bar in town. Sometimes completely full in spite of its size (205 seats). Coffee roasted on site. Excellent breakfast, enough to satisfy an American appetite!
Recommended breakfast set: Fried Shrimps and Roll bread Set, 700 yen

IPPINKO

(Chinese)

Address: 604 Kyoto Shi, Nakagyo Ku, Ponto Cho, Shi Jyo Agaru, 20 Banrouchi
Tel.: 075-2112493
Opening hours: 17:00~22:30
Closed on Thursdays.
Located in a dead-end street, the better kind of Chinese restaurant. Not cheap but the quality warrants the prices. Chinese Chef prepares succulent Shanghai cuisine. My favourites: Shrimp "Shuumai", Chinese Seafood Salad, Shrimps & Egg in Chili Sauce,
Boiled Dumplings ("Sui Gyooza"), etc. Check the "Specials" of the Day. Guiness available.
Credit Cards OK.

KUSHIKURA

(Japanese brochettes)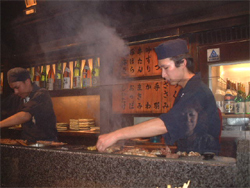 Address: 604-0826 Kyoto Shi, Nakagyo Ku, Takakura Doori, Oike Agaru (just at the corner of Ooike Street and Takakura Street)
Tel.: 075-2132211
http://www.fukunaga-tf.com/kushikura/index.html (Japanese, but look at the pictures!)
Opening hours: 11:30~14:00 (only on weekdays); 17:00~23:00
Owned by a 100 year-old gentleman still alive in 2003, this "machiya" (old traditional Japanses house) was rented to the restaurant owner in 1995.
A typical Kyoto restaurant specializing in "kushiyaki" and "yakitori" brochettes. Very tasty and reasonable. Tends to be very crowded, so reserve in advance, especially if you want to sit at the counter to see the chefs battling over the grills!
Menus at 2,500, 3,300 and 3,800 yen. A lacarte menu. Very good sakes!
Very warm welcome! A must for foreigners!
Cards OK

PASCAL PEIGNAUD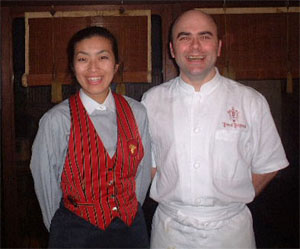 (French)
Address: 604-0013 Kyoto Fu, Nakagyo Ku, Shinmachi Doori, Ebisugawa Sagaru, Nijoshincho, 702
Tel. + Fax: 075-2119776
E-mail: pascal-p@mbox.kyoto-inet.or.jp
Opening hours: 11:30~14:00, 17:00~20:30
Closed on Sundays and Winter Holidays
Definitely the most authentic French cuisine in Kyoto. Pascal Peignaud and his sommelier-wife Megumi originally opened their restaurant in 1998 before moving to a grand old traditional Kyoto house ("Machiya") in August 2002 with a striking interior all wood and antiques. The house itself is worth the visit!
Seasonal cuisine making use of local produce in uncompromising and exacting way with a particular accent on natural tastes. Pascal is justly proud of his skills and art and has opened a large window to his kitchen for all to see!
Remarkable game in autumn/winter. Good wine list taken care by his charming sommelier wife. Set dinner at 4,800, 6,000 and 8,000 yen. Lunch set at 2,800 yen (combination of 2 dishes) is a bargain!. But try the carte! By all means, ask megumi for her advice and recommendations on wine!
Reasonable to slightly expensive, but very good value!
No mobile phones! Reservations advisable.
Cards OK.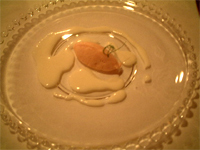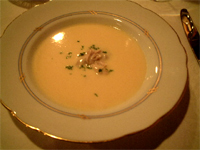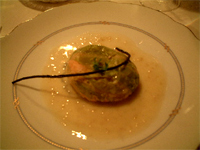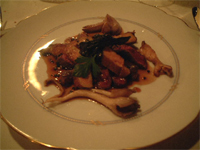 ROKUSEI (Japanese traditional/Kaiseki)

Address: Kyoto Shi, Sagyo Ku, Okazaki, Nishi Tenno Machi, 71
Tel.: 075-7516171
http://www.rokusei.co.jp/
Travelers make a point to visit this traditional restaurant for lunch (very expensive at other times!), especially the "Te Oke bento" boxed lunch for 3,000 yen!
Cards OK

SAISEKI CHIMOTO

(traditional Japanese)

Address: Kyoto Fu, Nishihaki Doori, Shi-jyo, Kudaru
Tel.: 075-3511846
Opening hours: 111:30~15:00, 17:00~21:30
Lunch: 2,500, 4,000, 7,000, 10,000 yen
Dinner: 10,000, 14,000, 18,000 yen
Very traditional Japanese restaurant. Actually "second restaurant" of same name opened in 1993. The original restaurant nearby gas been serving customers for the last 350 years!
A bar counter can sit 10 guests on the ground floor. Upstairs can sit 20 more at tables.
We chose the 4,000 yen lunch on 28/12/2000: Look at pictures (coming soon! Rice abd dessert not shown)
Great quality. Consequent prices.
Cards OK.

TAGOTO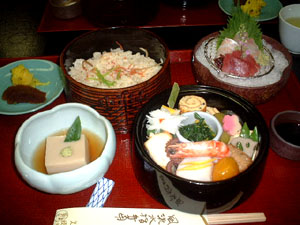 (Traditional Japanese/Bento-style)
Address: Kyoto Fu, Shimogyo-ku, Shijyo Doori, Kawara-Machi, Nishi Hairu, Goryo Cho
Tel.: 075-2211811
Fax: 075-2210810
Opening hours: Lunch & dinner (Check on the phone!)
http://www.kyoto-shijo.or.jp/tagoto/
http://www.rakuten.co.jp/tagoto/
http://www.kyoto-wel.com/shop/S81016/index.html
Probably the best way to learn what "bento" (lunch or dinner box) means! Moreocer since it is done in the Kyoto style, a lot of attention is brought in the presentation!
12 kinds: 1,500~6,000 yen
Cards OK.

TOUSUIRO

(Japanese)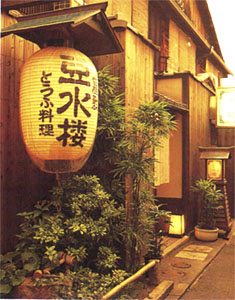 Address: 604-8001 Kyoto Fu, Nakagyo Ku, Kinoya-machi Doori, San-Jyou Agaru, Kani Osaka Machi, 517-3
Rel.: 075-2511600
Opening hours: 11:30~13:30, 17:00~21:30, 12:00~20:30 0n Sundays & National Holidays).
Closed Mondays.
Reservayions advisable in season.
Located along the so-famous Kamogawa River (although accessible through the back alley only), this is the place to taste Yuu-Doofu (Soft White Bean Curd), the speciality of Kyoto.
I would advise you to choose one of the 3 courses (Yen 3,500. 5,000 & 6,000) to fully apprexiate Kyoto cuisine although dishes can be ordered individually gor very small appetites.
Crdit Cards OK.

YAMASHITA

(Japanese)

Address: Kyoto Fu, Nakagyo, Kiyamachi Doori, Oike Agaru
Tel.: 075-2564506
Fax: 075-2555445
Owber/Chef: Shigeru Yamashita
Opening hours: 11:00~14:00, 16:00~22:00
Closed on Sundays.
Traditional "Itamae Kappo" style restaurant opened in 1985.
All food is prepared in front of customers, hence the name meaning "Japanese style Cooking on a Cutting Board".
Sits 15 guests at the counter. Also caters for parties in two small rooms.
Recently appeared in a big article in the Japanese magazine, "Senmon Ryoori, March 2001 Edition".
Chef's course: from 8,000 yen
Chef's lunch: from 3,000 yen
A true Japanese traditional cuisine experience!
(Courtesy of Etsuko Tomii)

YONEMURA

(French-Japanese)

Address : Kyoto Fu, Higashiyama-Ku, Yasaka, Toriimae, Sagaru, Shimokawara Doori Nishigawa, Kiyoichou, 481-1
Tel.: 075-5336699
RESERVATIONS ONLY! (Ask for directions on the phone, too)
Opening hours12:00~14:00, 17:00~21:00
Closed on Tuesdays and gfrst Wednesday. Irregular holidays in summer, please check beforehand.
3 courses for lunch.
One single course for dinner (Yen 10,000).
Mr. Yonemura, who I jokingly compared to a Japanese Jean-Paul Gaultier, prefers to avoid classifying his cuisine as Japanese or French and I agree with it! He will decide the composition of the course on the day he goes shopping for the best products & produce avalaible. Mr Yonemura recently moved to a new location, inside a typical Kyoto traditional-style abode. It sits more people than before but is probably cosier. The customers are being looked after by a varied and talented brigade, all extremely professional, not as aloof as you would think. At least they understand why you do not want to refill your glass until you have finished it (few people seem to understand why!).
The food is, well..., try it and you will understand why I am happy to pay the hefty bill! Taking somebody very special will make it an even more unforgettable experience!
What did we have last time we went there? We must have tasted 10 dishes altogether: Tuna Tartare, Raw Sole & Caviar with olive oil & fresh cream, Lobster & Taro Root Gratin, Lime perfumed Spaghetti, Beef Prime with Mustard & Garlic Puree, Pear & Orange Compote, French Cheese, Tea Creme Brulee and Caramel Ice-Cream and what else...? We chose a full bottle of 1997 Gevrey-Chambertin (They readily accepted to decant it!). The bill?: Yen 38,000 for the two of us, and I do not regret it a single second! (I'm definitely going back there all the way from Shizuoka!)

VANTAN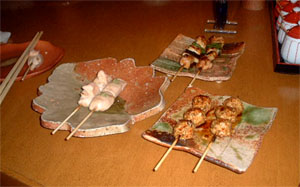 (Japanese Yakitori)
Address: 604 Kyoto Fu, Nakagyo-Ku, Nijyo Doori, Kawara-Machi, Nishi hairu, Vantan Bldg. 2F
Tel.: 075-2119170
Fax: 075-2410240
Opening hours: 12:00~13:00, 17:30~22:00. Closed on Mondays.
Reservations possible in evenings.
Discovered by pure chance on 29th December 2000 (although I found it later much present in local press!), it must be both one of the best and more trendy yakitori in Kyoto! Very warm welcome and attentive service even if busy. Very tasty and reasonably-priced menu. A very good bet for foreigners!
Absolutely great list of sake and syoushu!
Cards OK.

ODAWARA (KANAGAWA KEN)

LA NAPOULE

(French)

Chef: Mr. Yoshihiro Narisawa
Address: 250-0021 Kanagawa ken, Odawara Shi, Hayakawa, 1-11-6 (10 minures by taxi from Odawara JR Station or 3 minutes walk from Hayakawa JR Station)
Tel. & Fax: 0465-232572
First class French restaurant with consewuent prices, but worth the experience. Seasonal menu. Located in front of marina. Trserve table and check opening hours on phonefirst.
(Courtesy of Mrs. Chieko Yamada)

OTARU (HOKKAIDO Island)

OTARU SOOKO No1 (German style)

Address: Hokkaido Ken, Otaru Shi, Minato-Machi, 5-4 (Along the Otaru Canal)
Tel.: (81)134212323
http://www.otarusooko-no1.com/
Enormous Beer Hall opened in 1997 inside a former hangar. Brews its own beers on site.
Pilsener, Dunkel (dark), Weiss (white) and seasonal beers. Available in 300, 500ml glasses (450~500, 680 yen) and 1,000 ml pitcher (1,360 yen)
Very reasonable and tasty beers.
All kinds of food and snacks. Sausages and Ethnic crab recommended!

OTARU ASAHI SUSHI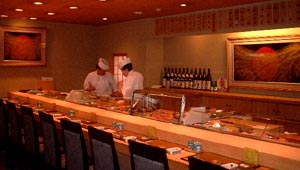 Address: Otaru Shi, ironai, 1-12-5, (Otaru Sushi Doori)
tel.: 0134-290625
Fax: 0134-290955
Opening hours: 10:30~22:00
http://www.asahizushi.co.jp/
A fairly honest sushi in a city reknown for this type of establishment. large quantities using local fish only as owner has a special license for direct purchase from fishermen. seaweed slightly thicker than in Tokyo/Tokai area.
"Tensho O Susume" (Chef's choice): 4,500 yen
For ladies, "Asahi Nigiri" set for 3,000 yen is probably enough.
"Hokkai Chirashi" is also a good bet at 2,000 yen.
| | | |
| --- | --- | --- |
| Tensho O Susume | Asahi Nigiri | Crab Shuumai |
SUSHI RYUU

Chef: Mr. Ryuuji Takayama
Address: Hokkaido Ken, Otaru Shi, Chikko, 11-5, Mycal Otaru, 5 bankai (Inside Mycal Mart by Otaru Chikko JR Station)
Tel.: (81)134215566
Opening hours: 17:00~22:00
Large sushi bar/restaurant located inside the Mycal Mart Hall by the harbour of Otaru.
Get down at Otaru Chikko JR Station and a few minutes diredt walk access.
Good quality live fish available and changing with seasons. Sashimi of excellent quality.
The sets are a good buy.
Warm welcome.
Dinner set around Yen 4,500
Cards OK
To visit if you stay at the Hilton Hotel!

UMI NEKO YA (Cafe-Restaurant)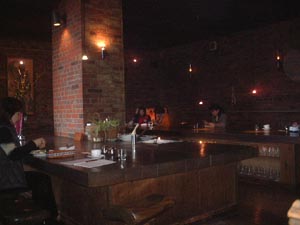 Owner: Mr. Makoto Masuyama
Address: 047-0031 Otaru Shi, Ironai, 2-2-14, hokkaido.
Tel.: 0134-322914
Fax: 0134-239889
inside an ancient depot building erected in 1904. On the ground floor, a tall counter (apparently for dinner only), upstairs a very large room where you can idifferently enjoy a meal, a drink, or a coffe (with cakes9.
All wood and red bricks, paintings and sketches of great quality everywhere. I did not take any food when I visited on mach 28th, 2001, but the food definitely looked tasty! At least the customers seemed to enjoy themselves! Wines available. Very popular with local media.
A particular good place to visit for a rest, a chat, a book or writing and of course for a meal. pick your reason!

YAMATOYA

Adress: Hokkaido Ken, Otaru Shi, hanazono, 1-1-2(10 minutes from Otaru Station along "Sushi Street")
Tel.: (18)134226511
Fax: (81)134340702
http://homepage2.nifty.com/otaru-yamatoya/
Opening hours: 11:00~22:00. Closed every third Wednesday.
Has one more shop in Otaru and Sapporo.
good standard sushi restaurant in street famous for its innumerable sushi restaurants.
Warm welcome.
The "Donburi Sushi" (Bowl of rice topedd with all kinds of raw seafood) is their specialty: Yen 1,500~2,500
Raw King Crab: Yen 1,200
Cards OK

SAPPORO (HOKKAIDO)

AJI NO SAN-PEI (Ramen)

Address: Sapporo Shi, Chuo Ku, Minami, 1, nishi, 3, Daimaru fujii Central Bldg, 4F.
Tel.: 011-2310377
Opening hours: 11:00~18:30
Closed on Mondays and 2nd Tuesday.
This is where the "Miso Ramen" (Fermented soybean paste ramen) were invented and first served in Japan. from the basic ramen in 4 different tastes to "Wantan" and "Shuumai". Possibility of buying take-away shop-made ramen with their soup.
Advice: eat as quickly as possible as a long queue is always waiting!

AZUMA SUSHI (Sushi)

Address: Sapporo Shi, Chuo Ku, Minami, 4, Nishi, 3, Miyako Doori
Tel.: 010-2617161~3
Opening hours: 11:00~24:00
Closed on Mondays & 3rd Tuesday.
http://www.azumazushi.com/
Definitely the best Sushi in town and still reasonable for the quality! For the first time in my I appreciated "ikura" (salmon roe), "tobiko no ko" (flying fish roe) and "uni" (urchin). No fishy smell there! Don't ask for boiled prawns! In Sapporo they serve only succulent raw "botan ebi" ( akind of sweet large prawn). An experience!
Credit cards OK.
Botan Ebi no Atama no Naka

(Botan Shrimp Head Insides)

Soi

(Kind of Seabream)

Tobiko no ko

(Flying fish Roe)
KIRIN BEER EN HOKKAIDO (Grill)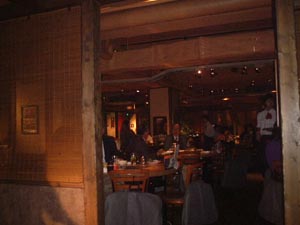 Address: 060-0001 Sapporo Shi, Chuo Ku, Minami, Jyu Jo, Nishi, 1-1-60
Tel.: 011-5333000
Opening hours: 11:30~22:00
http://www.kirinbeer-en.co.jp/
"Genghis Khan" All You Can Eat: 2,000 yen (+100 yen tax), All You Can Drink, 1,300 yen (100-minute time limit for both!) (half price for elementary school pupils).
Good value when you consider the amount of meat (lamb) you can eat!

RAI RAI KEN (Ramen)
Address: Sapporo Shi, Chuo Ku, Minami, Go Jo, nishi, 3 chome, Ramen Yokocho.
tel.: 011-5182422
opening hours: 11:00~03:00
very unassuming ramen restaurant, but certainly a favourite with the locals, professional baseball players and celebrities.
My favourite: "Kani ramen, shyo aji" )crab ramen, salt taste), 1,500 yen.
Ramen: 700~1,500 yen.
possibility to buy homemade ramen (400 yen for a portion of 2). These can be sent to your home as well!
Typical of sapporo. Since it is a meal in itself, I would advise everybody, expats included, to at least visit it to have a true impression of "Sapporo ramen"!

TOKYO

Tokyo Food Page

Visit this page before going to Tokyo!

DAIKOKUYA

Address: 1-38-10, Asakusa, Tojyo.
Tel.: (8193-38441111
"Tendon" specialities, ( "Tempura" and rice with soy sauce).


DAIWA SUSHI

Address: Chuo Ku, Tsukiji, 5-2-1, Tokyo
Tel.: (81)3-35476607/8
Opening hours: 05:30~13:30
Closed on Sundays, National Holidays and second Wednesdays.
Located inside the very famous Tokyo tsukiji Market Centre.
Geat quality fish at reasonable prices. You go there to eat, not to drink as it is only open in the morning!
(Courtesy of Hoshio Mimuro)

NAMIKIYABU

Address: 2-11-9, Kaminarimon, Asakusa, Tokyo.
Tel.: (81)3-38411340
Soba, (noodles made from buckwheat flour).


KOMATA-DOOJO

Address: 1-7-12, Komagata, Asakusa, Tokyo.
Tel.: (81)3-384242001
One of the oldest restaurants in Asakusa. Taste the Small Eel Pot ("Dojoo nabe").


SHOZAN

Address: Venus Fort Palettetown, 1-chome, Aomi, Koto-ku, Tokyo.
Tel.: (81)3-355992261
Decorated in a shade of rising sun red, the ultra-chic Shozan dining room holds many a treat in store, such as soft-boiled eggs in Hokkaido urchin and caviar cream sauce, Dublin Bay prawns en papillote with tofu yuba and shellfish broth.
The groundfloor cafe offers a full array of delicate pastries.

T.V. HARBOR BREWERY

Address: Shinagawa Ku, Higashi Shinagawa, 12-1-3, Tokyo.
Tel.: (81)3-54794555
Opening hours: 17:00~21:30 (Bar until 22:30)
Closed on Mondays and National Holidays.
Credit cards OK.
Opened in April 1997. Also serves Californian style food and beer cocktails. Terrace open June through September.
Order beer tasting set for 900 yen of 4 glasses, including Coffee Stout and Wheat Ale!

YAMANASHI-KEN (Yamanshi Prefecture)

ORCHARD VILLAGE FUFU (French & International)

2 restaurants (Restaurant Nun & Restaurant Raisin) and 1 hotel (Orchard Village) Complex.
Address: 404-0003 Yamanashi Ken, Higashi Yamanashi Gun, Makiok -cho, Kuroka, 7190, Makioka-cho Orchatd village Fufu
Tel.: 0853-354422
Fax: 0853-354522
Quite a surprising hotel & restaurants located inthe middle of the nature. very reasonably-priced and excellent food. Different lunch courses from 1,800 to 5,800 yen.
Chicken, confits and terrines are the specialities to order.
The hotel costs about 7,000 yen per night per person (check-in time: 15:00, check-out time: 10:00)
Reservation a must.
(Courtesy of Mrs. Chieko Yamada).

YUFUIN (Oita Prefecture/Kyushu Island)

MOUSTACHE Yufuin (French)

Address: 879-5102 Oita Gun, Yufuin cho, Kawakami, 1264-7
Tel.: (81)977-845155
Fax: (81)977-845233
Owner: Mr. Susumu Ono
http://www.moustache-yufuin.com/
Opened in 1990 up on a slope in the midst of nature as a kind of mountain house all in white background, apparent wooden beams and stone-imbricated walls with two verandas outside, Moustache offers a haven of tranquility to the leg-sore tourist or walker.
Mr. Ono is a rare jewel of hospitality and joviality. He has conceived his place a s a gastronomic restaurant as well as a cafe open all day from 11:30 to 20:30 and closes only on Mondays.
The menu offers three menus from 2,700 to 5,000 yen and a carte all at a great value!The cuisine is based on natural ingredients of the best quality using local markets whenever possible. Mr. Ono's specialty (and also my favourite!) is "Beni-Masu" (salmon trout). Wine and Japanese sake are available by glass, half bottle abd full bottle. beers and liqueurs also on sale.
Cards OK.