ASUNCION
PORTA WESTFALICA APAR-T-OTEL
Owner: Mr. Friedhelm Angersbach
Address: Dr. Camacho Duré 555 c/Cañete, (Stma. Trinidad), C.C. 13061, PY- 1749 Asunción
Tel: (00595-21) 298 906
Fax: (00595-21) 293 855
Celular: 0971-208 572
http://www.paraguay-aparthotels.com
E-Mail: Paraguay@web.de
Business travellers or private visitors, looking for a very special personal atmosphere will enjoy the elegantly furnished Hotel and restaurant. After a hard day's work or outings to places of interest in the surroundings one will find plenty of possibilities to relax an the outdoor pool. Elegance and cosiness will make you feel at home.
International Restaurants with German, Italian, French, Chilean, Chinese, Japanese Paraguayan and Brazilean cuisine.
HOTEL SELVA NEGRA Hotel & RESTAURANT
http://www.paraguay-hotels.com/selvanegra/
ITAPUA
HOTEL PAPILLON HOTEL & RESTAURANT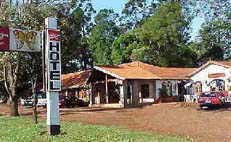 Address: Bella Vista,Ruta VI Km. 45 - Itapua
Tel.:595-767-235/280
Fax.:(0767) 298
http://www.paraguay-hotels.com/papillon/
E-Mail: papillon@itacom.com.py
A special place to be at , in a beautifull environment South of Paraguay.
A friendly team is at your service almost 24 hours a day . Swimming pool. Country style restaurant has a great variety of dishes, from German and Paraguayan specialities up to their giant mixed grill.
On Saturday night guest can enjoy Paraguayan music.
The Jesuit ruins , Parana river and the National Park of San Rafael nearby.


YTU GUAZU

RESTAURANT & FARM ESTANCIA AVENTURA
Owner: Mr. Kurt Erhard
Address: Ytu Guazu (Caacupé) Km. 61,5 - Ruta 2
Tel.: (00595) 981-441804
Founded by a former professional tennis player inside a typical Paraguyan ranc.
In the middle of nature, not far Iguazu Falls.
Typical Paraguayan fare!
English, German, French and Spanish spoken.
http://travel.to/estancia-aventura
E-mail: beat@winkler.ch