Shizuoka Ground

This is a rather small ground (as compared to others) in Shizuoka prefecture, but probably the best quality turf pitch in Japan. Most number of 6s and 4s are hit here. Shizuoka is about 180 Kms off south of Tokyo.
How to get there:
At Shizuoka Railway Station, go out at North exit, take a taxi to Akiyama-cho, Kano Bashi (Kano Bridge) and ask the driver to turn right just before crossing the bridge at the traffic lights. The ground is about 200 metres away on your left. Or go out North exit of the station, go to bus platform number 7 and board a bus stopping at Akiyama cho (about 20 minutes). Go down there, walk up to the bridge and turn right just before the bridge and walk for 200 metres. If you come by car, go out at Shizuoka Highway Interchange, go up Abe River. But you better ask at the first police box the direction to Kano Bridge(Kanoo Bashi).
By road: On Tomei expressway, take Shimizu exit. After the toll gate take the right road to Route 1 (towards Shimada). Follow this road towards Shimada and Nagoya for about 10 km. After the first tunnel, turn right at the first traffic lights and at the second traffic lights turn right again. At the third signal lights (just before the bridge) turn right. You will see the ground on the LHS.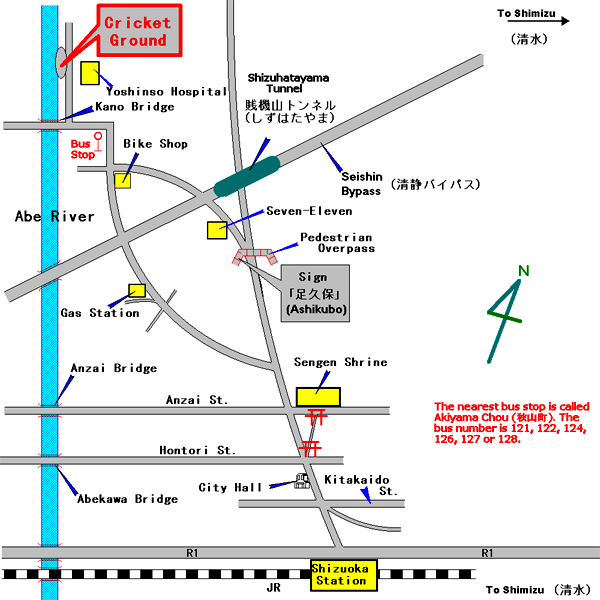 -----

Ageo Ground

This is Tokyo Giants' home ground. The ground is grassless and uses a Flicx pitch for matches.
How to get there:
Ageo is on Takasaki line, about 35 minutes from Ueno. You can also get this line from Ikebukuro but the frequency may be less.
Those who go by car, Take Shuto 5 going towards Kita Ikebukuro and Omiya. This Exp. way ends at Yono and joins Route #17 going towards Takasaki and Kumagawa. Drive along until you see board showing Ageo station. Go to the other side of the station(East?) and drive along the road perpendicular to the station until you see the restaurant Lotteria. Turn right there and keep driving. When you see Tokyu department store on your right, turn left at the traffic lights after the store. You will also see a gas station(Eneos) and the billboard of GP6 on the left hand side at the traffic lights. Keep driving on this road and go past the section where you will see an embankment on your left and river/field on the right. Soon after this, the road turns right and at that turning you will see a road joining this road from the left side. You will also see a Japanese billboard saying "Tateyama Arumi". Turn left here and go past a bridge that is just wide enough for a car. A minute later you will see the Baseball ground on your left and that is the cricket ground.

-----

Gunma Ground

This is Gunma XI Stars' home ground. Gunma is about 100 Kms off north of Tokyo.
How to get there:
Take Kanetsu Expressway and get off at Honcho-Kudama (No. 9) exit. Once you are out of the exit and toll gate, take the road going to the right side saying Iseki and Route #17. This should lead you to Route 462. On 462 drive about 10 minutes until you see a big new bridge over a river. Right after the bridge, you will see a Seven Eleven konbini on your left hand side. The ground is a few hundred meters from there.
Please check map and directions on following link: http://www.ieccjapan.com/gunmaground.pdf

-----

Yokohama Country & Athletics Club Ground

Address:
11-1 Yaguchidai, Naka-ku, Yokohama 231-8684
Telephone: (045) 623-8121
Fax: (045) 623-1233

Travelling time by car from Central Tokyo (using expressway) is about 40 minutes under normal road conditions. By train about 40/60 minutes depending on line used. Nearest station is Yamate. Shin Yokohama Station (the Shinkansen station) is far away!

Map:
http://www.ycac.or.jp/map.GIF

Cancellations:
In case of doubt about games because of the weather, please call the Club. There should be someone there from about 09.30 onwards, sometimes earlier. The decision to play or not will be made by the Club ground-staff, so please do not call the YCAC Captain or other representatives directly, unless you have some other questions.
Please note that the ground dries very quickly, and we can often play despite very heavy rain on the previous day. Decisions are therefore sometimes made quite shortly before the time play is due to start.

Other information:
1. Food and drinks should not be brought to the ground, but players and their guests are welcome to use the Club restaurants. Coupon books (for payment) can be bought at the Front Desk.
2. Drinks (beer or juice) are provided for visiting players after the game.
3. Changing rooms including showers are provided. Please use the Guest Changing Rooms. Players (and their guests) can use the Club Swimming Pool or other facilities, paying the relevant Guest Charges.
4. All ground and pitch preparation and clearing up afterwards is handled by the YCAC ground-staff, so there is no need for any assistance from players.
5. There is a practice net, which is sometimes available for practice before and during games. The instructions of the YCAC ground-staff should always be followed regarding the use of the practice net.

Local Rules:
1. A batsman who hits the ball over the highest net (on the West side of the ground) or over the net protecting the swimming pool area is out and no runs are scored.
2. Occasionally there are temporary structures (such as at Obon) within the boundaries. In such case, a stroke which results in the ball striking these (in the air or not) will score 4 runs (unless otherwise agreed between the Captains before starting play).
3. Otherwise the boundaries are clearly marked.