GENERAL
PUBS IN IRELAND (A MUST)
WWW.PUBS.IE
DUBLIN PUB SCENE (AWESOME!)

http://www.dublinpubscene.com/
-----
39028 pubs introduced at:

-----
AN ENORMOUS WORLD'S IRISH PUB GUIDE SITE by Lori Kieswetter:
(Courtesy of Mark Hutchinson)
http://www.celtictaps.com/
PUBS IN IRELAND by Marcel Doosje from Holland (AWESOME! Includes Irish Pubs all over the World)
http://www-th.phys.rug.nl/~doosje/ireland.html
THE GUIDE TO GUINNESS
http://wombat.ie/misc/guinness.html
GUINNESS IRELAND
http://www.guinness.ie/
IRISH PUBS OF DISTINCTION
(Includes Northern Ireland. AWESOME!)
http://www.pubireland.com/IPDMain.htm
IRISH PUB GUIDE
http://www.irishpubguide.ie/
IRISH PUBLIC HOUSES, BREWERS & DISTILLERS
(A MUST as it provides with enormous links!)
http://users.bigpond.com/kirwilli/pubs/pubs.htm
"THE LOST PUB GUIDE"
(Very extensive! A MUST!)
https://members.tripod.com/pubguide/index.htm
IRISH PUBS IN EUROPE (Cead Mile Failte) (You won't feel alone on no less than 20 countries!)
http:/www-th.phys.rug.nl/~doosje/irishpubs.html
PUBS & CLUBS OF IRELAND (Including Northern Ireland. 21 Pubs)
http://www.infosites.net/whatson/pubs/
PUBS & BARS IN IRELAND
http://foundmark.com/Ireland/lists/Bars.html
VIRTUAL IRISH PUB GUIDE
http://www.vip.ie/
OTHER PUBS IN IRELAND
http://www.dublinpubs.net/around-ireland.htm
BARS & RETAURANTS IN IRELAND
http://www.ostlan.com/
THE BIDDY EARLY BREWERY
http://www.beb.ie/

-----

ACHILL ISLAND

(Co. Mayo)

THE VALLEY HOUSE
http://www.valley-house.com/

ATHLONE

(Co. West Meath)

THE COOSAN TAVERN
http://www.execpc.com/~tjcasey/coosan.html

BAGELNASTOWN

(Co. Carlow)

ROYAL OAK TAVERN
http://www.grannygrouse.com/

BALTIMORE

(West Cork)

BUSHE'S BAR
http://homepage.eircom.net/~bushesbar/

BANTRY

(Co Cork)

BANTRY PUB GUIDE
http://www.cork-guide.ie/bantry/pubs.html

BLARNEY

(Co Cork)

BLAIR'S INN
http://homepage.tinet.ie/~blair/

BRAY

(Co. Wicklow)

CLANCY BAR
http://www.clancysbar.ie.nu/

CARLOW

KELLY'S DUNKIRK
http://www.esatclear.ie/~scadan/
REDDY'S OF CARLOW
http://www.reddys.ie/

CARRICK-ON-SUIR

(Co Tipperary)

THE COMERAGH
http://comeragh.8m.com/main.htm

CLONAKILTY (CLOGHNILKILTY)

(West Cork)

CLONAKILTY PUBS (& RESTAURANTS) GUIDE
http://www.clon.ie/text/system/clefoo1.html

CLONES (Co. Monaghan)

THE PARAGON BAR
http://www.theparagon.ie/

CLONMEL

(Co Tipperary)

TIERNEYS OF CLONMEL
http://www.geocities.com/NapaValley/8190/
TIPPERARY'S BAR
http://www.geocities.com/NapaValley/8190/

CLOUGH

(Co. Laois)

THE FOXROCK INN
http://www.foxrock-inn.com/

COBH

(Co Cork)

THE CLIFTON BAR & OFF LICENSE LIQUOR STORE (FIRSTCLASS SITE!)

http://www.cliftoncobh.com/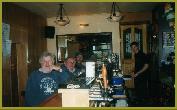 -----

COBH PUB GUIDE
http://www.cork-guide.ie/cobh/pubs.html

CORK

A GUIDE TO PUBS IN CORK, IRELAND
http://www.cork.wideweb.com/entertainment/pubs.html
CORK PUBS (& RESTAURANTS GUIDE)
http://www.foundmark.com/Great/rests.html
THE CRONIN'S IRISH PUB
http://www.cork-guide.ie/cronins.htm
PUBS OF CORK CITY
http://www.aardvark.ie/cork/pubs.html
ROSIE O'GRADY'S (Traditional)
http://www.rosieogrady.ie/
THE WESTERN STAR
http://www.westernstar.ie/main_core.html

CROSSHAVEN

(Co. Cork)

CRONIN'S IRISH PUB
http://www.cork-guide.ie/cronins.htm

DOOLIN

(Co. Clare)

McGANNS
http://www.esatclear.ie/~mcgannsdoolin/

DRUNG

(near Cavan Town, Co. Cavan)

THE STRAY SOD
http://homepage.eircom.net/~thestraysod/

DUNGARVAN

(Co. Waterford)

THE MARINE BAR
http://www.marinebar.com/

ENNISKERRY

(Co. Wicklow)

(THE) GLENWOOD INN

Address: Enniskerry, Co. Wicklow.
Traditional Pub. County atmosphere. Lunches available.

LYNHAM OF LARAGH PUB

Address: Laragh Village, Co. Wicklow.
Charming Pub in charming small village. Traditional. Good food.

POWERSCOURT ARMS

Address: Powerscourt Arms Gotel, Enniskerry, Co. Wicklow.
Inside hotel of same name. Traditional pub in charming village. Good lunches.

GALWAY (TEACH NA CEIBHE)

AN TOBAR
http://clubbing.com/galway/tobar/index.htm
BUSKERS BROWNES
http://www.failte.com/king-buskers/busk.htm
DEW DROP INN
http://www.clubbing.com/galway/tobar/dew.htm
THE DRUM
http://clubbing.com/gpo/drumbar.htm
E. J. KINGS
http://www.failte.com/king-buskers/king.htm
GALWAY PUB GUIDE
(Click "Pub" on left Main Features)
http://www.wombat.ie/galwayguide/
THE MONROE'S TAVERN
http://www.monroestavern.net/
THE QUAYS BAR
http://www.commerce.ie/quays/
THE ROISIN DUBH
http://clubbing.com/galway/roisin/index.htm

GLENCULLEN

(South County Dublin)

THE JOHNNIE FOX'S PIB
http://www.johnniefoxs.com/

GORT

(Co. Galway)

DICEY REILLY'S BAR
http://www.gortonline.com/diceys.html

INAGH

(Co Clare)

BIDDY EARLY BREWERY (Ireland's First Pub Brewery!)
http://www.beb.ie/

KENMARE

(Co. Kerry)

O'DONNABHAIN
http://www.odonnabhain-kenmare.com/

KILFENORA

(Co. Clare)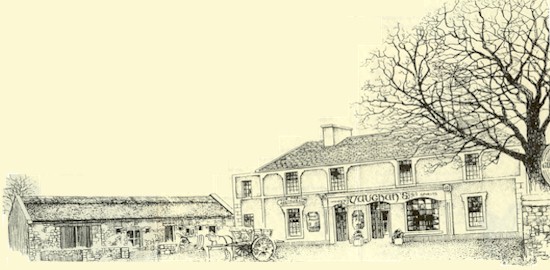 VAUGHAN 'S PUB

http://www.vaughanspub.com/

Address: Kilfenora, Co. Clare, Ireland.
Tel.: 00 353 (0) 65 7088004.
Fax: 00353 (0) 65 7088144
email: info@vaughanspub.com
Vaughan's Pub has been in the Vaughan family for over 200 years. The business has been built on a strong tradition of Irish music, set dancing, fine food and great hospitality. As a family-run business, special care and attention is given to everything, and this, coupled with the warm traditional interior of the bar, and the old world atmosphere in the Barn, is what makes Vaughan's so special!

KILKENNY

BOLLARDS
http://www.bollardsbar.com/

KILL

(Co. Kildare)

THE OLD HOUSE
http://www.geocities.com/TheTropics/Shores/8000/

KILLORGIN

(Co. Kerry)

BIANCONI INN
http://bianconiinn.cjb.net/

KINSALE

(Co Cork)

KINSALE PUB GUIDE
http://www.cork-guide.ie/kinsale/pubs.html

KINVARA

KINVARA PUB GUIDE
http://www.kinvara.com/pubs.html

LARAGH VILAGE

(Co. Wicklow)

LYNHAM OF LARAGH PUB

Address: Laragh Village, Co Wicklow
Charming Pub in charming village. Traditional. Good food.

MALAHIDE

(Co Dublin)

SMYTH'S
http://www.commerce.ie/smyths/

MEATH

THE JULIANSTOWN INN
http://www.digi-biz.com/meath/julian/

NAATH

(Co. Kildare9

JOHNSTOWN INN
http://www.bigsavings.ie/bsservlet/BSCompanies?customer_id=8

PORT LAOISE

(Co. Laois)

CASEY'S PUBLIC HOUSE
http://www.caseyspub.20m.com/
GRELLAN DELANEY AND SONS/HARE & HOUND BAR
http://www.grellandelaney.com/

PORTMAGEE

(Co. Kerry)

THE MOORINGS
http://www.moorings.ie/

RATHFARNHAM

(Co Dublin)

TAYLOR'S THREE ROCK BAR AND RESTAURANT
http://www.taylorsthreerock.com/

SCHULL

(Co Cork)

SCHULL PUB GUIDE
http://www.cork-guide.ie/schull/pubs.html

SLIGO

BEEZIES
http://www.sligoaccommodation.com/beezies/
J. Mc LAUGHLIN
http://mclaughlins.sligoweb.com/

TALLANSTOWN

(Co. Louth)

LOUTH ARMS
http://www.loutharms.homestead.com/

TOOME

(Co Antrim)

THE CROSSKEYS INN (+Links): http://home.clar.net/crosskeys/

TRALEE

(Co. Kerry)

STOKER'S LODGE
http://homepage.eircom.net/~stokers/

WATERFORD

ORPEN'S BAR & RESTAURANT
http://www.orpens.com/

WEST CORK

WEST CORK CYBERPUBS
http://www.sleeping-giant.ie/cyberpubs

WEST MEATH

(Co. Athlone)

THATCH TAVERN
http://www.athlonechamber.ie/thatch/