Keep him away from the whisky or the vodka!!!

ANGOULEME

(THE) KENNEDY IRISH PUB

Addess: 3, rue Beaulieu/10, rue Tiso d'Agence, 16000, Charentes, Angouleme
Tel.:(33)(5)45941241
Oepn 7 days a week, 16:00 t0 02:00, this Irish pub owned by Claude Chemoleix is a proponent of Celtic music. blues and jazz. Datrs board. Serving beers directly from the keg.

AVIGNON

LES DOMAINES (Wine Bar)

Address: 28, place de l'Horloge, 84000, Var Avignon
Tel.: (33)(4)90825886
Opening hours: 12:00~14:00, 19:00~23:00
Closed on Sundays during the off-season.
This brewery welcomes the personalities and followers of the Avignon Festival.
one of the best wine list of the region: 500 references.
Menus: 88FF (lunch)~175FF. Pork meat plate: 65FF. Cheese plate: 48FF. Lunch set: 55FF. Wine glass: 12~26FF.

BORDEAUX

LE BISTRO DU SOMMELIER (Wine Bar)

Address: 163, rue Georges-Bonnac, 33000, Gironde, Bordeaux.
Tel.: (33)(5)56967178
Opening hours: 12:00~14:30, 20:00~23:00
Closed on Saturday lunches & Sundays.
Honest bistro but great Bordeaux wine list at interesting prices. A good choice of half-bottles. A few bordeaux wine glasses. Formula 98FF (+ cheese or dessert 30FF)

THE CONNEMARA

http://www-th.phys.rug.nl/~doosje/irishpubs.html#FR

LA DISTILLERIE ANGUS DUNDEE (Scottish)

Great Scottish Pub in Bordeaux City-35 malt whiskies & 40 beers

http://www.finest.tm.fr/uk/bordeaux/angus_dundee/index.html

FROG AND ROSBIF (Also Microbrewery)

Address: 23, rue Ausone, 33000, Gironde, Bordeaux
Tel.: (33)(5)56485585
E-Mail: rosbif.bordeaux@frogpubs.com
http://www.frogpubs.com/
A sister of the one in Paris, located in a former women's prison, not far from the Garonne River quays.
Serves own microbrewery's five speciall-brewed beer brands.
Home-made pub meals and snacks available until 01:00 a.m.
Darts matches. Daily newspapers, party nights, big jugs of beer, etc.

CANNES

MORRISON'S PUB (Irish)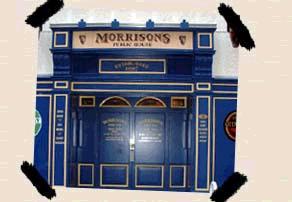 Address: 10 r Teisseire 06400 Cannes (ocated behind Rue dAntibes)
Tel.: (33)(4)92981682
Fax : (33)(4)92981617
Open Daily from 5pm till 2:30am
Happy Hours from 5pm till 8pm
Manager: Robert Ryan
They are the oldest Irish Pub in Cannes with all the comforts and discomforts of home.They are a Franco Irish owned Pub with a great mix of international clientele in the heart of Cannes.Open till late with live music three nights a week.Also the scene for premier parties for Irish movies during the film festival.
http://morrisonspub.com/

AMSTEL PUB (Belgian)

Address: 12 r Hélène Vagliano Cannes
Tel.: (33)(4)93382380

THE QUAY IRISH PUB

Address: 17 quai St Pierre 06400 Cannes
Tel.: (33)(4)93392784

CLERMONT-FERRAND

JOHN BARLEYCORN PUB (Breton/Irish pub)

Address: 9, rue du Terrail, 16000, Puy de Dome, Clermont-Ferrand
Tel.: (33)(4)73923167
The owner is Breton, the atmosphere Irish, the decor maritime.plenty of good beer in this nocturnal hideout.

COLMAR

MURPHY'S IRISH PUB

http://www-th.phys.rug.nl/~doosje/irishpubs.html#FR

COURCHEVEL

LE PIGGY'S (irish/International Pub)

Address: Rue de la Crosette, 73120, Haute-Savoie, Courchevel
Tel.: (33)(4)79080071
Pub located in the town centre, offering Guinnes and Champagne by the glass. Joyous late night hideout.

DIJON

LE BRIGHTON (English Pub)

Address: 33, rue Auguste-comte, 21000, Cote d'Or, Dijon
Tel.: (33)(3)80735932
Musicl atmosphere. 210 different beers. Pure malt whisky collection. Retro look with great posters as in London or a RAF pub.

FERNEY-VOLTAIRE (Jura)

PADDY'S PUB

http://www-th.phys.rug.nl/~doosje/irishpubs.html#FR

LE HAVRE

LE CROCUS(Cafe-restaurant-theatre)

Address: 67, rue Jules-Tellier, 76600, Seine-Maritime, Le Havre.
Tel.: (33)(2)35532596
This cafe-theatre-restaurant promotes regional artists. Fridays, and Saturdays nights: theatre, songs or musical comedy.

LORIENT

THE SHANNON CLUB (Irish Pub)

http://www-th.phys.rug.nl/~doosje/irishpubs.html#FR

THE GALWAY INN (Irish Pub)

Address: 18, rue de Belgique, 56100, Morbihan, Lorient
tel.: (33)(2)97645077
Just to remind you that Lorient is the capital of "Interceltic music", this Irish pub is recommanded with its laid-back atmosphere and numerous concerts.

LIMOGES

BRASSERIE SAINT-MARTIAL

Address: 8, place Denis-Dussoubs, 87000, Haute-Vienne, Limoges
Tel.: (33)(5)55793798
Opening hours: 15:30~02:00
Closed on Sundays.
Waych the beer beung made and taste some excellent brews at this traditional brewery. Lots of action in the evenings.

METZ

THE VIBVIAN'S PUB FAIRY (Irish/Celtic pub)

Address: 15-17, Place Saint-Louis, 57000, Moselle, Metz
Tel.: (33)(3)87189507
This Celtic bar, oepn from 17:00 to dawn, plays both on Breton and Irish folklore. Original decor on two storeys making use of recycled furniture. Great variety of beers. Ar-Men, Morbraz and Lancelot du Lac beers from French Brittany with beers from belgium and Ireland. Good open sandwiches (tartines) for empty somachs at night.

MONTPELLIER

LE COMPTOIR (Wine Bar)

Address: 5, rue du Puits-du-Temple, 34000, Herault, Montpellier.
Tel.: (33)(4)67609455
Opening hours: 19:00~02:00.
Closed on Sundays & Mondays.
Musical atmosphere especially post be-bop jazz and urban music. True wine bar serving wine only by the glass (about 30 kinds). Mythical address in Montpellier.
Pork meat or cheese plate:30FF. Wine glass: 15:60FF.

MULHOUSE

LE GAMBRINUS (Brasserie/Brewery)

Address: 5, rue des Franciscains, 68100, Haut-Rhin, Mulhouse
Tel.: (33)(3)89661865
Open until 01:00.
In this famous brasserie/brewery, wash down a choucroute or mussels and French fries with one of the hundred boyyled beers or 30 different brews from the tap!

O'BRIAN (Irish Pub)

Address: 5, Place des Victoires, 68100, Haut-Rhin, Mulhouse
Tel.: (33)(3)89562558
inside a wooden decor, the bar serves 6 different draughts of weel-balanced brews. Young people from Mulhouse patronize the room upstairs for its homemade food.

NANTES

LA CIGALE(Brasserie)

(Opening hours: open every day, 07:00~00:30)
Address: Place Graslin, 44000, Loire Atlantique, Nantes.
Tel.: (33)(2)51849494
A historic meeting spot, this brasserie features mosaics and rococo gilt decoration. Arguably, the most popular brasserie in Nantes.

PICKWICK'S TAVERN (English Pub)

Address: 3, rue Rameau, 44000, Lore Atlantique, Nantes
Tel.: (33)(2)40732372
A true English Pub where the crowd savours a pint of Bass or a cocktail.

NIMES

O'FLAHERTY'S (Irish Pub)

Address: 2, Boulevard Amiral-Courbet, 30000, Gard, Nimes
tel.: (33)(4)66672263
Regular musical night attract the a young crowd, not to mention a great choice of delicious beers.

NOUMEA (New Caledonia/Pacific)

3 BRASSEURS (Restaurant + Pub)
Address: Centre commercial de la Baie des Citrons, Noumea, Nouvelle-caledonie
Tel.: (687)260866
Fax: (687)260867
Opened until 01:00

A pub restaurant company with 16 more braches in France and one each in Belgium and Tahiti, opened in Noumea in 2000.
4 brews from white to stout are brewed in situ in a great decor all wood and copper to allow you to drink your beer unfiltered and unpasteurized directly from the tanks! Is served in 25cl, 33 cl, 50 cl and 1,8 l. A tatsing set is available (15 cl per glass)
A traditional French and Alsatian menu is offered at lunch and dinner. Lunch sets.
Andouillette, Mussels, Flamenkueche, Choucroute, Salads.
Slightly expensive.
Cards OK

PARIS

(THE) AULD ALLIANCE (Scottish Pub)

(11:00~02:00)
Happy hours: 18:00~20:00
Address: 80, rue Francois Miron, 75004, Paris.
Tel.: (33)(1)48043040
The only Scottish pub in Paris as far as I know. The name means the "Old Alliance" struck between Scotland and France to fight the English under Robert the Bruce.
Good Scottish and Irish beers as well as cider and many liquors. Good range of Scotch whikies.
very friendly atmosphere. no bouncers. No hassles. Gentle staff and friendly crowd. Equally patronised by Brits and French (who mosr of the time order in English!)
http://www.net-europa.com/gap/auld_al.htm


AU BOURGUIGNON DU MARAIS (French Wine-bar)

(Opening hours: 10:00~01:00-Closed on Sundays)
Address: 19, rue de Jouy, 75004, Paris.
Tel.: (33)(1)48871540
The cream of its kind. In a very chic decor you can either enjoy a glass of wine at the counter or have a meal chosen from a short but excellent carte. Also features regular seasonal specials ( some very good surprises actually!). Warm welcome. Very professional service by the owner from Burgundy, Jacques Maroslavac-Bavard who knows and enjoys his work. Wines from Burgundy but Champagne also available. Short but very well chosen wine list. Sell wines on the premises and take large orders.

AU PETIT FER A CHEVAL (Cafe)

(09:00~02:00)
Address: 30, rue Vieille du Temple, 75004, Paris.
Tel.: (33)(1)42724747
This minuscule cafe/bar open onto the pavement is an institution in the Marais District. Difficult to find a seat. Staff very courteous. Customers can be extremely varied "characters and tendencies".
http://www.caffeine.com/

BALLYROAN (Irish Pub)

Address: Rue du Chevalier de la Barre (behind Montmartre church dome), 75018 Paris.

Looks more like a restaurant than a genuine Irish Pub in this very touristic spot in Paris.

(LE) BARATIN (Wine Bar)

Address: 3, rue Jouye-Rouve, 75020, Paris
Tel.: (33)(1)43493970
Opening hours: 12:00~01:00
Closed on Mondays.
10 wines sold by the glass, often renewed. A mine of discoveries. Menu: 150FF. Wine glass: 10~22FF.

THE BOXER (British Pub)

(10:00~02::00
Address: 20, rude de Montmartre, 75002, Paris
Tel.: (33)(1)40399366
Fax: (33)(1)42541888
Customers seem to be back in London in this pub serving a good selection of beers and offering concerts on Saturday evenings.
Very interesting food. very happy atmosphere all week long.

BISTROT VIVIENNE (Bar/Restaurant)

Address: 4, rue des Petits Champs, 75002 Paris (Angle of the Galerie Vivienne)
Tel.: (33)(1)42600460
Formerly part of the Royal Horsestables, transformed in a low-class bar just after WWII. Presently a bar/café on the ground floor. A narrrow plank stairway leads to a restaurant. An extremely ancient looking café but actually a decrepit place full of charm with tiled floor, old red sofas, old round bar and old photographs. Restaurant on terrace from May to September.

CAFÉ CHARBON(Cafe/Bar)

(09:00~02:00)
Address: 109, rue Oberkampf, 75001, Paris
Tel.: (33)(1)43575513
Warm eclectic atmosphere. Popular with top models. Lunch, 80FF~. Brunch on week-ends. Beer, 12FF, cocktail, 37FF.

What a hangover!

CAFÉ OZ (Australian Bar/Pub)

(13:00~02:00)
Address: 184, Rue Saint-Jacques, 75005, paris.
Tel.: (33)(1)43543048
Fax: (33)(1)46336927
http://www.cafe-oz.com/
Surprisingly interesting Pub/Bar owned by Mr. Jimson Bienenstock. Very Australian. Walls nicely decorated. Staff speak French. Customers mostly foreigners. Serves Fosters, Victoria Bitters and Cascade Lager. Great pies. Has 2 more shops, but this one is my favourite. Internet access available.

CARR'S (Irish)

(12:00~01:30)
Address: 2, yue du Mont Thabor, 75001, Paris
Tel.: (33)(1)42606026
Credit cards accepted
A higher class Irish pub with consequent atmosphere. Great decor. Better food available: Irish smoked salmon, etc.

(LES) COTEAUX (Wine Bar)

Address: 26, Boulevard Garibaldi, 75015, paris.
Tel.: (33)(1)47348348
Opening hours: 10:00~21:30
Closed on Saturdays, sundays & Monday evenings.
Try the Gamay with tripes (75FF), tartines (12~32FF), andouillette (80FF9, set lunch (75FF), or menu (140FF). Wine glass, 8~25FF.

(LA) CHOPE D'ALSACE (French Brasserie))

http://www.chope-dalsace.com

(LA) CHOPE (Cafe)

Address: Place de la Cotrescarpe, 75005, Paris.
Largest Bar/Cafe on the Contrescaroe Square spilling onto the pavement.
16:00~20:00: Happy hours. Good choice of beers. Very popular with locals.

(LE) CLOWN BAR (Wine Bar)

Address: 114, rue Amelot, 75011, Paris.
Tel.: (33)(1)43558735
Opening hours: 12:00~15:00, 19:00~01:00
Closed on Sunday lunches.
Beautiful zinc counter, clown posters.
good pork meat plates supported by 15 wines by the glass.
Pork meat plate, 58FF. Set lunch, 78FF. Wine glass: 18~30FF.

COCKNEY TAVERN (British)

(11:00~07:00, 17:00~06:00 on Sundays)
Address: 39, boulevard de Clichy, 75009, Paris.
Tel.: (33)(1)48743671
Traditional Englidh & Irish beers. Also a good selection of Continental beers. Restaurant upstairs. Warm welcome.
Credit cards accepted.

COGUN'S CAFE (Irish)

(11:00~02:00, 16:00~02:00 on Sunday)
Address: 153, rue Chevalet, 75013, Paris.
Tel.: (33)(1)44245969
Family pub. Very warm welcome. Great Irish food. Irish rock on Friday nights. Darts competitions. Happy hours: 16:00~20:00.
Credit cards accepted.

CONNOLY'S CORNER (Irish pub)

(16:00~02:00)
Address: 12, rue de Mirbel, 75005, Paris
Tel.: (33)(1)43319422
Liam Connoly has rescontuted a typical Irish pub. Concerts on week-ends.

CORCORAN'S IRISH PUB

Address: 110, Boulevard de Clichy, 75018, Paris.
Tel.: (33)(1)42230030
Live music Tuesday, Thursday & Sunday. Sky Digital TV. Open until 05:00. Food served nightly.

LE COUDE FOU (Restaurant/Wine Bar)

Address: (33)(1)42771516
Address: 12, rue du Bourg-Thibourg, 75004 Paris
Tel.: (33)(1)48040898
A very convivial restaurant cum wine bar open every day serving hearty and tasty meals . The menu at 145FF is a bargain. All the bistrot classic are home-made.
Great wines served by the bottle or glass.
Parking available. Reserve after 21:00!

THE CRICKETER CLUB(English)

(16:00~02:00)
Address: 42, rue des Mathurins, 75008, Paris
Tel.: (33)(1)40070145
Back in Liverpool London! Good English beer (Adams9 and food (Roast lamb, Shichuan Chicken, Apple Pie) in cordial atmosphere (cricket & rugby fans hideout)

CRUISCIN LAN (Irish Pub)

Address: 16, rue des Halles, 75001 Paris.
Well-placed nice-looking little Irish Pub.

CRUSKEEN LAWN Irish pub)

(16:00~24:00, ~05:00 om week-ends)
Address: 18, rue des halles, 75001, Paris
Tel.: (33)(1)45089915
Authentic Irish atmosphere and honest food. mainly serves Kilkenny and Guinness.

L'ENOTECA(Wine Bar)

(12:00~02:00; 19.00~24:00)
Address: 25, rue Charles V, 75004, Paris
Tel.: (33)(1)42789144
Italian wine bar with enormous wine list (25,000 bottles in the cellar! 400 Italian refernces. 95, 96 & 97 vintages). Toasts with ewe's cheese and Venetian sausage, sweet garlic lamb cutlets.
10 wines offered by the glass.
Lunch 75FF. Cheese plate, 40~70FF. Wione glass, 25~50FF.

FALSTAFF (International Pub)

(07:30~04:30/05:00 on week-ends)
Address: 42, rue de Montparnasse, 75014, Paris
Tel.: (33)(1)43353829
Kro, Adelscott, Leffe, Bellevue, Lindemans, Pilsen Urquell are served by the pint, half pint, draught or in one-liter pitcher. Great cocktails. Mussels, Sauerkraut, Roquefort Pie and Creme brulee.

FINNEGAN'S WAKE (Irish pub)

(10:30~02:00, from18:00 on Saturdays)
Address: 9, rue des Boulangers, 75005, Paris
Tel.: (33)(1)46342365
Dedicated to James Joyce, this Irish pub serves guinness and Kilkenny in an original and colourful atmosphere.

FLANN O'BRIENS (Irish Pub)

(16:00~02:00, ~04::00 on Fridays)
Address: 6, rue Bailleul, 75001, Paris.
Tel.: (33)(1)42601358
True Irish pub. English main language.Raucous at times. Irish Rock-folk groups. Sky News.
http://www.net-europa.com/gap/obriens.htm
http://www-th.phys.rug.nl/~doosje/irishpubs.html#FR

FLOOZY FIRKIN (English Pub)

Address: Rue Saint-Denis (at the corner with Rue Berger, 75001 Paris.
A very large packed-up Pub with an interesting character. Seems to be very popular with locals.

THE FROG AND PRINCESS(British Pub)

http://www.net-europa.com/gap/fro_pri.htm

http://www.frogpubs.com/princesspage.htm

THE FROG AND ROSBIF(British Pub)

http://www.net-europa.com/gap/fro_ros.htm

http://www.frogpubs.com/rosbifpage.htm

HARRY'S NEW YORK BAR

(10:30~04:00, closed for Christmas)
Address: 5, rue Daunon, 75002 Paris
Tel.: (33)(1)42617114
Harry's Bar was opened in 1911 by jockey Ted Sloan on Thanksgiving day and has been a meeting place for Americans in Paris ever since. American food and drinks available. The bar specializes in cocktails. Can be very crowded on week-ends!

HORSE'S MOUTH (British Pub)

(10:00~02:00, closed on Sundays)
Address: 120 rue Montmartre, 75002, Paris.
Tel.: (33)(1)40399366
Recently opened pub very much in demand with local youth.Big TV screen for sports events. Rock concerts on last 3 days of the week. Happy hours: 16:00 ~19:00.
Can be rent for private nights.
Credit cards accepted.

JAMES JOYCE (Irish Pub)

(09:00~01:30, 02:00 on Saturdays)
Address: 71, boulevard Gouvlon-Sainr-Cyr, 75017, Paris.
Tel.: (33)(1)44097032
Typical Decor of pubs in Ireland. Owned by Brian Loughney. Two bars. Very happy atmosphere. All three storeys permanently crowded.
Good food: Smoked Salmon with Cucumber Sauce, Irish Toasts, Apple Crumble. Air-conditioned.
Credit cards accepted.

(LE) JUVENILE'S (Wine bar)

Address: 47, rue de Richelieu, 75001, Paris.
Tel.: (33)(1)42974649
Opening hours: 12:00~00:00. Closed on Sundays.
Tim Johnston has a passion for Rhone wines. 50 wines offered, 10 of which by the glass including worlwide vintages: Loustau, Spain, Australia.
Menu: 200ff. Wine glass: 18=50FF.

(THE) KILDARE IRISH PUB

(~23:30, closed for Saturday lunch and whole Sundays)
Address: 6 bis, rue du 4 Septembre, 75002, paris
Tel.: (33)(1)47039191
Fax: (33)(1)47039256
An Irish pub with terrace and air-conditioning.
Friendly atmosphere in a Victorian decor. Good food: grilled chicken wings, Beef Guinness, Fish 6 Chips. Great Irish coffee.

KITTY O'SHEAS (Irish Pub)

(12:00~01:30)
Adress: 10, rue des Capucines, 75002, Paris.
Tel.: (33)(1)40150030
Very popular on week-end nights the crowd spill onto the pavement. Noisy atmosphere. Irish restaurant upstairs serving good food, especially seafood cocktail and Irish Stew. Brunch on Sundays.
Credit cards accepted.
http://www.net-europa.com/gap/kitty_os.htm
http://www-th.phys.rug.nl/~doosje/irishpubs.html#FR

MURPHY'S HOUSE IRISH PUB

Address: 10, rue de la Chaussee d'Antin, 75009, paris.
Tel.: (33)(1)40220810
Open 09:00~02:00. Closed on Sundays.
Live music, D.J., concerts, TV sports events.

O'NEILL (International Pub)

(11:00~02::00)
Address: 20, rue des Canettes, 75006, Paris.
Tel.: (33(1)46333666
The first microbrewery in Paris always crowded serves its own beer, red ale, lager and stout.
Ctrdit cards accepted.

THE OSCAR WILDE (Irish Pub)

(16:00~04:00)
Address: 25, rue des Halles, 75001, Paris.
Rel.: (33)(1)42210363
All the Irish from Paris seem to gather there once all the other Irish pubs are closed.Happy atmosphere. Irish rock every Friday night. Happy hours from 18::~21:00.
http://www.net-europa.com/gap/osc_wil.htm

PUB WINSTON CHURCHILL (English Pub)

(09:00~04:00, 02:00 on Sundays and Mondays, 03:00 on Tuesdays)
Address: 5, rue de Presbourg, 75016, Paris.
Tel.: (33)(1)40671737
This very chic pub near the Etoile has recently been refurbished. French style food. Beers, Scotch malts and cocktails served in good background music.
Credit cards accepted.

QUIGLEY'S POINT (Irish Pub)

(12:00~01:00=02:00 on week-ends)
Address: 5, rue du Jour, 75001, Paris.
Rel.: (33)(1)45081704
Definitely Irish very traditional pub. One of the oldest in Paris actually, going on fifteen years or so now. Used to be called The James Joyce but that's another story...
Plenty of tables for customers who do not enjoy standing at the bar. Warm atmosphere.
Presently (as of March 2005) managed by Breffni O'Dubhghaill (I challeng anyone to pronounce his name!).
Credit cards accepted.

LE SOUS-BOCK (Belgian & International)

(12:00~05::00, closed on Sundays)
Address: 49, rue Saint-Honore, 75001 Paris (at the corner with rue du Pont-neuf)
Tel.: (33)(1)40264661
http://www.sous-bock.com/
400 different beers. 20 from the tap. 180 whiskies.
Specialized in Belgian beers but features enough beers from Ireland, Great Britain, U.S.A. and rest of Europe to please everybody!

Good value. Great decor inside. Terrace. Good food available.
Warm welcome.

SWEENEY'S IRISH PUB

http://www-th.phys.rug.nl/~doosje/irishpubs.html#FR

http://perso.wanadoo.fr/sweeneyirishpub/

(LE) TRIANON (Cafe)

Address: 17, rie des Facorites, 75005, Paris.
Tel.: (33)(1)48425746
Your typical Paris district cafe. What makes it interesting is that the owner, Raymond, met his Japanese wife in Tokyo and that she takes care of the cookung (Grench only). Very reasonable and filling set lunch for 60FF.

TIGH JHONNY (Irish pub)

(16::~00:300)
Address: 55, rue Montmartre, 75002, Paris
Tel.: (33)(1)42339133
Typical Irish pub with excellent draught Guinness. Very reasonable. So authentic that you have the impression of beiing back in Dublin or Cork!

(THE) WILD GEESE (Irish)

Address: 140, Moulevrd Richard Lenoir, 75011, paris.
Tel.: (33)(1)48061436
Open daily 11:00 a.m.~02:00 a.m.
Happy hours all day.
Darts, table quizzes, Irish classes, live sports shown. Sunday brunch.


LA ROCHELLE (West)

(THE) GENERAL HUMBERT'S (Irish Pub)

Address: 14 rue Saint Nicolas, 17000 La Rochelle
Tel: (33) (0)6 17 03 03 02
http://www.generalhumbert.net/
A La Rochelle institution, the General Humbertís is a lively Irish pub located on Saint Nicolas street in the historic heart of the city, close to the old harbour.
The bar is one of the main meeting places for the locals and a place you don't want to miss when in La Rochelle.
La Rochelle is the place where, on August 6th 1798, General Humbert's "Army of Ireland" set sail destined for Killala, Co. Mayo...
The mission of this little French expeditionary force was to provide military assistance to the Irish rebels of the "Rising of '98" in their attempt to free Ireland from English domination. This tiny force, together with its Irish allies, was to conduct an extraordinary campaign that shook the British Empire.
With a mix of French and Irish staff, The General Humbertís is managing to create an authentic Irish bar while integrating comfortably in La Rochelle thanks to this historical connection with Ireland.
No effort has been spared to ensure that everyone who will visit The General Humbertís shares in those Irish traditions of good drink, good craic, live music and sports and a lighthearted atmosphere of fun and chat.
The walls are adorned with outstanding historical, sports, music and political memorabilia. A private function room is offered to the customers free of charge to organize their own special events on demand.
The General Humbertís prides itself on pouring the perfect pint of Guinness.
There is a wide choice of draught and bottled stout, ale, lager and beer. Cognac based cocktails are a specialty of the house.

(THE) CORRIGAN'S (Irish Pub)

Address: 20 Rue des Cloutiers, 17000, la Rochelle
Tel: (33) (5) 46 28 91 39
http://www.corrigansirishpub.com/

MAC EWAN'S (British Pub/Owner:J.P. Bouju)

Address: 7, rue de la Chaine, La Rochelle, 17000
Tel.: (33)(5)46411894
First opened in 1985. Taken over by mr Bouju in 1999.
Go inside to enjoy decor. Very warm welcome.
8 draught beers, Irish, British, in half pints, pints and pitchers (good quality!)Bottled beer from all over the world. Good beers from Belgium and France.
Cosmopolitan patrons.
darts game.
Cards ok

(THE) TROLL PUB (Irish Pub)

Address: 48 Rue Saint-Nicholas, 17000 La Rochelle
Tel.: (33) (5) 46509772
http://www.trollpub.com/accueil.html

ROUEN

BIG BEN PUB (British pub)

Address: 95 bis, rue du Gros-Horloge, 76000, Seine-Maritime, Rouen
Tel.: (33)(2)35884450
Very practical for a date in the town centre. Crowded, happy and noisy atmosphere. Good choice of beers.

MURPHY'S (Irish Pub)

Addess: 12, Place du Vieux-Marche, 76000, Seine-Maritime, Rouen
Tel.: (33)(2)35711733
Dublin-atmosphere pub patronized by happy nad noisy students. Draught cider, 10 draught beers, 100 varieties of bottled beers, and good whiskies.

SAINT-EMILION (Southwest)

L'ENVERS DU DECOR

Address: Rue du Clocher, 33330, Gironde, Saint-Emilion
Open every day, 11:00~23:00. Closed on Sundays in winter.
Opened in 1988, a great restaurant cum wine bar in the middle of the very beautiful but touristic medieval city of Saint-Emilion famous for its great wines.
Original decor inside with a very well-provided wine bar. Also features a few beers from neighbouring microbreweries.Wine by the glass or the bottle. English menu. English and Spanish spoken.
Short but very effective menu of local specialties:
My favourite are: Assiette de Charcuterie (varied Pork Meats) 50FF, Andouilette AAAA (Chitterling sausage) 85FF,.
Even features liquorous whites (great with pate or andouillette!)
Very friendly staff.

SAINT-ETIENNE

LE SAINT-PATRICK (Irish Pub)

Address: 44, rue des Martyrs-de-Vingre, 42000, Loire, Saint-Etienne
tel.: (33)(4)77251152
Located in the centre of the old town, this Irish Pub owned by an Englishman(!) serves over 15 beers from the keg in a typical atmosphere with no less than 80 whiskies.

STRASBOURG

FESTIVAL(American Bar)

(Every day, 21:00~03:00; ~04:00 on week-ends)
Address: 4, rue Sainte-Catherine, 670000, Bas-Rhin, Strasbourg.
Tel.: (33)(3)88363128
An American bar all on mahogany for a cozy drink mid-week. Music and dancing on week-ends.

FROGGIES CAFE(Bar/Pub)

Owners: Gilles and Bernard.
Address: 28 rue Finkwiller, 67000 Strasbourg
Tel.: (33)(3)88140595
The favourite haunt of the local Rugby Players.
For more details contact: Karin Petit
Froggies Cafe /Public Relations (33)(6)25271738
karinprUS@aol.com

LA RIVIERE(Wine Bar)

Address: 3, rue des Dentelles, 67000, Bas-Rhin, Strasbourg.
Tel.: (33)(3)88220925
Opening hours: 12:00~14:00, 18:00~01:30
Closed on Sundays & Mondays.
In a new and beautiful location, Richard Meier proposes an assortment of Euro-Asian savouries and about 20 wines by the glass from Alsace to South Africa and Chile. Good choice of cigars and spirits.
25FF for one savoury, 75FF for 4, 110FF for 6. Wine glass: 18~50FF.

TOURS

LE CHAROLAIS (Wine Bar)

Address: 123, rue Colbert, 37000, Indre et Loire Tours.
Tel.: (33)(2)47208020
Opening hours: 12:00~14:00, 19:30~23:00
Closed on Saturdays & Sundays.
Great down to earth cuisine (oeufs en meurette, seven hours lambleg). 120 references in the wine list especially Saumur-Champigny and Chinon.
Menus: 62FF (lunch) and 74FF. Carte: 180FF. Wine glass: 20~22FF.

VITRE (Bresse)

LE BRESSAN (Pub/Micro Brewery, bar)

Address: 3 rue de Tremouille, 355500, Vitre
Tel.: (33)(2)99752364
http://bressan.pub.free.fr/