DEVELOPMENT OFFICER REPORT
By Shaun Williams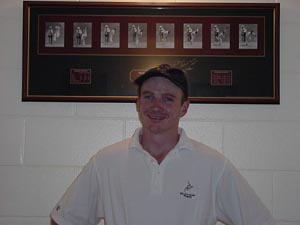 JAPAN
ICC Status: Affiliate
Population: Approximately 130 million
Cricket Season: April to October (March to November)
Currency: Due to the failing Australian dollar, Japan is expensive however you look at it!
$AUS 1 = Y51 - Y64 (it does vary considerably) eg. Narita airport exchange was Y51 to $AUS 1.
SCOPE
Japan is a magnificent country with enormous potential to develop the game of cricket. Sport has a very important role in Japanese culture and the Japanese have a demonstrated history of embracing sport and becoming almost fanatical in their approach to their chosen sport.
It is fair to say that cricket is in its infant stages in Japan, however, it has been my absolute pleasure to witness first hand over an eight week period (July to September 2000) the beginnings of what may become a very popular sport in this country.
The following report is an overview of cricket in the country at this stage (from an outsiders perspective, of course). It is worth noting that cricket has evolved to it's current position in Japan through the diligent and enthusiastic hard work of a number of volunteers. It is hoped that these volunteers are suitably recognised in this report.
SPORT IN JAPAN
As mentioned previously, sport is an important part of Japanese culture and the major sports are very high profile indeed.
The bigger sports in Japan at present are baseball, sumo wrestling, rugby, skiing (winter months) and soccer. The Japanese are very interested in Olympic sports in particular and I cannot count the number of times I was asked, "why isn't cricket an Olympic sport"?
At present baseball appears to be the number one summer sport in the country and the approach to the game is fanatical to say the least.
Baseball is big business in Japan and the sport receives considerable backing from the business sector. Teams such as the Yomiuri Giants (Japan's most popular team) and the Chunichi Dragons are owned by newspaper companies and others such as the Yakult Swallows (health food), the Nippon Ham Fighters (pork), and the Hanshin Tigers (railways) are all owned by major Japanese companies.
The professional teams play a 130 game roster during their season from April to September. The Yomiuri Giants play out of Tokyo's premier baseball stadium, the Tokyo Dome, which has a capacity of 56,000 spectators. The Dome is sold out for every match the Giants play!
Another measure of the fanaticism of baseball in Japan is the Koshien Schoolboys tournament held annually during the summer vacation (starting on the second Friday in August running for two weeks solid from 9.00 am to 6.00 pm).
The competition itself is elimination (you lose and you're out) involving forty-nine teams, narrowed down from nearly four thousand participating schools in regional preliminary matches throughout the country. It draws up to sixty thousand spectators per day, not to mention the millions of television
viewers who tune in daily. It is fair to say that the whole of Japan stops and takes notice of what is happening during this tournament.

2.
It is relevant to use baseball as an example of how the Japanese adopt and develop a sport that they find interesting (baseball was introduced to Japan more than 100 years ago and has been played professionally since 1935).
The Japanese are extremely interested in the history, tradition and etiquette of a sport and for this reason it is not too difficult to see cricket becoming popular if it is developed appropriately.
CRICKET IN JAPAN
There is in fact a reasonable amount of cricket being played in Japan at present. At this stage cricket is introduced to the Japanese at a University level and from here players progress into clubs as they commence working.
There are also a fairly high number of expatriates involved in competitions throughout Japan.
Unfortunately, at this stage there is very little junior development before University level, although Trevor Bayly (Volunteer JCA Development Manager) has been able to set up a number of very good elementary school based programs in the Gunma region and some other isolated areas around Japan.
There seems little doubt that given the appropriate time and resources, an elementary school based development program is one area for potential major growth.
Structured Competitions
Japan has a number of structured competitions and I was fortunate to view a quite a few matches in the various competitions. It was pleasing to be accepted so readily and after some initial introductions it was quite easy to offer some coaching tips to participants and spectators.
The following table outlines structured competitions in Japan at present;
Competitions:
Gunma Cup
2 days (100 overs)
Predominantly Japanese competition
Miyagimura Cup
1 day (50 overs)
Pedominantly Japanese competition
University League
1 day & 2 day matches
Teams competing:
Adolescents C.C. Chuo University, Aoyama University,
Far East C.C., Keio University, Wyverns CC,
MAX C.C., Senshu University, Tokyo Koka Uni.,
Millennium C.C., Tokyo Koka Uni, Senshu University,
Tokyo Bay C.C.

Women's University League
1 day & 2 day matches
Kanto Cup
Predominantly expatriate competition
1 day (30-40 overs)
Group A Kanto Cup
Group B
Kyushu League
Predominantly expatriate competition
1 day & 2 day matches 1 day & 2 day matches

4.
Administration
The Japan Cricket Association (JCA) was formed approximately twelve years ago and has a President (Professor Yamada). Professor Yamada is a highly respected figure in Japan and his continued involvement is regarded as very important.

The JCA have not been active for a number of years, however, in the past two years various Japanese players have re-formed a committee and become active in a number of areas.

The JCA has a sixteen person volunteer working committee at present and they have formed four sub-committees with portfolios that cover the following areas;

Public Relations(PR and Web Page) Player Development(Coaching and National team selection) Competition Structure(Match schedule and rules) Environment Improvement(Facilities and functions)
Kenichiro Matsamura Fumito Miyakawa Naoki Saida Takashi Ohira
Tomohiro Amino Yoichi Sato Tetsuo Fuji Takao Ito
Shinji Terao Hiroshi Kotani Yoshinori Kozu Akihiro Ichimura
Hidehiko Matsuchika Naoki Miyaji Takuya Takabe Yusuke Yamamoto
*I was fortunate enough to meet all of these hard working and seemingly tireless individuals. Witnessing first-hand their dedication and enthusiasm to the benefit of cricket in the country.

The JCA meets monthly and meetings are normally chaired by Mr Kenichiro Matsamura with each sub-committee providing a report on their respective portfolios. Mr Matsamura is a highly respected man in Japan cricket circles and his hard work and leadership are extremely important for the future well being of Japan cricket.

There is no doubting the enthusiasm of this group of hard working volunteers and whilst their current set up is adequate, it is apparent the JCA will need to become more formalised in the future.

Trevor Bayly has put a large amount of time and effort into Japan cricket and he has basically acted as the "National Development Manager" for a number of years. Unfortunately for Japan cricket, Trevor has been shifted with his work commitments and he now resides in China. He still has an office base in Japan, so undoubtedly he will continue to have a major input into the development of Japan cricket.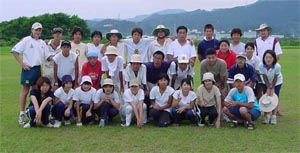 There are also a number of other expatriates who contribute to the organisation of cricket in Japan throughout the various regions.

Glen Carter, (who was also appointed as the National team coach for the recent Asian Cricket Council Tournament), assists with the organisation of the Kanto Cup and Chris Flynn assists in Kyushu.

I was fortunate to meet Glen Carter in Fuji and he provided me with a valuable insight into cricket in Japan. I should take this opportunity to thank him for providing me with fantastic hospitality and some very valuable local knowledge. "Cheers mate, much appreciated"!!

Facilities
Grounds in Tokyo are very difficult to get and at this stage there is only one ground available with a permanent wicket. The ground is in Koiwa and it is a highlight to say the least! Play is only possible from one end due to a large concrete barrier and dirt track that runs throughout the field at one end. The river that runs at the other end of the ground sometimes comes into play as well! All in all the ground itself is actually in good condition and the wicket does provides consistent bounce. The other "issues" appear irrelevant when play commences and lets face it, it's all cricket!

There is also a field in Hirai that is often used by the local players for training and matches, although with no surface for a wicket they basically just set the stumps up on the ground and play! Needless to say the bounce is sometimes very inconsistent and batting is rather difficult.

At the moment there are approximately 6-8 grounds available within the Gunma region (about an hour by bullet train from Tokyo), with the ground in Myagi Village the popular choice at the moment.

4.
There are good facilities available in Fuji with a nice field and a reasonable concrete wicket with a synthetic surface.

Yokahama has the Yokahama Country and Athletic Club (YC&AC) facility and this is regarded by almost everyone in Japan as the best cricket facility available. Unfortunately, it is also very expensive to hire unless you are involved in a match against the YC&AC team.

There is also a field available in Shizuoka that is quite good, although there is no wicket, other than mats rolled out onto the grass. Whilst visiting Shizuoka I was fortunate to meet with Robert -Gilles Martineau, a Frenchman who has been heavily involved with cricket in Japan for a number of years.

Robert has played a major role in implementing and maintaining a couple of web sites that provide an enormous amount of information to anyone who is interested. They are most certainly worth a look:
http://japan-cricket.com/
and http://shizuoka-cricket.com/

Although I did not visit Kyushu I believe there is also a couple of good facilities available there.

Junior Development
At the moment there are very few junior development programs in place, although Trevor Bayly and some JCA representatives have in fact done a significant amount of groundwork in this area. There are pockets of "Kanga" cricket being played within elementary schools in the Gunma region and there is also a very keen school in Nagoya (Sohara Elementary School).

It was my pleasure to run some Kanga field days in these schools and the reception received was simply fantastic

Trevor Bayly also organised several meetings with various Boards of Education during my stay to explain the opportunities and benefits of cricket for school kids. These meetings were worthwhile and the reception received was very encouraging.

As a direct result of these meetings, a coach accreditation course was initiated (see coach development) and several schools have shown a genuine desire to incorporate cricket into their curriculum in some form.

The JET (Japanese Exchange Teachers) program could provide cricket with an enormous opportunity to establish a foothold in the schools in future years.

I am led to believe that this program will be extended by the Japanese government in the very near future, thus providing an enormous pool of potential coaches who are generally very keen on seeing cricket introduced.

Given the appropriate time and resources it appears very realistic to envisage enormous growth in junior cricket development programs throughout Japan schools. It is exciting to consider the massive numbers of kids that could be reached through this program and the potential for rapid growth in this area is very realistic.

Women's Cricket
Women's cricket is popular at University level and there is a structured competition between most of the Universities (same as the men's University competition).

I was able to attend a number of women's matches and the enthusiasm for the game amongst the girls is fantastic.

The girls were also very keen to participate in the coaching clinics that were organised and they were very willing to learn and extremely pleasant to coach. They do have some ability too and I am sure that the future of the girl's game at University level at least is very promising.

Hopefully, given the right resources and time the girls game can be nurtured along similar lines as the men's version. There is no doubt the girls are keen and capable!

5.
Coach Development
This was an area that I devoted a considerable amount of time too and I am pleased to say that the amount of effort put into this area was very rewarding, professionally and personally.

As a direct result of the meetings with various Boards of Education, we were able to initiate a coaching accreditation structure that should provide a pathway for coaches in Japan for years to come.

The JCA were extremely supportive of this program and their assistance was vital in the overall success of the project.

After consultation with the various "stakeholders" it was decided that a structure for cricket coaches in Japan should involve five levels (Level 5 = basics, through to Level 1 = elite). This structure is similar to other sports in Japan (eg. in Karate a black belt is considered a Level 5). The Level 3 JCA cricket coaching will be similar to an Australian Level 1.

In particular, the Ogo Machi and Kasukawa Mura Boards of Education were very supportive and as a result approximately fifteen new coaches have been accredited at various levels.

I should take this opportunity to thank Minako Sekaguchi, for her fantastic efforts in translating the various coaching documents from English to Japanese and acting as an interpreter for myself during the courses. Obviously, without her assistance, communication would have been even more difficult to say the least and I sincerely thank her for her patience and kindness.

Elite player development/ National Team
An invitation to attend the Japan National squad training camp in Shizuoka was duly accepted and the enthusiasm shown by all those in attendance was fantastic.

The introduction of a number of skill drills will hopefully assist in the improvement of skill levels. At this stage the standard is fairly basic and most of the batsmen in particular have some problems with basic skill execution such as correct bat swing and basic grip and stance (baseball has certainly played a role in this education process!)

These minor, but somewhat significant problems can be addressed quite readily and I am sure that if the players put the time into practice then these deficiencies can be rectified quite quickly.

The bowling was reasonable and with a greater understanding of correct alignment and posture they should be able to continue to improve.

Some of the fielding was fantastic, particularly close to the wicket catching and I am sure the fielding will also continue to improve should more time at practice be devoted to this area.

As mentioned previously, Glen Carter from Fuji has been appointed as National team coach for the ACC tournament and I have little doubt that his input and knowledge will be invaluable.

Umpires and Scorers
The JCA has introduced an Umpires Accreditation Course and there are currently about 10 qualified umpires. Some have also shown an interest in studying an International Course via correspondence and they should be encouraged as much as possible. The standard of umpiring is quite good although there is some difficulties in availability of suitable umpires for all the matches.

Scorers are usually players girl friends and they do have a very good understanding of the game and do an outstanding job (most of them play as well).

Acknowledgments
There are so many people with whom I have come into contact with during my visit that it is perhaps impossible to thank them all in this report. To everybody that I have been in contact with during my Japan adventure I sincerely thank you for making my stay unforgettable to say the least.

In particular it would be remiss of me not to personally thank the following people;

6.
The entire JCA committee for their acceptance, cooperation, hard work and general goodwill.
Mr Kenichiro Matsamura for his leadership, fantastic hospitality and good will.
My "interpreters" and great friends Naoaki Saida and Noaki "Alex" Myagi for their support, humour and genuine desire to help me wherever possible.
Junior Takahashi, Tetsu Fuji and the entire Japan National team for their generosity, humour and acceptance of myself and my coaching methods.
The Nagaoka family for providing me with a wonderful home-stay environment. It is impossible to thank them enough for their hospitality and unreserved kindness and I will be forever grateful to them. They will always be regarded as my "Japanese family".
Mr Glen Carter for his hospitality, humour and local knowledge.
Mr Trevor Bayly for his personal support and advice along with his vision and determination to get cricket happening in Japan (sorry about the car Trevor!).
Miss Minako Sekaguchi for her brilliant translation work and also her happy and cooperative nature.
Mr Andrew Eade for providing me with the opportunity to become involved in such an exciting program and also for his guidance and cooperation from afar during some rather trying times.

Undoubtedly, I may have forgotten to thank somebody who has helped me a great deal and I sincerely apologise if that is the case.

In finishing, I would like to say that the whole experience has been a wonderful journey and I sincerely hope that Japan cricket has benefited in some way from my involvement.

I can guarantee the experience has been most enjoyable and it will be very interesting to see how cricket progresses in Japan in years to come. Once again thank you so much for the opportunity!

There is only one way to appropriately sign off for now.

"COMPAI"
(Translation = CHEERS!)




Shaun Williams
ICC (Japan Region)
Development Officer
Email: shaun_williams100@hotmail.com.au