If you want to know where Guiness draught in keg is available in Japan,check the following page:
http://www.sapporo-guinness.co.jp/publist_e/index.html
-----

FUKUOKA

(Kyushu Island)

Check more about this city waterholes at:

http://www.kyushu.com/fukuoka/nightlife/index.shtml

THE HAKATA HARP (Irish Pub)
Address: 1-1 Suzaki-cho, Hakata-ku, Fukuoka-shi 812-0028
Tel: (81)92-283-6446
Fax: (81)92-283-6262
(Courtesy: Pat Donelan)

CAFE DE FLORE (French Cafe/Bar)
Address: Fukuoka City, Hakata Ku, Sumiyoshi, 1-2-22, inside Canal City, B1
Tel.: (81)92-2632606
Fax: (81)92-2632206
Opening hours: 10:00~23:00
Somebody one day had the idea to build a small replica of the ubiquitous French Cafe Le Flore in Paris and quite succeeded, even if it is a very small version.
All the waiters shout their orders in French, although thay are all Japanese, except for the occasional foreigner (last time I went there the one in place was from Siberia!).
All bills are paid cash at the table as soon as you are served like in French cafes.
Main fare drinks served including Panache, monaco and food such as Croque-Monsieur!

HAMAMATSU

(Shizuoka Prefecture/Central Japan))

AMIGOS BAR
http://amigosbar.com/bar+grill/eng/index.html

HIMEJI

(Western Japan)

TIGER PUB:
http://tigerpub.net/sys-tmpl/door/

Keep him away from the whisky or the vodka!!!

KOBE

RYAN'S IRISH PUB
http://www.ryansirishpub.com/

KYOTO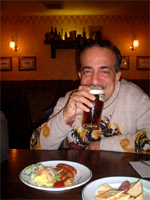 THE HILL OF TARA (Irish Pub)
Chef: Mr. Tagd McLoughlin
Adress: 640-0924 Kyoto, Nakagyo Ku, Oike Dori, Kawaramachi-Higashiiru, Millennium Bldg, 1F & 2F (just after the kyoto Hotel Okura)
Tel.: (81)752133330
Opening hours: Sunday~Thursday: 17:00~24:00. Friday~Saturday: 17:00~25:00
http://www.thehilloftara.com/
On two floors, near the Kamo River, The Hill of Tara is a very warm and welcoming bar, especially on the second floor!
Tagd Mcloughlin prepares true irish fare and the food comes quick on your table!
Very reasonable prices, all c.o.d, pay as you order, with no cover charge or other hassles so typical of this touristic city!
Draught Guinness and Kilkenny Yen 800.
Irish Whiskey and other Spirits Yen 600.
Traditional Irish stew (1,500 yen), beef and Guinness (1,500 yen), Irish Steak, Kilkenny Fish & Chips (1,200 yen), Donky Ford's Fish and Chips, Seafood Chowder (600 yen) and so on.
Definitely high on the scale of irish pubs in Japan!

IRISH PUB FIELD
http://web.kyoto-inet.or.jp/people/field62/

MISAWA

(Aomori Prefecture/Northern Japan)

PADDY'S (Irish Pub)
Address: Saiwai-cho, 1-10-9, Misawa city, Aomori Ken
Tel.: (81)176-500070
Fax: (81)176-500071
http://www.paddysirishpub.jp/
Opening hours: Dinner & Bar time: Tue-Sat. 17:00~01:00Sun. 17:00~23:00
Closed: Mondays
Opened in 2000, Paddy's Irish Pub in Misawa is the first Irish pub in Aomori Prefecture, even in the Tohoku region.
Paddy's Irish Pub is aiming to be a public house for the local and wants to be the closest pub to everybody. Young and old, men and women, even children (but not for alcohol!) and any nationalities can get together at Paddy's to enjoy CRAIC: Irish design, music, chatting with the Irish barman, drinking Guinness by skilled tapping and Irish pub food.

MITO

(Ibaraki Prefecture)

BRAVE HEART (British Pub)
http://www.cam.hi-ho.ne.jp/keiichiro-akagi/about%20us.htm
NEW YORK STATION
http://orbweb.net/nys/

NARITA

(Airport vicinity)

THE BARGE INN (British Pub)
http://www.thefiddler.com/

NIIGATA

(Northern Japan)

THE BLACK PIG (British Pub)
Address: 1F Rock Sun Building, Nishibori Mae Dori, 5 Bancho, Niigata
Tel. (81)25210-9321
This pub opened around February or March this year. It has a kind of pirate/smuggler theme to the interior decoration. It was VERY popular with Irish and English soccer supporters during the World Cup recently. Guinness/Kilkenny, etc. Food also served.
(Courtesy: Pat Donelan)

NUMAZU

(Shizuoka Prefecture)

FISHMARKET TAPROOM

(Home brewed beers!)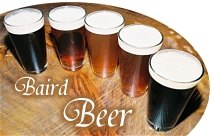 Address: Shizuoak Ken, Numazu Shi, Senbon Minato Cho, 19-4, 2F (5 minutes by taxi from Numazu JR Station)
Tel. & fax: 055-9632628
http://www.bairdbeer.com/
E-mail: taproom@af.wakwak.com
Opening hours: 12:00~ ? on Saturdays and Sundays, 18:00~? on weekdays. Closed on Tuesdays.
Upon recommendations from Allan Hamer, Neil Harrison and I decided to pay a visit to Fishmarket Taproom on November 28th to acquaint ourselves with the beers homebrewed by Brian Baird from Ohio, USA!
Wel, well, first thing to say is that we have to go back because we just could not taste all the beers!
Brian's homebrews are simply topclass! I believe another good friend of mine, namely Robert Yellin, when he told me people were travelling all the way form Yokohama to savour them!
Brian and his very nice wife, Sayuri, designed and opened their microbrewwery bar in July 2000. Sayuri is doing most of the cooking and serving while Brian is busy brewing the following beers:
Rising Sun Pale Ale, Bay Seam, Teikoku IPA, Angry bay Brown Ale, Kurofune porter, as well as a rotating seasonal beer.
Prices: ridiculous! 700 yen a pint, 550 yen a glass or 250 yen for a taster.
Other beers form England, Ireland, Czechoslovakia and Belgium are also available as well as 6 different Single malt Whiskies, 7 Bourbon and one Premium Sake!
A very large food menu for the hungry and the guests curious about the local produce. Worth atry!
Parties possible. Bands are coming on occasions, so check regularly!

Pictures coming soon!

OKINAWA

THE MORRIGAN'S (Irish Pub)
Addrtess: 2F 4250-1 Aza-Kin, Kin-shi, Okinawa 904-1201
Tel: (81)468-20-1555
(Courtesy: Pat Donelan)

THE MORRIGAN'S (Irish Pub)
Address: 2-7-33 Chuo, Okinawa-shi, Okinawa
Tel: (81)98-934-7778
(Courtesy: Pat Donelan)

OITA

(Kyushu)

PRINCE EDWARD ISLAND PUB
http://www.coara.or.jp/DailyNews_pict/1999/9903/pei/ (Japanese)

OTARU

(Hokkaido)

OTARU SOOKO No1 (German style)
Address: Hokkaido Ken, Otaru Shi, Minato-Machi, 5-4 (Along the Otaru Canal)
Tel.: (81)134212323
http://www.otarusooko-no1.com/
Enormous Beer Hall opened in 1997 inside a former hangar. Brews its own beers on site.
Pilsener, Dunkel (dark), Weiss (white) and seasonal beers. Available in 300, 500ml glasses (450~500, 680 yen) and 1,000 ml pitcher (1,360 yen)
Very reasonable and tasty beers.
All kinds of food and snacks. Sausages and Ethnic crab recommended!

SAPPORO

(Hokkaido)

BAR JERSEY (American style)
http://www.amesu.com/jersey.html

SENDAI

(Northern Japan)

SHAFT
http://www2.ocn.ne.jp/%7Eshaft/english_main.html

SHIZUOKA

(Central Japan)

OUR BOOZER

(British/International Pub/Bar)


Our Boozer has become the Official Sponsor of the Shizuoka Kytes Cricket Club in march 2005!

Address: Shizuoka Shi, Koya-Machi, Shibata Bldg. 3F close to Seibu Dept store, just opposite Nakajimaya Grand Hotel corner, above Bon Appetit restaurant.
Tel.: 09011011245 (English, Japanese and some other languages spoken)
Opening hours: 18:00~late everyday, Fridays and Saturdays are particularly busy with sometimes standing room only.
Karl Emerson opened this new bar on July 19th 2003 for the great pleasure of the foreign community and Japanese alike!
He provides a service which has been sorely missed until then: a no-frill Pub/Bar with no hassles, very good prices and maximum facilities right in the middle of downtown Shizuoka!.
Apart of bottled beers from America, New Zealand, Australia, Canada, England (400yen~) and elsewhere, as well as tap beers –Carlsberg (450yen) and Abbots (750yen pint) and other drinks including cocktails, good quality pub grub is also available from 350 yen, including Steak Pie and Chips, Fish and Chips, Mexican and other foreign foods.. Karl is always listening to suggestions to improve the drinks and food menu, so do not hesitate!
Pay COD at the counter bar-No extra charges!
A full size pool table for the cue buffs and a Sky Sports Television for the Sports and Music/Film maniacs (football, rugby etc.). Don't forget the Darts with automatic electronic scoring.
Many projects are in the offing: theme nights, pub outings, live music, and so on!

REMEMBER (Music & Oldies Coktail Bar)

Owner: Mr. Hayashi
Address: 420-0035 Shizuoka Shi, Shichiken-cho, 8-6, Act 7 Building 5F
Tel.: (81)54-2718618
Open every day: 19:00~04:00
Homepage: http://www2.gateway.ne.jp/~remember/ (Japanese)
E-mail: reme@884net.com
I have meant for a long time to introduce this favourite late-night bar of mine! A great place for 60's, 70's and early 80's rock lovers as music tapes, videos & LD's are constantly on. Have a quiet talk with Mr. Hayashi, and I'm pretty sure he will come up with something special from Fleetwood Mac (Peter Green's), Santana (Woodstock), Pink Floyd (The Wall), Monterey Festivam, Jimi and more and more!
Great drinks, reasonable prices, quiet customers. Perfect place to spend alone or with special company!

YASOUGIN (Japanese)

Address: 420-0089 Shizuoka Shi, Takajo, 1-2-8, Hiyoshi Bldg 1F, first street on the right from Shin Shizuoka Center up Kitakaido
Tel. & Fax: (81)54-2500005
Opening hours: 19:00~02:00
Closed on Mondays
Mr. Matsumoto opened this very Japanese atmosphere bar in October 1999.
Find yourself in Kyoto once you have passed the entrance! Very cozy all-wood decor. Very exacting service. Great sake and cocktails. Do not forget all the titbits! Reasonable prices.
Recomnnended for ladies and couples, but singles will feel at great ease, too!

What a hangover!
TOKYO
Visit Hobgoblin Pubs in Tokyo!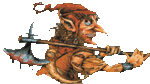 -----

For more on Tokyo Bars and else check:

http://www.metropolis.com/

(THE) ALDGATE (British Pub)
Address: Tokyo, Shibuya-Ku, Udagawa-cho, 12-9, World Blg B1
tel.: (81)3-34622983
Open every day 18:00~02:00
Fine British food, beers, cocktails and good music.
http://www.aldgate.com/

(THE) BLACK SHEEP (International pub)
Address:Tokyo, Toshima-Ku, Higashi Ikebukuro, 1-7-12, B1
Tel.: (81)3-39872289
Opening hours: Monday~Thursday, 18:00~01:00; Friday & Saturday, 18:00~late. Closed on Sundays.
Happy Hours: all night monday, 18:00~21:00, Tuesday~Saturday.
Kilkenny and Guinness, only 700 yen. Other beers, all 200 yen off.
ladies night every Friday and Saturday. no cover charge

CLUBHOUSE
Marunaka Bldg., 3F., Shinjuku 3-7-3, Shinjuku-ku, Tokyo, 160-0022
Tel: 03-3359-7785
Open 7 days a week.
Happy hours: 17:00~19:00. Normally they close around 1 or 2 am.
CRICKET, Rugby, Premier League, all sports shown.
Thai curries, Fish & Chips, Aussie meat pies, Greek salad, Seafood dishes.
http://www.clubhouse-tokyo.com/

(THE) DUBLINERS IRISH PUB
Address: Tokyo, Shinjuku-Ku, Shinjuku, 3-28-9, Shinjuku Lion Hall 2F (one minute from Shinjuku station)
Tel.: (81)3-33526606
opening hours: Monday~Saturday, 12:00~01:00; Sunday, 12:00~23:00
Happy hours15:00~19:00: all coctails only 500 yen
Half a pint beer, fish and chips set: 1,000 yen (15:00~18:00)
Live music every 4th Thursday, 20:00~
Guinness, Kilkenny, Dubliners' original beer, 1 pint 850 yen.

THE FIDDLER
http://www.thefiddler.com/

(THE) FOOTNIK (British Pub & Football)
Address: Tokyo, Shibuya-Ku, Ebisu, 1-11-2
Tel.: (81)3-57950144
Opening hours: 15:00~01:00. All night on Fridays, Saturdays and holiday eves.
Lunch time: 11:00~15:00 (Monday to Friday). Happy hours: 15:00~18:00, all draft beers, 200 yen
http://www.footnik.net/

THE FROG'N' TOAD (British Pub)
Address: 5-5-1 Roi Building, Roppongi, Minato-ku Tel.: Roppongi. 03-3408-3602.
http://www.frogntoad.com/
(Courtesy: Pat Donelan)

KAMMA BAR
Address: 1-1-1, Asakusa, Tokyo.
Tel.: (81)3-38415400
Don't miss this bar!
One of the oldest in Asakusa. Takeshi Kitano used to be a more than regular there!

(THE) MEGURO TAVERN (British Pub)
Address: Tokyo, Meguro-Ku, Shimomeguro, 1-3-28, Sunwood Meguro, Blg 2F (1 minute from Meguro station)
Tel.: (81)3-37790280
Opening hours: 17:00~late. Opened at noon on Sundays.
happy hours: (Monday~Friday) 17:00~19:00
"The Pub With The Grub". can cater to over a hundred!
Sunday roast Lunch: all you can eat for 1,00 yen. Main menu includes Cornish Pastie, Fish & Chips, Shepherd's Pie (all 950 yen)
Live sports T.V.: soccer & rugby.
http://www.themegurotavern.com/

PADDY FOLEY'S IRISH BAR
The very first Irish pub in Tokyo!
Address: Roi Building B1, 5-5-1 Roppongi Minato-ku, Tokyo
Tel/Fax: 03-3423-2250
Of all the many Irish pubs in Tokyo, Paddy Foley's Irish Pub was the first, built in Ireland and shipped to Japan piece by piece.
Can be very crowded. Standard drinks. Guinness pint: 950 yen.
Many expats and many events organized for their benefit. They even plan to create a cricket team in 2004, the Paddy Irish C.C.!
http://www.paddyfoleystokyo.com/

(THE) ROSE AND CROWN Victorian Pub:
http://gnavi.joy.ne.jp/GN/en/g068230h.htm

O'CAROLAN IRISH PUB (Irish Pub)
Address: Tokyo, Meguro-Ku, Jiyugaoka, 2-15-22
Tel.: (81)3-3723533
http://www.o-carolan.co.jp/
Opening hours: 11:00~23:00, Tuesday~Sunday; 17:00~23:00, Monday
Drink specials and live music.
Green beer, 500 yen; green cocktails, 500 yen; Black Bush, 800 yen; Bailey'S, 500 yen
Live band on Sundays. Irish music.

THE ROUNDSTONE (Irish Pub)
Address: 2F Sea Fort Square
2-3-10 Higashi Shinagawa, Shinagawa-Ku, Tokyo
(zip-code 140-0002, Japan)
Phone & fax: (81)3-5796-2848
http://www.avalon-intl.co.jp/roundstone/e-index.html
Open 7 days a week.
Monday to Friday 11:30 - 23:00 (last order 22:30)
Saturday, Sunday, holidays 11:30 - 22:00 (last order 21:00)
Holiday menu on Saturday, Sunday, holidays.

SCRUFFY MURPHY'S (Irish Pub)
Address: Tokyo, Shubuya-Ku, Jingumae, 6-5-6
Tel.: (81)3-34993145
http://www.geocities.com/scruffymurphystokyo/
Opening hours: 17:00~05:00, Monday~Friday; 12:00~05:00, Saturday & Sunday
Good Irish pub with some Irish music nights.

THE SHANNONS (Irish Pub)
Address:1F Gatecity Osaki
1-11-6 Osaki, Shinagawa-Ku, Tokyo
(zip-code 141-0032, Japan)
Phone & Fax: (81)3-5437-5779
http://www.avalon-intl.co.jp/shannons-irishpub/index.html#head
Open 7 days a week
Monday to Saturday 11:30 - Midnight
Sunday 11:30 - 22:00
Lunch served 11:30 - 14:00 everydayDinner served from 17:00 every night

TOKYO SPORTS CAFE
Address: Tokyo, Roppongi
Tel.: (81)3-4043675
Opening hours: 18:00~late. Closed on Sundays.
Happy hour: 18:00~21:00. All drinks 500 yen.
Live sports: Premier League, F.A. Cup, NFL, NBA
http://www.tokyo-sportscafe.com/

YOKOHAMA

BAR WHY NOT? (International)
Address: Yokohama, naka-Ku, Motomachi, 1-31, La Spega Motomachi B1
Tel.: (81)45-6632955
Opening hours: 18:00~05:00
ladies nights every Friday (300 yen drinks)
http://www.inyokohama.com/whynot/

THE TAVERN:
http://www.the-tavern.com/index.html