I do not know about their cider but you should have a look for all the photos on England Cricket & Cricketers
(Click on central pic first!)

Current Cricket
Friendly Sites & Sister Clubs
---
Martin Firbank's Letter
---
Shaun Williams' Japan Coaching
---
Cricket Contacts/Links in Japan
-----
Cricket Contacts/Links Abroad
---
2000 Season Articles
2001 Season Articles
2002 Season Articles
2003 Season Articles
2004 Season Articles
2005 Season Articles
2006 Season Articles
---
Shizuoka County C.C.
-----
Shizuoka County Cricket Club members
-----
---
Robert Martineau
has left us!
---
More about Rugby
League & Union

---
Other Sports
---
All about
Winter Sports in Japan

---
Write to us at:
<lapin-dragon@vcs.wbs.ne.jp>
---

INTRODUCTION
(A little history)
SHIZUOKA KYTES C. C. BOARD OF HONOURS
(Scream, cry or rant!)
YOUTH CRICKET
(The Future of the Club!)
GROUND ACCESS
(That is if you really want us to beat you!)
BATTING, BOWLING & FIELDING STATS
(For your pride or shame!)
SEASON PHOTOGRAPHS
(Photographs of the various states of the ground, players at practice, teams before and after matches and other horrors!)
MEMBERS
(Introductions & Photographs)
2008 KANTO CRICKET LEAGUE SCHEDULE
(The Official Competition)
KYTES & MUCHA CPC'S SCHEDULES
(Members, please check!)
CURRENT CRICKET NEWS
(What's happening in Japan! Results/Reports/news)
LINKS IN JAPAN
(Access to all clubs)
LINKS ABROAD
(Access to whole world cricket news)
FRIENDLY SITES & SISTER CLUBS
(New friends are always welcome!)
2008 SEASON SCHEDULES
(Check your club venue)
---

November 2nd: Friendly: 13 Adore not enough to outscore Kytes:
Shizuoka Kytes C.C.: 201/8 (35 overs) (Ashley Harvey 84)
Adore C..C.: 145/11 (35 overs) (Wataru Masuda 32, Mewan Kothalawala 3/33)
Shizuoka Kytes C.C. beat Adore C.C. by 56 runs.
Scorer: R-G. Martineau
See Scoresheet HERE>>

Neil Harrison writes:

Adore enjoyed their 2007 end-of-season 60-run defeat and barbecue down in Shizuoka so much that they decided to come down this year and do it again.
Conditions were pretty much perfect as the Captain won the toss and snatched the chance to bat. Kytes new look line-up featured 6 Sri Lankans and only one Australian. The Captain was keen to try out as many bowlers as possible, and had agreed to allow all 13 Adore members to bat, which meant Kytes had to post a competitive total of at least 200.
Fortunately, Adore skipper Shun was also in the mood for improvisation and a rather toothless opening pairing of Ikeba and Shimada gave Joel and Wasantha a limp-wristed welcome to the crease that they were more than happy to accept. Both opening bowlers looked solid if unspectacular till the first bowling change brought on the much quicker Sunaoka and a chance for Joel to lift an effortless 5 (almost a 6!) square onto the terrace. Later in the over, Sunaoka got his revenge with one that looked to be barreling straight down the channel outside off, but cut back in just enough to beat the outside edge and tickle the outside of off stump. Ashley came out to join Wasantha and looked in touch from the word go, but his next 3 partners seemed reluctant to hang around. Wasantha and Lalith were both bowled by balls they could easily have blocked and then Suresh almost escaped being hit on the boot in front of middle, but Tsukada appealed as an afterthought and Suresh was on his way.
The Captain then joined Ashley and their partnership of 68 at a run a ball got the innings out of stagnate mode. Ashley was by now motoring and looking good for his first ton for a couple of seasons. Shimada got just reward for causing the Captain all sorts of problems when the Captain finally middled one but picked out Sunaoka at mid-off for a good low catch. Mewan, Uditha and Lakmal kept Ashley company as he floored the accelerator in the final overs, but the latter's dash for a ton ended with a skied heave and a good catch by Yamanouchi running in at mid-off.
The Kytes innings finished on 201/8, with the major contributions coming from Ashley (84 from 88 balls, 10x4, 3x6) and extras (56).
Shimada (7-1-2-24) was by far the pick of the bowlers, but Sunaoka also bowled two good pacy spells.
After a leisurely lunch in the sun, the Sri Lankans decided to monopolise the scoresheet, bowling 14 of the overs up to drinks (and 25 of the total) and taking credit for just about every aspect of every dismissal right the way through. A wayward, wide-filled over from Mewan got Adore off to a good start, but thereafter Mewan and Lalith got stuck into the not too arduous task of whittling out the 12 Adore wickets on offer. First to go was Baba, snicking Mewan to Uditha. Yamanouchi and Shoji followed without too much fuss but then Nakazawa and Masuda put up stiff resistance for a while. The Captain decided to limit his bowlers to 5 overs a piece, turning to Ashley and Lakmal for the next 10, but still there was no joy for the white boys. The best the non-Lankans could manage during all of this was half a run-out, when Joel's return to Suresh was in time to beat Masuda's bungled attempt at a quick single. Lakmal meanwhile, who in his previous and only appearance for Kytes had bowled 1 over for 20 runs, was having a ball at the Bridge End, bowling a tight line of skiddy medium pacers that Adore seemed to have trouble picking.
At drinks, Adore were 60/5, and pretty much out of the chase, and Kytes leading wicket-taker still hadn't bowled. In due course we had Suresh on at the Lone Tree End, replacing a wicketless Ashley, with Wasantha trundling in from the Bridge End. Cue another flurry of wickets, 10 down by the 30th over and time for a double bowling change. And so it was that the Captain had his master plan, bringing Takashi on from the Lone Tree End and himself from the Bridge End - let's see them Lankans take a wicket now! Takashi was bowling ultra dobbers and Ikeba duly dobbed back and chopped his own stumps down. The Captain had no luck from the Bridge End and so it fell to the Grand Old Man to crack the last wicket, with Tsukada immaculate as ever at the crease. Third ball in, and we thought Tsukada had joined the Hall of Shame when he lunged at a full-length donkey dropper and stranded himself down the track. Uditha slapped off the bails and Tsukada was off to enjoy the derision of his teammates on the terrace, when Ashley, showing a hitherto unrevealed respect for fair play and the Spirit of the Game (not to mention knowledge of the rules), pointed out that Uditha had gathered the ball in front of the stumps before breaking the wicket, thus contravening Law 40 (see below). A reprieved and chastened Tsukada duly dotted out the remainder of the over, leaving Adore on 145/11 at the close.
There wasn't a whole lot of substance to the Adore innings, apart from the fact that they survived to the last ball. Takita was absent, Nakazawa was out of touch and Ito departed early to a good catch by Wasantha at point. None of the other candidates really looked like they had the confidence to go after the Kytes bowlers, which in turn boosted the bowlers' confidence. Masuda (32 off 46, 4x4) was willing to have a go, but there was a bit too much baseball in his strokes.
For Kytes, Mewan (5-0-3-33) recovered from a wild first over to bowl an aggressive and increasingly quick spell that bodes well for Kytes in 2009. Don Prelis (5-0-2-19) was punished for 2 loose deliveries but bowled excellently otherwise. Lakmal (5-0-2-23) and Wasantha (5-1-1-11) bowled spells that proved a bonus for the Captain, and Suresh (5-0-1-9) came up with a wicket as usual, to virtually assure his spot as Kytes' top wicket taker of the year.

Man of the Match: Ashley Harvey, for another excellent innings and not a bad piece of bowling - pity he didn't get a wicket. And for knowing the rules.

+++++ Post Script +++++++++++++++++
He's Right, Y'Know!
Law 40:
*3. Position of wicket-keeper*
The wicket-keeper shall remain wholly behind the wicket at the striker's end from the moment the ball comes into play until
(a) a ball delivered by the bowler
either (i) touches the bat or person of the striker
or (ii) passes the wicket at the striker's end

or (b) the striker attempts a run.

In the event of the wicket-keeper contravening this Law, the umpire at the striker's end shall call and signal No ball as soon as possible after the delivery of the ball.




October 26th: PFC Semi-Final: Giants hold off Kytes rally:
Tokyo Giants C.C.: 162 (28.5 overs) (Hanif Mohammed 46, Suresh Navod 4/28, Ashley Harvey 3/30)
Shizuoka Kytes C..C.: 157/6 (32 overs) (Ashley Harvey 68*, Matt Sharpe 43)
Tokyo Giants C.C. beat Shizuoka Kytes C.C. by 5 runs.
Scorer: R-G. Martineau
See Scoresheet HERE>>
Matthew Alphonse Sharpe writes:
Well, what looked like a rain-affected affair early Sunday morning turned out to be a cool, at times freezing game of cricket with all the excitement and in-house fighting (by the Giants of course), a tight game of cricket can produce.
The Kytes arrived at the ground in their usual way, dribs and drabs, with Neil, Robear and young papa-to-be Suresh, cutting the inner and outer areas of the ground which was somewhat soft under foot. Neil was kind enough to hand over the captaincy duties to me for my final hoorah with The Kytes.
At the coin toss, one that I won, I went against the usual Kytes strategy and put the Giants in to bat. Kamal, for those who don't know him, actually plays for the Giants and smacked yours truly all over the park the last time we played them, has crossed sides and hopefully will be with us from here on. He opened with the new ball. I was at the other end and was very unlucky not to have a c&b off my first ball, just tipped the pinky! Next over I was luckier when I slipped a slower ball through Naeem's defense for our first wicket. Clean bowled, gotta like that!!! Soon the Giants were in more strife when a mix up between the batsmen saw Nick and myself combine with Ashley to score a runout! Two fa! Kamal and myself bowled quite tight, unlucky at times not to get a caught behind (Eh Marty!!!), and combined with some good fielding to restrict the Giants to 2/21 after 10 overs. Suresh and Marty then came on and it was Suresh who exposed the Giants free hitting in the air to get the next breakthrough. Marty was the unlucky bowler to miss out on a wicket on several occasions. Karma mate, shouldn't have dropped those ones in slip . Although, Marty did make up for those misses with an excellent catch at point when the comment came from the batsmen,"that ball caught you"!!! At drinks the Giants were 3/64.
After drinks the Giants opened up their shoulders and started to put a few runs on the board. Suresh was bowling a good line and was rewarded with more wickets, all catches. The Toddler took a nicely timed plod to catch Malik Naseem in the outfield and then Neil, after how many bites of the cherry and practice dropped catches, took a solid catch in the outfield to remove the dangerous Mumtaz. After his dismissal the bickering on the sidelines was evident, the Giants were in deep SH#T!!! Ashley came on and we switched keeping duties to get his line and length right to remove Noman Iqbal, Giants 7/112 In came, "I'm to sexy for my team", Gulzar (of Lalazar), who is known for his ability to change a game in a matter of overs with his lusty hitting. He looked set to take things away from us but his arrogance got the better of him and he tried to smash Ash (short rhyme!!!) only to get a nice thick edge to yours truly doing the keeping duties. I must say, his apparent arrogance showing through when he refused to walk until Mumtaz told him to be on his way!!! Ash got his 3rd with a nice outfield catch to Nick. Unfortunately Nick was very unlucky not to have the dangerous Hanif (on loan from Al Karam) caught on the boundary when he hit a lofted shot to the boundary only to find Suresh had crept in to smell the action and the ball sailed over his head for four runs. He then went on to make us pay for that hitting 21 off that over!!! Nick stiffer than Robear on Viagra!!! Kamal then came on and got the final wicket to finish with 1/23, Giants all out for 162 in the 29th over. Suresh the pick of the bowlers with 4/28, Ash 3/30 Kamal 1/23 and Me 1/15.
After a short lunch break that saw Nick and Marty combine their great Aussie backgrounds and whip up a raging (no, no viagra referrals here!!!) BBQ. Todd and Larry were loitering around the chicken wings ready to pounce on anything Marty wasn't attending to!!! Shame there was no lamb for the big Kiwi!!!
Todd and I opened up and another Giants loaner, Noman, bowled a very tight line not allowing us to score freely as we had hoped. Toddy left one that came back a long way and luckily for Todd, did not hit his off stump. Toddy may refer to his good judgement but Neil and I were thinking otherwise. Not long after that Todd's luck ran out against Younus (another loaner) and he inside-edged onto his pad and onto the stumps for a duck. Larry then came in and looked a little lost when running between the wickets missing out on valuable runs on numerous occasions. He also tried to play a straight one to the boundary also being clean bowled by Younus for 3. At this stage runs had dried up and when Joel came in and then departed faster than my quick wit, we were the ones in deep POO!!! The Kytes 3/25 off 13 overs. That brought Ash to the crease and him and I steadied things up until drinks. After 16 overs we were a measly 3/29.
After Drinks we came out firing getting those boundaries that had been escaping us before. We pushed the score up to 65 before I did my usual and skied a ball off Gulzar, who took an easy C&B. I was out for 43. That brought the big hitting Kamal in and he and Ash really upped the pace with lusty hitting to all parts of the Kytes beautiful ground. With 4 overs to go Kamal unfortunately went for one too many and was bowled for an entertaining 25 Needing 12 an over Neil came in and tried to force the Giants bowlers and looked good until being caught by Mumtaz on the boundary for 6. Nick then came in with the "tree trunk" as his preferred weapon and when it came down to the last over and Mumtaz bowling it we needed 27 to win. With Ash facing he struck boundary after boundary and the Giants were sh#tting bricks. It all came down to the last ball, we needed a 6 off it for a tie, which would have meant we won because we had wickets in hand BUT unfortunately Ash's shot to the boundary was cut off for a single and The Kytes went down valiantly by 5 runs. Ash finished with an inspiring 67 not out and Nick was on 1. Our total 6/157 off our 32 overs. Should've gone for the 35 overs, eh Neil??? It was a great last match for me and one I will remember. I can't help but feel it was definitely a game we lost, not them winning it. Everyone did a great job and I'd like to thank Robear for doing a fine job of scoring. It was getting quite tense there for him in the final overs!!!

To all of you who have made my stay in Japan and games with The Kytes memorable, thank you very much. I will of course look forward to hearing via email how you boys are doing next season and I hope to catch up with you all when I visit in the future.
Cheers,

Matt, Sharpey, Alphonse or whatever else you blokes like to call me




September 7th: KCL: Lalazar thrash woeful Kytes:
Shizuoka Kytes C.C.: 84 (18 overs) (Habib Hussain 5/14 - including the first hat-trick against Kytes, Gulzar Ahmed 3/10)
Lalazar C..C.: 85/2 (8 overs)
Lalazar C.C. beat Shizuoka Kytes C.C. by 8 wickets.
Scorer: R-G. Martineau
See Scoresheet HERE>>
Nathan Maber writes:
Nathan?




August 24th: KCL: YCAC forfeit to Kytes:
YCAC unfortunately and disrespectfully decided that, as they did not need the points to qualify for the KCL semi-finals, it was not worth travelling to Shizuoka to play their 2008 KCL match.

August 2nd: Friendly: Serendib C.C. roast Kytes C.C.:
Shizuoka Kytes C.C.: 123 (31.4 overs) (Dhanuka S., 4/17)
Serendib C..C.: 124/4 (22 overs)
Serend C.C. beat Shizuoka Kytes C.C. by 6 wickets.
Scorer: R-G. Martineau
See Scoresheet HERE>>
Neil Harrison writes:
Kytes stood in as opponents for Serendib and were reminded why they don't
normally play cricket in August. The ground was in near perfect nick, but the sun was belting down and only an intermittent breeze made conditions
bearable. Drinks every 10 overs was the order of the day.
Serendib showed up late and called wrong. The Captain snatched the chance to bat and ran off to the shade. Serendib have improved a long way since
there first entry into the KCL and the bowled straight and fielded sharply. Shiron found Alphonse's inside edge early on and Jayasura caught Sharpe sharply, but it was a low one and Alphonse's little gut blocked the umpire's view. Fortunately for Alphonse, the square-leg umpire was asleep.
Serendib, to their credit, sucked it up and got on with the game without any fuss.
They carried on bowling straight and a succession of misjudged shots kept
the scorer busy. Only Alphonse and Don Prelis offered resistance. Alphonse
ended up suckered by a short-short ball that lollipopped over his pull.
Only The Captain broke the trend, leg before to one that cut back. Honest.
Takashi capped his comeback with a couple of brutal boundaries and
Wasantha looked solid but ran out of partners. Last to go was Francois Le
Suisse, who managed to dupe Dhanuka into bowling wides and gimmes for a
short while.
123 all out, and back to the old days for Kytes. But at least with a new team record - 9 bowled.
For Serendib, Asanka and Dhanuka bowled excellently, with good support
from Shiron and Budhika Adhikari - it really was a good all-round bowling
effort that left Kytes with few margins for error.
Kytes took to the field after a leisurely lunch and a trip to the river.
Alphonse and Nick bowled a good opening spell, but apart from a direct hit
from Alphonse to run out Danasiri going for a poorly judged single, Kytes missed the chance to apply pressure by shelling 2 easy chances. The heat
told and the bowling loosened. Nick's 5th got flayed and he didn't
appreciate His Frenchness's reminder at the drinks break. Don Prelis
replaced Nick, retightened the screw and finally cracked the second wicket. Pants came on for Alphonse and grabbed one, Lasish slogging to
long-on for Takashi to take a good catch on the run. Nathan replaced the
Don and bowled Samira, but after the 8th over the bowling was never tight
enough and Serendib were done and dusted in the 21st over.
Serendib got away with some lucky aerial shots but never looked like
collapsing.
Kytes fielded well enough, but were never going to defend such a low total
with such a depleted bowling line-up.
Man of the Match: Dhanuka (7-2-4-17)- two good spells always increasing in pace, but he still managed to show mercy to Francois at the end


July 6th: Friendly: Shizuoka Kytes comfortably beat Indian Tigers C.C. behind century partnership by Ashley Harvey and Arbab Mohammad:
Shizuoka Kytes C.C.: 263/5 (40 overs) (A. Harvey, 65; Arbab Mohammad, 54)
Indian Tigers C.C.: 165 (30 overs) (Anil N.T., 44; Udaya Raj, 43)
Shizuoka Kytes won by 98 runs
Umpire: R-G. Martineau
See Scoresheet HERE>>
Robert-Gilles Martineau writes:
Finally on Sunday July 6th, we managed to play our maiden game against the newly formed Indian Tigers C.C. after having been stalled no less than three times by inclement weather!
The Club Gardeners had spent a total of 12 hours mowing the grass twice to deliver a green carpet that earned the compliments of the opposition, that is, until they found out to their chagrin it was a lot faster than the other Kanto grounds they had experienced until then!
As usual some of the Kytes members distinguished themselves with an endemic lack of concern.
The Stork Toddler had lost himself, feathers, bones and all in a quagmire of inebriated irresponsibility the night before not to surface again.
Bunny came to the ground directly from the last booze at 8:15 a.m. and was ordered by the gardener on duty to sleep it off until first ball. Seeing him sprawled all over one bench in unconscious semi-nudity, Porno and Alphonse immediately christened him with the new grand nickname, "Sausage". We had to point later that sausages could be made from fish, chicken and even whale to prevent any misunderstanding.
The boundaries had been expanded to their maximum for the first time and it promised a lot of running for overzealous fielders.
Our considerate Captain distinguished himself by winning the toss and choosing to bat first, thus giving a couple more hours for the Sausage to fry himself under the sun.
Porno's cousin, Ducky, was kind enough to volunteer as the 11th player and was donated a club jersey to prove back home that he played cricket in the Land of Rising (not for some!) Sun!
For once His Gallic Horror decided against scoring (some other members definitely need the practice) and proclaimed Himself Umpire Of The Day to the pleasure of the opposition and to the dismay of his own club members.
Alphonse and the Don amassed 41 runs in good time until the former (15) cut Udaya Raj's first ball too late to give a straight catch to first slip.
Arbab (we will have to find a nickname for him. Porno, help me!) nonchalantly combined for a half-century partnership with the Don (32), who was beginning to feel overcooked by his unusual stint until he spooned an easier ball from Biju Joy directly to mid-on who had the gall to juggle the ball in front of our poor Lion who for a very short instant had hoped for a well-earned reprieve. Good work, Larry! You may ask promotion to the Batting No 1 spot next time!
Then came Baa Baa in one of his worse moods which saw him pairing with our very quiet Pakistani to destroy the opposition to the tune of 122 runs in 13 overs helped on the by a generous dose of wides in spite of the Umpire's marked leniency.
Arbab (54) then swatted across a ball from Biju that kept low and walked away before the umpire had lifted his finger. He obviously already had his mind on the bowling to come.
Baa Baa (65) soon departed lbw too to an outswinger by Udaya Raj that kept low, and was still moaning about his unjust dismissal two days later. The opposition started to worry for real when they learned from the Umpire (intoxication from an Umpire? How vile!) that they could expect some retribution when the big lad's bowling turn would come.
Captain (11*) and Dancing Gloves (20) kept the runs ticking until the latter was brilliantly caught and bowled by Mithun, which left Porno facing only one ball which did produce a run which was not accredited to him in spite of the scorer's efforts to the contrary.
263 for 5. The best total of the year. A great team effort in all chauvinistic honesty!

The lads could not wait to be back on the ground, especially half of the team that did not bat. Having a big total to "defend" works wonders on a team's morale!
Arbab took the new ball and saw his third delivery brutalized by Anil T. over the boundary. It might become a long day after all.
It was then that Biju Joy made the suicidal mistake to run on Suresh's arm. Suresh has developed this quaint habit of combining lbw's, run-outs, wides and dropped catches, all in the same game, and no one had been kind enough to warn the opposition.
Then came in Vinod G. V. who was shortly snared inside Baa Baa's unforgiving hands off unruffled Arbab.
Porno had some wretched luck with a stumping ignored and a dropped catch by Alphonse that earned him a tame "C'mon, mate!" instead of the usual torrent of abuse. Captain finally demonstrated how to catch balls in spite of all kinds of ailments to give his riled Ozzie bowler something to boast about.
Meanwhile a grumbling Baa Baa was given the ball without any previous warning. He had not realized His Captain's craftiness who had succeeded in making him an even more dangerous proposition for the facing batsmen.
Unfortunately Baa Baa could not work out the Umpire's alien accent for a while, which had him screaming "Is it Sunday or Saturday today?". To which Arbab ingenuously replied "It's Sunday, Ashy!" for all to hear. Finally the tactic worked with the help of the Captain again when the dangerous Anil N.T. mistimed one shot too many.
Udaya Raj was still scoring too freely, though. Jack of all Trades Suresh was then brought in and dutifully obliged with two quick LBW'S in the same over with no complaints from the batsmen absolutely dead plumb to straight balls that kept low. After Alphonse had taken care of Sukesh with an inswinging beauty that cut away and of the obstinate Udaya Raj who finally skied into Baa Baa's safe hands, it was time for Captain to show his appreciation for good services rendered by giving the Flying Monk a bowl before he left back to Oz Land.
One of his balls was somehow skied into Ducky's hands to give him his wicket and remind the Umpire that usually ducks become foie gras in the hands of monks (sorry, Baa Baa, but I'm not going going to help you decipher this joke!).
Fittingly Prancing Monk ran out the last batsman with a direct throw for the last action of the day.
A comfortable win by 98 runs, and a lot of thanks from the Indian Tigers, a very gentle bunch in spite of their roaring name. who have asked for the next friendly.
Man of the Match: Ashley Harvey. Well done, mate!
All in all, a great day with plenty of banter, exercise and fresh air (that is until we repaired to Yoshida Soba Shop, where the air got noticeably rancid!)
Nickname Lexicon:
Matthew Sharpe: Alphonse
Lalith Prelis: The Don, Larry, Lyon
Arbab Mohammad: willl be called "Barbie" from next match!
Ashley Harvey: Baa Baa
Neil Harrison: Captain
Nathan Maber: Dancing Gloves
Nicholas Shannon: Porno
Leigh Abbott: Flying Monk, Prancing Monk
Suresh Navod: Jack of all Trades
Shoaib Aziz: Bunny, Sausage
John Duck: Ducky
Todd Phillips: The Stork, Toddler
Robert-Gilles Martineau: The Grand Old Man, His Gallic Horror

June 22nd: KCL: Shizuoka Kytes C.C. vs. Indian Tigers C.C. Match rained out

June 15th: Friendly: Predators C.C. edge past Kytes despite M. Sharpe' unbeaten maiden century:
Shizuoka Kytes C.C.: 214/9 (40 overs) (M. Sahrpe: 102*)
Predators C.C.: 215/7 (37.1 overs) (C. Mortimer, 91*)
Predators C.C. won by 3 (4) wickets
See Scoresheet HERE>>
Read Report by Neil Harrison HERE>>

June 1st: KCL: Last wicket partnership helps Tokyo Giants CC past a resilient Shizuoka Kytes CC:
Tokyo Giants CC: 257 (38 overs) (Naeem Ud Din, 60; Tauseef Azhar, 55; Ahmad Kamal, 50; Suresh Navod, 3/45; A. Harvey, 3/46)
Shizuoka Kytes CC: 194 (37.1 overs) (L. Abbot, 48; A. Harvey, 36; Tauseef Azhar, 3/28)
Tokyo Giants CC won by 63 runs
See Scoresheet HERE>>

May 25th: Friendly: Shizuoka Kytes CC vs. Indian Tigers CC. Match washed out

May 18th: Friendly: Kytes CC ease past CC of Nagoya:
CC of Nagoya: 185 (24.5 overs) (A. Harvey, 4/18; M. Gibbins, 3/27; Riaz Hussain, 57; Raja, 31)
Shizuoka Kytes CC: 187/5 (33.2 overs) (M. Sharpe, 93*; Shazar Hussain, 3/28)
Shizuoka Kytes CC won by 5 wickets
See Scoresheet HERE>>
Matthew Sharpe writes:
Well, a great start to what will hopefully be a great month of cricket
coming up.
The Kytes played Nagoya in a friendly as we were unable to play our KCL
match the previous week due to a washout.
For the Kytes, we had three new faces, Tim, Marty and Joe. They all
performed well in their first dig for the club!
Nagoya's Captain for the day, Shafeeq won the toss ( I can never seem to
win them) and elected to bat. Marty lined up with the new cherry, a
slippery left hander that he is. WIDE,WIDE, 1 RUN,WICKET! Not a bad
start mate.The suprise full toss on the stumps! Shafeeq out for a Golden
Duck! In his next over he took the two more wickets, one a lovely catch
by Nathan behind the stumps and the other a dubious LBW...Did I say it
came off his bat??? ;-) Marty finishing with the figures of 3/?? from
his 3 overs. After Marty came our regular wicket taker, Arbab and with a
great line and some deceiving slower balls picked up two well deserved
wickets, both bowled. He also picked up the menacing Raja who threatened
to go haywire with 31 off 15 balls. Ashley then followed suit and had
the ball moving around as too the bastmen at the crease. Nagoya had by
this stage whacked 145 off the first 20 overs.
After drinks Joe came on and showed some real pace but was unlucky
beating the edge on numerous occasions. Ashley meanwhile picked up three
at his favoured end and finished with the excellent figures of 4/18 off
3.5 overs. Suresh also picked up 1/46. Nagoya all out for 185 off 24.5
overs. An excellent effort considering their score after 20 overs.
Everyone fielded well except for the customary dropped catches....Maybe
two or three....It's getting better....but....may have to start
enforcing those fines again!!!
After lunch, Ash and myself opened the batting. Ashley was seeing the
ball like a beachball and was timing it to the boundary on several
occasions and was looking to build a big score until he got a ball
swinging down leg which hit him on the pads, they appealed to my
amusement, but only to see our new recruit, Marty, standing there with
his finger in the air. SHOCK. Ash out for 22, the second time this
season to be given out LBW. Stiff on both occasions. I kept the
scoreboard ticking over with Arbab until Nagoya put a slip in and Arbab
hit it straight to the newly positioned fielder. Out for 8. Joe was the
next guy and and it has been a while since he held a bat in his hand but
you wouldn't have known it. Timing the ball with ease and looking solid.
We added another 25 runs until Joe took off on a run only to look up and
see me on leaning on my bat....Joe run out for 6. Sorry mate ;-)
Larry was next and he played a good solid innings supporting where
needed and causing the bowlers some grief. At drinks we were 3/105.
After drinks Larry and I kept frustrating the bowlers who were being
changed at regular intervals. Larry was next to go with a slippery ball
from Shahzar. It was a repeat of the ball I just got and it somehow
missed my stumps but Larry wasn't so lucky. Out for 17 in a valuable
71-run partnership. Nathan came in and looked like he was seeing the
ball well but went back to a skidder from Shafeeq and was bowled for 6.
With 9 overs remaining and 32 runs to get, Marty came in and he and I
got the needed runs and a much needed win with just under 5 overs
remaining. I made my highest score for the Kytes, 93 not out, and Marty
finished on 4 not out.
All in all a great day of cricket with lots of big hitting from both
sides. I'd like to thank Nagoya for coming to Shizuoka and playing a
great game in excellent spirit. Also, I'd like to thank the Nagoya boys
for that delicious Pakistani lunch you gave us. Nice and spicy! Good
luck for the rest of the season and we hope to see you all back in
Shizuoka sometime soon.

April 20th: Depleted Indian Engineers C.C. squeeze past even more depleted Shizuoka Kytes C.C.:
Shizuoka Kytes C.C.: 138 (33.3 overs) (Arbab Mohammad, 57; Sanjeeb Sahoo, 3/31)
Indian Engineers C.C.: 139/7 (33.5 overs) (Suresh Navod, 4/37)
Indian Engineers C.C. won by 3 wickets
Umpire: Anton McCloy
See Scoresheet HERE>>
Todd Phillips writes:
Before everyone had got to the ground, Shizuoka Kytes were already down to 9 players. Unfortunately Sharpie was on the receiving end of 2 of the weirdest reasons ever, for not being able to play on Sunday. One was a drunken call at 5:00am explaining that the person had cut their finger (Yeah, go figure!), and the second was well, the less said about it the better. Let's just say the player in question had massive girlfriend problems. So, after all that, Sharpie arrived short of sleep and fuming.
The Captain, God bless his soul, won the toss and yep, you guessed it, opted to bat first. Shizuoka Kytes opened the batting with Joel & Todd. The Engineers' opening bowlers, Anurag Singh and Biju were getting quite a bit of swing, too much at times, providing 10-15 runs in wides. But the rest of their deliveries were accurate enough forcing Joel and Todd to grab singles here and there when they could. Joel was the first to go however, bowled by a straight one from Biju in the 4th over. 1/8. That brought in Arbab who along with Todd were restricted to a run rate of just 3 an over. Again wides kept our score ticking over. Todd was lucky not to run himself out with a no, yes, no, oh f*ck! call to Arbab who just kept coming. Still, the pair survived and the Engineer's put on their second change bowlers Ritesh Kakkar and Dinesh Singh. Arbab started attacking Dinesh with a couple of boundaries through point and Todd was finally able to penetrate the field with a fine off drive for four off Ritesh. Things were starting to look good for the Kytes until Todd tried to hit the ball into the middle of next week but only ended up being caught comfortably at extra cover for a patient 12. 2/48. Matt was next and straight away was barking orders at Arbab to run the quick single which they did. But it was all over too quickly as Matt mis-timed a drive and was caught at silly mid-off. After that the slide continued with Shizuoka Kytes losing wickets at regular intervals. Running out of partners fast, Arbab started hitting out and in one over off Sanjeeb Sahoo, treated us to a 2, 4, 4, 4 and a 6. However, after a great knock, Arbab was finally out for 57 caught just inside the long-on boundary. The tail wagged a little in the form of our Captain who scored 13 of 13 balls but he managed to run out Andy Dunstan in the process who was looking comfortable out there.
Robert stepped in and lasted 13 balls bfore being given out LBW, thus ending the Kytes' innings. All out for 138. Apart from Arbab 57, The Captain 13 n.o., and Todd 12, noone else managed to get into double figures. Oh, and I almost forgot. There were a whooping 42 extras from the Engineers. Thank you very much! Overall though, I thought the first 4 bowlers of the Engineers, when they weren't bowling wides, bowled a very good line and length, and bowled very well to their field.
After a short lunch break, we were back at it again bolstered by an extra player Nick, who had just flown in from Australia to play for us, although he took his bloody time in getting to the ground! But seriously, what a fantastic effort from Nick to be able do that considering we were let down rather lamely by 2 players earlier on. And I'm sure it had nothing to do with selling tickets for the raffle either but for the love of playing for Shizuoka Kytes. Cheers, mate!
As usual Sharpie and Arbab opened the bowling but it took several overs for the Kytes to get a break through. Until then the Engineers' opening pair of Masood Khan and Santoosh Ghadge had played rather fortuitously. Sharpie should have bowled either one of them in his first 2 overs but somehow the ball missed the stumps or was just kept out with a french cut. It was Arbab who got the first wicket though, bowling Santoosh for a quick-fire 10. Then Sharpie tried a nice leg cutter that completely deceived (and not conceived as I first thought) Silvestor Pereira for 2. Engineers 2/24 off 6 overs. After 10 overs or so, Suresh was brought on to replace Arbab and got his first of 4 wickets on his second delivery, trapping Rajim Kunhamu LBW for 1. At the other end Sharpie continued to toil away and bowled his 8 overs straight through without getting another wicket. Unlucky? For sure! But that's the way it goes sometimes. Engineers were about 6/91. Replacing Matt was Leigh who had to be let go after bowling 2.3 overs due to one too many high full tosses. This gave an opportunity to Todd who was keen to show his Captain that his first two bowling performances were a thing of the past. As it turned out, Todd was able to bowl a much better line and length this time and restricted the batsmen to singles or dot balls. However the score was getting closer to ours and even though Arbab came back for 3 more overs and Nick grabbed a wicket in his first over, it wasn't enough to stop the Engineers from reaching our total in the 34th over with 3 wickets to spare. Our batting had let us down. Another 50-60 runs on our total would have definitely made it more interesting. Again another stellar performance from Arbab, finishing with 1/16 off 8 (only 1 wide) and Sharpie 1/31 off 8. Suresh ended up with 4/37 off 7 overs, perhaps a tad expensive on the run side but none the less 4 vital wickets, 2 LBW's and 2 bowled. Well done!. Todd 0/24 off 6.4. Wides were high though with Sharpie bowling 14, Suresh and Todd, 6 and 7 respectively. It was definitely the wind, I tell you! Even though we lost, the game was played in friendly manner as it always is with the Engineers, and special mention goes out to Robert who helped plug one of the gaps and Nick for the other, Andy Dunstan who did a pretty good job keeping for us (first time since highschool), and to Anton who umpired fairly and consistantly.

April 6th: Pacific Cup: Kytes beat Paddy Foley's comfortably in spite of rearguard:
Shizuoka Kytes C.C.: 214?9 (40 overs) (A. Harvey, 48; A. Burr, 3/40; J. Flew, 3/43)
Paddy Foley's C.C.: 160 (29.2 overs) (Zahid Khan, 46; Arbab Mohammad, 4/25)
Shizuoka Kytes C.C. won by 54 runs
See Scoresheet HERE>>
Neil Harrison writes:
It was PFC day down at the ACO as the Paddy Foley's Cricketers arrived in Shizuoka for the first round of the Pacific Friendship Cup in it's shiny new 8-team straight knockout format complete with trophy - the fabled Golden Bat (read all about it here (if you're not there already): http://goldenbat.wordpress.com/).
This time it was Kytes' turn to provide the no-shows, as several of Kytes' erstwhile finest decided to get Pissed For Christmas on the day before the match. Mark had set himself up as Dobber-in-Chief and sent his Captain sly snapshots of Kytes on the pop in the park on a merry cherry blossom Saturday. "Don't worry, I'll be done by six" he assured his Captain. His Captain naively assumed this to mean 6pm on Saturday, as opposed to 6am on Sunday. At least Mark showed up, though. We've yet to hear from Bunny or Danushka.
Paddy's had 12 players so they sportingly offered Kytes their extra Eric. The Grand Old Man was summoned from the Scorer's Mound to make up the XI. The Captain won his second toss of the season and chose to bat under clear blue skies.
Zahid opened the bowling from the Bridge End and bowled a good line with a "varied" length. Alphonse smacked a full toss through the covers, but the next ball was on a length outside off and cut back sharply off the pitch to take out off stump. Bit of rolling might have prevented that, Matthew.
Toddler came out to join Arbab and these two trundled along quite confidently, taking a particular liking to the width on offer from Andrew from the Lone Tree End. Arbab was playing confidently and scoring freely before he turned a full toss from Alex straight to Neil at square-leg. Toddler played a couple of peachworthy cover drives before getting the first of four PFC (Pretty F#$%ing Clueless) LBW decisions. Don Prelis and Ashley put on a rapid, stress-free 65-run partnership to get the innings back on track and comfortably set at 118/3 at drinks. These added another 20 before Ricky re-introduced Zahid and got the breakthrough. The Captain came in and smacked a few fours before smacking Alex straight down Hassim's throat at long-on. Ashley was looking good for the first Kytes' ton since the corresponding fixture two years (two years!) ago, but on 48 (64 balls, 7x4) he got the second PFC LBW of the day and after that the innings drifted off into a succession of short thrashes before Suresh and the Grand Old Man got together to steady things up to the close on 214/9.
Zahid (8-0-2-39) was the pick of the bowling, but didn't get the success he deserved. Andrew bowled well after a loose start, and it was odd to see he didn't get a second spell. Jeff, Alex and Neil also chipped away with wickets at regular intervals to keep the run rate down, but the 51 extras was unnecessarily generous.
With the Paddy's openers ready to go, the Captain was wondering if his bowling attack would stretch any further than 2 this time around. The good start was there again, with Alphonse starting with a wide and a wicket and Arbab straight into bowling maidens. Neil and Suley played solidly for a while, but Neil was trapped in front by one that stayed low. Hassim smacked his first ball straight back over Arbab's head for four but got the third PFC LBW next ball. Arbab bowled two more in quick succession while at the other end Alphonse was having no luck with Chinese cuts an loopy dobs into space. After 15 overs Paddy's were 50/5 with one foot in the barbecue pit. And then there was a double bowling change. Mark replaced Alphonse for his farewell 5-fer and Toddler came on for Arbab. In the space of 5 overs, Rob and Zahid doubled Paddy's total and the score at drinks was 105/6, Rob having smacked one of Mark's many longhops straight to Ashley at midwicket. The interval saw another double bowling change, this time Suresh replaced Toddler (who, with combined figures of 5-0-0-53 in the first 2 matches of the season, announced his retirement from bowling - "Right, from now on, I'm a specialist batsman") and Ashley replaced Mark (who is off to revive cricket in Kyoto, possibly by making everybody feel good about their batting). The run rate dropped and finally Zahid fell for 46, bowled by Suresh attempting one heave too many. Ashley tidied up at the other end, bowling Alex and a hamstrung Ricky, and then benefitting from the fourth and final PFC LBW of the day.
Paddy's were all out for 160, giving a reasonably comfortable 54-run win for the Kytes, although the margin could have been much more emphatic if 3 easy chances had been held.
Arbab (8-4-4-25) bowled his 8 straight off and seemed to have sealed the game before Kytes' change bowlers decided to offer Paddy's a way back into the match. (Arbab's figures after 2 matches are 16-9-6-34.) Alphonse (7-0-1-32) had another good showing, but 12 wides and a no-ball spoil those figures. Ashley (4.2-0-3-14) made a good return after a bad day out against the Wombats.
The end of the game meant the start of the festivities, with a barbecue on the Terrace in the last of the afternoon light and a fire to ward off the cold. Quite the experience. You should try it.
Thanks again to Paddy Foley's for the match, the beer and the company; it's a pleasure every time, and this one was one of the best. We look forward to seeing you again later in the year.
Thanks to Eric for being a Kyte for the day.
Man of the Match: Arbab Mohammad - Another excellent spell with the new ball, and 4 more maidens to go with the 5 from last game. Shame about the butterfingers though!

March 30th: Friendly vs. Indian Tigers CC rained out. More groundwork:
The weather forecast proving too daunting, the game against the newest club in Japan was postponed. Drops strated falling by 11:00 and rained poure in earnest from 14:00.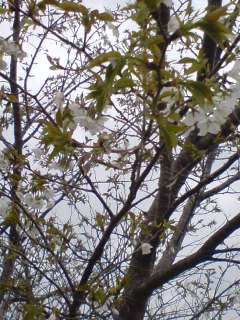 Neil , Suresh and Robert met at the ground hust before 11:00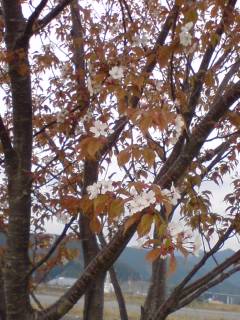 Two of three kinds of cherry trees on the terrace were in bloom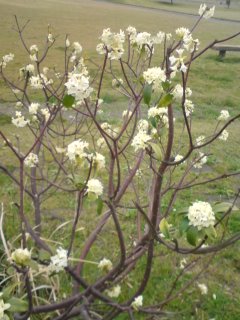 as well as that small tree at the other extremity of the Terrace.
Robert suggested we should start planting fruit trees.
The three of us filled the "rut/street" with at least 12 wheelbarrowes of earth and mowed the area. The ground is looking all the more bigger with the rut slowly rising to the pitch level and the two benches we took awya last time we did some groundwork.
Neil and Robert moreover sprayed ten bags of red loam on various spots of the ground needing maintenance, while two bags were left for game aftercare next Sunday, a practice we shall continue especially to reinforce the bowlers' runups.
Next game is Pacific Cup first round match against Paddy Foley's CC. BBQ and beer!

March 23rd: Wombats' firing power too much for Kytes in spite of Arbab Mohammad's heroics: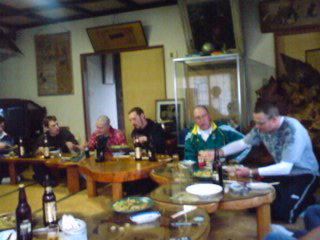 (Drowning our sorrows at Yoshida!)
Shizuoka Kytes CC: 141 (39.3 overs)P. Shackleford, 3/24
Tokyo Wombats CC: 142/2 (25.4 overs) (G. Beath, 63; C. Jones, 34*)
Tokyo Wombats CC won by 8 wickets
See Scoreheet HERE>>
Nicholas Shannon writes:
KYTES WILT AS TODD PAYS TRIBUTE TO ARTHUR C CLARKE.
A 10-30 start saw most of us at the ground earlier than usual.
The pitch was rolled for the fist time in many months, and came out reasonably flat. It was how ever ,a little soft.
Neil chose to bat after winning the toss.A surprise to some ,but not to
those who were around Neil when he declared he would bat given the chance!
The start of the season and our new captain was oozing with confidence -
not only electing to bat, but electing to bat with Todd and Matt as
openers. Matt went hard from the get go and made a quickfire 17, including
a big six. He was a little unlucky to be caught in the slips after a
fumble. That saw Ashley to the crease and we were treated to cricket New
Zealand style. Dot ball, dot ball, dot ball, dot ball, dot ball, dot ball,
dot ball and so on. Ashley and Todd put on a combined Kiwi total of 33 in
only 103 deliveries. A test (or should I say testing?) pace. Ashley
snicked one to the keeper and was out. That brought Arbab to the crease to
join our well settled Kiwi. Credit to him - after a long layoff he was
back and batting solidly. He was playing his strokes and looking for
chances to make runs. Alas a deft yorker by Alex saw the tired Kiwi to the
boundary. A solid 23, and the highest Kytes score!
It was then that it all happened. Upon arriving back at the boundary the
Kytes players were rocked by the revelation that, quote....." I was
conceived by that ball" ! We were confused and a little disturbed. I don't
know if he was emotional after hearing of Arthur C Clarke's death or if it
was really true. If it is true then it begs the question.....Has Todd been
indulging in time travel or were the Wombats duped into using a really old
ball? Anyway well batted and welcome back Todd.
Arbab was joined by Suresh. Arbab was starting to find his feet while
Suresh continued on from where Todd and Ashley had left off. Dot ,dot dot.
Arbab edged one and was well caught at second slip. A pity as he, like
Todd, looked as if he could make runs. Shannon joined Suresh at the crease
and promptly ran him out. Suresh made what may be our most balls faced
duck. 20 dots in all....................run out. Couldn't be helped.
Nathan came in and promptly departed. A 3-ball duck. Popped one in the air
to point after being tied up by Shackleford. Arthur came in playing his
last game for a while as he is off to university in Osaka. He has a nice
straight bat and strikes the ball cleanly and confidently. Nice timing,
too. He played over a ball that stayed low and was bowled for three.
Shannon was described as a pinch hitter by the Wombats behind the stumps
and true to form he started by swinging. A couple of fours and a big six
saw him finally caught deep at mid on....A recurring pattern. Gone for 15
off 18 deliveries. That left Larry and Bunny. The prospect of more runs
>ooked bleak...and Bunny proved this by making a 14 ball duck .You guessed
it - RUN OUT....Credit must be given to Bunny as he went in on a hat trick
and they couldn't penetrate his stylish defence.......(I don't think run
out counts in a hat trick, and that is the only way Bunny goes out . Sadly
the bowler had no hope!) however Larry has obviously been moved by the
passing of his Sri Lankan buddy Arthur C. His RNS bat has been
rechristened (pardon the pun) Lazarus! Back from the dead! True science
fiction! It reads like this 14.4........1.1..1.1 Run out. Nothing
fictional about the run out.Another recurring theme! Larry looked graceful! Morty being new didn't know Larry's strong points. Timing and an
ability to deflect anything short and on the off to the boundry.Classy
Larry! 13 useful runs. Neil was the last bloke in and the latest bloke to
run out Larry. He hit a cracking four through cover on his way to making 9
not out. The last 3 batsmen saw the score go from 105 to 141. Hardly
enough but at least something to defend.
And defend we did. Sharpe and Arbab bowled beautifully. Arbab was one for
3 off six with 5 maidens!!! He finished with 2 for 9 off 8. EXCELLENT
bowling. Sharpe was 0 for 23 off 5.4. After Sharpe and Arbab came our
demise. We looked a chance after 10 overs but fictional it was.... Todd,
tired as he was, found it easy to stray to leg. This kept Bunny and myself
very busy. Bunny's fielding has improved tremendously. He saw a lot of
action and never let one through. He even held on to the only decent
chance Wombats offered, pouching Morty's skied hoick at long on. Morty's
eyes lit up when Arbab sent down a full toss - the only bad ball of his
entire 8 overs - but in racking up Wombats' own marathon duck, he'd played
himself out of form and mistimed his pull. Kytes watched, waited and
hoped. Bunny delivered! I wonder if he has been using performance
enhancing drugs or is it something in the Bangladeshi water?
Whilst on fielding. Nathan was a ball magnet. He saw a lot and fielded
exceptionally well, too. Neil also had occasion to fall on one. Good on
ya.
Ashley was our other first change bowler and found it difficult to find his line. Suresh Larry and myself were the last bowlers, but the damage
had been done and that saw the Wombats eclipse our total of 141 after 25.4
overs. There was only 1 dropped catch - Suresh spilled one off the bowling
of Shannon. On the whole, we fielded well but at this point we need to
increase the depth of our bowling attack. I guess that means practice. I'm
sure our motivational therapist, Todd, will be sending out a mail and
encouraging us to do just that.
Thanks to Robert for doing a good scoring job and for preparing the
ground.
I'm looking forward to an exciting season. I think we can do well.
Nick

March 20th: 2008 Pacific Cup Golden Bat Format and Trophy announced!
The Pacific Cup from 2008 will comprise of 8 teams particpting in the format of knock-out competition:
The first round will oppse the following teams
Tokyo Wombats vs. CC of Nagoya
Shizuoka Kytes vs. Paddy Foley's
Tokyo Giants vs. Adore CC
Tokyo Engineers vs. British Embassy
A trophy has been created to be awarded to the winners every year who will have their name inscribed for posterity!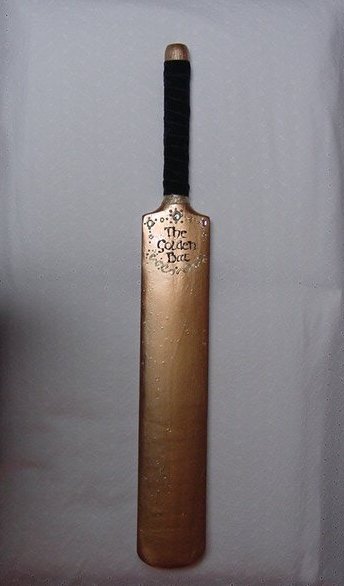 March 7th: Two more benches moved away to vreate even bigger pitch!
Unbelievly enough we managed to gather enough people, with a big help from the Amefoot frinds to move two more benches awa and make the ground even bigger and fitter for cricket!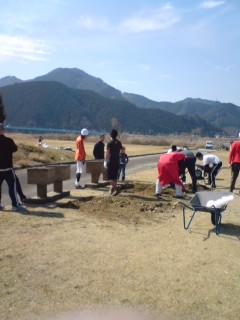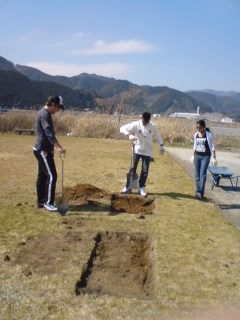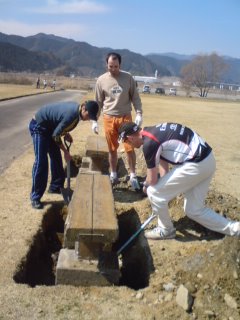 December 15th: 2007 Batting & Bowling Figures announced!
Check HERE



November 25th: Friendly: Kytes comfortably beat Adore C.C.
Shizuoka Kytes C.C.: 238/6 (35 overs) (A. harvey, 66; L. Abbott, 53; Extras, 48)
Adore C.C.: 152/6 (35 overs) (T. Ito, 56; Y. Terashi, 43*)
Shizuoka Kytes C.C. won by 86 runs

November 11th: Friendly: Kytes C.C. comfortably beats MAX C.C.
Shizuoka Kytes C.C.: 200 (37.5 overs) (Extras, 79; A. Harvey, 56; S. Kobayashi, 3/30)
MAX C.C.: 159 (34.4 overs) (S. Fujimoto, 37; Extras, 57; M. Sharpe, 4/26)
Shizuoka Kytes c.C. won by 41 runs)


Tokyo Wombats C.C.: 139/8 (40 overs) (S. hashiba, 47)
Shizuoka Kytes C.C.: 104 (29.3 overs) (I. Gason, 4/19)
Tokyo Wombats C.C. won by 35 runs

October 14th: Friendly: Kytes somehow squeeze past Paddy Foley's C.C, thanks to their bowlers
Shizuoka Kytes C.C.: 121 (20.5 overs) (N. Shannon, 37; D. Loveridge, 4/22; R. Hunt, 3/34)
Paddy Foley's C.C.: 88 (22 overs) (Suresh Navod, 4/27; Dannushka Perera, 3/21)
Shizuoka Kytes C.C. won by 33 runs

September 2nd: Friendly: C.C. of Nagoya crush Kytes
C.C. of Nagoya: 268 (33.5 overs) (Ameer Afridi, 110; Hajmin, 39; A. Harvey, 3/36)
Shizuoka Kytes C.C.: 149 (A. Harvey, 50; Saqib Khan, 7/27)
C.C. of nagoya won by 119 runs

August 5th: 20/Twenty: Indian Engineers' batting tto much for the Kytes
Shizuoka Kytes: 138/6 (20 overs) (Bobby Philips, 3/28)
Indian Engineers C.C.: 140/3 (16.1 overs) (Vimal Vikrant, 79*)
Indian Engineers C.C. won by 7 wickets

July 8th: KCL: YCAC Bowlers bamboozle depleted Kytes side
YCAC: 231 (31.5 overs (Prakansh Kale, 95; Kamran Ali, 56; Arbab Mohammad, 3/20)
Shizuoa Kytes C.C.: 45 (18.1 overs) (Sayed Imran, 3/0; R. Leelansena, 3/11; Kamran Ali, 3/25)
YCAC won by 186 runs
Umpire: A. McCloy
Scorer: R-G. Martineau

June 24th: Rain gets Kytes out of jail agaisnt very strong Tokyo Giants:
Shizuoka Kytes C.C.: 103 (18.5 overs) (J. Chamberlain, 30; Kamal Ahmad, 4/9)
Match drawn
Umpire: Saqib Khan

June 10th: KCL game vs. C.C. of Nagoya rained out

May 27h: Indian Engineers' batting too good for the Kytes
Shizuoka Kytes C.C.: 197 (40 overs) (M. Sharpe, 45; Extras, 60)
Tokyo Indian Engineers: 198/4 (28.5 overs) (Viswa Gosh, 82; Extras, 52)
Tokyo Indian Engineers C.C. won by 6 wickets
Umpire: A. McCloy


22/04/2007: First game of the KCL vs. Lalazar-Dragons C.C. washed out!

08/04/2007: Angus Liley and Benjamin Tomlinson's half centuries ensure Kytes victory over a plucky Paddy Foley's XI:
Shizuoka Kytes C.C.: 234/8 (35 overs) (A. Liley, 68; B. Tomlinson, 52; A. Burr, 3/24)
Paddy Foley's C.C.: 176 (30.5 overs) (Suleiman Rana, 65; B. Tomlinson, 4/17
Shizuoka Kytes C.C. won by 58 runs
Read Scoresheet HERE>>
Nicholas Shannon writes:
It was a fine morning that found us eagerly awaiting the PF team and two
scheduled twenty twenty games. Alas they only had nine men, so we gave
them Arthur and Friendsoir and switched to a single 35-over match. Owing
to circumstances beyond any control we found ourselves left with 10 men.
A great start.....
I won the toss an elected to bat. Larry and Topper were slated to open
in the twenty twenty game so I stuck with them. A fine start saw Larry
at the crease for about ten overs and he departed with us on 50. Topper
hung around and made some fine strokeplay. A well deserved 52 for the
Jeff Thompson lookalike....Ashley came and went, bringing Angus to the
crease. Some power
play saw him again get over 50. A wonderful innings, and runs scored
when we really needed them!
Matt Ryan was yorked. Shannon came in and smacked a quick 24. Suresh,
playing his first game made 7. Bunny did as was needed, going cheaply
but getting Angus on strike to up the score. Well done Bunny! Finally we
saw our innings close with Nathan Maber, also playing his first game and
Jamie Douglas at the crease. Overall a good effort considering we were
missing our 2 best batsmen on the day.
A short lunch and we were back into it. Unfortunately we lost Larry to a
business deal in Ibaraki so we were down to 9 men! Luckily for us Brian
McClure (just over from Santa Monica) could be persuaded to help out and
he took to the field. Not sure of what to do, he still had a go! Good on
ya, mate. You saved some runs in the deep.
We opened with Topper and Ashley. Topper was in top form and blasted
through the top order with a solid display of fast bowling. Ashley also
had to leave early so again we were down a man. Luckily Arthur could be
persuaded to join in. He fielded very well! So happy to see you playing
again Arthur.
PF were looking in real trouble until after the drinks break, when Sully
and Alex came after the bowlers. Alex was hitting the ball very hard
indeed. Things were not looking good for us. Suddenly PF had a whiff.
What to do? Finally Alex was caught in the deep by Angus. A bowling
change saw Angus get a wicket. Sully was still having a go but was
eventually caught at long on by
Shannon. Bunny wrapped up the innings with a dodgy L.B.W.
A win however! Our first for the season.
Man of the match goes to Angus for his excellent batting, fielding,
bowling and for his positive approach to the game.
Special mentions to Topper for his batting and bowling.
Nathan Maber for a very good job behind the stumps.
Also thanks to Brian McClure and Arthur for helping out when we needed
players to field.

01/04/2007: Kytes lose to gritty Tokyo Indian Engineers C.C. in spite of record-breaking partnership::
Shizuoka Kytes C,C.: 217/7 (35 overs) (M. Shaarpe, 73; A. Liley, 55; Ritesh Kakar, 3/36)
Tokyo Indian Engneers c.C.: 218/6 (30.5 overs) (Vimal Vikrant, 52; Sanjeeb Sahoo, 45)
Tokyo Indian Engineers c.C. won by 4 wickets
Read Scoresheet HERE>>

24/03/2007: Wombats too strong for the Kytes in 2007 opener
Tokyo Wombats C.C.: 296/6 (40 overs) (J. Shearer, 106; B. Pederson, 57; R. France, 52)
Shizuoka Kytes C.C.: 151 (37.5 overs)
Tokyo Wombats C.C. won by 145 runs
Read Scoresheet HERE>>
Matthew Sharpe writes:
Well it was the first hitout of the year between two friendly rivals, Kytes and Wombats.
The weather was a bit chilly and the blood was pumping. Probably due to us digging and moving one of the benches prior to the start of play!!!
Needless to say the two captains came together and a coin was tossed and
maybe that result should've been the writing on the wall for the Kytes!!
The Wombats started strong but it was Topper to draw first blood when he had Burke out, chopping one down onto his stumps for 6. In came Pederson
and he and Shearer took it to the Kytes attack. At times surviving some
close decisions!!! He was next to go, caught by Matty Ryan off Mark,
straight after drinks for a well hit 57. Then Frenchy came in(not our
Frenchman), well Ryan France and he also put in a fine display of
sensible hitting and when he retired on 52 and along with him,Shearer,
who made a good season starter century, the writing was definitely
getting ready for printing on the said wall!!! Topper and Sharpe came
back on to pick up a wicket each but at the end of the innings Wombats
had made a decent 296.

Lunch was enjoyed by all thanks to a superb curry by our very own Shoaib
"Bunny" Aziz. Perfect for the weather conditions!!!

Ryan and Sharpe opened up the Kytes innings and let's say that's about
that! With a mix up due to Ryan's wax in his ears or Sharpe's inability
to run, Ryan was run out for 1. Score 1 for 5. With Ryan back on the
sidelines chanting satanic verses to will Sharpey out, his wish
was granted! Sharpe out caught behind for 6! A very Giilchristesque type
of dismissal, walking before the umpire (who didn't hear the edge, nor
did the bowler), raised his finger. Harvey and Arbab went cheaply by
their standards and with really only THE DON, Prelis, scoring runs (or
is that runs scored?), making the day a good one for practise in the
middle. Nice backup from Bunny (8 n.o) and Shannon, who was on a hot
streak of 8 ducks from last season chimed in with a lusty hit 13 off 12
balls...must've been the bat or Pup's juicy full tossers!!! The Kytes
all out for a mere 151 off 31.5 overs.

A special thanks to the Wombats guys who helped out with the moving of
the last bench and generous support with regards to our Mower raffle.
Much appreciated fella's, thanks again. Good luck with the season!

24/02/2007: Shizuoka Kytes C.C. AGM
Neil Harrison reports:
Posts -
++++Captain - Matt Sharpe
Unopposed
++++Vice-Captain - Joel Chamberlain
Unopposed - Joel is vice-captain for all matches.
++++Treasurer - Robert-Gilles Martineau
Unopposed
++++Fundraiser - None
After debate, it was decided to do without this post and instead encourage
all members to come up with ideas to help the club financially.
Ashley made us 8,500 yen with a raffle at the party, Neil is running a
fantasy cricket comp which you will of course all enter, Matt and Nick have bught cricket gear to raffle off, Wombats have donated 6 bottles of
Hardy's wine.
*******************************
We voted to continue paying the Kytes Membership Fee. This is unchanged at 5,000 at the beginning of the year, descending by 1,000 per month as the
season progresses (5,000 till the end of April, 4,000 till the end of May,
3,000 till the end of June, 2,000 till the end of July, 1,000 for the rest
of the year).
RGM reported that, despite charging membership fees for the first time
last year, we still finished 30,000 in the red (which is the same as
previous years). The main reasons for that were the cost of repairing the
old mower (30,000+) and the 1500 yen per player we had to pay for sports
insurance in the old KCL. (Match fees were not debated, which means they
remain a flat 1500 yen match fee for all games - unless there is a BBQ or
suchlike).
************************************
The fines system will remain pretty much as it is, but with a new fine for
unsporting behaviour, proposed by Mark (see the Spirit of Cricket below -
yes, it still exists).
As before, by agreeing to play for Kytes, you agree to this fines system.
Which is to say:
1. Late at the ground (players having to give lifts to opposition, do the
shopping or coming from long distances exempted within
limits)
If game starts at 11:00 a.m.: 100 yen for coming after 10:00, 500 yen for
coming after 10:30, 1000 yen for coming after 11:00.
2. 100 yen for arriving for a match with an obvious hangover
3. 100 yen for conceding 15 or more runs in an over (only once per innings)
4. 100 yen for a duck 5. 100 yen for a dropped catch or bad fielding mistake (in all cases, Captain decides whether or not a fine is due)
5. 100 yen for unsporting behaviour (Captain decides whether or not a fine
is due, unless, heaven forbid, the Captain is the culprit, in which case
the vice-captain decides)
Neil pointed out that the batting, bowling and fielding fines are intended
to be lighthearted.
********************************
The match day duties system seems to be working and will be kept on. It is
the Captain's job to allocate these duties, preferably fairly, and to make
sure that they are carried out. Note that, if you are allocated a job,
such as sorting the gear into a box, this doesn't mean you don't have to
do anything else - there is always plenty to do. The less you do, the more
somebody else has to do.
*******************************
The trip to Sri Lanka is on hold. RGM announced that KCL is planning a
cricketing trip to Kyushu.
*******************************
We will not enter a Second XI in KCL this year.
*********************************
It was decided not to buy practice nets. Players are to come up with their
own ad hoc arrangements when (if) they ever get round to practicing.
*********************************
RGM gave a brief report of his (cricket) activities with small children.
He welcomes any help, particularly for events at the ground.
*********************************
Kytes' March schedule:
March 11th: Friendly vs. Tokyo Indian Engineers C.C.
March 17th: Robb McKenna's stag/buck's night in Shizuoka - all invited.
March 18th: Friendly vs. Tokyo Wombats C.C.
March 25th: Friendly vs. Paddy Foley's C.C.

07/02/2007:
The Shizuoka Kytes CC will hold their Annual Party at WAJIN on Saturday february 10th from 20:00 to 23:00
(all you can eat and drink fpr 5,000 yen!)

17/12/2006:
First ever Primary School club Match held in Shizuoka and Japan!
Miwa Primary and Shizuhata Naka Primary created history by holding the first-ever official Primary Schools Cricket Club Match in Japan!
Read Report HERE>>

12/11/2006: Friendly against Paddy Foley's C.C. for Mark Timbrell's farewell:
Shizuoka Kytes: 277/8 (A. Harvey, 105*; A. Liley, 72; B. Tomlinson, 37; Suleiman Rana, 3/72)
Paddy Foley's C.C.: 137 (M. Ryan, 3/43)
Shizuoka Kytes C.C. won by 140 runs
Check Scoresheet HERE>>
Neil harrison writes:
Nick Knacked and Paddy Whacked
The Paddy Foley's Beer Bus made its annual stop in Shizuoka, bringing
skipper Mark Timbrell down for his last game in Japan. It was a beautiful autumn day, but a strong wind from the west played spoilsport with the temperature. Paddy's turned up late and with 8 players, 6 members having found something better to do overnight. The best Kytes have ever managed is 3 unannounced no-shows on the day. This could be a sign that Paddy Foley's has truly arrived in Cricket Japan.
Kytes had 12 players so they "generously" offered Paddy's 2 players for
a 10-a-side match. The ex-Captain broke the good news to Mark: "We'll
give you 2 players." Followed, naturally, by the bad news: "It's me and His Frenchness." The late (11:15) start and lack of numbers meant a single 32-over match instead of the 2 20/20 games originally intended. Matthew Alphonse Sharpe was Kytes' skipper for the day and made an admirable start by winning the toss and choosing to bat. Alphonse had an important appointment to keep in Nara and had to leave at 1 o'clock, but placed himself at no.3 and could at least look forward to a bat before leaving.
But Alphonse had forgotten that Paddy's bowlers have a tendency to make
Kytes' openers look good. Today it was Ashley and Angus' turn to benefit, and they did so in style.Suley opened the bowling from the Bridge End and bowled a mixed bag of puppies. JKay took the Lone Tree End and started well with big away-swing but no luck. Ashley and Angus were haymaking when Ashley gave his only chance, not quite middling a cut. The ball sailed to point at head height, all catch me and cheer, but point was having an out-of-body
experience (where exactly were you, Robert?) and copped it full on the cheek. In an amazing display of softness, neither batsman called for the single on offer (but you'd expect that from Kiwis, wouldn't you), and even so-called Aussies Ben and Porno in their Toppers and Galexes rushed over from their umpiring positions to check on the Grand Old Man, who was down on the ground, dyeing the grass red. Shoaib kindly drove Otto to hospital for x-rays, nurses and stitches and a chance to test the new-fangled sports insurance.
Come 12 noon, it was time for the first on-field beverage of the day,
but the wind was chilling the bones and only the umpires and the inevitable JKay partook. Mark brought himself on to bowl, dreaming no doubt of a fairy tale farewell Michelle. Dream on. Second ball, second casualty, a twisted knee and poor old Mark had to spend the rest of the innings out of the wind, sitting and supping with 3 gorgeous Paddy Foley's groupies and the sexiest dogs in Shizuoka. Torture.
Meanwhile, Paddy's depleted bowlers were getting nowhere fast against
Shizuoka's sheep-fancying finest and the runrate was fast getting silly.
Angus did the decent thing and tried to get himself out a few times, but
Paddy's wouldn't have it, spurning 3 easy chances. Alphonse started to
get restless down on the Terrace as his departure time neared. Ashley
and Angus decided to retire if and when they got their ton. Angus slowed
down but Ashley hit accelerate as Gaurav, subbing for the sub who subbed
for Mark, was next to leave his blood on the turf, grassing a screamer from Angus at midwicket. Ashley cruised to 100, but wisely decided to add a few more runs just in case there were any scoring discrepancies.
Not that we expect scoring discrepancies from Don Prelis, mind. By this
time, Alphonse was halfway down the Toumei and we could still hear him
muttering. Ashley (105 off 60, 16x4, 3x6) duly retired to polish his average on the terrace and was replaced by Gaurav. The switch reminded Paddy's that there were indeed other batsmen to be going after. Angus missed a hoick at a full toss from a galvanised Suley and was bowled for an excellent 72 (47 balls, 9x4, 2x6). Don Prelis flicked his first ball to fine leg and Gaurav called him through. Robb swooped, read The Brothers Karamazov, wrote a pointed critique and returned the ball to Suley at the bowler's end to find The Don just short. More generosity of spirit saw Don Prelis allowed a second innings which lasted marginally longer than it takes him to run a single before he scooped a drive to JKay at mid-off. Porno lost his middle stump to Suley first ball, although he did have the excuse of being four sheets to the wind as he
matched JKay bottle for bottle. Still, one more duck to a very impressive collection. Gaurav gifted a return catch to Chris and Matt Ryan departed after one sweet boundary, then Topper came in and showed us some refined slogging, with some beautiful clean drives for six. One went straight up and came down on the bowler. Suley had ten minutes to get under it, but missed and gave Topper a shove for the fun of it (well, we enjoyed it). Now Topper's a gentle soul, but, as The Grand Old Man kindly demonstrated to us once in the soba shop, if you twat with Topper, you'll come away with something out of joint and if you're lucky it'll be your dignity. Fortunately one of the Paddy boys got to Suley before Topper did. Suley did get Topper next over, and there was just time for Shoaib to run himself out one more time for posterity. Kytes' innings closed on a mammoth 277/9, thanks mainly to an excellent opening stand of 151, some useful late hitting from Topper (37 off 14, 3x4, 3x6)
and an identical number of extras.
Suley (8-0-3-72) bowled some good balls but a lot of dross including 14 wides. The most memorable piece of fielding (apart from Otto using his face to prevent a boundary, of course) was when JKay showed us the correct way to collect and return the ball with stubby in one hand and fag in the other. He opens the batting as well you know - does this make him the complete cricketer?
After a welcome beer-break from the wind between innings, JKay
emphasised Porno's point that you can't bat pissed by also getting bowled first ball. The spirit of Corona (or was it VB?) again prevailed as JKay got a second bite and managed to trouble the scorers, but he was quickly gone for 7 and it was up to Suley and Robb to put up some resistance. Topper was taking the opportunity to remind Suley that it's not a good idea to annoy one of the quickest bowlers in Japan if he's opening the bowling and you're opening the batting, but Suley was handling Topper well enough. So it was a shame that another silly runout did for Suley and a collapse followed with Chris bowled twice by Matt Ryan in the same over. Rob and Ricky stemmed the flow for a while but then Ricky became the nth casualty of the day when he copped a low full toss on the foot (well it wouldn't be high, would it). Ashley then
bowled both of them in the same over and, on seeing the ex-Captain
hobbling in, took the chance to give anyone who wanted a bowl as the
Paddy's lineup entered the XXX-rated section. The ex-Captain managed
some proper shots in between hobbles up and down the wicket. Porno, who,
in best Talking Head tradition had stopped making sense some time in the
80s, came on to bowl and teased the ex-Captain with his flight and guile
or shite and bile, something like that. Then, in an amazing sporting
gesture (he's gone soft y'know) offered not to bowl out of the setting
sun. As soon as Eric got down the sharp end, Porno switched to back over
the wicket and out of the sun and bowled him first ball. Naughty. Paddy
F's very own sugar daddy Neil Day smacked his first ever boundary during
a brief stay. Mark batted with a runner but scored all his runs in boundaries anyway. Porno tried to bowl a third over but found himself pulled to give Angus a bowl. This set him off on a drunken rant and a Reginald Perrinesque saunter off into Abekawa that may or may not have ended some time on Monday. Otto returned from the casualty department with his cheek stitched up to post his customary measured 1 and Eric was the final beneficiary of the Corona/VB/Smirnoff spirit of the game coming in as 13th bat to post a second duck of the day as the sun disappeared behind the hills, signalling the end of the on-field activities during which a very creditable (considering the temperature) 2.5 cases of pop were dispatched.
Paddy's + Co. all out (well, 12 out) for 131 and a comfortable 140-run
win for the Kytes.
Off to the soba shop, then, where Topper and Suley kissed and made up,
for food and more drink and mutual humiliation.
Thanks again to Paddy Foley's for the fun, games and beer; let's do it
again next year.
Best wishes to Mark, wherever Mitsubishi send him next.
And get well soon all you invalids.
Man of the Match: Ashley Harvey - A very classy innings that deserved a
more auspicious occasion.

15/10/2006:
Pacific Cup:
Indian Engineers C.C. and Tokyo Wombats C.C. qualify for Final without much of a sweat:
Indian Engineers C.C. won over Tokyo British Embassy C.C. by walkover
Shizuoka Kytes C.C.: 154 (29overs) (J. Chamberlain, 52; A. Harvey, 51; M. Kelly, 3/20)
Tokyo Wombats C.C.: 158/2 (18. 3 overs) (M. Ainslie, 67; J. Shearer, 51)
Tokyo Wombats won by 8 wickets
Umpire: N. Harrison
Check Scoresheet HERE>>
Ashley Harvey writes:
Well the day started off great with beautiful sunny weather and the ground looking in magnificent condition thanks to the efforts of Robert, Neil and some other Kytes players.
In typical Kytes fashion the other team was all at the ground before most of our guys and also did more work than our guys.
The wombats won the toss and sent us into bat. Robert and Matt R open the innings but didn't do to much to worry the wombats bowling. Matt R was the first to go when he was clean bowled by Ainslie for 7 (1-13) In came the 'in form, out of form, no luck Joel' whom was playing in his last game of the season and was wanting a big innings. Robert had lasted 20 balls for his 1 before being caught by Kelly off the bowling of Shackleford. (2-26) In came Matt S looking to continue on from last weeks game but found himself being bowled by a ball turning square for 2. (3-37) Ashley joined Joel in the middle with a massive job on their hands but found the going quite easy and both were scoring freely. At this time you could see and hear the wombats attitudes drop as the Kytes moved from 3-37 to 4-119 before Ashley called Joel though for a tight single but like many times this year, lady luck wasn't shining down on Joel and he was 'run out' for 52 (4-119)
Out came Gaurav who made 4 runs before being caught behind by Kelly. (5-128) Larry was the next to come out sporting a new cricket bat, but was soon walking back for 0 when he was caught behind by another good ball from Kelly. (6-132) Nick was next and face a couple of balls before he pulled one to square leg for 0 off Kelly again (7-132) Mark helped move the score with his nice 8 runs but was soon walking back to the tent when he miss timed a shot and was caught by Ainslie off Mann (8-143) Ashley was caught on the boundary for 51 (9-14) Out came Squirrel (Douglas) to join Bunny (Shoaib) to move the score onto 154 before bunny was bowled for 7. In the end a disappointing day for the Kytes in the batting but still had something to defend.
The wombats came out with all guns blazing. Both Ainslie and Shearer were hitting the ball nicely but they were helped with some shit bowling from the Kytes. There were chances throughout both of their innings but the Kytes couldn't take them. The first wicket came when Ainslie tried again to smash Matt S out of the ground but was bowled with a nice in-swinging ball for 67 (1-116) Shearer was next to go when he hit Mark S straight down the throat of Matt R for 51 (2-150) Whisker and O'carrol finished the game off and the wombats were in the final of the PFC.
Thanks to the wombats for a good game played in good spirit and also for helping with the ground preparations. Thanks to the Kytes boys and lets hope we can finish the season with a couple of wins.

08/10/2006:
J1C 2007 D-1 play-offs:
Fuji Far East C.C. squeeze past Paddy Foley's C.C. to qualify.
Friendly: Shizuoka Kytes C.C. ease past resilient Indian Engineers C.C.:
Indian Engineers C.C.: 148 26.5 overs) (Extras, 49; A. Harvey, 3/20)
Shizuoka Kytes C.C.: 149/5 (20 overs) (M. Sharpe, 61)
Shizuoka Kytes C.C. won by 5 wickets
Check Scoresheet HERE>>
Neil Harrison writes:
Kytes Bite Back as Shannon Scores Run
Perfect day for cricket saw the Indian Engineers make the trip to Shizuoka to fill in as Kytes' opponents for another ultra-friendly. Engineers got stuck in holiday traffic round Gotemba, but there was still time for 30 overs apiece. Bikash won the toss for Engineers and chose to bat under a clear, blue sky. It really was a gorgeous day.
Matthew Alphonse Sharpe opened the bowling from the Lone Tree End and continued his recent trend of bowling well with very little in the column that counts. Pants started from the Bridge End and gave both openers problems with the steep bounce he was getting. But no wickets. Anil and Sangan looked steady and some tight wides had the score ticking along nicely. So it was rather fortunate for Kytes that Sangan decided to take on Pants' arm down at long leg. Sanjeeb strolled out fresh from a ton against Dragons. He was probably still thinking about it when he lobbed an easy return catch to Pornboy off a leading edge. Anil pretty much duplicated Sangan's dismissal, though this time Matt Ryan provided the throw. Udaya made a subdued start, while Raju quickly came and went. Udaya then looked to do business and smacked Porno for a couple of huge sixes into the riverbed before an attempt to repeat the shot against Matt Ryan ended safely in Pants' hairy hands.
Porno had woken up at the sight of Bikash walking to the crease and stepped up to collect his bunny. Sure enough, Bikash scooped his first ball to Shoaib at fine leg, but Shoaib wasn't interested in such an easy chance and punched it away for a single. Bikash tried again, this time edging to the ex-Captain still (yes, still) at slip. No go. It wasn't in the ex-Captain's zone, so he tipped it to third man for a single. So Bikash gave up and snicked Ashley to Gaurav behind the stumps. Nitin was now playing some lovely drives, and one flick to long leg had Sandeep scouring the profanisaurus for new expletives.
In the friendly spirit of things, Shoaib got a bowl. Shoaib took to the friendly sprit in style and gifted the Engineers a hatful of extras. He then gifted Sandeep the mother of all slow half-volleys. Sandeep jumped into it and leathered it straight back with "Wear me!" written all over it. Nitin and the umpire took evasive action but needn't have bothered as Shoaib stuck out his mitts and grabbed a stunner about 20 times harder than the 3 he'd declined to hang onto.
Jayesh hung around long enough to smash a tasty drive into Otto's thigh at mid-on. Kytes were relieved to see the Frenchman get up in one piece (next week's grass-cutting) but somewhat dismayed that Lalith had been too busy laughing to catch the rebound.
Sanjeeb and Raju got to bat again, there being only 9 Engineers and Kytes being suckers, but could only extend the score by 10 runs before the innings closed on an eminently gettable 148.
Udaya (24 off 15 balls, 2x4, 2x6) provided the main entertainment, top-scoring for the Engineers with some hard-hitting that was ended by an amazing catch. Nitin looked very classy and should be good for runs in the future. A few others got starts but didn't get going.
Kytes bowled well but again gave up too many wides (49 extras, 43 of them wides, in a total of 148 is still pretty dire, boys).
Kytes started their innings with three batsmen eyeing their 1,000th run since detailed records were kept from four years ago. Alphonse was best placed to get there on 993, but Pants (913) and Ashley (953) both had a chance for glory. Pants took strike and put the first ball of the innings into the car park. Another sweet strike for 4 in the next over and the boy looked good and set fair to put a run of poor form and dodgy decisions behind him. Pants tried to turn the next ball to leg, but was late on the shot and flicked the ball into his pad. Some poor, misguided Engineers appealed, bless them. And the umpire, who will remain nameless (and French) gave it. Pants tarried a while (from the boundary it looked like he might be inviting the umpire out for dinner that evening) before departing with "What part of my f*@%!&g bat didn't that hit?". Normal service was resumed as Ashley joined Alphonse and put on 90 runs in very relaxed style, the boundary Kytes enjoying the stroll at 119/1. Ashley went first for 34, skying a dolly to Nitin, and Alphonse (61) and Lalith soon followed. Matt Ryan looked to have sealed the match with a safe-looking 13, but when Jayesh pinged one onto the stumps off his toes, Kytes were starting to get jittery again. Porno came in with 2 required to win, but only 1 required to beat his aggregate total from his last 6 innings. The first ball he faced was a wide, and the next one he turned to midwicket for an easy single and the winning run, but spare a thought for poor Gaurav, who was out in the middle for about 4 overs without facing a ball.
Not much in the Kytes' batting besides the Alphonse (61 off 48, 7x4, 1x6) and Ashley (34 off 38, 3x4) show, although poor old Pants looked like he meant business in the short while he was out there.
Engineers fielded well enough but just didn't have anyone who could break the key partnership.
Thanks to the Engineers for another great day's cricket and good company in the soba shop. That's 1-1 for the season with another game to come in November.
Man of the Match: Matthew Alphonse Sharpe - tight bowling and his fourth 50 of the year - gotta be time for that first Kytes ton.



03/10/2006:
Cricket demonstration held in Tachibana Elementary School, Shizuoka Prefecture, for new School Club!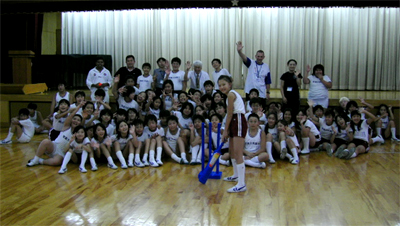 Read Report HERE>>

23~24/09/2006: Kanto Cricket League:
Shizuoka Kytes C.C. beat Tokyo bay Distrits C.C. by walkover
J1C:
Tokyo Wombats CC too good for Fuji far East CC
Tokyo Wombats C.C.: 252/7 (C. Jones, 114*; Extras, 54; 4 run-outs)
Fuji far East C.C.: 103 (Extras, 41; G. Brady, 3/20; I. Gason, 3/21)
Tokyo Wombats C.C. won by 149 runs
Umpire: C. Thompson
J1C
Fuji Far East CC ensure their place in play-off for 2007 D-1 play-off: by upsetting Millennium CC
Millennium C.C.: 185/7 (Sriram Sampath, 70; T. Fuji, 40;H. Takahashi, 3/23)
Fuji Far East C.C.: 186/5 (J. Saitou, 45; N. Tainaka,32)
Fuji Far East C.C. won by 5 wickets
Umpires: M. Timbrell & R. Matthews

10/09/2006: Kanto Cricket League:
Tokyo Giants C.C. come from behind twice to beat the Kytes in vital game:
Shizuoka Kytes C.C.: 214 (39.1 overs) (A. Harvey, 84; Malik Naseem, 4/27; Ahmad Kamal, 3/49)
Tokyo giants C.C.: 217/6 (31 overs) (Mumtaz Alam, 57*; C. H. Naveed, 30)
Tokyo Giants C.C. won by 4 wickets
Umpires: Shafiq Ur Rehman & Khurram Pervez
Scorer: R-G. Martineau
Check Scoresheet HERE>>
Ashley Harvey writes:
Well if you want a good read then I suggest you move on and read something else.
that said.....
The weather for this game was looking very hot and hot it was. most of the Kytes arrived to the game before the opposition came which is good.
This week I won the toss and chose to bat first as it was too hot to be out in the field all day.
Joel and Gaurav opened the inning and both where looking good until Gaurav (5) gave a simple catch to Jahangir Babar off Kamal's bowling. (1-22) Joel (25) was looking like he wanted to get a ton until he was bowled by Kamal for his 2nd wicket of the day. (2-35) Matt S joined me out in the middle and we both were going along nicely until just before the first drinks when Matt (29) got a nice ball on his pads and wasn't able to get bat on it and was bowled by Alam (3-96) Angus was next to the wicket and just like Matt and I, Angus and I kept the runs rolling over for an 81 run partnership before Angus (21) was found to be out LBW (4-177) The next 6 batsmen could only add 10 runs. I was the last to go trying to get my 100. Well that is what the boys from the side line were saying but I was further away than they were saying. Well done boys. Al was the not out batsmen with 1.
After the lunch break the weather was still hot and wasn't looking like letting up. Both Matt S and Ben couldn't find a break through in their first spells and it was Matt R that made the first break-through with Zaheer Babar (24) caught by Joel. (1-58) Soon after that Mat R went on his own and got Ahmad (0) LBW. (2-63) I got Naseer (2) LWB (3-79) Ben had Chowdhery (31) caught by me (4-105) and then got Kamal (29) bowled and at this point in time we thought we had a very good chance of winning until Hussain and Mumtaz (57no) came out and played some intelligent cricket and worked the ball around the park. Matt S bowled Hussain (12) (6-186) and we still had a slight chance with just the tail to come, but that wasn't to be as they were helped by some terrible bowling (if that is what you can call it) and with that the game was over.
Well done to the Giants for a good win and hope to see you again sometime soon to return the favour.

27/08/2006: Kanto Cricket League:
Disappointing Kytes 1st suffer humiliating defeat off C.C. of Nagoya
C.C. of Nagoya 248 (32.3 overs) (Khurram Pervez, 92, Extras 55, Raja Akkram, 31; Riaz Hussain, 30; A. Harvey, 3/32; A. Liley 3/48, wides, 51)
Shizuoka Kytes C.C.: 99 (19.3 overs) (Atif Chaudhry, 4/17, Saqib Khan, 3/10)
Nagoya won by 149 runs.
Umpire: Kedar (Myoden)
Scorer: N. Harrison
Check Scoresheet HERE>>
Neil Harrison writes:
Well it was supposed to be Kytes vs CC of Nagoya, but it played out more like Clowns vs CC of Nagoya as Kytes bungled their way to an
embarrassingly heavy defeat against a team they were expecting to steamroller.
Kytes' day started badly enough with Arbab's unexplained failure to appear and just seemed to carry on downhill. Saqib won the toss for
Nagoya and chose to bat on a cloudy, cool day with the pitch looking a peach. Kytes had to field with 10 men as Porno couldn't get down to
replace Arbab until late in the day.
Tariq and Stewart looked comfortable enough against Topper and Mattles' opening spells, but all the runs were coming from wides. A woeful piece of calling accounted for Stewart, and Topper managed to skin Tariq in the next over. Hussein went for a duck, but then Khurram joined big brother Saqib to steady the ship. There were airshots and chances from Khurram and not many runs coming off the bat, but the extras kept the score ticking along and these two looked like they might be together for a while. In fact it took a duff bounce to account for Saqib with the score on 74. Raja then pummelled 31 in no time, and when he lost his off stump to Ashley after one hoik too many, Riaz came in and kept the ball rolling with his own quick 30. With Khurram playing some tasty drives and cuts of his own all this time, Nagoya had added 100 runs in 10 overs. Khurram got what looked like a dodgy lbw to end his innings on 92 and Kytes managed to run through the tail relatively quickly, but by this time the damage was done and Nagoya had posted a very strong total.
Nagoya finished all out for 248 in 32.3 overs with Khurram (92 0ff 68, 15x4, 1x6) obviously the star. He offered plenty of chances, all of which Kytes refused to accept, and in between played some lovely shots including a couple of superlative cuts. Raja (31 off 13, 1x4, 4x6)
provided his usual one-shot entertainment, featuring three huge sixes into the river bed. Riaz (30 off 18, 4x4) made the third big contribution in the crucial middle part of the innings that took full advantage of Kytes' incompetence.
With the exception of Mattles (6-0-0-19) and Ashley's (7-0-3-32) bowling, Kytes were awful in the field. 6 chances were put down, an easy runout was missed, comedy fielding gave overthrows left, right and centre. Angus (6-0-3-48) got the short straw of bowling Arbab's overs, while Topper and Matt Ryan got hammered when they weren't bowling wides.
Now, much as I would like to spare Hairbear his blushes, he did get married without telling us, so: Matthew Crispin Ryan, 5.3-0-2-67.
Special mention also to Mickey on debut - his single over got the treatment from Raja and went for 27 runs.
And did I mention the wides? 51 wides in 32.3 overs. Add that to the no balls and Kytes bowled an extra 9 overs to drop catches off.
Pants and Mattles kicked off Kytes' alleged run-chase, but Pants was having trouble locating the middle of his bat. Mattles settled quickly,
and Raja and Afridi got no joy so Saqib turned to Atif, who bowled so well against Giants without luck the previous week. Atif made an
immediate impact bowling Mattles off his pads for 15. Gaurav joined Pants and together they scratched around for form without success.
Gaurav skied a drive and Pants was bowled the ball after clocking himself on the jaw. Kytes' batting looked to be going the way of their
bowling, but The Bigamist joined Ashley and these two looked in good nick till The Bigamist left the gate open and Saqib snook one through.
Angus and Ashley looked like they might manage a partnership, but a poor call for a single sent Ashley on his way when Stewart palmed a loose throw onto his thigh and onto the stumps - you could tell it was one of those days when nothing went right for Kytes - and with Ashley went any hope of even getting near the Nagoya total. Matt Ryan disappeared first ball thanks to an airy swish over a straight one from Saqib. Angus drove a couple of meaty straight sixes and almost got another over midwicket, but Khurram took a fine catch on the boundary. Mickey duplicated Matt Ryan's dismissal and Shoaib just squeezed out Saqib's hat-trick ball. Topper was looking comfortable but wasn't getting the strike. Shoaib tried to give it to him after slicing a drive along the ground to point. Topper declined. Several times. VERY LOUDLY! But Shoaib still kept coming. Next week, Kytes will be teaching Shoaib the meaning of "NO! NO! NO! NO!"
Porno joined Topper for the last rites. There were two: One was a rap on the pads and the other was cut straight to Khurram at point. Porno has
now broken your correspondent's club record for ducks in a season.
Cheers, mate. (Porno now has 5 ducks in 2006 - although there is some talk of presenting this duck to Arbab in recognition of his contribution
to the game).
That was it - all out for 99 in the 20th over, Nagoya win by 149 runs.
Atif (4.3-0-4-17) was easily the pick of the bowlers, bowling a good line at pace and varying the length. Saqib grabbed three wickets with
his wobbly off-spin that proved deceptively difficult to play. This time it was Afridi's turn to bowl impressively without luck. Nagoya fielded
well, but then, they couldn't fail to look good compared to Kytes' efforts.
Thanks to Nagoya for the game, again played in a good spirit. The best team won, without a doubt. And congratulations on a very impressive
turnaround after the previous week's less than inspiring display against Giants.
Thanks to Kedar Kulkarni of Myoden for a promising and resolutely fair umpiring debut.
Man of the Match: Atif - A second impressive bowling display on consecutive Sundays. This time he got the breaks and the wickets - and a runout to boot.
And finally, in the interests of lightening the gloom, I give you
Topper's joke:
Q: How do Kiwis find sheep in long grass?
A: Delightful.

13/08/2006: Kanto Cricket League:
Vimal Vikrant carries his bat to preserve Indian Engineers C.C.'s chances to D-1 promotion
Indian Engineers c.C.: 327/8 (40 overs) (Vimal Vikrant, 154*; Sanganbaswa Kalgi , 32; Ritesh kakar, 30)
Shizuoka Kytes C.C. 2nd: 130 (20 overs) (M. Sharpe, 51)
Indian Engineers C.C. won by 197 runs
Umpire: Babu Koshy Kannagil
Check Soresheet HERE>>
Check KCL Homepage HERE>>
Neil Harrison writes:
All was obviously well with the world as the Indian Engineers came down to Shizuoka to take on the Kytes' Second XI (the Clowns or the Crowns, depending on how you read your katakana) in another ultra-friendly. Except this was KCL Group B and the Engineers were desperate to end a 7-match losing streak and needed a win to keep themselves in the running for a slot in Division 1 next year. Clowns could only find 9 red noses for the day as a litany of lame excuses were trotted out. But what's this? Our very own Amish came up with an original excuse - a more girlie excuse than the legendary Shirley "Thumbprint" File, currently majoring in Ovine Fetishes at the University of Somewhere in New Zealand - adds a whole new meaning to the phrase "field studies" - and, yes, they do have universities in New Zealand. But I digress, Amish was unable to join the team because he was attending a ballet performance in Tokyo. No doubt we'll be without Matthew Alphonse Sharpe next week because there's an international flower arranging festival on in Nagoya.
On the day, as usual, the Engineers were on the ground while the majority of Kytes were still in bed dreaming up excuses for being late.
Bobby won the toss for Engineers and chose to bat under a hazy, humid sky that threatened to rain but didn't. Captain Don Prelis came back to break the news with that "Pity you poor sods having to bowl in this" grin of his.
Benjamin Toppington opened the bowling from the Bridge End and the Pornificator started from the Lone Tree End. Topper was aggrieved to see one ball that passed a couple of inches over middle stump called a wide, but apart from this there was little drama as Partha and Vimal worked the ball through the many gaps to bring up the 50 in double quick time. Partha then started to lead a charmed life, but Vimal looked set from ball one. The Don came on second change to show his minions how to bowl and snagged Partha lbw with the score on 65, but Ritesh came in and picked up where Partha left off, taking the score to 116 before Matthew Alphonse Sharpe beat a careless lunge. By this time, the Clowns were in serious slapstick mode, with Grand Old Otto throwing pies from the Bridge End. Sriram, one of the most stylish batsmen in Japan, couldn't take it for long and ran down the track to escape. Angus marked his debut behind the stumps with a deft one-handed stumping and Sriram's humiliation was sealed: <b>st. Liley, b. Martineau</b>. Forever.
Engineers, obviously as shocked as the Clowns, lost their way for a few overs, which gave the Porn Star an opening to prove Shannon's Law ("Shit gets wickets") as Nisar missed a gift of a full toss and lost his leg stump. Bobby made the mistake of batting in pads made of the finest English willow. One forward defensive later and off he went, lbw to Shoaib. Bikash's honeymoon lasted two balls till he hid his bat from a straight one and off he went in the same over. Into the slog overs and Jagan and Sangan helped Vimal pile on the runs, but the Clowns kept smiling and chucking pie after pie. Topper tried to restore order but saw three edges evade the ex-Captain's wheelchair in the slips before missing a sharp return chance. Jagan sent Lalith way up and over to Alphonse at fine leg and Sangan fell to a good running catch by the Pornmeister, just giving Biju a chance to spend a few minutes under the big top before the close on 327/8.
For the Engineers, Vimal (154 off 121 balls, 13x4, 2x6) played an excellent innings, solid and safe to start and gradually opening up. There were chances towards the end of the innings, but by then he was well out of sight. Partha, Ritesh, Nisar and Sangan all contributed in chunky partnerships of 40 or more.
Clowns bowled well in the circumstances, but there were too many holes in the field to hold back the flood of runs. Nevertheless, Enginers looked set to pile on 400 runs when they went in for drinks after 18 overs at 186/3, so restricting them to 140 runs off the subsequent 22 overs represents a victory of sorts. The wickets were shared around quite evenly between the 6 Clowns who "bowled", though poor Topper came away empty handed with probably the best performance.
The fielding was generally good, and Shoaib and Francois Le Suisse (in his second ever match) were excellent.
Clowns decided to have a go at the total from the start, and some wayward bowling helped keep the runrate in sight despite Angus' inability to find his form. Alphonse was timing the ball nicely right from ball one and Clowns had a shout as long as Alphonse was in there with someone who could run. But that wasn't a very long list in this team. Angus fell lbw halfway down the track to Jagan and Topper went in first drop and displayed something looking suspiciously like technique for a few overs before slicing a drive deep into cover where Jagan took an excellent running catch. Alphonse brought up his 50 (51 runs, 39 balls, 6x4, 1x6) with some juicy drives but fell immediately after to a jumping catch by Sangan right on the long-off boundary. That was it as far as the chase was concerned, and it didn't take long for the Engineers to work through the tail (more of a stump, really), with only Otto showing any resistance before the innings ended on 130. Congratulations, anyway, to Francois, on scoring his first runs in cricket. May there be many more.
Bobby took the opportunity to try out the bowling of 9 of his team members, so there wasn't really a chance for anyone to shine (the eight wickets on offer were all taken by different bowlers - Ritesh was the one to miss out). The fielding was good and Vimal was the only one to put down a chance.
Thanks to the Engineers for another great day's cricket and good company in the soba shop.
Thanks to Babu of Dragons for umpiring fairly and with a smile.
Man of the Match: Vimal Vikrant - a class innings, and he apologised to the ex-Captain for bowling him with the mother of all grubbers.

23/07/2006: Kanto Cricket league:
Heavy rains ruin the day:
Shizuoka Kytes C.C. 2nd vs. Al Karam C.C.:
Match drawn (ground waterlogged)

16/07/2006: Kanto Cricket league:
Depleted Kytes nonetheless booking their place in 2007 D-1 by beating old foes Friends XI for the first time!
Friends XI C.C.: 166 (22.4 overs (Shakir Khan, 50; Umar Farooq Butt, 36; B. Tomlinson, 4/41)
Shizuoka Kytes C.C.: 167/7 (37.11 overs) (A. Harvey, 82)
Shizuoka Kytes C.C. won by 3 wickets
Umpire: Mumtaz Alam
Check Scoresheet HERE>>
Neil Harrison writes:
There was a time when Billy Ocean ruled the airwaves, when red light spelled danger, when the going got tough and the tough got going, and when Friends XI strolled into Shizuoka and put serious hurt on Kytes' egos. Not anymore. Because from now on, Lord William of Disco will be singing "When the going gets tough, the Kytes go shopping" and Friends have a bruised ego to be nursing.
After the ignominy of having to concede their Second XI match vs YCAC the previous week, Shizuoka Kytes came dangerously close to having to do the same for the First XI match against Friends XI. Last minute recruiting by Don Prelis got the numbers up to 10 on the day, but it was the sight of the ex-Captain at first slip in his wheelchair that really brought home the level of desperation to which the Kytes had sunk and brought a lump to your correspondent's throat in the process. With the Grand Old Man patrolling the covers on his Zimmer frame, Friends could have been forgiven for expecting another easy win (well, "thrashing" would be a more accurate description of the past results of games between these two teams) like those mentioned on the https://rgmjapan.tripod.com/HONOURS.html. In the end, only 4 of Kytes' nominated 1st XI took the field, making the eventual result all the more impressive.
The pitch was in good nick and Aamir won the toss for Friends and chose to bat after consulting his team members. It was hazy, hot and humid with no wind - a nightmare for the fielders.
Out in the middle, Topper opened the bowling from the Bridge End while Matthew Alphonse Sharpe started from the Lone Tree End. Both managed to keep the openers quiet until Naeem was outdone by Topper's tried and tested "Wide, Wide, Wicket" sequence. Umar was unusually subdued down the other end while Sharpey saw off Brother Asad with a peach of an inswinger. Later in the over, Brother Aamir thought he was watching a more wayward version disappear down legside, but unfortunately for him the ball clipped his back foot and just had enough on it to dislodge the leg stump bail. At 22/3, with Aamir gone without scoring, Kytes sniffed a collapse in the air but were disappointed to see a counterattack instead. A series of fierce cuts and powerful drives from Umar and Shakir Khan had Friends back on track and looking strong at 68/3. That's when Umar took a wild, wild swipe at a loose delivery from Ryan of Asia and Alphonse ran his little legs off from the third man boundary to get in, claim the ball, offer to decapitate anyone who got in his way and take a fine sliding catch.
Porno then replaced Alphonse at the Bridge End and, unusually, his shit deliveries brought him nothing but pain. He did at least manage two class offies in consecutive balls in his 3rd over - the first luring Fayyaz Khan into an unwise pull, the second convincing Brother Jamshaid that your shot of choice, first ball, is an eyes to the skies heave for six. Minus the bat on ball contact part.
Ashley sensed an opening and brought Topper back on at the Bridge End. Shakir Khan replied by bringing up his 50 and immediately slicing a gimme to the ex-Captain, still (in both senses of the word) at first slip. A poor shot to end a good innings.
Daleep Singh and Abey Jawardene briefly sparkled and helped push the innings past 150, but both were bowled by Topper in consecutive overs to end the innings.

166 was a poor total, especially by Friends' standards, but both teams were well aware of what happened the last time Kytes bowled Friends out cheaply (Friends steamrollered Kytes for 32). Shakir Khan (50 off 38, 4x4, 3x6) batted very well for his 50, and Umar (36 off 30, 6x4) restrained himself well after the loss of early wickets. The quick run rate of 166 in under 23 overs counted for nothing as Kytes still had 40 overs to chase down the total.
Kytes' problem was that they were woefully short of batting. However, the low target gave them a potential way out and collectively they came up with a scheme so ostensibly sly you could pin a brush on it and call it Basil: Send in The Don and The Grand Old Man to open the innings. This would draw the sting out of Friends' attack and (hopefully) waste a few overs of Friends' better bowlers. All well and good, till Aamir sees what's going on and opens the bowling with offspin at each end.
The Don lasted an over before missing a pull and losing a leg stump to Fayyaz Khan. Ashley joined Otto (TGOM) and the scoring sort of ebbed (Otto on strike) and flowed (Ashley on strike) for a few overs. Otto finally fell in the 13th over, run out by a hopelessly optimistic call from Ashley, and, credit to Otto, it has to be said that this was the only way Friends looked like getting him out. Alphonse now joined Ashley, and these two picked up the run rate with the key partnership of 86. But just as they had shifted the pressure on to Friends, Brother Aamir bagged Ashley lbw and bowled Alphonse in his next over. Porno went first ball to Brother Asad (to claim the unenviable stat of 3 consecutive ducks spanning 4 balls and tie the ex-Captain's record of 4 ducks in a season) and Kytes had slipped from 127/2 to 135/5. Topper hung around long enough for Ryan of Asia to smack a couple of 4s but then Topper fell to another cover-your-eyes run-out and Lucky was bowled first ball to leave Kytes all a-jitter on 154/7. But Shoaib Aziz, of all people, kept Ryan of Asia company to tie the scores and had the honour of smacking the winning runs with a beautifully placed top-edged pull over his own head and over the keeper to see Kytes home by 3 wickets.
For Kytes, Ashley (82 off 106, 8x4, 3x6) took the honours, sharing vital partnerships of 38 with Otto and 86 with Alphonse (19 off 39, 2x4). When it looked like Friends might finally have found a way through, Ryan of Asia (24* off 19, 5x4) responded with cleanly hit drives to the boundary, usually straight back over the bowler's head.
For Friends, Fayyaz Khan (8-2-1-13) bowled a good tight spell early on (though he was helped by having Otto at the crease for most of those overs). Brother Aamir (8-0-3-39) gave Friends hope of running through the Kytes' tail till Ryan of Asia got the better of him. Friends fielded well and, though they didn't have any catches to worry about, took both run-out chances that were on offer.
Thanks to Friends for the game, which was played in a good spirit throughout.
Thanks also to Mumtaz of Giants, who did an excellent job of umpiring, as usual.
Man of the Match: Ashley for a reasonable debut behind the stumps and another excellent innings. And having a game-plan that worked.

09/07/2006: Kanto cricket League:
Shizuoka Kytes C.C. 2nd XI has to concede game to Yokohama C. & A.C.

02/07/2006: Kanto cricket League:
Kytes start with solid win over courageous newcomers Myoden C.C.:
Shizuoka Kytes C.C.: 218/8 (A. Harvey, 60; A. Liley, 41*)
Myoden C.C.: 128/7 Vesly Gracies, 32)
Shizuoka Kytes won by 90 runs
Check Scoresheet HERE>>
Ashley Harvey writes:
Well waking up on Sunday, most of the Kytes members thought that the game would be called off by the amount of rain that was falling in the morning, but that wasn't to be.
The rain had stopped just enough for us to lay the pitch down and to have a toss, but soon after, the rain started coming down again. We waited for a few minutes and decided to shorten the game to 25 overs a side.
We batted first and for most of our innings we played in the rain. Anyway, Larry and Joel opened the batting and in a first, Larry didn't run himself or anyone else out before getting bowled for 0 (1-12). Joel and Arbab continued in the rain and moved the score on to 35 before Joel was bowled for 20 (2-35). Soon after, Arbab fell for 16 after dancing down the wicket and was bowled (3-63). Matt S and I (Ashley) were scoring at a nice rate before Matt was C & B for 15 (4-126). I was the next to go a few runs later when I mistimed a shot out to deep cover for 60 (5-128) Suboh and Angus were both looking good before Suboh was run out for 17 (6-176). Nick was bowled for a golden duck (7-176). Ben made a nice 10 (8-208) before he was stumped having stepped out of his crease to warn Angus about his flying bat. That left Angus 41* and Pin-up Andy 1* to finish the innings off at 8-218. Myoden bowled very well in the rain and only allowed 38 extras in their ! innings, which was good considering the ball was like a piece of soap for much of the innings.
During the break, the rain had stopped and the ground was looking in great condition for Myoden's innings. Toppa (who can't remember his real name) started the inning off with some very good fast bowling but it was Matt S at the other end that got the first wicket of the innings, taking Tiwari for 2 (1-3) and a few runs later at the other end Toppa bowled Kamble for 0 (2-5). Markale and Kurundakar tried hard to steady the ship but only made it to 36 before Markale was caught by Suboh off Arbab for 3 (3-36). 10 runs later, Arbab bowled Kulkarni for 1 (4-46). Kurundakar and Vesly kept the runs coming off the bat while our bowlers helped by bowling a few too many wides and it took a very good run-out by Nick to break Myoden's best partnership (Kurundakar 21, 5-82). Larry bowled Keshmukh for 1 (6-84) and Andy also bowled Vesly for 32 (7-120). The Kytes again bowled very well apart from 47 wides and let's hope we can iron those out.
Thanks to Myoden for coming all that way and playing in the rain and good luck for future games.

25/06/2006: Friendly:
Kytes back into form!
Shizuoka Kytes CC: 270/7 (35 overs) (M. Sharpe, 77; Subodha Gunawardene, 50; A. Liley, 39)
Topkyo British Embassy CC: 182 (B. Kininmont, 33; C. Thompson, 31; A. Winston, 30)
Shizuoka Kytes won by 88 runs
Check Scoresheet HERE>>

06/06/2006: First Coaching Session at Miwa Primary School (2006~7 Scholar Year):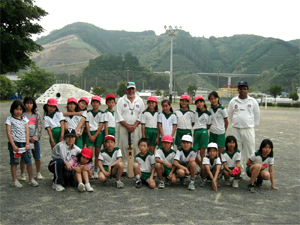 Robert-Gilles Martineau and Lalith Prelith led the first Coaching session for the Cricket Club at Miwa Primary School already in their second year!
Read full report HERE>>

04/06/2006: Kanto Cricket League EGM:
New League to replace old one after official dissolution:
At the EGM called by the Kanto Crcicket League EGM following the resignation of 3 Committee members, the present League was dissolved and will be replaced by a new League of the same name to start on July 2nd.

30/05/2006: First coaching session at Shizuhata Naka Primary School!
Robert-Gilles Martineau led the first Coaching session for the new Cricket Club at Shizuhata Naka Primary School!
Read full report HERE>>
-----


28/05/2006:Vandals damage the Shizuoooooka Kytes Ground!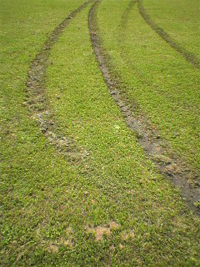 On Sunday 28th late in the afternoon, some idiots ran their 4x4 over the ground.
Neil Harrison and Robert-Gilles Martineau, following the rained out game between Tokyo British Embassy CC and Max CC had spent the whole afternoon cleaning and mowing the ground surroundings before taking a last look of deserved satisfaction at the Abe Oval and subsequently retired for a well-earned beer.
The following morning R-G. went to the ground to pick up the kids gear to take it to Shizuhata Naka Primary School when he discovered the ruts left by some idiots running over the ground with a 4x4 (see picture).
On the next he and Lalith "Larry" Prelis had to spend hours refilling the ruts and cutting the grass to help the ground's natural healing. It will take at least two months for the ground to recover. Luck the damage was when the grass is at its most active!


SEE PREVIOUS ARTICLES>>

Hampshire CCC Expats Page
---
---
For Cricket lovers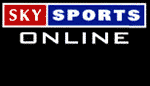 ---
WEATHER FORECAST
(For Cricket players)
---
Other Cricket Homepages in Japan:
SEE MAP OF JAPAN FOR CLUB LOCATIONS
(English)
Japan Cricket Association
Bangladesh Tigers C.C.(Tokyo)
British Embassy C.C.
Doshisha University C.C. (Kyoto)
Ezo C.C. (Hokkaido)
Gunma University C.C.
Hiroshima International C.C.
Ichihra Sharks C.C.
Indian Engineers C.C. (Tokyo)
Kansai Cricket Association
Kanto Cricket League
Kansai Tigers C.C.
K. C. A. (Kanto)
Kobe Regatta & Athletics Club
Lalazar Sports C.C. (Sendai)
Matsuyama C.C. (Shikoku)
(also in Japanese)
Nagasaki C.C. (Kyushu)
Osaka C.C.
Paddy Foley's C.C. (Tokyo)
Saga Cricket Club (Kyushu)
Serendib C.C. (Tokyo)
Shizuoka Kytes C.C.
Yokohama C. & A. C.
Tokyo Wombats C.C.
------
Sakhalin C.C. (Russia/E-mail only)
------
-----
(Japanese)
Japan Cricket Association
Adore C.C. (Tokyo)
Cats C.C. (Tokyo/Ladies)
Crickies Ladies C.C. Tokyo)
Doshisha University C.C. (Kyoto)
Ezo C.C. (Hokkaido)
Fuji Far East C.C.
Gunma University C.C.
MAX C.C. (Tokyo)
Milennium C.C. (Tokyo)
Team Flying Flapper (Tokyo/Ladies)
Tokyo Kooka University C.C. okyo)
---
These are the flags of the countries of all the cricketers who played for the Shizuoka County Cricket Club
Notice that the Bangladesh flag is bigger because our bangladshi Member is a big character!