Where to Buy In Shizuoka?
Wines, Beers, Spirits & Liqueurs Homepage
Wines Websites Links
Entry Page
*
Europe
France:
Alsace
Ardeche
Auvergne
Beaujolais
Bordeaux
Bourgogne
Champagne
Charente
Jura
Languedoc
Loire
Provence
Rhone
Savoie
South West France
*
Germany
Italy
*
Africa
Americas
Canada
U.S.A.
Asia
Oceania
*
Beers Websites
Spirits & liqueurs Website
s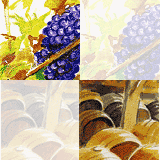 .
-----
An awesome information source for wine lovers!
http://groups.msn.com/BordeauxCentral
-----

This subscription only site provides online access to the complete contents of all the
past years of The Wine Advocate going back to 1992!
http://www.erobertparker.com/
-----

"THE CLUB" !!!!!
(French, English, Spanish, German, Japanese,...)
http://www.winealley.com/
-----
CYBER BACCHUS
The Complete Shop!!!
http://www.cyberbacchus.com/
-----

NEXTWINE
Think Outside The Bottle!
Nextwine is a Napa Valley purveyor of fine, rare and hard to find wines specializing in California Cult Cabernet,
vintage Bordeaux and emerging Australian wines. All wines in stock and ready to ship world wide.
http://www.nextwine.com/
-----

BLUE WINE.COM:
Not only a major Wine online merchant but also an awesome directory!:
http:www.bluewine.com/
-----

VinXchange:
AWESOME!
http://www.vinxchange.com/
STRAT'S PLACE (More than 9,000 Wineries cited!)
http://www.stratsplace.com/
-----
"The French Wine Explorers Wine Tours of France"

http://www.wine-tours-france.com
-----

WORLD MARECHAL (Wines, mineral waters, Beers, Spirits, Foods):
http://www.worldmarechal.com/
-----

French gastronomic website largely dedicated to the graves de vayres wines
http://www.lesdelices.com/
-----

The Spanish Wines(Top-class Spanish Wines Online Shop!)
http://www.thespanishwine.com/
-----
The Solution for your own Cellars
http://www.solucav.com/
-----
WINES on CHATEAUONLINE:
http://www.ChateauOnline.fr/
-----
The Drink Shop.com
(Talk to Timothy Francis!)
http://www.thedrinkshop.com/
-----
WEBSITES BY AREA
EUROPE
(France has been further broken down into regions. Germany & Italy separate)
AFRICA
AMERICAS
(Canada & U.S.A. separate)
ASIA
OCEANIA
-----
Barton & Guestier (Passion for Wine!)
http://www.barton-guestier.com/
E-HOTELIER.COM (Awesome Site!)
http://ehotelier.com/browse/wines.htm
BORDEAUX -NEWS.COM (The Definite site about Bordeaux and its Wines!)
http://www.bordeaux-news.com/
You MUST have a look at this site, irrespective of your nationality!
http://www.winespectator.com
(Contributed by Bradford Benstock)
WINE HOBBY PAGE by GILLES (AWESOME!)
http://www.multimania.com/gillou/
WINE HUMOUR!: http://www.delvalle.fr/
Maureen and Bernie's Wine Travel Guides (Awesome!)
http://www.kilkelly.com/winetravel.html
Le Club Des Vins (An ever-growing reference!)
http://www.chez.com/clubdesvins/
Vins Annuaire
(Awesome Directory!)

http://www.vinsannuaire.com/

-----

Go shopping at WINE ENTHUSIAST COMPANIES for all Wine Accessories:

http://www.wineenthusiast.com

(Contributed by Bradford Benstock)

-----

Go shopping at WINESMART.COM for New World Wines:

http://www.wine.se.com/

(Contributed by Paul Fowler)

------

AROMES ET CEPAGES.COM (Natural wines and regional products): http://www.aromes-et-cepages.com/
BACCHUS ON LINE.COM (Online wines sales): http://www.bacchusonline.com/
CAVES ESTEVE: http://www.caves-esteve.net/
CHATEAUINTERNET.COM (Online wines sales): http://www.chateauinternet.com/
CLICK ON WINE.COM (Online wines sale): http://www.clickonwine.com/
ELECTROLUX WINE CELLARS: http://www.electrolux.com/wine/
FRERES LURTON (Online wines sales): http://www.jflurton.com/
INTERCAVISTE (Online wines sales): http://www.vinomedia.fr/
LE NEZ DANS LE VERRE (Languedoc wines sales): http://www.lenezdansleverre.com/
L'ESPRIT ET LE VIN (Wine-related Materials): http://www.esprit-et-le-vin.com/
MONVOISIN S.A. WINE CELLARS: http://www.cave-vin.com/
ROUGE-BLANC.COM (Online wine sales): http://www.rouge-blanc.com/
SUDIVIN ONLINE WINE SALES: http://www.sudivin.com/
VINEXPO: http://www.vinexpo.fr/
WEBIWINE: Geographic Exploration of French Vineyards (Also includes 19 Producers):
http://www.webiwine.com/francais/
WINE.COM: Major Wine online merchant: http://www.wine.com/
WINE AND CO: How to harmonize your wines and food!: http://www.wineandco.com/

-----
WINE GLASSES ONLINE SALES (CRISTAL D'ARQUERT):

http://www.arc-international.com

-----

VINOSAFE CELLARS: http://www.vinosafe.com/
WINE NEWS.COM: http://www.winenews.com/
THE WINE SHOP: http://www.75cl.com/
WINE WAITER COM (A site for Sommeliers!): http://www.wine-waiter.com/
Buy & learn about wines at WINE & Co: http://www.wineandco.com or http://studio.vinternet.net/

-----

A French Wines Search Machine (includes good advice on food): http://assoc.wanadoo.fr/cg.graphic/
A very large French wines directory: http://www.frenchwines.com/



The Vineyard Collection Server: http://www.winecollection.com/index_fr.htm



The French Wine Webs List on Internet (21 addresses): http://www.winecollection.com/pages/gb/lien.htm


French Wines Dealers Repertory (70 Sites. Most of them in


) : http://www.gourmetseeker.com/vins/vins/negociants/
A good site for wine information:
In French: http://www.placeduvin.com


In English: http://www.aawine.com


E-Mail: iselin@paroles.fr
Bourgogne Wines: http://www.tastevinage.com/1accueil.html
or on the net: http://www.finestwines.com/
http://www.vinternet.fr