(This article is the integral copy of the report sent to the Belgium-Luxemburg ACU and the ACU & S)
As most of you might know the Japanese company I work for decided to dispatch me for a week to Shizuoka, Japan. The final decision to go fell on Monday June 27th and I would leave on Friday July 1st. Little time for preparation. I had been there on two occasions before but both were in November, outside what we in Belgium consider the cricket season. I knew there was a cricket club in Shizuoka from the internet, something my Japanese colleagues at work were not aware of. On Thursday evening I decided to sent an email to the Shizuoka Kytes Cricket Club. I introduced myself and congratulated the Japan Cricket Association with their promotion to Associate status in the ICC. Then I wrote that I would be in Shizuoka and have the Sunday free, available for umpiring if required.
The same night I got an email back from Robert-Gilles Martineau who looks after cricket in the Shizuoka region. Robert introduced himself and told me that indeed there was a game at their ground. He was due to umpire with his friend Neil Harrison but would be happy to do the scoring and give me a game in the middle. He was still unaware about Japan becoming an associate member. He gave me his contact details and I replied that I would give him a ring after arrival at the hotel. So I did and Sunday morning at 09:00 Robert was waiting in the lobby of the hotel to take me to the ground.
In the taxi he explained me that it would be a second division game of the Japanese League (KCL) between Tokyo Bay Districts Cricket Club and Cricket Club of Nagoya. Robert also introduced me in the working of the Japanese Cricket Association. Myself being the treasurer of the Belgian Cricket Federation, also a small country just awarded associate status, we had a lot to talk about. After all, we all have the same problems.
We were the first to arrive at the ground. Robert told me they played on a Flickx pitch which was rolled out each time there was a game. The ground is in a designated park area on the side of a riverbed. The river was completely dry and only occasionally reaches the ground. Being a park area they were not allowed to have a permanent pitch. I gave him a hand setting up his new scoreboard while he explained what work they had been doing on the ground for the last years. Neil arrived as well and we set out the boundaries. Both teams turned up in time as well. Under Robert's guidance they rolled the pitch area and put out the Flickx pitch. I suggested that they should roll the pitch as well to get a better bounce. Robert said rolling the mat made it too difficult to remove, but he would give it a second thought.
At 11o'clock we got started. Robert first introduced me to both teams. He told them in short my umpiring experience; pointed at the ECC shirt I was wearing explaining I was an official ECC umpire. Combined with my BCF tie it seemed to make the necessary impression. Before the game I was warned that there could be some problems with some players, they are less disciplined than in Europe. Excessive appealing died after half an hour as they soon noticed it hat no effect.
Games run slightly different from what I am used to in Europe. The JCA League (KCL) is played in 40 over games, it tends to get dark early in the rainy season (now). After 20 overs there is a drink interval of undetermined length, both teams also leave the field for that. In this game the intervals took 10 minutes. In between innings there is a break, again of a length decided on the spot by the captains. Teams bring their own food, no tradition of the home team providing teas for all. Luckily Robert's wife had prepared lunch for us. It turned out to be a game that was played in very good spirit, without any problems. The game was won by Tokyo Bay Districts Cricket Club who successfully defended a rather low 151 runs. A bowler's game, even on a Flickx pitch on which the ball stayed low. Less than 5 minutes after the conclusion of the game it started raining, the rainy season remember.
Clubs collected the pitch and boundary in the rain without complaining. The weather forecast had not given much hope on any play at all. We were lucky to have had a game without interruptions. After everything was collected and cleaned up Robert and Neil took me to the nearby soba shop for some good Japanese beer and snacks. As we were seated on the floor, Japanese style, we talked about how cricket is run in our counties, associate status, our federations and had a good exchange of ideas. Some of them are likely to appear in the Japanese League and give that little push to create a 3rd division.
Later that week Robert took me out for a drink and introduced me in some local bars, and to their sponsor bar owner. Thanks to the internet and the goodwill and efforts of Robert I had a very pleasant start of a hard week's work with long hours. I hope to umpire there again on my next trip down there, even in November as their have a very long season. Robert can be contacted through the SKCC website at http://shizuoka-cricket.com/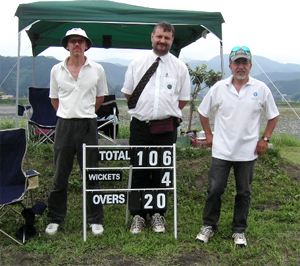 From left to right:
Neil Harrison, Peter de Boek, Robert-Gilles Martineau