---
Martin Firbank's Letter
---
Shaun Williams' Japan Coaching
---
Cricket Contacts/Links in Japan
-----
Cricket Contacts/Links Abroad
---
2000 Season Articles
2001 Season Articles
2002 Season Articles
2003 Season Articles
2004 Season Articles
---
2004 MATCH RESULTS
-----
Kanto Cricket League Rules
---
Kanto Cricket League Team Members Listings
---
Kanto cricket League Representatives
-----
Kanto Cricket League Grounds
-----
Kanto Cricket League Schedule
---
2004 Kanto Cricket League Tables
---
2004 KCL
Batting Averages
---
2004 KCL
Bowling Averages
---
KCL Best Partnerships
---
KCL Miscellaneous Statistics
------
2004 Kyushu League Schedule
2004 Kyushu League Table
-------
2004 JCA Schedules
2004 JCA CupTables
*
2004 Kanto Universities Championship Schedule
2004 Kanto Universities Championship Tables
*
2004 Ladies Corporate Championship Schedule
2004 Ladies Corporate Championship Tables
*
2004 Ladies Universities Championship Schedule
2004 Ladies Universities Championship Tables
---
Shizuoka County C.C.
-----
Shizuoka County Cricket Club members
-----
---
Robert Martineau
has left us!
---
For Rugby Lovers

---
More about Rugby
League & Union

---
Other Sports
---
All about
Winter Sports in Japan

28/11/2004
Shizuoka Kytes C.C. 20th Anniversary series:
Shizuoka Kytes completes its celebrations with another thrilling win!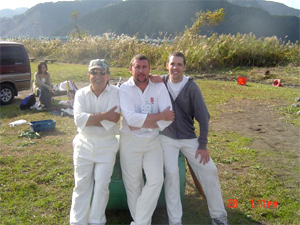 Bilbo, maka & Cagey

Shizuoka Kytes C.C.: 212/7 (35 overs) (N. Harrison, 63; T. Phillips, 45; Extras, 35; Rahul, 3/22)
Tokyo Indian Engineers C.C.: 206/9 (35 overs) (nari Ram, 45; Viswa Ghosh, 35)
Shizuoka Kytes C.C. won by 6 runs
Look at the pictures. 19 of them, blimey!!>>
Nicholas (Nick/Porno) Shannon writes:
Who would have believed that we would be playing cricket at this time of
the year (those from the Northern hemisphere anyway)? I arrived at the
ground at 9:10 am to find it covered in a fresh morning dew. Scenes
never before witnessed by me! Still I was there and there were Indians
on the way from Tokyo looking for a beating. Who was I to question the
legitimacy of that?
Neil won the toss and erected to bat (pardon the pun). Robb McKenna was
the first to depart caught Rahul bowled Vimal for 14. Vimal bowled like
a saint on speed and deserved better than 1/19. This brought Neil to the
crease to join our somewhat questionable opener Todd. We, or rather
someone, decided that it would be a good idea to send Toddler in to see
off some of the new ball. Good decision. Todd, on a rare Sunday where he
didn't have a hangover, took to the said Indians and smacked them around
the ground until the drinks interval. It was at about that time he
realised that he was doing OK, let us all know about it, went back in
and was promptly dismissed. Caught by Rahul! A gallant 45 nonetheless! I
wonder if Todd could claim a posie on the NZ team? Nah. This brought
Sharpe to the crease. Todd was probably wondering what the hell was
going on. First he opens then Neil comes in at first drop. . . . . .
Wow, who would have thunk it?
We shall now refer to Neil as the 'Berserk Warrior'. A bit of the
medieval English shone through and he took to 'em. In one over The
Berserk Warrior hit 4 fours and a six. Obviously myself, Arthur and
McTamney were chomping at the bit to get out there. Runs to be had from
the hapless Indians. Still the Warrior played with true grit and saw off
the initial challenge. These boys looked solid until Sharpe was caught
at mid on by Nari off Rahul. A valuable 21,but he never seemed to
settle. I'm sure this pleased Biju as he could sense the danger if
Sharpe was to get comfortable out there. The Indians were back. Biju was
rubbing his hands together, no need for a genie, and contemplating
relinquishing the ball. None for 19 off 4 overs, and he looked capable
of dismissals. The Shizuoka tail had been exposed.
He was almost right was Biju. The Porno Star was next in. Keen to smack
'em around, but bitterly disappointed that Biju had been withdrawn from
the attack ( Bye bye easy runs) he proceeded to take the first delivery
from Nari Ram on the thigh. Shit, still hurting as I write this. Still I
smacked him over long on for 4. That made me happy. I also snicked one
that went straight through the struggling Indian Engineers' keeper,
Robert Martineau. That made me even happier! Enough of cricket, time for
golf, and after a lusty swing it was stumps all over the place. Thanks
Rahul. Arthur came and went for 1. Then came McTamney. With only about 7
overs to go the Kytes were looking to get over 200. Nari bowled Neil for
63. Could the Indians stop the runs?
McTamney went nuts. 23 not out. Kytes scored 37 in the last 5 overs to
post a respectable 212. McTamney had the pleasure to be another Shizuoka
batsman to watch our own bunny Shoaib Aziz run himself out again.
Perhaps his teammates screaming "Run him out, run him out!" added to the
tension in the middle. Still Shoaib could have learnt something from
watching McTamney dive towards the crease on a tight run ,squeezing his
nut between flicx pitch and box! Good on ya, mate. Shoaib departed with
one ball to go. In came Kieran File( saviour of the last game). He did
bugger all and that was it. Kytes 212.
Of course Biju was sweating, and it wasn't because of the curry lunch
(the Warrior assures me it was a sweat raiser). Could they do it? 213 to
win of 35.

The Engineers introduced us to Vimal and Viswa. With a long road to
travel they started strongly. The runs were coming, but Vimal was lulled
into a false sense of security by the cagey McKenna. After a series of
wide deliveries Robb decided to put one on the mark and it was sayonara
Vimal. Enter Prakash, with Viswa settled and looking at 50. In an
unusual move, Sharpe elected to come over the wicket. No more snicks for
Viswa, just stumps all over the place. His demon had come home to roost
again. Was that the 5th time in a row Sharpe has taken out Viswa? This
brought that hard core cricketer, Nari Ram, playing his last game before
shipping off to Shag Hai to the middle.
By now the Berserk Warrior had joined the attack. Prakash was just
starting to look settled when he was subjected to one of the rankest
full tosses it has ever been my displeasure to witness. Who could have
believed that he would fall to that old trick of the Berserk Warrior.
Bad luck Prakash. Don't let it get you down, mate. You are not the
first. As they say 'Shit gets wickets' (This does not apply to Biju,
OK). Still you were unlucky.
In came Sanjeeb Sahoo to join Nari and turn the game. For my money,
Sanjeeb was the second best batsman for the Engineers. Only 17 but he
hung in there when the pressure was on. Nari was punishing anything on
middle or leg. Robb McKenna had quite a workout in the outfield. These
two were instrumental in putting on a 4th wicket partnership of 78! The
Indians were looking real good at this point! A 4 here and there. The
occasional 6 and it could have been theirs. Nari took to the soon to be
depleted Kytes attack. After 18 overs the Engineers were 131 and looking
at a win!
However they, along with us, were not expecting Todd's tireless
performance. Dot ball after dot ball. A wicket maiden. Followed by
another maiden. A bowling performance never before seen by the lanky
Kiwi. Shannon finished up his 7 overs, none for 37.
Then came McTamney! Kieran went up, McTamney went up, we went up in
sympathy and Bilby threw the finger up in a show of support. Bad luck
Nari, but a bloody good innings. If things don't work out in Shag Hai
there is always a place for you on our team! In comes Biju. Solid !
Taking sneaky runs. Upsetting Sharpe and casting a dismal fog over the
whole of the Kytes team (except McKenna). It looked like Biju may just
pull it off, that is until he tried to take too much. . . . I was upside
down, shitty cause I'd lost my porno glasses, didn't know where the ball
was (not in my hand) then I saw it. Then I saw Biju halfway down the
pitch, then I saw McKenna at the stumps, then I saw revenge, then I
threw the ball, then I saw Biju walking to the boundary. Then I was
happy. At that point it was ours. The fog had lifted. There was naught
for the Engineers. Dot balls and singles. We won by 6 runs! Yeah!
Overall a great game. Down to the wire and played in the truest spirit!
Our friendliest enemies. A great BBQ after the game. Chicken the meat of
choice. Of course we love to have the Engineers as our guests and we
hope they too had a good day. I'm sure they did. Come again lads and see
how you fare then.
This may sound unbelievable, but as I am writing this report I think I
will take it into my own hands and nominate Todd Phillips as Man of the
Match! Enjoy it, mate, it could be the last time. . . . . . . Or maybe not.

A postscript.
As for Robert, the Engineers thought they were clever to get him into
their team so they could control him and he would give them minimal
aggravation - WRONG. He was planted there by us surreptitiously. . . . .
. . Think about it.
Actually many thanks must go to Robert for the hard work he has done at
the ground, for the club (for us) and for cricket in the Kanto area in
general. If it wasn't for the hard work that Robert has put in, we
wouldn't have had the chance to cream the Engineers on Sunday! Even
more, Robert has been playing here in Shizuoka for 20 years. I wonder
how many of us will be able to say the same in the future.

Good on you, mate. Hope you keep for the opposition next year, too.