I do not know about their cider but you should have a look for all the photos on England Cricket & Cricketers
(Click on central pic first!)

---
Current Cricket
Friendly Sites & Sister Clubs
---
Martin Firbank's Letter
---
Shaun Williams' Japan Coaching
---
Cricket Contacts/Links in Japan
-----
Cricket Contacts/Links Abroad
---
2000 Season Articles
2001 Season Articles
2002 Season Articles
---
2003 MATCH RESULTS
-----
Kanto Cricket League Rules
---
Kanto Cricket League Team Members Listings
---
Kanto cricket League Representatives
-----
Kanto Cricket League Grounds
-----
Kanto Cricket League Schedule
---
2003 Kanto Cricket League Tables
---
2003 KCL
Batting Averages
---
2003 KCL
Bowling Averages
---
KCL Best Partnerships
---
KCL Miscellaneous Statistics
------
2003 Kyushu League Schedule
2003 Kyushu League Table
-------
2003 Gunma Cup Schedules
2003 Gunma CupTables
*
2003 Kanto Universities Championship Schedule
2003 Kanto Universities Championship Tables
*
2003 Ladies Corporate Championship Schedule
2003 Ladies Corporate Championship Tables
*
2003 Ladies Universities Championship Schedule
2003 Ladies Universities Championship Tables
---
Shizuoka County C.C.
-----
Shizuoka County Cricket Club members
---
Robert Martineau
has left us!
---
For Rugby Lovers

---
More about Rugby
League & Union

---
Other Sports
---
All about
Winter Sports in Japan
---


21/05/2006: Dhugal Beddingfield shows the difference between a first team and a second team as Ichihara Sharks C.C. demolish Shizuoka Kytes C.C. 2nd XI (the Clowns C.C.):
D-2:
Ichihara Sharks C.C.: 340/7 (40 overs) (D. Beddingfield, 143; Extras, 79; C. Thurgate, 37; N. Creece, 32; M. Sharpe, 3/59)
Shizuoka Kytes C.C. 2nd XI (the Clowns C.C.): 161 (24.1 overs) (A. harvey, 41; M. Sharpe, 37)
Ichihara Sharks C.C. won by 179 runs
Umpire: Rashid Wadood
Scorer: N. Harrison
Check Scoresheet HERE>>
Read Report by Iain Lambert HERE>>
Check KCL Schedule HERE>>
Check Shizuoka Kytes C.C. Schedule HERE>>

13~14/05/2006: Kanto Cricket League:
Rain ruins the day again:
May 14th
D-1:
Shizuoka Kytes CC vs. Indian Engineers CC:
Match drawn (waterlogged ground)
D-2:
Paddy Foley7s CC vs. Fuji far Esast CC:
Match drawn (waterlogged ground)

10/05/2006: Kanto Cricket League:
Schedule Changes:
For various reasons there has been fiddlings with the KCL Schedule this week. Make sure you are cognizant of the changes!
Check KCL Schedule HERE>>
Check Shizuoka Kytes C.C. Schedule HERE>>

30/04/2006: We have got new Friends in France: Saumur Crcieket Club.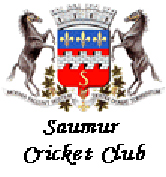 This Club is located inSaumur along the Loire River. It is renown for its wines and horse-riding school. They play on real turf, and their club's Honorary President is no less than Mick Jagger!
We are planning a cricket tour of the region in 2007 end of August/begiining of September! Stay tuned!
Visit their homepage at:
http://www.saumur-cricket.com/

30/04/2006: New Primary School Cricket Club!
Shizuhata Naka primary School, Shizuoka City
Read more HERE>>

23/04/2006: Kanto Cricket League
The Kytes send the Wombats running back into their holes:
D-1:
Shizuoka Kytes CC: 293/7 (40 0vers) (A. Harvey; 90; Kunwar Mahender; 56; G. Brady, 3/35)
Tokyo Wombats: 107 (S. Burke, 42; T. Whisker, 32)
Shizuoka Kytes CC won by 186 runs
Umpire: Chris Thurgate
Scorers: T. Phillips & N. Harrison
Check Scoresheet HERE>>
Read Report by Ian Gason HERE>> (Great prose!)
Robert-Gilles Martineau writes: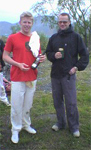 Ashy and Tomo receiving their awards frrom Chuck

-----

Once again, rain or no rain?
But both teams were keen and risks had to be taken. At 6:00 a.m. Captains and Umpire received the go ahead and the dices had been thrown.
As usual our opponents were all here to admire our ever-improving ground whereas some of our players were still questioning the sanity of a game in dubious climatic conditions over the phone.
By some unknown magic we started the game on time and our skipper was asked to bat first by the confident Wombats Captain Courtney "Chuck" Jones who assumed that the Kytes had not changed that much for the last two years upon reading the players' list which included the GOM. The new names would not mean much if the Kytes had to recall an injured Grandad to make numbers. The earlier the finish, the sweeter the beer!
Our start seemed to vindicate his choice when Robb "Monogamist" McKenna edged a swinging ball to his rival wicket-keeper Jarrad "Dino" Shearer who dove for a splendid catch soon to be followed by Arbab "Kojak" Mohammad, who had been sick all week, falling to a ball by new recruit Gerard Brady that he never saw. At 16 for 2, things looked bleak indeed. Skipper Ashley "Ashy" Harvey went to the fore with his reputation at stake and joined Joel "Pants" who was still smarting from two successive ducks. They successfully neutralized the opening bowlers and took the total to 95 after 17 overs, and we realized things were not going according tour rivals' plans any longer when Chuck began to shout on a regular basis from the boundary. Pants fell to a good one from the other newcomer M. Ainslie for a solid 26. Matthew "Spitometer" Sharpe came to the crease with the firm intention to repeat on his last performance but was quickly sent back being given lbw after he failed to connect sweeping at a straight ball from J. Cole, battering everyone's ears with new heights of indignant self-righteousness on the way back to the Pavilion".
That is when Kunwar Mahender, an Indian lad unknown to the Wombats came to the crease. For 8 balls he showed respect for the bowling and asked for directions from his Captain. And then, bang! The Wombats will have to find a new nickname for the batsman who hit them for 8 sixes in the space of 21 balls. By the time Ashy left for 90 playing his first false shot, the score was already beyond our opponents at 182 in 28 overs. Subhoda "Subo" Gunawardene, another fiery character in a loud Kytes band, joined the fun and the South Asian pair piled misery with a 65-run partnership in 6 overs. Nick "Porno" Shannon, who had been screaming his glee all day long, then came in to rub in salt and sand with lusty hits and running as if his life depended on it.
Total: 293/7 and the GOM had not left the scoring chair. Only G. Brady and M. Ainslie got some respect. The left were wondering what had hit them.

But the battle still had to be won, the Wombats having the same vaunted batsmen who took them to the D-1 Final last year.
Well, in spite of two missing starting bowlers who had not played in the KCL last year, another unknown with the name of Benjamin "Topper" Tomlinson quickly had his compatriots in the enemy camp revise some of their ideas with sheer pace and aggression. Chuck saw in horror the first ball he had finally middled with the bat go straight to Tomo who pulled out the catch of the day. It was soon payback time for Monogamist when he smartly caught Dino's inside edge off the same bowler. The game would have been all over almost at once if Spitometer had not put down a difficult catch off an edge by last year year's best D-1 batsman, Steve Burke. He and Kiwi Tim Whisker put 62 runs on the board before the latter fell to a good one from Kojak who had been revived to block the progress once and for all. From 70/3, the Wombats simply collapsed with 3 suicidal run outs and unconfident batting. Spitometer redeemed himself by catching Steve Burke who spooned Porno's (Shit Takes Wickets) full toss in the deep and the Kytes were soon celebrating.
The Division 1 promises to be a hard fought affair upon learning the victories of Wyverns and Giants against Millennium and YCAC. With Friends and Indian Engineers to complete the show, each encounter should provide plenty of drama!
After the game, the Wombats had the grace to offer their sponsors's wine to Ashy for Man Of The Match, to Tomo for The Play Of The Day and to Gerard Brady for The Best Wombat Of The Day.
And then both teams (minus Kojak who was hurrying back to bed) repaired to Yoshida Soba to reminisce on their exploits of the day. But for once the Kytes did not have to listen to that ridiculous song!

09/04/2006: Kanto Cricket League:
Newly promoted Shizuoka Kytes C.C. make last year's Millennium C.C. sweat for their win:
D-!:
Shizuoka Kytes C.C.: 164 (34.3 overs) (M. Sharpe, 57; Munir Ahmed, 4/32)
Millennium C.C.: 167/7 (36.5 overs) (N. Miyaji, 37; K. Matsuhisa, 36; Arbab Mohammad, 3/35)
Millennium C.C. won by 3 wickets.
Scorers: N. Harrison & R-G. Martineau
Check Scoresheet HERE>>
Robert-Gilles Martineau writes:
On a sunny if blustery day everyone almost came on time. Had a few new supporters on whom Porno vainly tried to impress his licentious ways. Team in good spirits. Everything's fine.
A little detail had escaped most of our members' attention though: the opposition, nothing less than last year's Champions had taken no chances, and had brought their best team, whereas the Kytes were missing their star batsman, Robb "Monogamist" McKenna (work), our new second-strike bowler, Benjamin "Tomo" Tomlinson (work) and a valuable if not idiosyncratic all-rounder, Todd "Elephant" Phillips (blood clot taken out barely in time, or we would have to go through a funeral instead of a cricket game-serious!)
Ashley "Ashy" Harvey almost screamed for all to hear that he had won the toss and elected to bat.
The new opening partnership of Joel "Pants" Chamberlain and Arbab "Kojak" Mohammad could not wait to assail the opposition. Bilbo had asked Sharpy to warn the batsmen that the Millennium CC's opening bowler Yuta Matsubara (Japan National Team) could swing the ball in appreciatively. Apparently the two Ozzies have a communication problem as Pants was bowled through the gate after only 4 balls. Came in Skipper Ashy who looked good after a couple of boundaries off the same bowler when he played another swinger on his stumps. 17/2.
Matthew "Sharpy" Sharpe opted for attack and sent the first ball over the boundary. Kojak emulated him in a more sedate way and the two had added 88 runs, bringing the score to 105 in 18 overs when Sharpy (57-11 fours) could not resist chasing a wide ball from Razzaq Cheema and got caught behind. Then bad luck and bad discipline disrupted the solid base that had Millennium in trouble. Kojak (28) got out lbw in spite of an edge. Kunwar "Samir" Mahender (7 – the first time he scored less than 45 runs in the KCL) could not resist wildly swishing his bat at wily Munir Ahmed and got caught on the boundary. Lalith "Larry" Prelis, after two unsuccessful attempts to get himself out, finally managed to offer his wicket on a platter while an aghast Subo had to watch him all the way walk to his end. Bilbo later enquired what language the two Sri Lankans used for communication. Subo replied that Larry does not speak between wickets…
Subodha "Subo" Gunawardene played well enough until he threw the bat at Munir and gave away an easy catch. Nicholas "Porno" Shannon had enough time to score a 4 and a 6 before Munir had the last word. Matthew "Curly" Ryan was unlucky not to score a 6 against poor bowling and got caught on the boundary instead and Benjamin "Ben Ben" Wooler got a duck for his last game in Japan.
Total: 164. Not much to defend against a team who successfully chased 281 last year on their way to stardom.
But our new Skipper would have none of it and had his players running on the pitch in a refreshingly aggressive mood.
The opposition was likewise minded and Munir struck a 6 off Sharpy's second ball, but the burly Ozzie struck when he had Mohammad Rizwan plumb lbw with the last ball of his over. Then Kojak did the same with the last ball of his over to get rid of the dangerous Munir Ahmed. The battle was on!
But it was a Japanese player who proved to be the undoing of the Kytes that day, namely K. Matsuhisa, who in between some good shots had some incredible luck to amass 36 runs in 81 balls (Bilbo actually enquired on his marital status - not married actually). S. Kanzaki and Skipper T. Fuji helped him along before being ousted by good balls from Ashy and Curly. Curly got rid of the dangerous Razzaq Cheema helped by Larry's mid-riff catch (someone said the ball got actually stuck between two rolls of fat). Arbab finally got the best of plucky K. Matsuhisa.
Score: 125/7 for 32 overs.
Anything could happen.
Unfortunately for the Kytes, N. Miyaji (37) and Y. Matsubara, after seeing the troublesome Curly off hit out at the tiring Ashy and Subo to reach 167 with 19 balls to spare to the cheers of a relieved Millennium team.
The Kytes did their best to win the game but they fell to a more disciplined and experienced team who nonetheless sweated a lot before they reached safety.
A very exciting game, which augurs well for the future of both teams.
Man of the Match: Munir Ahmed
Newcomers Gunma Eleven Star C.C. mercilessly humble Fuji Far East C.C.:
D-2:
Gunma Eleven Star C.C.: 295/7 (40 overs) (Asif S. Butt, 106; Ishafiq Ahmed, 45; Syed Shaib U Din, 44)
Fuji Far East C.C.: 55 (20.3 overs) (Mohammad S. Akbar, 5/18)
Gunma Eleven Star C.C. won by 240 runs
Check Scoresheet HERE>>

02/04/2006: Rain prevents the Shizuoka Clash for the second year in a row!
Shizuoka Kytes C.C. 2nd XI vs. Fuji far East C.C.: Drawn
What can you write about the rain but that it is so boring!

26/03/2006: Friendlies: The Kytes try a few new recruits in their double win over Paddy Foley's C.C.:
Check Scoresheets HERE>>
Shizuoka Kytes C.C.: 197/5 (20 overs) (A. Harvey, 61*; Arbab Mohammad, 48*; Subhoda Gunawardene, 38*)
Paddy foley's C.C.: 114/7 (20 overs) (R. Matthews, 31*)
Shizuoka Kytes c.C. won by 82 runs
Nicholas "Porno" Shannon writes:
It was a cool day.Cloudy and as is often the case windy.The paddy's lads can bearing gifts of beer and their usual cast of characters ( read very emotional brothers....) and one very classy cricketer( how J.Kay
never got into the N.S.W state team is beyond me...)
We won the toss and elected to bat.Amish was looking for a ton ,only to find a duck........bad luck mate,really.
Ashly and Arbab smacked them around,both boys scoring freely. Eventually they retired to give some others a bat.A trend which caught on,until the tail gave away their wickets.Subo hit J.Kay ,who had been bowling exceptionally well for 4 straight sixes.Great stuff.
Kytes entered a high score and the prospects for Paddys looked grim.As they were.....
Arbab and Nick opened the bowling.Arbab struck quickly and we were away.J Kay offered resistance but was unable to contain the urge to up the tempo and was caught out to a juicy one from Nick.J Kay was working hard for Kytes as he had just run out one of the emotional brothers....not on purpose either???
It all fell apart for Paddys then.Look at the score sheet and get the feel for it.
Arbab had a go at keeeping( probably his last)
Special mention must go to Matthews for Paddys.A good bloke who had to work with one of the brothers emotional.He made 31.His highest score ever.
A fun game had by all!
Also some hot catching by Amish.This bloke has got some talent, eh........
Larry also looked professional in the silly position.
It was an enjoyabe game.Almost as enjoyabe as the beers afterwards......
Pady Foley's C.C.: 119/9 (20 overs) (Pushan Bannerjee, 3/18)
Shizuoka Kytes C.C.: 120/8 (19.1 overs) (Subhoda Gunawardene, 37*; M. Timbrell, 3/11; Udaya Athukorala, 3/23)
Shizuoka Kytes C.C. won by 2 wickets
Ashley "Ashy" writes:
Well there was a very quick change over for the second 20/20 game and as we had a few new players to play today we had to chop and change the team around. Paddy Foley's went into bat first and pretty much continued the same way as in the first game, everyone getting a few runs but not be able to continue on for a big score with E. Holden (25), A. Chuana (11), R. Matthews (23), U. Athukorala (25) and T. Halford making any real contribution to the score. This made it easier for our bowlers as we were always on attack and it also gave us a chance to give everyone a bowl. Paddy's made a similar total to the first game of 9/119. Larry our captain for the second game decided to change the batting order from the first game and gave the new boys a bit of practice out in the middle and like Paddy Foley's we also lost wickets for very few runs and it was turning into a very close game, until Ahamed Shah (20) and a couple of old hands, Subhoda (37*) and Arbab (9) took control of the game to get us past Paddy Foley's score. Well Done boys. Thanks to all the new boys for coming so far to play and thanks to Paddy Foley's team for playing in great spirit and good luck for your season.

19/03/2006: Todd Phillips survives another scary moment!
The guy might look happy and kicking on this uncopyrighted pisture taken at the Red Cross Hospital in Shizuoka City, but a blood clot had been taken from his decrepit husk just before it reached his heart (3rd case). But Todd is recuperating and is persuaded he can beat Bilbo baggins at Scrabble (the only problem is that the GOM ahs the advantage of knowing half a dozen languages!). Should be out of hospital within 10 days and back on the cricket field in May!

12/03/2006: Kytes C.C. 1st XI and 2nd XI's schedule announced!
Check HERE>>
Friendly vs. Tokyo Sri Lanka Lions C.C. cancelled!
Torrential showers the night before until early morning prevented the game to be played.

12/03/2006: The Kytes start their season on a positive note:
Friendly:
Shizuoka Kytes cCC.: 187/9 (30 overs) (J. Chamberlain, 49; Subhoda gunawardene, 30; Dhanuka, 3/16)
Serendib C.C.: 99 (Asanga, 31; B. Tomlinson, 3/20)
Shizuoka Kytes C.C. won by 88 runs
Scorer: N. Harrison
Check Scoresheet HERE>>
Ashley Harvey writes:
Well the first game of the season started on a cold and rainy day but that didn't stop both the Kytes CC and the Serendib CC playing. To be honest, I don't think a typhoon would have stopped us from playing this game, as mostly everyone was keen to play cricket after a five-month break.
Anyway we won the first toss of the season and chose to bat first. Arbab and Joel were given the job to get the season off to a good start but it wasn't to be as Arbab was given out caught behind for 1 (with the score on 6) off Shanaka. Ashley was next to come but was soon out to a well-bowled yorker for 8 (56) by Dhanuka (Serendib's captain). Matt was the next in and he too was bowled a yorker first ball but managed to keep it out with a well place big toe. It wasn't long after that that Dhanuka had Matt caught for 13 (88) for his second wicket of the day. Subo was next in and was looking very relaxed out there scoring at a nice pace while his partner Joel was smashing some big sixes. Until he was bowled by Jayathura for 49 (99). This brought out Kieran and for his last game for the Kytes he was hoping for a great innings, but it wasn't to be as he was bowled by Pubudu for 15 (153). Without any runs added, Subo was the next to go, caught for 30 (153) off Dhanuka. Todd came in and after making some very nice shots and not injuring any part of his body was caught for 12 (168) off Ganga. Both Alex 1 (172) and Nick 5 (183) were quick to come and go which left Ben W., whose goal was to score more than 2 this time. He smashed 2 great fours, one of which was a misfield but I know he will put that down to the timing of the shot and Ben T. who only had the last ball to get any runs and so he smashed it for a four to give the Shizuoka Kytes 187/9 after their 30 overs.
After a quick lunch the boys were out warming up their hands as the rain had stopped but the wind was still pretty cold. Matt opened the bowling and in a first for me to see he didn't get a wicket in the game. Kieran from the other end started nicely taking the first wicket of Lasith l.b.w for 0 (4). After that both Asanga and Ganga were scoring freely and it wasn't until Arbab came on that we got our second wicket, Asanga bowled for 31 (51). Ben T. at the other also got success in is first over too with the wicket of Ganga, caught for 19 (51). Dhanuka was hitting some nice shots for his 16 (71) but was caught by Arbab off Ben T. The last 7 wickets fell for only 28 runs with Ben W. combining with Subo for a run out and Ben T, Todd, Alex and Nick (2) grabbing the remaining ones to give the Shizuoka Kytes their first win of the 2006 season.
Comment of the day came from Matt when he was umpiring and called " change of bowler. Right arm over coming around the wicket." Nice one Matt.
Shot of the day. No, it wasn't either of the Bens or Neil having a shot at me but, Joel's not one but two huge sixes which almost smashed into a parked van.
Even though the game was played in cold and rainy conditions, both teams played in good spirit. The Kytes will be wanting to build on their performance for the next game and I have no doubt that Serendib CC will do very well this season. Good luck guys.
Thanks Ashley

22/01/2006: Kanto Cricket League Annual General Meeting:
The 2005-2006 KCL AGM was conducted under the guidance of Anton McCloy at Paddy Foley's Irish Pub in Tokyo.
Check all the details HERE

11/01/2005: Anton McCloy umpiring in New Zealand:
Anton McCloy writes:
From December 28th 2005 to January 5th 2006, I had the opportunity to help umpire the NZ U17 National Tournament at Nelson Park, Napier – New Zealand. New Zealand Cricket has been offering this opportunity and covering the fees and expenses on the ground for umpires from around the EAP region for a number of years now. NZ Cricket's generosity and ongoing co-operation with the EAP administration has been a major influence on the improvement of umpiring standards around the region with attending umpires taking back with them valuable experience of high-intensity cricket on good turf tracks. For example, the umpiring career of the 2004-2005 EAP umpire (Shahul Hameed – Indonesia) has literally gone ahead in leaps and bounds and he's standing in this years U19 World Cup in Sri Lanka – something he attributes in no small part to his experience in NZ. Big footsteps to follow indeed!!
Anyway…
After a quiet Xmas in my hometown in the far south of New Zealand I made my way to Napier on the East coast of New Zealand's North Island. Napier is a picturesque town of about 56,000 people that lies on the East coast in the centre of a district well known for its fine wine and many art deco style buildings – the result of a building boom after a devastating earthquake in the early 1900's.
Nelson Park was the venue, as it has been for several years for this tournament, and has as its head groundsman the same man responsible for McLean Park – Napier's international cricket venue just over the road. The tournament had six participating teams and they played a round robin of three 2-day matches and two 1-day matches over nine days – a tough schedule for both the players and umpires.
Early nerves were evident at the tournament dinner held on the eve of the first game – lots of sideway looks – sizing up the opposition and getting used to the company of team-mates they would have to live with for the next 9 days. The delicious (good Kiwi fare) dinner was followed by a managers/captains/umpires/tournament directors meeting where playing conditions were discussed and minor concerns resolved.
Jan. 28th – time to start umpiring my first ever two-day game and 3rd game on grass – not what my umpiring partner wanted to hear I'm sure so I didn't tell him until stumps the following day. My nerves were heightened by learning a few minutes before play that Graeme Reardon (former NZ umpire) was doing a NZCUA Boundary Assessment on my partner and me for the 2 days – comforting thought as I started the game. The first game was between Wellington and Auckland and ended in a deserved first innings win to eventual tournament winner Auckland. My partner Peter Gasston, and I, finished the match feeling happy with our performance and this was reflected in our assessments and discussions with Graeme. This, in hindsight, gave me an invaluable boost to my confidence for the rest of the tournament.
By the end of the second match that finished on New Years Eve I was pretty tired and ready for a day off. I had never umpired for more than two-days in a row and certainly had never done more than 100 overs in a day as these young lads were doing with seeming ease. New Years day was a quiet affair as the ump's all had plans and people to see so I used the day to relax and enjoy some peace and quiet at the beach and reading a book at the motel – valuable time indeed.

The last four days of the tournament were a two-day match and the 2 one-day matches.
Again, confidence was good from the preceding matches thanks to good partners – Peter Gasston and Dave Patterson. Everything went swimmingly well actually until the start of the first one-dayer where my partner and I made a mistake that earned us some frowns and side-way glances at the lunch table not to mention a hefty fine at the nightly umpire's court session! Lesson learnt - we resolved not to make that elementary error again – ever!
The tournament finished on Jan 5th and the umpires celebrated with a night out at a restaurant – one of many fine places to eat in Napier – called the "Speight's Ale House".
A good night was had by all with numbers and addresses exchanged for future use. We all went our separate ways early the next morning – some off to umpire first class matches, others to carry on with their summer.
I, however, went looking for some more cricket and was lucky enough to be invited to "hang-out" with the umpires/officials in attendance at the fourth NZ vs. Sri Lanka one-day match in Napier. It was a good chance to catch-up again with Brian Aldridge – NZ umpires manager and organizer of my trip as well as Darrell Hair whom I had spent some time with in Kuala Lumpur in early 2005 as well as meet some of NZ's top officials.
I had the opportunity to get an inside look into how a match of this size happens and what goes on behind the scenes. I attended the ground/facilities inspection, the security meeting and also tagged along to inspect the players bats for the ICC – I didn't know much about bats or security but it was very interesting to look, listen and learn some of what is happening away from the camera's.
Game day saw me with an "All Areas" pass and officially dubbed the "5th Umpire" which was fine with me because my most strenuous task of the day was carrying the communications equipment bag. The rest of the day was spent watching and talking cricket with a huge range of interesting people as well tapping into the food and refreshment supplies meant for the real umpires!!
In summary the trip has been of huge benefit to me personally and will be of benefit to umpiring here in Japan. I hope to implement a few NZ playing conditions into our Kanto Competition for 2006. Despite it being quite late to do this I think the changes will improve umpires consistency and player satisfaction across the board. Also, some techniques aimed at improving the teamwork aspect of umpiring will be introduced into umpire training this year. It's a big year for cricket in Japan in many ways and I'm confident Japan Umpiring will keep pace with developments.
In conclusion I'd like to thank the following people for their generosity and acceptance of me during the trip: Jeremy Busby, Chris Cogdale, Mike Fenn, Peter Gasston, Dave Patterson and Geoff Pollard – colleagues and "wise elders" at the U17 tournament along with Brian Aldridge and Phil Jones who put up with me tagging along to get an inside look at the inner workings of an ODI – very much appreciated indeed. Also, special thanks to Jeremy Busby and Dave Patterson's better halves – behind any good umpire is a good lady keeping them fed, and their clothes washed during a tournament – much appreciated!
I, and any other EAP umpires lucky enough to have this chance in the future, should value the opportunity to work with umpires of this level and remember the dozens of long-serving and hard-working domestic umpires that would jump at the opportunity to umpire this tournament.
Happy New Year and Good Cricket to you all!!
Anton McCloy - Japan
31.12.2005 /HAMISH BIDWELL writes:
When you hear there's a Japanese umpire officiating at the national under-17 tournament at Nelson Park, the last bloke you're keeping your eyes peeled for is a tall, broad-shouldered Anglo-Saxon.
You're expecting, well ... something different from Anton McCloy, the affable man from Ranfurly in Central Otago that sits down beside you, following a request to the tournament organisers for "a yarn with that Japanese ump." McCloy is part of a four-man East Asia-Pacific (EAP) elite umpires panel who attend tournaments around the world, right through from World Cup qualifiers to age-group affairs such as this one in Napier.

It's all a far cry from how things began back in Central.
"It just started with club stuff where we had to umpire our own games in the country competition," McCloy said.
"So that was all the umpiring experience I had in New Zealand and then I've played cricket in Japan for the last nine years in the main Kanto competition, which is based around Tokyo, where there's about 17 clubs involved. It was an entirely expatriate competition initially with eight or nine core expat teams but now it's expanded, so a lot of local people who didn't even know cricket existed in Japan have developed an interest in it.
"So from playing that, some in the final used to get a bit testy because it was an expat competition and you could get a team of Sri Lankans playing a team of Australians and there'd be Indians and Pakistanis and some South Africans and Zimbabweans floating around, who all come from different cricketing cultures.
"So they asked me and a very good friend of mine, Mark McAtamney from Rotorua, to come and ump these particularly testy games and we had a reasonable grasp of the rules and had been playing against these guys for years."
That's not the least of McCloy and McAtamney's responsibilities when it comes to keeping the Japanese competition afloat.
"We don't have the time or the manpower to have grass wickets over there and because there's nowhere to play in central Tokyo, we play in the city I live in, Fuji City, right at the foot of Mount Fuji," McCloy said.
"There's two grounds, side-by-side, with concrete artificials and, again, because Mark and I are the only cricketers in the area, we cut all the grass and do all the painting and cut down all the bush around it.
"It's two-and-a-half hours on the toll highway from Tokyo every time people want to play, although the rich boys come down on the bullet train and take a taxi down the dirt track to the ground."
McCloy also acts as an unofficial umpire development officer for the Japanese Cricket Association and it was through that that he came into contact with New Zealand Cricket's (NZC) umpire's manager Brian Aldridge.
NZC, along with the Australian Cricket Board, is responsible for developing the game in all EAP countries and Aldridge, along with Australian test umpires Darrell Hair and Steve Davis and EAP umpire's co-ordinator, Tony Cooper, from Fiji, have become mentors of sorts for McCloy.
Their tutelage saw him invited to the World Cup Qualifying tournament in Kuala Lumpur earlier this year, where he stood in two matches and was the third umpire in another.
Then, like this week in Hawke's Bay, McCloy has to pinch himself and wonder what's he's done to be in such elite company.
"I mean these guys have had years and years at the top level of umpiring."
"But if these guys tell me that I'm doing the job and that I'm good enough to be here, then so be it."


20/12/2005: More pictures of September 25th Kids Cricket Day sent by Chikae Harrington!
See them all HERE>>

17/12/2005: Anton McCloy on Umpiring duty in New Zealand!

Anton McCloy (Fuji Far East C.C. will be umpiring the New Zealand U17 National Tournament to be held in Napier within the next three weeks This is part of New Zealand Cricket's contribution to development in the EAP region and he is the 4th Umpire from this region to stand in the tournament. Those before him were Tony Cooper (Fiji), Geoff Clelland (Vanuatu) and Shahul Hammed (Indonesia).

11/12/2005: Groundwork day at the ACO!:
When I arrived at the ACO at 9:50, I wondered if we ought have played last week's game then, such a balmy day it was. Oh well,...
Did some repair job until Frizzy (Mark Steward) turned up at 10:30. We filled the fire pit and covered the scorer's mound with a thick layer of sand. After a few tries we managed to get the cutter started and I let Frizzy learn the arcanes of high grass cutting along the trench. Did a very good job actually!
Went back to fill holes with red loam and do some weeding (%#&$#%).
Porno (Nicholas Shannon) finally turned up at 12:30. By then Frizzy and I were having our lunch. Porno got busy calling Sharpy/Cataignede (Matthew Sharpe) who belatedly turned up at 12:50. The two of them set themselves to changing the blades of the two cutters available and after using them for more than half an hour realized they had somehow managed to fix them the other way round. It took them that long to realize they were not cutting grass! Talk of Ozzie technology!
Lumbering Elelephant (Todd Phillips) somehow appeared at 13:50 with a vanload of unwanted tools and set himself to do some trench clearing and later joined me to clean the BBQ pit.
By then, the two Ozzies were doing some really serious cutting along the Terrace. We joined to rake their handiwork away onto the river bed. After helping getting rid of some unwanted stones, Frizzy had to go back to help his Missus. Bunny (Shoaib Aziz) thought it was about time to show his puffy drunk face at 14:55. We asked him to set light to the grass piles, but couldn't manage and soon gave up. We left at 15:30.
The high grass along the river bed is all cut including along the trench and an extra ten yards towards the Lone Tree End, providing for a new vantage point. The BBQ pit is clean, the scorer's mound is ready, the holes have been filled.
We (Lumbering Elephant, Bunny and I) went to pay a visit to Pendragon (Neil Harrison) at the hospital. Bunny managed to lose his way as usual!
On January 29th (Sunday), we shall have to do the %#$'&% weeding, dig out some more out of the trench, move the gear away to open space for benches to be moved out of the boundary and see what further improvements we could come up with.
The ground is beauty, even with all that brown grass. Can't wait for next Spring!
Bilbo (Robert-Gilles Martineau)

06/12/2005: Mark Steward teaches Cricket at Tenma-cho Primary School!:
Read Mark's great report HERE>>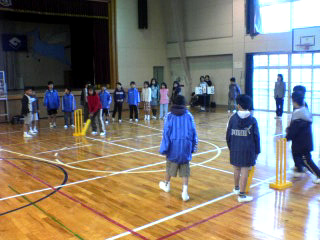 05/12/2005: Neil Harrison hospitalized for knee repairs!
After jeoel Chamberlain, Francis newman and Arthur Harrison, Neil Harrison has been treated at the Shizuoka Rheumatism Surgery! Next in line is Robert-Gilles martineau (sriously!)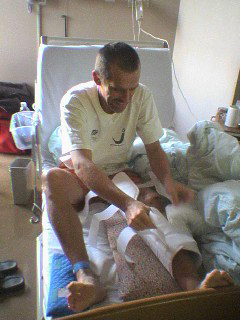 04/12/2005:Pacific Friendship Cup Final: Tokyo Indian Engineers C.C. squeeze past Shizuoka Kytes in a cliffhanger played in cataclysmic conditions!
Shizuoka Kytes: 196 (28.3 overs) (R. McKenna, 53; M. Sharpe, 37; Arbab Mohammad, 33; Extras, 36; Biju Paul, 3/24; Rahul deo, 3/29; Vimal Vikrant, 3/46)
Tokyo indian Engineers c.C.: 198/9 (29 overs) (Prashanth, 66; Extras, 47; M. Sharpe, 3/43; 4 stumpings by R. McKenna)
Tokyo Indian Engineers C.C. won by 1 wicket
Scorer: Robert-Gilles Martineau
Check Scoresheet HERE>>
Details coming soon!

30/11/2005: Anton McCloy Selected for EAP Umpire's Panel
Congratulations to Fuji Far East CC member Anton McCloy, who was selected to the inaugural EAP Umpire's Panel.
The full 2006 EAP Umpires Panel is as follows:
1. Tony Cooper (Fiji)
2. Shahul Hameed (Indonesia)
3. Lakani Oala (PNG)
4. Anton McCloy (Japan)
5. Lionel Browne (Cook Islands)
Positions on the Panel are reviewed each year subject to criteria such as performance assessment and umpiring activity in one's country. Tony Cooper is the EAP Umpiring Coordinator and Tony and Shahul are already
members of the ICC Associates & Affiliates Umpires Panel.
Neil Harrison of Shizuoka Kytes, Geoff Cleland (Vanuatu), Semi Halanukonuka (Tonga), Grant Johnson (Vanuatu) and Paul Poulos (Samoa) will form a supplementary panel of umpires to be called on as and when required.

27/011/2005:
Shizuoka Youth Cricket Development:
Robert-Gilles initially thought of doing some ground work on that day when kids from Eiwa Primary school turned up. Instead he spent 4 hours coaching!
More photos HERE>>

20/11/2005:
Kanto Cricket League Division 2 Final:
Shizuoka Kytes C.C. Complete clean sweep by overcoming gritty Wyverns C.C.:
Shizuoka Kytes C.C.: 200 (34.3 overs) (A. Harvey, 53; J. Chamberlain, 33; M. Sharpe, 31; G. Beath, 4/29)
Wyverns C.C.: 184/9 (35 overs) (G. Beath, 53; S. nakamura, 35+ Subhoda Gunawardena, 4/29; M. Sharpe, 3/44)
Shizuoka Kytes C.C. won by 16 runs
Scorers: Shizuka Kubota, Chiyomi Isogawa, Robert-Gilles Martineau
Check Scoresheet HERE>>
Robert-Gilles Martineau writes:
Chilly but bright day. All Wyverns at the ground before half of their smaller flying kin (the Kytes if you have not understood) could make it to their own eyries. The Big Owl (Anton McCloy) suddenly having to make it back to his own nest, we were left to take care of ourselves. No problem. The Wyverns are great birds of the same feather. We organized ourselves quickly (special thanks to our friends for giving a big hand with the ground chores all day long!), tossed a piece of metal in the air (crows, keep away), and found out that the Kytes had a chance to bat first, which Captain Neil took with both hands (talons?).
Matthew Sharpe (or whatever odd names he is beeing called) and Joel Chamberlain progressed easily until Joel twisted his knee again on 26 and score at 49 to momentarily retire and being replaced by Ashley Harvey (Can somebody shoot him out of his socks and cap?). The pair was going along at more than 5 an over when Captain Yanai (Junmei Hanada was catching up with all the work accumulated during his trip to Vanuatu with the National Team) decided it was about time to introduce his trump card in the guise of Gavin Beath. Division 1 opponents had better beware of that particular player or they shall nurse bitten toes. He so frustrated Matt that the latter was induced in his sole loose shot of the day although it took a flying Hirose to make a spectacular catch (the more for the dolly he had previoulsy dropped). Arbab Mohammad joined Ashley at 74 but left with the score at 115 off a weak shot at one of Tsuruoka's innocuous slow balls to be caught by that man Gavin Beath. Subhdha Gunawardena came to help Ashley until the latter fell at 146 off an indifferent shot off Hirose. We should have scored 22~230 runs but the rest folded (their wings?) gently except for a few boundaries from "Girlie" File and "Porno" Shannon. Nick Shannon had the honour to score our 300th 4 of the season! Big Ostrich Phillips had enough time at the crease to fracture his big toe, but valliantly kept lumbering around for the rest of the game. Score at 200 sharp off 34.3 overs. The Wyverns had done far better than expected (by the Kytes). Gavin Beath, the pick of day with 4/29 and 2 catches. Great fielding from all Wyverns (must have saved at least 25 runs) and great keeping from T. Chino as usual.
Quick lunch, leaving enough time for Old Crow Scorer to synge his feathers when foraging too close to the fire of his own making.
On form the Kytes were looking for an early retreat to the Soba Shop and its freebies to enjoy the company of quite an unusual flock of hens who had come to support their cocks/stags unless they had mistaken themselves into believing another BBQ was on hand...But Gavin Beath decided otherwise. First Arbab conceded 3 boundaries before Gavin switched onto Matt to middle 4 boundaries before the latter took some revenge by inducing T. Chino into an edge into Kieran File's gloves. Arbab having settled into his miser's bowling act, Neil opted to bring in Nick early. He did his job well although not aided by the fielders who were showing stiff bodies and hands in the growing cold. Arbab did well to remove T. Noguchi thanks to a goose-like arse-damaging catch from Matt. Score: 78/2 off 14 overs. Exactly the same pace as ours. Things started to go the wrong way when S. Nakamura's dolly was dropped off Ashley by our keeper who was more thinking about his hen's warm plumage than the game itself. Shu had another close escape almost just after when a pop-up evaded Matt. Shu and Gavin had amassed a 46-run partnership and were going away with the game, when Subhoda ,before bowling his fourth ball in his first over, asked Neil to drop a few metres back. Gavin middled the next ball directly to Neil who had just enough time to pull out the catch, the winning one, of the game. Fahim Kawsar got run out having faced only one ball, and when at 156, Shu Nakamura finally fell to Matt who had come back with a vengeance, the writing on the wall had completely changed. Subhoda closed the innings in spite of a late slog by K. Edagawa and the mother of all dollies being dropped by no one but Ashley. The poor Wyverns were left to score 25 off the last over, but managed only 9 of them.
The pick of the innings was Subhoda's vital bowling performance (exacly the same as Gavin Beath) that irremediately closed the door after Gavin Beath's somewhat unlucky demise. Ashley did well to limit the damage, too. Actually the bowlers did not panick in spite of Gavin's onslaught, and with a little help from the fielders should have made the job easier. Well, a Final played in the second half of November is certainly not an easy proposition but the Wyverns certainly showed more prowess in their fielding. On the other hand the Kytes had lame ducks all over the field with Todd (fractured toe), Joel (torn cruciate ligaments), Neil (going to have his knee operated) and Subo (light torn muscle thigh).
One of the most exciting games of the season with quite a few spectators present including former Captains Patrick and Imtiaz, our Sponsor, Karl Emerson, and Nick's sire.
The Kytes posted the perfect clean slate by beating all opponents in Division 2 (7 during the group matches with 2 games rained out and the last 2 during the play-offs.
A great thanks to the Wyverns whom we shall meet next year. We shall make sure to have a BBQ ready then!
Men of the Match: Gavin Beath & Subhoda Gunawardena

15/11/2005: SBS TV airs their report on Shizuoka Cricket!
Almost 5 minutes of air time were devoted to Cricket in shizuoka and Miwa primary School. A copy each has been sent to the EAP ICC in Australia and the JCA. For more copies, contact Robert-Gilles Martineau!

12/011/2005: Friendly: Shizuoka Kytes C.C. somehow squeezes past the Tokyo British Embassy C.C. with last ball of the match:
Shizuoka Kytes C.C.: 187/6 (30 overs) (A. Harvey, 97*, M. Sharpe, 33+ W. Daley, 3/3)
Toyo british Embassy C.C.: 182/3 (30 overs) (B. Kininmont, 96; K. Irie, 40)
Shizuoka Kytes C.C. beat Tokyo British Embassy C.C. by 5 runs
Check Scoresheet HERE>>
Neil Harrison writes:
Kytes bucked their recent trend of getting on the wrong side of tight matches down at the ACO on Sunday, holding their nerve to squeak a 5-run win over British Embassy. It was a great day for cricket - clear with an occasional breeze blowing up from the ocean. So great, in fact, that the match had to be reduced to 30 overs a side as so many people turned up late. Kytes also suffered two match-day withdrawals and had to press The Grand Old Man into service. Bruce also answered an emergency call. Kytes lent the Embassy 2 fielders to cover for their Japanese contingent, who
were missing presumed incompetent "somewhere in Shizuoka".
The Captain bucked a personal trend and won the toss, sending the Prelis cousins, of the famed Richmond School of Sodomy, in to open the Kytes' innings in auspicious circumstances. The partnership itself wasn't very auspicious, and Lalith was soon back on the terrace after playing an ugly hoik over a straight ball on the stumps from Embasy Skipper Warren Daley. Subodha looked to be settling well but a series of back-breaking short balls from Chris Thompson ruffled his plumage and he gloved one to slip. New boy Ben Tomlinson didn't hang around long for Kytes either and at 31/3, things didn't look too hot. A solid 52-run partnership at 5 an
over between Ashley and Hairbear saw Kytes back on track, although the Embassy bowlers always managed to do enough to keep the run rate in check.
Two quick wickets for leggie Kenji Murata (Hairbear beaten outside off and clinically dispatched by Tom Goodwin, the Captain heaving a full toss to Brent Kininmont at long-off) again knocked Kytes back, only for a free-flowing 62-run partnership at more than 6 an over between Ashley and Matthew Alphonse Sharpe to hand the initiative back to Kytes. Kenji extracted a measure of revenge for Sharpey smacking him onto the ground golf track three times when he held onto a sliced swipe at mid-off at the second attempt, but the Pornographer joined Ashley for the last few overs to see Kytes to a very healthy 187/6.
Overall a good bowling effort by the Embassy, particularly Andy
Pritchard, Warren and Chris, but there were too many wides.
For Kytes, another class innings from the man who sleeps with his
average under his pillow. Ashley finished on 97* off 89 balls with 10x4 and 2x6. Only one chance to speak of, an edge that split the slips, and just 3 runs away from becoming the first Kyte to score two tons in a season. Matt (33 off 31, 1x4, 3x6) was the only other Kyte to get going.
Kytes took the field with inklings of an Embassy collapse and an early start on the waiting beer. After 5 overs, they were still contemplating the early start on the beer, but not quite in the same circumstances.
Brent and Warren got Embassy off to an absolute flier. There were
already 42 runs on the board and Brent was creaming anything pitched up to the boundary. Matt (mysteriously recorded in the Embassy scorebook as "Gayboy") suffered particularly harshly and was relieved to be relieved after bowling 3 overs of "Hit me!" balls. At the other end, Hairbear took a mauling in his first 2 overs but got his act together, his next 3 overs conceding only 3 runs. Ashley replaced Gayboy/Matt (depends which scorebook you look at) and helped reel in the run rate. These two bowled steadily and gave Kytes fresh hope, particularly when Ashley managed to bowl Warren off his pads for 20. But there was no collapse as Koh Irie
came in and set about catching up with Brent. New Ben had a go from the Lone Tree End but took a pasting and Embassy went in for drinks nicely placed and with the advantage on 97/1.
After drinks, Subo and His Pornliness bowled good spells in tandem that again put Kytes ahead. The boundaries dried up but excellent running kept the required rate down. By now Brent was swinging at anything and a bevy of chances bit the dust, some of them gobsmackingly simple. Subo came off after a roasting in his 4th over gave the advantage once more to Embassy. Porno reeled them back in again but Matt returned and went for 16. Advantage Embassy. Porno bowled another stingy over and Matt followed suit. 10 runs to win off the last over. Hairbear came on to bowl it and to his credit he wanted it. The first 3 balls gave up 4 runs. 6 to win. The fourth clipped Brent's leg stump and went through to
Brucie without troubling the bails. What have you got to do? (The answer is "Better"!) The fifth bowled Brent off his pads. Andy Pritchard came in to face his last ball in Japan and still 6 to win. The stuff of fairy tales. Of course, in the real world you play a monster swing and miss and get bowled. Hard luck Andy, hard luck Embassy. Kytes win a cracking match played in great spirit by 5 runs. Time for a beer and a barbie.
Embassy finished on 183/3, which is a great effort. Brent made 96 (8x4, 6x6) and early on, when everything came off the middle, looked like he was going to finish the match early. Warren gave good support for the first wicket stand and Koh (40 runs, 6x4) came in and played a good clever innings to keep the target always within reach.
For Kytes, Ashley, Hairbear, Subo and Shizuoka's very own Ron Jeremy all bowled extremely well to tie the Embassy down at various stages of the innings. The number of wides (27 by Embassy, 9 by Kytes) proved crucial - well bowled, boys. The fielding was - what's the word? - mixed. The catching was - well, there wasn't any.
The beer and barbie were, by contrast, excellent. Cheers to the Embassy for staying for a while.
Man of the Match - Ashley - bowled well to go with a great innings.
Finally a word of farewell to Andy Pritchard and Tom Goodwin who will be leaving Japan in the next few weeks. It was a pleasure meeting you. All the best for the future.

08/11/2005: SBS TV visits Miwa Primary School for report!
As promised, the SBS TV crew, led by Mr. Yoshimoto, came to Miwa Primary School on Tuesday to shoot a report on the School Cricket Club. Loads of fun. Mr. Yoshimoto, who must be the most knowledgeable Japanese reporter when it comes to Cricket (he covered the EAP ICC Tournament in Fuji in May 2004) informed us the report would be on air on November 15th during the evening news!

23/10/2005: Friendly:The Kytes lose a second straight tight game:
Tokyo Indian Engineers C.C.: 186 (37.4 overs) (R. Lahodiuq, 42; Himansu Pankelkoy, 40; Subhoda Gunawardena, 3/23)
Shizuoka Kytes C.C.: 178 (31.2 overs) (M. Sharpe; 35)
Tokyo Indian Engineers C.C. won by 8 runs
Check Scoresheet HERE>>
Report by Nicholas Shannon (heavily edite by Neil Harrison):
Well as expected we had a great game. Our opposition was keyed up and ready for action. Luckily enough theseblokes were the Indian Engineers, so the game was played in the best of spirits! I like that.
Par for course, Neil lost the toss and we were in for a bowl. A few of us were nursing hangovers on account of Ashley's wedding, others for some crap all hallows eve party and the rest of us appeared as usual...
This, however, is no excuse for some of the less threatening bowling straight off! Still, blokes out there were searching for bunnies and nothing could stand in their way....A little bowling break and another shot later on......Hmmmmm.
The Engineers opened with Himansu and Prashant. Overall Himansu did very well, picking up 40 runs. Prashant didn't do so well, being bowled by
ieran for 5. However, I must add that Prashant looked thegoods.The best of the Engineers was Lahodiuq. 42 runs saw him as the top scorer. David Davies was at the crease and unfortunately for the Indians was incapable of capitalising on his opportunity. I put it down to too much applied pressure.....He was promptly bowled by Subodha for 29.Enter Bikash........He looks handsome and arrived at the crease with poise...Perhaps one of the day's worst deliveries took his middle stump. Very unlucky! As the dispatcher of this dodgy delivery, I felt pretty bad. I said as much to the umpire..." I feel sorry for Bikash". His reply..... "I feel sorry foryou".......COOL....
Bikash had worse to come.......
Sharpe came in and picked up the tail. On a hat-trick. The fifth time
for our team this year!Credit to Subo for his good bowling, too. Larry got a wicket, too.
Engineers amassed 186.....
Shizuoka came in with Matt and Larry. Larry's time as a top order
batsman for Richmond School of Sodomy in Sri Lanka served him well. Larry was out there for almost 16 overs! 21 runs only but a magnificent performance.I can see Larry and his "L" bat as a regular number 5!!Sharpe put in a solid show. Much more convincing than his time with the ball.... Good stuff....A lovely 35.
The Engineers were working through the Kytes' lineup. Ben did well. New Matt came and went. Subo got 28. Neil made a promising 15 and when he went, it was looking bad for the Kytes. 7 down, but one Kyte wasn't going to bat. We'd even given the Engineers Cousin Tom because they had ten and we thought we had twelve.
Next Shannon came in to bat. With a season average of 3, we thought this would be short. It was, but it was brutal too! David Davies to deal with......6. Next Bikash with vengeance......6. I lost Subo when he gloved a bouncer to the keeper. Bunny copped another duck. Bilby came in with Bunny as his runner - talk about a death wish! Santosh pitched one up on my stumps.........6.
Bikash was spewing.....Santosh was sweating. 9 runs to go... and I blew it!!!!!! Santosh bowled me next ball.......Shit....all over.
A wonderful game.
I was impressed by 4 points.
David Davies was honest enough as an umpire to admit he messed up.
Cousin Tom fielded 60 overs and never faced a ball as a batsman.
I hit a bunch of 6's, my first in Japan.
And we drank a bunch of booze after the game.
Disappointments.......
We didn't get to drink with Cousin Tom, Prashant and the boys.
Bobby had his hands full and couldn't make the game.
Biju was afraid I'd snag his wicket......and didn't come.
Bikash was bowled by a shit ball but still got hit for 6 byme...(Sorry
Bikash).
Shizuoka Kytes lost....
Still we will be seeing you Engineers in Division 1 next year!
All the best to you.

24/09/2005: Friendly: Paddy Foley's C.C. post their maiden win in last game of the season with 2 balls to spare!
Shizuoka Kytes C.C.: 150 (B. Harris, 57; T. Robinson, 4/30; Udaya Athukorala, 3/33)
Paddy Foley's: 151/9 (B. Fallahay, 36; N. Shannon, 3/11; Subhda Gunawardena, 3/16)
Paddy Foley's C.C. won y 1 wicket
Check Scoresheet HERE>>

15/09/2005: Shizuoka Cricket youth programme cited on the ICC-EAP Website:
Russell James of the ICC East Asia Pacific Development has posted us on the ICC-EAP Website:
For more details check HERE>>

11/09/2005: Latest Report on children's activities
Children's programme steadily expanding.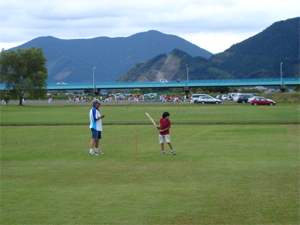 Tomomasa "Tomo" Atsumi practising his batting

under R-G. M'S eyes

This is a compilation of recent efforts by the Shizuoka Kytes Cricket Club to establish a Cricket Youth Programme in our region:

September 25th: Youth CricKet Day at the Abe River Ground
The day had originally been set for the benefit of Primary School kids, but it such happened that only a dozen kids turned up because all kinds of Community Sports days were held all over the City (bad timing!) and no further than the next ground (which proved a disguised blessing in the end!)!
At the same time 30 students from the Nakamura Gakuen Vocational University visited the ground to be acquainted to cricket as part of their curicculum. That provided plenty of work all day for Patrick Harrington, Benjamin Wooler, Joel Chamberlain, Kieran File and Robert-Gilles Martineau from the Shizuoka Kytes C.C. Unfortunately Captain Neil Harrison could not join the fun as he was away on umpiring duty at the ICC-EAP Tournament in Vanuatu.
Apart of constant practice with the big lads and ladies, we organized the kids into 2 sessions of a good hour each. They were few but keep on asking for more.
At one point we saw a kid from the neighbouring field where a Community Sports Day was being held approach and ask us in English if he could join the fun!
We soon found out that Tomomasa (Nicknamed "Tomo"...) Atsumi had just come back from one year spent in and English boarding school where he had chosen cricket as his mandatory sport subject.
We gave him a ball and asked if he would bowl a few. After the first ball, we knew we had made the find of the day and Kieran spent the next two full hours coaching him (in English!). I personally met his parents and discovered he was living near to the ground and that his mother taught at a neibouring Primary School (another find!). I took his contacts and asked permission to invite him on a regular basis. I must say that his mother was more than amenable!
A well-spent day in the end. Mrs. Nishida who was on hand all day promised me to help devise a programme for such Days on a regular basis, but that will be for the next report.
Meanwhile SBS TV, an important regional TV Channel was reporting on our activities all day (I suspect that they were taking a day out at the same time, as they clearly enjoying the sedate pace!), talking to the kids and coaches, as well as taking shots of the proper game. They shall come again in November at Miwa Primary School to shoot the second part of the (short) reportage to appear on TV in November.

October 2nd: The members of the Shizuoka Kytes C.C. having had their game postponed due to KCL priorities were practising on the adjacent ground when they had the surprise to see Tomo coming along with his mother to join the practice. I was umpiring at the time, but the lads told me he thoroughly enjoyed himself. Captain neil had a chat with his mother and gave the kid his grown up son's bat to Tomo who could not believe it!

October 9th: KCL Division 2 Semi-Final.
The Kytes having destroyed their opponents in less than 2 hours (we are in Division 1 next year!) decide to use all that time made available practising. It was then than Tomo proved once for all he would stay with us when he appeared bringing a friend along called Kohei Mochizuki (nicknamed "Mochi"). Kieran almost automatically ran to them and spent a good hour coaching them to be later helped by RGM after he had finished his scoring and other duties. We gave the boys one ball each and suggested that they practised at their own school ground and invite more friends on next Sunday.
As you can little things start big ones!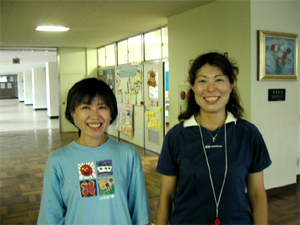 Mrs. Nishida & Otsuka of Miwa Primary School

11/09/2005: Kanto Cricket League:
The Kytes soar over the D-2 Semi-finals into 2006 D-1!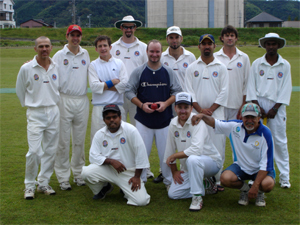 1st row:

Lalith Prelis, Ashley Harvey, Robert-Gilles Martineau

2nd row:

Neil harrison, Robb McKenna, Kieran File, Todd Phillips, Matthew Sharpe, Joel Chamberlain, Arbab Mohammad, Nicholas Shannon, Subodha Gunarwadena

-----

Fuji Far East C.C.: 24 (17.5 overs)
Shizuoka Kytes: 30/0 (6.3 overs)
Shizuoka Kytes c.C. won by 10 wickets
Umpire: Mumtaz Alam
Scorer: R-G. Martineau
Check Scoresheet HERE>>
2005 Kanto Cricket League Tables
Matthew Sharpe writes:
Well, a "crushing" win would be the most understated comment of this cricketing year. The Kytes were just too good for anundermanned Fuji outfit.

With proceedings managing to get underway Sunday (to the amazement of some "wedding crashers"), the weather, whether it was going to rain or not (???), was always on the minds of everyone.

Fuji won the toss, surprise surprise (the Captain's record now an
impressive Won 2, Lost 11), and decided to bat. Which was the right decision to make as they were missing two players. Myself (Matt) and Arbab opened the bowling and were on target pretty much straight away (except for the odd wide!!!). The conditions were a little slippery but unlike a certain Kiwi (no names mentioned here Ashley...DOH!), we were able to stay upright and bowl a tight line. So tight in fact that the only runs for the first 8 overs were thanks to "the odd wide one".
Junior managed to drive me nicely for two in my fifth but on the last ball of that over he went for one outside off and was brilliantly caught in gully by Captain Fantastic (that'd be Neil). The second ball of my sixth removed a somewhat surprised Imamura, taking his off stump! I was unlucky (I'm allowed to say that) not to have McTamney out LBW the very next ball but as fate would have it, he got the benefit of the umpire's doubt!!! Those two wickets drew me level with Shannon, who is currently the leading wicket-taker in the KCL, Kytes and possibly all of Japan for all we know. After my sixth I thought I'd give the "I can't find my line because I keep slipping" Kiwi, Ashley, a crack at a few easy targets!!!
Meanwhile at the other end, Arbab was bowling a line tighter than a Robb McKenna first date. He eventually picked up the other opener, Saito, who faced 31 deliveries (all from Arbab) and was out bowled for a big fat ZERO (surely a new KCL record for longest duck). Ashley picked up probably the softest wicket of the day and then was the benefactor of a brilliant throw from McKenna and a poor call from McTamney (just ask Anton), to run out Anton who was looking very ominous as he was striking the ball with the timing of a Swiss watch. Amazing really because a few hours before that he wouldn't have even been able to tell the time on a Swiss watch!!! ;-) With only 2 wickets remaining, the Captain called
Shannon into the attack as he loves rabbiting and he's picked up the odd "Bunny" this year. His first ball drew an edge from McTamney for a lucky single, the second was defended carefully by Kawashima. Next came the inevitable wide, followed by a slighter outside off. Next ball trapped Kawashima half forward with bat behind pad, and next man Orita was comprehensively bowled for a Golden to end the innings. I was in tears by this stage, Shannon was back in front again by two wickets!!! Fuji were all out for a new record low of 24. Figures were shared with Shannon 2/2 off 5 balls, Arbab 2/5 off 8 overs (and 3 of those were from wides!!! His 5 maidens could also be a record), myself (Matt) 2/7 off 6 overs and the expensive Kiwi, Ashley, 1/9 off 5 overs!!!

Robb and Pants, who has now earned his fourth nickname of the year, Amish, easily accounted for the 25 runs needed in less than six overs, the highlight being Amish's 6 to get the final runs!

An excellent effort from all, and a special mention to the Lumbering
Elephant, Phillips, who somehow managed to injure himself (and let us all know about it for the rest of the day) fielding one that was racing along the ground like a tracer bullet....or so he said anyway ;-)

Great work guys, now to knock off Wyverns to have an unbeaten year in KCL. Bad luck to the Dragons for not quite getting there!!!

11/09/2005: Kanto Cricket League:
D-2: One representative of Shizuoka Prefecture will play in KCL D-1 next year!
Fuji Far East C.C. manages to qualify for the Semi-0Finals in very last game!:
Fuji Far East C.C.: 284/5 (40 overs) (M. McTamney, 124*, H. Takahashi, 56; D. Cooper, 3/61)
Dragons C.C.: 191 (D. Davies, 67; G. Azavedo, 45; Shivaranjan Barkadavu, 31; A. McCloy, 3/28)
Fuji Far East C.C. beat Dragons C.C. by 93 runs
Check Scoresheet HERE>>
Shizuoka Kytes get good practice before their Semi-Finals:
Shizuoka Kytes C.C.: 296/5 (40 overs) (Arbab Mohammad, 130; Kunwar Mahender, 47; M. Sharpe, 45)
Tokyo Bay Districts C.C.: 92 (M. Sharpe, 3/17; 3 run outs)
Shizuoka Kytes C.C. won by 204 runs
Umpires: Gavin Beath & Makoto Mori
Scorer: Robert-Gilles Martineau
Check Scoresheet HERE>>
Neil Harrison writes:
The Shizuoka Kytes juggernaut flattened Tokyo Bay on Sunday to sign off unbeaten in their KCL fixture list.
It was a cloudy but hot day down at the ACO and a season-high 4 Kytes managed to turn up before the opposition. Tokyo Bay turned up with one player lost in transit and promptly lost the toss too. The Captain pretended that he had to think before deciding to bat. Things were looking good.
Matt and Ashley opened up surprisingly sedately and the Grand Old Man did what he does best and fretted on the mound. Sachin mixed up his bowlers quite frequently and this seemed to throw Kytes off balance. When Sachin bowled a lethargic Ashley in the 12th over the score was 45 and the Grand Old Man was fidgeting all over his mound (close your eyes and think a moment).
Arbab came in and looked to up the scoring, but the tight fielding, oppressive heat and some idiosyncratic running kept the rate down. When Matt popped a soft catch to Amit Lal at mid-on, Kytes were 106/2 off 22 overs and TGOM was starting to bounce in his seat. Never mind, said the Captain, Pants is bound to do something. And he did. He got out lbw after 6 balls. In true Australian fashion, Pants claimed an inside edge and a Kiwi umpire, just like... But I promised not to mention that.
Samir arrived and put the first ball he faced in the river. Business as usual, then. TGOM started to feel a calm coming on. Only started, mind. The long handles came out and 119 runs were added in 14 overs. The Captain and the Pornographer generously retrieved a succession of heave-hos from the river bed till Samir got under one from Mayank and skied a return chance which was safely and gratefully accepted.
Kieran stepped out and helped Arbab keep the rate up around 8 an over with some clean drives, crazy running and one very impressive pulled six after taking a stroll down the track. Arbab brought up his ton in fine style with another sweet pull to the boundary. Time for Mayank to bowl the last over and 18 needed to reach the magic 300. Arbab sends the first two deliveries bird-watching over the ground golf ground. He tries again 3rd ball but miscues and they run 2. He tries again 4th ball but miscues again and is brilliantly caught on the boundary slope by Vineet Singh. Kieran is on strike with 2 balls to score 4 runs, but he plays a couple of girlie Kiwi wafts and the keeper is sharp enough to preclude byes.
Still, 296/5 isn't bad. Arbab had 130 of those (93 balls, 9x4, 7x6) in an innings that started out risky but improved as it went on. Samir (47 off 28 balls, 2x4, 5x6) once again did the business in sixes and got out just as a big score beckoned. Matt (45 off 67 balls, 3x4) was content to play anchor again and seemed untroubled by the bowling. Until he got out.
Tokyo Bay were unlucky that their AWOL member was one of their better bowlers and that Ken was suffering from a heavy cold. Dinesh (8-0-0-36) bowled well without luck and Mayank (8-0-2-47) sent down some good stuff, but also a fair few poor deliveries. The fielding was very good apart from one dropped dolly off Arbab.
The reply kicked off in disastrous fashion when Sachin lost his off stump to Matt first ball. Heavy cloud and spots of rain in the air had the Kytes changing over double-quick in order to get the required 20 overs in to get a result, and Matt and Ashley bowled straight through. Matt got Ken to pop a dolly to Pants at short midwicket and had Shiramizu lbw soon after. As the prospect of rain receded, the only hope for Tokyo Bay was a Mayank special, but he contrived to run himself out for 3 in lame circumstances, which rather deflated the match. Kytes' attention switched to a different tussle - would Matt be able to reel in the Pornmeister in the KCL wicket-taking stakes? With those three wickets, Matt drew level and he still had 4 overs to bowl. The next two to go were runouts. Vineet then sliced Ashley over mid-off, where the diminutive Matthew Sharpe stretched his little legs, leapt into the air and snatched the ball one-handed and blind. One of those catches that only stick on days when things are going your way. Dinesh gifted Kytes another runout and Matt's overs were done. Enter the Porn Star with only two wickets left for him. Anand and Amit both smashed full-tosses into the river. Amit pulled another gift for 4. 18 runs off Porno's first 7 balls. Amit tried again but, to his surprise, and everybody else's, it was a good ball that turned and jumped and just flicked the bails. The square-leg umpire was called on to confirm the dismissal. Matt's heartfelt congratulations rang around the ground: "Oh, you c*nt!" Team spirit lives on. Porno remembered how to bowl and Arbab bottled up the other end. The runs dried up and the game ended soon after when Kartik played outside a regulation off-spinner and was bowled. More joy for Matt. Tokyo Bay all out for 92 in the 21st over, Kytes win by 204.
Only Anand (25*) showed competence and resistance in a disappointing effort. Kato briefly sparkled, belting Ashley for three consecutive boundaries, but poor shots and very poor running and calling cost wickets and runs.
For Kytes, Matt (8-0-3-17) bowled excellently. Ashley (8-0-1-50) got smacked around a bit, but did the required job. The fielding was excellent and all three runouts came as a result of good throws (2 from Samir, 1 from Subodha) and sharp keeping (by Kieran).
Thanks to Tokyo Bay for the game and for staying for the barbie, to Gavin Beath and Makoto Mori of Wyverns for a good job of umpiring and to the Grand Old Man for scoring.
Man of the Match: Arbab Mohammad - An excellent innings.
Footnote: Congratulations to Fuji Farm Boys on beating Dragons to earn a semi-final berth vs Kytes.
2005 Kanto Cricket League Tables
Read more HERE>>

25/08/2005:Neil Harrison of Shizuoka Kytes C.C. selected as one of the Umpires to officiate in the Vanuatu ICC-EAP Tournament end of September!:
Read all details HERE>>

16/08/2005: Final National Squad for ICC-EAP Tournament in Vanuatu announced!
Hirokazu (Junior) Takahashi Fuji Far East CC (Starting members) and Kazuhisa Orita Fuji Far East CC (Reserves) chosen!
Read all details HERE>>

07/08/2005: JapanCricket League:
D-2: Wyverns throw the D-2 wide open with win over Fuji far East C.C.:
Wyverns C.C.: 234/9 (40 overs) (Y. Hirose, 64; J. Hanada, 54; T. Chino, 36; Extras, 36)
Fuji far East C.C.: 85 (Extras, 31; K. Sakamoto, 3/14)
Wyverns C.C. won by 149 runs
Umpire: Younus Mansoori
Check Scoresheet HERE>>
-----
Antwerp Cricket Club (Belgium) officially becomes Shizuoka Kytes Cricket Club's sister Club!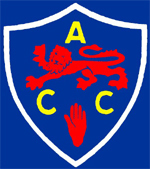 Created in 1842, it is the club of our good friend Peter de Boeck who umpired in Shizuoka on July 4th, 2005.
They field Under 11's, 13's, 17's, 197s and two senior sides.
Very busy club as you can see!
Check their great site at:
http://www.antwerp-cc.be/
For more details call their website master Dennis Newport at:
dennis.newport@pandora.be

24/07/2005:Friendly: New blood and old reverse Engineers' drive!
Tokyo Indian Engineers C.C.: 194 (38.? overs) ( Vimal Vikrant, 44, Bikash Mohanty, 30; N. Harrison, 5/32; M. Sharpe, 3/41 & 4 catches:Club record!)
Shizuoka Kytes C.C.: 198/4 (35.? overs) (Subodha, 37*, J. Chamberlain, 32)
Shizuoka Kytes C.C. won by 6 wickets
Check Scoresheet HERE>>
Neil Harrison writes:
The venue was different, but the result was the same as Kytes and Indian Engineers played out another ultra-friendly on Fuji 1. Kytes could only muster ten for the day as flimsy excuses such as tennis and shopping with the missus depleted the ranks once again. Engineers were on the ground at 9:50. Miraculously, three Kytes were on time - the three who had to travel the farthest to get to Fuji. Apologies to the Engineers on behalf of the rest.
Vimal won the toss for Engineers and chose to bat in clear, hot conditions that promised misery for the fielding side. The Captain has now won the toss once in 11 matches this season. To encourage the use of "irregulars", the captains agreed that at least 8 bowlers must bowl 2 overs each, with a maximum of 7 overs per bowler.
Matt opened the bowling from the Ocean End and Arbab started from the Shink End. These two bowled well, but the cropped outfield, combined with extra pace off the pitch and gaps in the field, made boundaries easier than usual to come by. Vimal started off with a couple of streaky boundaries but quickly settled. Porno pulled off a sliding stop on the softball diamond and got some sand in his vagina. Bobby looked impatient and fell in the 7th over, driving over a slow yorker from Matt. Santosh came in but never looked comfortable, quickly feathering Lalith to Kytes' 5th keeper of the season Bruce "Half Moon" Harris. Santosh walked even though the umpire missed the edge - sporting stuff. The Porn Star replaced Lalith but couldn't find his rhythm due to the sand in his vagina. Vimal launched one into orbit. It came down on top of Pants at long-on, but bounced off. Poor Porno - usually it's "Shit gets wickets" for him, but today it was "Shit gets hammered"! Matt persuaded the Captain to have a go - this was not a part of the plan. Nor were 5 wickets in 5 overs. The first one was the crucial one, as Vimal went for another big on-drive but this time Pants made no mistake. Sanjeeb miscued a sweep to Matt at square leg for a good tumbling catch. Bikash clipped one off his toes for Matt to take a good catch diving forward. Mahesh tried to send his first ball to Pants at long-on, but misread the prodigious swing and missed the ball. Ashok the Spin survived the hat-trick ball but gifted a soft lob to Matt in the next over. Scoring had slowed almost to a trickle at this stage as Arbab, Matt and Ashley returned in order at the Ocean End, Matt bowling 2 and catching 1 to equal the Kytes record for catches in a match.
For the Engineers, Vimal (44) continued his good form with the bat and looked to have laid the foundations for a big score when he got out. Bikash contributed valuable runs lower down. At 15 overs, on 107/2, Engineers looked to be cruising to a big score, but once again Kytes' early bowlers managed to come back and stifle the slog.
Kytes generally bowled well, even the so-called irregulars. While the Captain (5-0-0-32) and Matt (7-2-3-21) grabbed the wickets, Ashley (6-0-1-23), Arbab (7-1-0-31), Lalith and Subodha all made valuable contributions.
The fielding was generally good, though four tough chances were put down. It seemed that every time someone dropped a clanger, they redeemed themselves with good work almost immediately.
Kytes then went shopping, which meant the Captain had to open with Pants and Arbab had to umpire padded up. I've said this before, but... make an effort, boys!
Jagan and Vimal started accurately for Engineers, but couldn't put the openers under any pressure. Pants got his eye in while the Captain scratched around for the form he left behind somewhere many years ago. Nisar replaced Jagan and bowled a tame sighter. Mahesh replaced Vimal, and almost got the Captain off a sneaky edge for 4. Nisar's next overs were all venom and short stuff and made the Captain dance. Pants then took Mahesh apart and out of the attack with big sixes into the jungle. With the 50 up in the 10th over, Nisar was replaced by Santosh and the Captain was gone bowled off his pads - a wicket maiden? This is not the Santosh we know and love. Sanjeeb came on and got Pants on 32 slashing at a ball too close for the shot. 58/2 but no collapse as Arbab and Matt brought the hundred up with solid defence and hard-hit boundaries. Both eventually fell for 21 to loose drives outside off, Arbab giving a soft catch to Sanjeeb at slip off Ashok the Spin, Matt slicing high to Vimal at mid-off. Subodha came in and settled immediately, joined by Ashley "Average" Harvey. These two played sensible, patient cricket to see Kytes safely home - apart from the 3 chances Ashley offered, that is. The winning runs were fittingly scored by Subodha with an emphatic drive to the long on boundary.
None of the Engineers bowled particularly badly (apart from one veteran's lone over which contained 8 wides - and no, it wasn't Santosh), but none had the penetration to cut through the batting either. Nisar bowled a good hostile first spell but couldn't repeat it later on. Vimal's variations seemed ineffective on the Fuji concrete and he ended up bowling leggies. Sanjeeb and Ashok the Spin both bowled tidily but couldn't get enough turn to cause panic.
The Engineers fielded very well until a flurry of mistakes near the end of the innings.
Thanks again to the Engineers for another great day's cricket.
Man of the Match: Subodha - A very accomplished debut for Kytes after 2½ years away from cricket.
Finally, a farewell to Ashok the Spin, who is transferring to London. Hope this isn't the last time we have played cricket with you Ashok. All the best!

24/07/2005: Kanto Cricket League:
Typhoon No 7 wrecks the day!
D-2:
Shizuoka Kytes C.C. vs. Wyverns C.C.: Match drawn (rained out)

12/07/2005: Peter De Boeck, the Belgium Cricket Federation Treasurer and European Cricket Council Umpire has sent us his report on Umpiring in Shizuoka/Japan!
Check Report HERE>>

11/07/2005: Kanto Cricket League:
D-2: Overnight storm leaves unplayable pitch in its wake to frustrate participants in the Shizuoka Derby:
Fuji Far East C.C. vs. Shizuoka Kytes C.C.: Match drawn
A storm crashing on Shizuoka Prefecture for more than 12 consecutive hours flooded the Fuji pitches into swimming pools to cancel the long-awaited Shizuoka Derby, particularly frustrating the Kytes who has gathered their best team ever this year for that event.
Bruce Harris, Neil Harrison and Robert-Gilles Martineau decided to vent their feelings on the ACO Terrace which saw some of its weeds pulled out in rage!

05/07/2005: Miwa Primary School Cricket Club Coaching Session: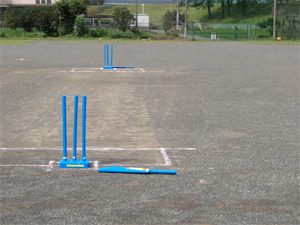 The fourth practice session for the Miwa Primary School Cricket Club (i.e. officially endorsed extracurricular activity) was held on under the direction of Robert-Gilles Martineau, member of the Shizuoka Kytes Cricket Club.

June 28th, 2005
Robert-Gilles Martineau, not being available, Mrs. Kazujo Nishida conducted the Coaching Session by herself following instructions handed to her the preceding saturday. The first half concentrated on batting and bowling indoors, regardless of the results with the accent on bowler/batsman face-off. She spent the second half explaining the fine points of the real game. Quite a few questions were asked, as the kids are impatient to start playing a real game.

July 5th, 2005
Robert-Gilles Martineau came a bit earlier to prepare a playing area on the School ground. A fortyby 60 metres area was already avalaible marked by ropes. After checking that the area was safe, he drew with chalk provided by the school a pitch with stumps placed at 16 metres from each other and batting creases marked one metre ahead. Return creases were also marked to define balls to be accepted as "fair" or to be "replayed". Finally the skin-ground pitch was raked and pebbles taken away to provide with a flat hard surface (see pic).
We then proceeded with a real game, a pair game, actually. All performances were written down on original scoresheets. Not all kids could have a turn at bat or ball, but they were told wthey would all eventually have their go. Mrs. Kazuko Nishida kept all the record and was provided with more scoresheets. The day was very hot and sultry and kids showed various degrees of concentration. Apparently, although their catching and fielding is way above average, they have not caught the niceties of field-placing yet.
Before closing the session, R-G. made a point to explain the manners and respect expected from all corners when playing cricket and distributed Shizuoka Kytes C.C. stickers to every kid. That little attention seemed to please them as it identified them to a bigger picture.
The summer break will start next week. Therefore the next session will take place probably on the 13th of September.The Kytes Cricket Club also left a set for very small kids on loan to be used by first graders.

On July 3rd, we had a long talk with Peter De Boeck, from the Belgium Cricket Federation, who paid us a visit here in Shizuoka and helped umpire one of our games (see related article at http://japan-cricket.com/ ). He said that when they visited primary schools they made a point of donationg Kwik Crciket Kits. We think this is a good hint for the JCA who is going to receive money from the ICC now that they are Associate members! As for the kits themselves, we use British-made Kwik Crciket kits as they come in a nice sturdy and practical bag with litterature. The kits "available" in Japan, cheap as they are, come in bits and pieces and are of dubious design. The Japanese being very finnicky by nature ought to be offered a better image and kit when first introduced to the game!

To be continued.

03/07/2005: Shizuoka Kytes C.C. welcomes the visit of Peter De Boeck, the Belgium Cricket Federation Treasurer and European Cricket Council Umpire
Peter de Boeck arrived in Shizuoka City on July 2nd for a week of work with local Company Koito. Peter has been umpiring in Belgium, Holland, England and many other countries for the last 10 years. He is an active member of the Belgium Cricket Federation which was elevated to Associate Membership on June 28th in the company of Japan. He wrote to Robert-Gilles Martineau to seek the permission to umpire at the KCL game on July 3rd. The Kytes were only too happy to oblige and thus were able to offer Tokyo bay Districts C.C. and Cricket Club of Nagoya top-class officiating both in Umpiring and Scoring!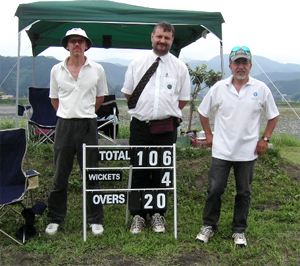 From left to right:
Neil Harrison, Peter de Boek, Robert-Gilles Martineau

214/06/2005: The Kytes' statistics are on display!:
Check and do not complain at:
BATTING, BOWLING & FIELDING STATS

21/06/2005: Miwa Primary School Cricket Club Coaching Session:
The third practice session for the Miwa Primary School Cricket Club (i.e. officially endorsed extracurricular activity) was held on Tuesday June 21st under the direction of Robert-Gilles Martineau, member of the Shizuoka Kytes Cricket Club.
On a very sultry day (the rainy season has started), the 24 members of the Club were all smiles as usual when they entered the large school gymnasium. The area had been prepared for a straightaway start after the usual greetings.
Four sets of stumps had been placed at equal distance from each other. The drill was designed as follows:
One wicket-keeper behind the stumps. One batsman standing on a crease clearly marked on the the floor with one line extending forward from the centre of the wicket. One "tosser" standing about six metres away backed up by a "receiver" and two "retrievers" way back.
The tosser was requested to bowl five balls underhand with one bounce to the batsman. The batsman was instructed to hit forward drives only. After every five balls, the wicket-keeper took the place of the batsman, the batsman became a retriever, the receiver a new tosser and a retriever the new receiver and so on for thirty minutes. Mrs. Nishida and R-G. Martineau moved among the kids dispensing advice and encouragement. We had then the kids sit down to explain again the batting grip and the forward drive, insisting on the fact that if they could master that particular stroke they would find batting an easy and entertaining propostion.
Next, before starting the bowling/batting drill in earnest, R-G. Martineau showed and explained the bowler's basic grip with the index and middle fingers along the seam and then the basic action. A good dozen balls were bowled by the instructor to impress the action into the kids' heads. As a diversion, R-G. Martineau showed what various spins can do. The kids seem to be especially interested in the technique of leg spin.
We divided the 24 kids into the same four groups (we keep working with identical groups as Japanese kids are more comfortable practising with the same individuals. Real games will be a different story, though).
One wicket-keeper, one batsman and four bowlers bowling real overarm over the wicket (wickets were placed 12~13 metres apart). Once again the batsman was requested to forward drive whenever possible. The order was changed every four balls and the drill lasted a good thirty minutes. We had to bring it to an end eventually to the disappointment of some of the kids.
I was greatly surprised to find out that four sixth grader girls practising in the same goup were all bowling beyond my expectations (they were also batting pretty well!). They had already picked up the fact that running up at a slant will greatly help them maintain a straight line to the stumps. the loop was nearly perfect and the length more than correct. The boy in their group, who was actually very good at batting, had real difficulty to pick hem up.
To finish the session, I asked the four of them to bowl at me in front of all the other kids. The kids saw defense batting for the first time and Mrs Nishida explained why I was doing such a demonstration. The balls bowled at me were very good indeed. Here are four kids who will have to be followed beyond Primary School. Plenty of work for the Kytes C.C. I can see we shall have to put our heads together as to how we can create some kind of academy and enlarge the club!

To be continued.

19/06/2005: Kanto Cricket League:
D-2: Kytes' agressive batting wins tough game over plucky Sharks:
Ichihara Sharks C.C.: 227/8 (40 overs) (G. Vass, 66; D. Lollback, 60, N. Creece, 32; N. Shannon, 3/52)
Shizuoka Kytes C.C.: 230/5 (29.5 overs) (M. Sharpe, 63; Knwar mahender, 56; R. McKenna, 53; Arbab Mohammad, 43*)
Shizuoka Kytes C.C. won by 5 wickets
Umpire: J. Shearer
Scorer: R-G. Martineau
Check scoresheet HERE>>
Neil Harrison writes:
Shizuoka Kytes pulled away at the top of Division 2 with a convincing victory over second-placed Ichihara Sharks in a game that proved to be a good day out for the batsmen. Sharks won the toss and chose to bat in muggy conditions with a slight breeze from the east. The grass was cut
to its lowest ever thanks to the council boys' brand new mower and the ground was still firm despite midweek rain - not quite a 300-run pitch, but close.
The match started on a sober note following a minute's silence to mark the sad death of Mark Ferris' son Tyler.
Out in the middle, Matt (Matthew Sharpe) opened up from the Lone Tree End and was right on the money with a maiden first up. Arbab (Arbab Mohammad) started from the Bridge End in similar fashion. David Lollback was prepared to hang around and play himself in, but Cam Mulla decided to get after the bowling and skied a pull to Toddler (Todd Phillips) at backward square leg in the third over. Nick Creece came in and quickly took the initiative, picking up the rate without giving chances. Lollback survived a big shout for caught behind off Matt (glove or thigh? Will we ever know?) and took that as a cue to start opening his shoulders with good effect. A double bowling change saw Toddler replace Matt and Ashley (Ashley Harvey) replace Arbab, but the breakthrough didn't come. But just when Creece was looking set for another big score, he walked across his stumps to pull a full toss from Ashley, only to miss and be hit plumb in front. There was no collapse though, as Greg Vass came in and took advantage of the deteriorating Kytes bowling to steer Sharks to drinks well placed on 99/2.
Another double bowling change after drinks brought Lalith (Lalith Prelis) on to bowl at his old muckers from the Lone Tree End, while the Porn Star (Nicholas Shannon) had a go from the Bridge. Lollback and Vass took the opportunity to attack, but just as they looked to be getting on top, another big Lollback drive found Ashley on the long-on boundary. Ashley pouched it safely enough, but managed to hurt his girly Kiwi fingers in doing so, preventing him from bowling his remaining three overs. Ben Parker came in and looked to make hay, but Porno lured him out for a wide one and The Bigamist (Robb McKenna) whipped his bails off toot sweet. When Porno bowls a decent ball, nothing much happens, but when he sends down shit, there's wickets or runs.Skipper Chris Thurgate now joined Vass to restart the charge and their run-a-ball 50-partnership put Sharks back on top, but when these two fell in quick succession, both skying big drives, the wheels fell off somewhat and nobody else managed to get after the bowling. Markus Adams skied Toddler to Matt at long on and Porno got Iain Lambert with another stumping off a nearly-wide, leaving Kytes wondering if there was a way back into the gloves for regular keeper Kieran.
Sharks wouldn't have been delighted with 227/8 from their 40 overs, but it was nevertheless a defendable score. Creece (32 off 29, 3x4, 2x6) came out as the pick of the batting and was looking ominously set for a big score when he got out. Lollback (60 off 75, 8x4, 1x6) and Vass (66 off 79, 4x4, 3x6) played similar innings, starting slowly and building well.
Both hit the ball in the air quite often, but always managed to find a gap. Thurgate (28 off 29, 4x4) also gave good support. Between them they laid a good foundation for the late spurt that didn't happen.
Arbab (8-0-0-30) and Matt (8-2-1-27) shared the bowling honours, both putting in solid opening spells and coming back at the death to stifle Sharks in the slog ~Arbab's last 3 went for 5 runs, Matt's last 3 went for 12~. Porn Boy (7-0-3-52) and Toddler (7-0-2-52) shared 5 wickets without really convincing the batsmen that they were in danger of getting out, Porno once again proving his "Shit gets wickets!" theory.
The fielding was top notch again, with only one missed half-chance. There was some electric work from Samir (Kunwar mahender) in the covers, and special mention must be made of Quimby (Anthony Day), playing his first match for 7 years. He may have forgotten how to run and dress in that time, but fortunately he remembered how to catch, bagging Vass at long on.
Matt and The Bigamist opened up for Kytes with clouds closing in and the occasional spot of rain falling.
Cue carnage. The Bigamist, with his own private harem in situ on the bench to impress, was in inspired form. This innings was the Beauty. Some of the best driving your correspondent has seen in Japan. Just when it was looking too easy, Parker let one drift down leg, Bigamy helped it on its way, and Pettifer dove across to take an excellent one-handed catch. Bigamy had scored 53 of the 72-run opening stand. There wasn't to be any let-up though, as Samir came in charged up. This innings was the Beast. Samir powered his way to 50 in 25 balls, seeing Kytes past the 100 mark inside 12 overs. Having scored 56 of a partnership of 79, however, Samir was deservedly out attempting a ridiculous left-handed pull for another six off Adams. A ludicrous way to get out and not the sort of thing to endear yourself to your opponents.
Next to join Matt was Arbab, still due a decent score this season. While Bigamy and Samir had been providing the fireworks, Matt had been rock solid down the other and decided it was his turn now, accelerating to his 50 in a flurry of boundaries before snicking Lollback to the keeper.
This and successive ducks for Toddler and Lalith gave the fielding Sharks their first cause for optimism since the first ball, but just as it seemed Lollback might be able to turn the screw, Arbab woke up and finished the game with 4 consecutive fours in the 30th over.
That was the healthiest top four performance ever by Kytes - Robb (53 off 33, 10x4) was sheer class, Matt (63 off 69, 8x4, 2x6) was rock solid, Samir (56 off 27, 2x4, 7x6) was brutal and Arbab (43* off 39, 8x4, 1x6) was clinical.
None of the Sharks' bowlers really got on top of the batting. The Bigamist knocked them to the canvas and then Samir made sure they didn't get up. Just as Lollback was restoring order (his first 3 overs gave up only 5 runs), Arbab came along and messed it all up again. Thurgate (8-0-1-37) was the only bowler able to apply a brake, and Parker (7-0-1-46) deserves credit for bowling 7 overs straight off from the
Bridge while all-comers at the Lone Tree End were being pasted to the boundary.
A good recovery for Kytes after indifferent displays versus Dragons and Adore. Those Fuji Farmboys next up must be quaking in their wellies.
Thanks to Sharks for the game, and for sticking around for a beer.
Thanks also to the scorers, to Bruce on the bar, to the fans who came from far and wide, and to Jarrad of Wombats, who did a first rate job of the umpiring.
Man of the Match: A toughie. Arbab's in there with his batting and bowling, McKenna's in there with his batting and keeping, Samir's in there with his batting and fielding, but I'll go for Matt Sharpe - 1 wicket, 2 maidens, 2 catches, 2 50-partnerships and 63 runs.

Fuji Far East consolidate standings with win over Adore C.C.thanks to H. Takahashi's batting and M. Saito's all-round abilities:
Fuji Far East C.C.: 201 (40 overs) (H. Takahashi, 78; Extras, 42, 3 runouts)
Adore C.C.: 152 (G. Brady, 37; M. Saito, 4/28)
Fuji Far East C.C. won by 49 runs
Umpire: Saqib Khan
Check scoresheet HERE>>
Anton McCloy writes:
Fuji Far East CC put another mark in the good column after an enjoyable but relatively uneventful game of cricket against Adore CC last Sunday.
As per usual I don't know who won the toss but FFE batted first and again opened with a solid partnership of 117 before Saito and Junior departed in the space of 3 runs not long after drinks. Junior compiled a solid 70 odd and Saito 20 odd. FFE again couldn't capitalize on the good start as it should have and scratched it's way to 201 of the 40 overs with the highlight being a wonderful timed blow to and over the boundary by young Ito.
Run-outs came back to haunt FFE with three victims being a tribute to Adore's good efforts in the field despite their big night out on Saturday.
FFE, again playing with 10, struggled early in the field with Adore's opening batsmen making light work of FFE's usually tight opening bowlers although Jun Saito straightened up and came back to finish his eight with good figures. Regular loss of wickets hindered Adore's fight at the crease and no real partnerships of substance were established as Masaki Saito continued his busy day by taking out Adores middle order as well as effecting a couple of run-outs in the tail. Highlights for Adore were opener Kobayashi's approach to getting runs as well as Gerard Brady's quick-fire 37 of 31 batting at 7 – most of which appear against my name on the score sheet.
Thanks from both teams to the Nagoya CC umpires for their polite, firm and consistent efforts for the day – much appreciated.
Congratulations also to Gerard Brady (Adore CC) and Jarrad Shearer (Wombats CC) on winning the 2nd Kasenjiki Jungle Cutter Raffle – They both take home a bottle of NZ's finest white wine. For those of you unaware, the 1st raffle was won by David Davies (Dragons CC) and M.Ito (FFECC).
Remember to clean out the change from the car and beside the bed and bring it to Fuji next time you come – someone is bound to be at the ground selling tickets for the "3rd Kasenjiki Jungle Cutter Raffle" - One more raffle's earnings, combined with Wombats CC's generous donation, and we'll have ourselves the funds to buy a machine that'll send shivers through even the hardiest of undergrowth (as well as all the snakes) surrounding the Fuji grounds!!

14/06/2005: Miwa Primary School Cricket Club Coaching Session:
The second practice session for the Miwa Primary School Cricket Club (i.e.officially endorsed extracurricular activity) was held on Tuesday June 14th under the direction of Robert-Gilles Martineau, member of the Shizuoka Kytes Cricket Club.
Skilled fielding throws made up for the first part of the practice:
-A designated batsman (batswoman/batschild) wa designated to hit balls along the ground from in front of a wicket for a fielder to stop, catch and throw directly to a wicket-keeper standing behind the stumps. The wicket-keeper was instructed to catch the balls with two hands. The batsman and the wicket-keeper were then changed to allow all participants to bat twice at the members of his/her respective group.
-The same was then organized with the batsman hitting in the ball in the air for the fielder to catch with both hands and throw to the wicket-keeper.
The second part solely consisted of batting coaching, starting with explanations on the proper grip, and the forward drive. The session was concluded with a demonstration of all the batting hits possible: drive, cut, pull, push, sweep and flick off the legs.
The children were particularly excited at the prospect that they could hit the ball everywhere on a ground.
Although it is not strictly part of the Kanga/Kwik Cricket Programmes, it was felt that the notion of 4's and 6's greatly appealed to the kids and would then be included in proper games.
The kids also seemed to have done their homework and were eager to start real games.
This will be probably started during the 4th session, as the 3rd session will concentrate on bowling skills.
To be continued

12/06/2005: Kanto Cricket League
D-2: 9 Ichihara Sharks C.C. beat 10 Fuji Far East C.C. in own fiefdom to throw D-2 wide open:
Ichihara Sharks C.C.: 212 ((36.5 overs) (G. Vass, 62; D. Lollback, 48*, D. Bedingfield, 36, Extras, 34; J. Saito, 3/28)
Fuji Far East C.C.: 151(33.3 overs) (Extras, 51, M. Saito, 42)
Ichihara Sharks C.C. won by 61 runs
Umpire: Nissar Ahmad
Check Scoresheet HERE>>
Check Report on:
Ichihra Sharks C.C.Homepage

07/06/2005: Miwa Primary School Cricket Club Coaching Session: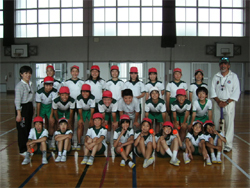 The first practice session for the Miwa Primary School Cricket Club (i.e.officially endorsed extracurricular activity) was held on Tuesday June 7th under the direction of Robert-Gilles Martineau, member of the Shizuoka Kytes Cricket Club. The School is located across the Abe River from the Shizuoka Kytes CC ground. It is a comparatively small establishment looking after roughly 130 Children from 1st grade (1st Form) to 6th Grade (6th Form). Such activities at national schools are limited by the Japanese Board of Education to the 5th and 6th Grades. 24 kids registered with the activity and attended the first session. They represent half of the schoolchildren in those two grades with a 55/45% ratio in favour of girls. R-G. Martineau arrived at the school at 14:30 and helped with the preparations including safety precautions inside the vast indoors gymnasium (sessions will be held on the outdoors ground once the kids have assimilated the rules of real games to be conducted in the short future).
The kids entered the gymnasium at 15:00 sharp. The presence of two teachers, including Mrs. Kazuko Nishida, the lady who made this venture possible, greatly helped control the energetic and enthusiastic boys and girls.
A Japanese-translated Kanga-Kwik Cricket pamphlet was handed to every kid for personal home study by Mrs. Nishida and the session started in earnest.
Due to school-related time limits (the session finished at 16:15), R-G. Martineau kept to basics only.
All instructions were conducted in English with occasional help from the Teachers. Voice, whistle and gestures were used simultaneously for quick comprehension (e.g. the order "listen!" was accompanied by the instructor's gesture of a finger pointing at his ear)
Warming-ups consisted of throws and later bowling (under arm, side arm and over arm; no bound, one bound, direct hits at the stumps). Before bowling at batsmen (batswomen), the instructor showed the proper ball hold and arm action.
We had time for each kid to receive 6 balls at the bats and bowling 6 each, interspersing the action with plenty of explanations.
The kids seemed to enjoy themselves greatly and sometimes had to be restrained into easy order. Some kids have already understood bowling, especially girls who are not
hampered by baseball habits. Batting should easily pick up.
Very encouraging start. The next session will be held under R-G. Martineau's direction on Tuesday June 14th.
September 25th, Sunday, has already been set apart for a full-day cricket coaching and game under the supervision of the Shizuoka Kytes CC Members at the Shizuoka Kytes C.C. ground. Local newspaper and television will be present to cover the event.
Meanwhile kids will have further opportunity to familiarize themselves with the game during physical education classes where cricket is now part of the curriculum. The kids are also encouraged to play outside in their free time.
Shizuoka Kytes C.C. will investigate other schools now that they have a reference to fall upon.
To be continued.

05/06/2005: Kanto Cricket League:
D-2: Shizuoka Kytes' bowling too much for Adore C.C.:
Shizuoka Kytes C.C. : 178 (36.3 overs (Extras, 47; m. Sharpe, 37; G. Brady, 4/15; Y. Shimada, 3/44)
Adore C.C.: 77 (23.4 overs (Extras, 32; M. Sharpe, 5/21; Arbab Mohammad, 3/8)
Shizuka Kytes C.C. won by 102 runs
Umpire Abdul rahim
Scorers: Y. Chinone & R-G. Martineau
Check Scoresheet HERE>>
Read Report by Adore C.C.'s Gerard Brady HERE>>
Todd Phillips writes:
Despite some dodgy weather over the weekend Shizuoka manages to secure another 4 points as Adore succumbs to some excellent Shizuoka bowling.
Sent into bat first, Shizuoka opened with M. Sharpe & Bruce with the latter missing a straight one from Y. Shimada, 3rd delivery of our innings. That brought on Arbab who, straight away went onto the attack, hit a couple of 4's before skying one off Y. Shimada to be comfortably caught out. Shizuoka 2/23. Next, Robb Mackenna came in and for a while he and M. Sharpe steadied the ship, scoring runs when needed, including a powerful cut for 6 by M. sharpe. Both batsmen were very lucky though to stay in as long as they did as both were dropped earlier on in their innings which could have made things very sticky for Shizuoka. The Adore opening bowlers Y. Shimada and S. Nakazawa were by no means, easy to hit. Both of them getting a lot of swing and especially Y-Shimada putting the ball on a good line and length. However, they also conceded 16 wides between them which kept Shizuoka scoring at more than 5 an over. When Robb was on 19, he tried to hit Y. Shimada for a boundary only to see his shot go straight into the hands of mid-wicket. Our star batsman was out for under 50! A very rare sight indeed! Then at 72 for the loss of 3 wickets, it was my turn to bat. M. Sharpe was now looking settled and was starting to get into the bowling when he got a great delivery from S. Nakazawa in his last over to knock his middle stump back. Out for 37 off 39 balls and a very valuable contribution and we were on 4/87. The Adore captain decided to bowl himself and Y. Shimada through their 8 overs before finally deciding to bring on his secret weapon G. Brady to replace himself. In a nutshell, G. Brady was the fastest bowler I have ever faced. His run-up was huge and he ripped! His first scalp was M. Steward as he weakly fended off a short one into the hands of cover point for a duck. Then F. Newman got one that smashed his leg stump before he could figure out whether to hit it or not. Fortunately at the mountain end, T. Ito was just a little wayward and we were able to score off him. But with G. Brady just showing pure pace and great accuracy we were really struggling at 6/95. After drinks I had the daunting challenge of facing six balls from G. Brady without losing my wicket. First ball, I managed to cut a rare wide one from him through point for 4 but he had the last laugh as his next ball produced a superb off-cutter that took the edge and was taken by 1st slip's stomach then his hands for 18. 7/117. Still not a competitive score for us to defend at this stage but our captain came through with a great inninngs of 27 and our tail end wagged their tails as he was well supported by Porno star, and Bunny. So our innings finished with a bit more respectable total of all out for 178 in the 36th over. Obviously the pick of the bowlers were G. Brady with 4/15 off 7.3 overs including 3 maidens and Y. Shimada, 3/44. Let it also be noted that we only scored 131 runs with the bat because extras high scored with 47. Also, if I was the captain of Adore, I would want to see how G. Brady would fare with a new ball in his hand. I just think he might cause considerably more damage to future opponent's batting line-ups. He's definitely, an awesome find for Adore.
So, after a quick lunch, Adore started their innings with claps of thunder heard in the distance. M. Sharpe ditched his usual run-up for a shorter one and instantly got success, bowling Y. Koboyashi for a 2 ball duck. The rest of his over produced some really great swinging deliveries that had T. Takita in all sorts of trouble but he survived. Meanwhile at the other end Arbab was just bowling ball after ball of on the spot in-swingers. Super tight bowling from both bowlers. After a couple more overs, the pressure began to tell as T. Takita tried to hit M. Sharpe for a boundary only to be brilliantly caught and bowled. M. Sharpe deflecting the hard-hit shot upwards with his left hand, then re-gathering it with both hands. At the other end, Arbab got 2 wickets himself with one bowled and one LBW. Now, Adore was in deep trouble at 4/16. But, at the same time, the weather was deteriorating and dark clouds were appearing over the mountains next to us. At this stage Shizuoka was really trying to get through our first 20 overs, just in case. It did start to rain soon after but only lightly and big cheers to Adore for continuing their inninings through it and skipping drinks break as well. But from their poor start, Adore never recovered and wickets fell regularly. At one point, M. Sharpe was on a hat-trick. He eventually finished his 8 overs with superb figures of 5/21 and at that stage Adore were almost dead and buried at 9/46. But, a decent partnership was formed between their number 10 and 11 batsmen, G. Brady and Y. Shimada. G. Brady finished on 20 not out with the only two 4's of their innings to his name, such was the excellent, tight bowling of Shizuoka. Again, if I was the captain of Adore, I would want to see how G. Brady would fare batting much, much farther up the order as he was the only one who gave some respectability to Adore's total. So, Adore all out for 77 off 23.4 overs. Special mention also goes to Arbab with miserly figures of 3/8 off 5.4 overs. Again, extras played a big part in an innings, high scoring with 32. Wides made up 23 of them which gives our bowlers something to work on. Cheers to the umpire also, Abdul Rahim, who was solid all day.

29/05/2005: More than 20 years of Honours on the Board, courtesy of Neil Harrison!
SHIZUOKA KYTES C. C. BOARD OF HONOURS
(Scream, cry or rant!)

29/05/2005: Kanto Cricket League:
D-2: Shizuoka Kytes squeeze past Dragons C.C. thanks to newcomer Kunwar Mahender (59) and N. Shannon's spin bowling (4/31)
Shizuoka Kytes C.C.: 199 (27.5 overs) (Kunwar Mahender, 59; J. Chamberlain, 47; Extras, 42; N. Gentle, 4/23)
Dragons C.C.: 166 (31.3 overs) (Extras, 45; Shivaranjan Barkadavu, 40; N. Shannon, 4/31; T. Phillips, 3/51)
Shizuoka Kytes won by 33 runs.
Umpire: absent
Scorer: R-G. Martineau
Check Scoresheet HERE>>
Bilbo writes:
When the Dragons arrived (on time) and donned their brand new jerseys with dragons flying all over them, and that in comparison, the Kytes arrived as they wished, that is for most of them just on time or late, and Francis "Chibi" Newman not bothering to wear the Kytes jersey whose price he had been whingeing so much about the last time he played, thye Kytes knew they were in for a fight, especially with 3 of their stars missing. On the other hand, they had a secret weapon their foes and even themselves, except for old Bilbo, had not heard about.
David Davies won the toss and asked the Kytes to bat first, as he has been doing all season.
The Kytes were quite happy to oblige and were looking for a good total to defend.
Well, so much for conidence. Disaster quickly struck when Todd "Lumbering Elephant" could not believe his eyes when Deepak Binwal pulled a catch out of nothing at mid-on off a lucky Dip Sanghvi's average bowling. The same bowler soon struck again when he induced Ashley "Ashy"Harvey to miscue a short ball to be safely caught at mid-off by Chaman Jagadeesh.
Kieran "Ranks" File was going pretty well when a slow ball from Nick Gentle spitted at him and caught an edge before hitting his wicket. Matthew "Castaignede" Sharpe miscued a hook at a high bouncing ball from the same bowler to be caught by Dip Sanghvi. Finally Chibi played over David Davies medium pacer. The score? 82/4. The Dragons were dancing and jumping, sensing the kill and glory.
But, ... the secret weapon.
Kunwar "Samir" Mahender, the latest Kytes recruit walked to join Joel "Pants" Chamberlain into the frying pan.
It took him 12 jittery balls to get settled. David Davies, confident his Indian bowlers could take care of that unknown oher Indian did not bother to change tactics. Then it badly backfired and probably proved to be the turning point of the game when Samir belted 5 sixes and 5 fours off 24 balls. one of them flying over the new Terrace and deep into the dry (lucky!) river bed. The battle was on despite some silly appeals from the opposition, the lack of neutral umpire not helping the situation. At one time the Dragons wicket-keeper went berserk, vociferously appealing at a ball that had struck the bat full in its middle....
Samir finally missed another juicy ball and fell l.b.w. to Shivaranjan Barkadavu (shortened-version name!). But by then, he and Pants had put on 84 precious runs.. Pants finally depated at 189 playing over the same bowler.. The rest of the batting does not need any special mention, the usual mini collapse at it was. But the Kytes, who at one time were certainly soaring in the skies were ready to defend their total with beaks and talons

They certainly needed all the weapons available as, despite a quick success by Lumbering Elephant who tempted Sandeep Labde into an awful cut stolidly taken by Ashy, the Dragons were moving well ahead of their neede run rate.
At 42, Lumbering Elephant mystified Chaman Jagadeesh, hitting the stumps. But then Shivaranjan Barkadavu, who had murdered the Kytes' bowling in a friendly in March joined David Davies and starting punishing the same bowler with no less than 8 boundaries from an exhausted pacyderm. But the gritty bowler got his revenge by tempting David Davies with a short ball that top-edged into Ranks' gloves. This was especially sweet after an awful decision by the delegated umpire which prompted Castaignede into some unprintable shouts after David Davies stopped walking when noticing his umpire had refused the catch behind.
But the plucky Shivaranjan had to be taken care of quickly or the Kytes would become fodder to the raving dragons.
That was the moment that Ashy chose to atone for his batting failure by bowling the Kytes' nemesis with his 4th ball and and trapping Dip Sanghvi l.b.w. in his next over..
The drinks were taken at 106/5 with the Kytes definitely back into the drving seat.
The drinks had been especially beneficial to the bowlers who conceded only 7 runs 5 overs with two more scalps falling in 2 balls to Nicholas Shannon's spin.
At 126 the same bowler pulled out a rare catch off his own bowling to take care of a gritty Milind Sapre.
Then at 130, a short ball from Joel Chamberlain was weakly hooked into Samir's safe hands.
The Dragons needed a further 70 runs with 11 overs left.
The unsung pair of Nick Gentle and Deepak Binwal decided they had nothing to lose and threw the gautlet at the Kytes who were stiill chasing everything in spite of adversary fortune when Pants damaged to be replaced by Chibi who managed somehow to limit the damage with the 5 balls he was allowed to play with.
Deepak Binwall started to hit Porno all over the place and the Dragons needed only 33 more runs when Samir pulled out the catch of the day to grab a rank half volley that sailed like a bullet to his right to the bemusement of all present.
A very intense game it was to good win, although frankly speaking it was not always a pleasure. The presence of a neutral umpire would definitely have contributed to a more pleasant encounter.
In restrospect, it proved that nothing is won in advance and should become food for thought for both teams.

22/05/2005: Kanto Cricket League:
D-2: Fuji Far East C.C. makes small work of Tokyo Bay Districts C.C.:
Fuji Far East C.C.: 217 (J. Saito, 59; Extras, 58; A. McCloy, 37, T. Kato, 5/56)
Tokyo bay Districts C.C.: 90
Fuji Far East C.C. won by 127 runs
Umpire: T. Yamaguchi & T. Kamiko
Check Scoresheet HERE>>
Anton McCloy writes:
The gloomy skies over Fuji City last Sunday continually threatened and almost delivered both matches to the drawn column. However, Fuji Far East managed to put another tick in the win column with a victory over a short-handed Tokyo Bay squad. FFE won the toss and went into bat with large areas of the field unprotected but failed to make the most of it and struggled through to 217 all out in the 39th over. Loose shots at wide balls saw the end of openers Junior and Masaki Saito both caught behind. Jun Saito and Mark McTamney steadied the ship and worked the ball around, at one stage running two 3's in quick succession which tested the ex-national coach's fitness. This promising partnership was cut short by an LBW decision that was greeted as most LBW's are – with suppressed rage at an opportunity lost. Jun Saito went on with the job and came away with 59 and the rest of the FFE order scratched around and got the scoreboard up to 217.
Mayank Dabral bowled well for Tokyo Bay and young Kato bowled a mix that netted him some late wickets. To their credit the Tokyo Bay team worked hard in the field, took all their catches, and never gave up.
FFE had a reasonable balance in the book at lunchtime but in light of Tokyo Bay's limited resources and the bulging extras column there wasn't too much cheer in the FFE camp.
With ominous clouds gathering the Tokyo Boy's started their chase and Kato looked in good touch from the outset and had some luck go his way but Orita's and Jun Saito's opening spells pressurized the batsmen into mistakes early and it was to be all up-hill from there. Mayank Dabral came out and in typically aggressive manner clobbered a couple of big 6's before folding 3rd ball – nice strike rate however. The Tokyo Bay men made it to the early 90's by the 23rd or 24th over but ran out of batsmen which gave FFE a victory by 127 runs.

15/05/2005: Kanto Cricket League:
D-2 Fuji Far East C.C. too strong for MAX C.C.:
Max C.C.: 154/7 (H. Suzuki, 69; J. Saito, 4/22)
Fuji Far East C.C.: 157/2 (31.4 overs) (M. Saito, 52*; H. Takahashi, 50)
Fuji Far East C.C. won by 8 wickets
Umpire: T. Fuji
Check Scoresheet HERE>>
Anton McCloy writes:
Kasenjiki Fuji 2 ground hosted another good game of cricket Sunday despite dodgy weather and a never ending megaphone commentary from a nearby festival.
Apparently Fuji Far won the toss and elected to field first. This looked like a great decision for those with other things to do for the day when Jun Saito and Orita's pressure had the Max boys at 5 for 33 early on. Jun ended the day with 4 for 22 of his eight. Despite the early gloom for Max H. Suzuki and H. Ito set about steadying things and saw Max through to 131 with a mix of shots that frustrated the Fuji Far East field. Max ended up with 154 for 7 and Fuji Far with a bit to think about.
The Fuji Far East openers however did well and took the score to 95 before Junior drove a ball hard and straight to very short mid-off Kobayashi who took a solid catch to end Junior's innings on exactly 50. Masaki Saito and Sugimoto kept cool and saw Fuji Far through to 142 before Sugimoto fell and bought McTamney to the crease. Saito then went on to see Fuji Far to their second win of the season as well as get a deserved 50.
For Max both Uemura and Yamaguchi bowled well and both ended with 1 for just over 20 off their overs.
Max can take away some pride in their fight back as well as some confidence in their field while Fuji Far East will be happy with another win despite making it difficult on themselves with some sloppy work in the field.
Thanks to Tetsuo Fuji for his umpiring on the day and apologies and thanks to the Nagoya boys who turned up thinking it was their turn to umpire.

08/05/2005: Kanto Cricket League
D-2 Uncompromising Shizuoka Kytes C.C. show no pity for newcomers Paddy Foley's C.C.
Paddy Foley's C.C.: 108 (25.2 overs) (G. Creighton, 31; M. Sharpe, 3/28)
Shizuoka Kytes C.C.: 114/0 (10 overs) ( R. McKenna, 52*, J. Chamberlain, 51*)
Shizuoka Kytes C.C. won by 10 wickets
Umpire: D. Envall
Scorers: M. Timbrell & R-G. Martineu
Check Scoresheet HERE>>
Bruce "The Bruce" (M.B.R.) Harris writes:
The first surprise of the day was that the forecast for rain the day before and none on Sunday was actually correct. A succulent day for cricket greeted a bus-load of Bailey's and cricketers from Paddy Foley's. Paddy Foley's captain Matthew 'Midget' Burns won the toss and elected to bat.
The first over brought a first for Paddy's: they did not lose a wicket. In fact they got off to a solid start, despite some withering balls from Sharpie and Arbab. Arbab bowled particularly well and was very unlucky, with both Neil and Porno dropping catches. Neil's was an inside edge and led to a nasty sledge from his own teammate Sharpie: "I thought Robert was keeping!" Porno's was drifting away from him. Maybe he cannot see straight without his Porno glasses.
Arbab showed the fielders how to catch a ball by taking the first wicket, that of Jennings, with a sharply returned caught and bowled. Unfortunately, this was to be his only wicket of the day. Jennings was replaced by Doherty, who added 6 runs before Sharpie knocked his middle stump down. In great style too, leaving it lying at a 90 degree angle. His next ball, at the start of his next over, left him on a hat trick, having Griffiths caught by Neil. These wickets came after Sharpie had found something to complain about and switched from the Ocean end to the Fuji end. His 4 overs from the Ocean end cost 20 runs for no wickets. From the Fuji end he took 3 wickets for 8 runs. Next time, we will listen more carefully to Sharpie complaining. Ah, who am I kidding?
Meanwhile, Creighton was not only staying in, but peeling off some well-timed shots. Including a lovely, orthodox cover drive all the way to boundary. He was looking good, all the way until Ashley Harvey looked better by duplicating Sharpie and knocking over middle stump. Also at a 90 degree angle.
Despite the dropped catches mentioned above and a sharp one drifting away from Robb at square leg, the field was restricting, and at this stage things were not looking so good for the boys from Paddy's. Then Arbab, continuing his lessons on catching, caught Burns off Sharpie's bowling. Soon after that, the tight fielding produced a run-out, with Matthews short of his ground after a direct hit from Mark at backward of square leg. The batsmen having decided too early there were two runs there. Ironically, the two batsmen involved were overheard the over before discussing the finer points of calling: "YOU RUN WHEN I YELL! JUST RUN!"
Pants' leg-side theory accounted for Usman Rana with one of the oddest balls I have seen in cricket. I had a perfect view and still don't know what happened. In a kind of leg-glance cum pull shot, Usman somehow managed to drag the ball from well outside leg, to bang on leg stump. I think the ball may have run along the bat for a good few inches. More mystified was Usman, who honestly did not know how he was out.
In the meantime, Suleiman Rana was ticking along nicely. However, Pants' leg-side theory also accounted for him. After 5 nicely time fours, this must have been disappointing.
With things not going so well for Paddy's, Zeeshan Rana decided to use humourous underwear, a la Superman, as a weapon of mass distraction. Perhaps he had a little knowledge of the current panty obsession in the Kytes side. A case of a little knowledge being a dangerous thing: it's not men's underwear we are obsessed by. It's panties all the way with us! To wrap things up, Purple Patch Porno whizzed some zingers down and bowled Clarke and Zeeshan Rana.
After the break, Rob 'Bigamist' McKenna and Pants decided to take care of the target of 108 by themselves in exactly 10 overs. Sharing the honours more or less equally, with Rob getting 52 of 33 balls and Pants getting 51 of 28 balls. They must have had a BBQ to get to or something. Although Pants did put in a sterling effort to be caught, being dropped 3 times. That's 6 more lives you've got there, Pussy Pants.
An early end to the game meant an early start to the BBQ. Thanks to Todd managing the bar and the Bailey's brought by Paddy's boys, the BBQ was well lubricated. Neil's objet d'art was the focus of much attention, once it was pointed out.
Thanks to Paddy Foley's boys for coming all that way and being cracking good company. Next time, come back to the soba shop and listen to Robert's explanation of tight fisting and felching and Anna's stories about testicles. For any Embassy boys reading, thanks for the donation for the tarp, which was used for the first time. We are currently debating whether it makes Robert look more 'serene' or 'stately'.

24/04/2005: Kanto Cricket League
Diviision 2 Shizuoka Kytes C.C. make their ambitions clear by crushing newcomers Cricket Club of Nagoya behind Robb McKenna's rcord-breaking innings of 169!:
Shizuoka Kytes C.C.: 342/3 (40 overs) (R. McKenna, 169; K. File, 69*, J. Chamberlain, 48)
Cricket Club of Nagoya: 156 (23.5 overs) (Naveed Akhter Malik, 64; N. Shannon, 5/51)
Shizuoka Kytes C.C. won by 186 runs
Umpires: S. Fujimoto & M. Iwasaki
Scorers: Ejaz Ur Rehman & R-G. Martineau
Check Scoresheet HERE>>
Neil Harrison writes:
Records, eh? There to be broken. Kytes and CC of Nagoya got through a fair few on Sunday as Kytes brought Nagoya back to earth with a bang.
To set the stage: Both teams had managed comfortable wins in their first KCL 2005 matches, and Nagoya had chased down a good Kytes' total in a pre-season friendly. It was a gorgeous, clear day, with a stiff breeze blowing from the southeast. Kytes were decked out in their spanking new team shirts and looking to christen them in style.
Saqib won the toss for Nagoya, then set off for a 13-minute debate with his teammates before making the (wrong) decision to field. This made the Captain a happy chap and he sent in the Pants and the New Improved Toddler (of "I'm going to get fit" fame) to open the innings. 5 balls into the innings, after one adventurous forward defensive too many, Toddler was hobbling back out again having retwanged his hamstring. In a show of the new team spirit coursing the Kytes' collective veins, Toddler blamed the Captain for pressuring him to play when clearly not fit. The Captain asked that it be pointed out that if Toddler's fitness were a pre-condition for his inclusion in the team, he wouldn't have turned out in any match in the last seven or so years.
So Bigamy McKenna, who thought he was going out to run for Toddler, got some batting action a little earlier than he might have expected. Pants and the Bigamist then put on Kytes third century opening stand of the season - an almost chanceless affair, apart from The Bigamist edging Saqib over the slips and Pants scooping a difficult chance to the deep that was put down. Pants was in sight of his 50 when he was first to go with the score on 115, smashing an Atta Ul Haq long hop to the point boundary, where Shahzad Yousuf jumped and grabbed a real palm stinger, saving 6 runs in the process. Lalith managed his second consecutive second-ball duck, caught in front by a straight one from Saqib. Kieran then joined the Bigamist for a well-paced 188-run partnership that had Saqib trying any number of bowling combinations to get a breakthrough - in all he made 17 bowling changes, using nine of his team members. But he had to wait till the 38th over before it came, when the Bigamist skied a drive to the midwicket boundary and Naveed made a good tumbling catch. By this time, Kytes had passed their best innings total and the Bigamist had outstripped not only Pants' highest individual score for Kytes (151 - a sullen "Congratulations, you c*nt!" was heard - it's that team spirit I was talking about), but also Munir Ahmed's highest individual score (164 vs Kytes and, incidentally, McKenna played in that match) in the KCL.
Saqib could have been forgiven for thinking he'd earned a little respite at this stage, but Arbab came in with a point to prove and only two
overs to do it in and smashed Saqib's final over for 24, including one
humongous charged six which sent the ball halfway to Umegashima.
Kytes finished on 342/3 off their 40 overs (the third highest score in
KCL history), with Kieran sitting pretty on 69 (off 62 balls, 4x4, 4x6 -
another competent, measured innings as he continues his climb up the Kytes order), and Arbab itching for more (25* off 8, 2x4, 2x6). Pants
had a quiet day by his standards (48 off 49, 3x4, 2x6), although he did
manage the shot of the day, a beautiful flicked 6 high over square leg.
And then there was McKenna. 169 off 116 balls, almost entirely
untroubled and particularly strong pulling and driving through the off.
It was hard to tell from the boundary, but the few Kytes that batted all agreed that Saqib (8-1-1-70) was the only real threat in the bowling
line-up and was unlucky to come away with such poor figures. Atta Ul Haq (8-0-2-54) was the only other bowler to get a wicket. It took Nagoya over three hours to bowl their overs, which is way too long and could cause problems if the other innings were to go on as long.
There was obviously a fair amount of confidence among the Kytes as they went into the field, but still some consternation that the weakened bowling attack could leak runs, particularly if Saeed Masood, Saqib or Shafeeq got going. In addition, Toddler was a passenger in the field (I know what you're thinking, but don't) and patently only going to stop the ball if it hit him (I said "Don't!").
Arbab took the new ball at the Bridge End and, after a loose first
delivery put away in style by Saeed, bowled tightly and caused problems. Bruce got a dream start from the Lone Tree End as Ali Imran nibbled at a full ball outside off and Kieran took a top rank catch diving right.
There was better to come, for Kytes at least, in the next over when
Saeed was hit half-forward by a length ball from Arbab. The umpire's
finger went up, Saeed hung around in dissenting disbelief, and the Kytes had seen off the danger man. Although Saeed's response didn't even merit a 1 on the Matthew Sharpe Dummyspitometer, he should know that he still has to walk if the finger goes up, just as Lalith did, even though he too was convinced he shouldn't have been given out.
Saqib and Naveed then attempted to rebuild the innings and garnered a solid 50-run partnership before Saqib fell to the Porn Star, who had
replaced Bruce from the Lone Tree End. Porno sent down quite a bit of dross, but hidden in between were a fair few gems and one of these
turned away, beat Saqib's outside edge and clipped the top of off stump. Lovely stuff. Mohammed Tariq also got a good start but was unfortunate to be bowled by one that kept low from Lalith - the only time the mat misbehaved all day.
It was about this time that a local enduro club chose to offer some
off-field entertainment, revving their way across the touch football
ground, along the track in front of the mound and up onto the terrace, all very Joe Cool. Unfortunately for them, the Grand Old Man was in
residence on the mound and, suitably unimpressed, he turned a fetching shade of puce and told them in no uncertain terms to get off the grass. The club leader, chastised but defiant, revved mightily to leave, hit a divot and collapsed in a heap. Class.
Meanwhile, back on the Oval, Shahzad had come in and looked willing to have a go, but with 7 runs to his name he turned Porno to fine leg and foolishly took on Francis' arm for the second run. Kieran completed the formalities. Next ball, Porn Boy offered Shafeeq a juicy slow full toss drifting down leg. "Hit me," it said, "Hard!" Shafeeq obliged and the Bigamist swooped on the square leg boundary for a good low catch. With Shafeeq out of the way, Naveed had run out of competent partners to mount a serious challenge, and decided to take on the Kytes bowlers by himself. The run-rate picked up but, two overs later, Atta Ul Haq became the Porn Correspondent's third victim as he drove hard to long-off and Pants glided to his right and made a difficult chance look very easy.
Nagoya were seven down for 124 at drinks and the match was as good as over. The Captain chose to replace Lalith with Pants after the break, to give
Pants a shot at establishing himself as a regular bowler. A wise
decision really, what with his batting falling off and all, he might
need the extra bow to keep his place in the side. Sure enough, Pants
caused problems from his second ball (we won't mention the first one) and was unlucky to come away with just the one wicket, when Atif tried to bludgeon his way to the long-on rope and picked out Arbab at mid-on.
Meanwhile, the Captain had persevered with the Porn Identity in the hope of the first Kytes 5-for in two years. With Pants taking the eighth wicket, the odds lengthened but, in his last over, the Porn Supremacy got his men as first Naveed and then Imtiaz gave him the charge but found fresh air and lost their off stump.
The innings wound up on 156 with one ball to go in the 24th over, giving Kytes victory by a thumping 186 runs.
For Nagoya, only Naveed got past 25. His 64 came off 67 balls (7x4) and looked a solid affair until he started to chance his arm later on. Saqib also looked competent, but was outdone by a good piece of bowling.
Arbab (5-0-1-26) was the pick of the bowlers, ably if expensively
supported by Bruce (4-0-1-28) and Lalith (5-0-1-32). But Nick
(7.5-0-5-51), who confessed that he has lost his porno glasses, made a new name for himself, and that name is Jammy Bastard. He chose a good time to prove the veracity of his own favourite mantra: "Shit gets wickets!"
The fielding was pretty hot, although both Lalith and Nick missed easy catches off their own bowling. Francis deserves a special mention as he sent in a series of class returns from the deep despite a (claimed) knacked shoulder.
Overall, a great day for the Kytes with another impressive batting display.
Thanks to Nagoya for the game, and especially the three who helped with the rolling. Off the ground, in the bus and on the road within ten minutes of time must be another record, but not one your correspondent would like to hold. Remember it's a game, boys.
Thanks also to the scorers, and to Fujimoto and Iwasaki of Max who did a good job of umpiring the match.
Man of the Match: Robb McKenna - Not bad. You're not going to let him get away with that are you, Pants?
Division 2 Fuji Far East C.C. beat newcomers Paddy Foley's C.C.
Fuji Far East C.C.: 185 (35 overs) (Extras, 68; A. McCloy, 54; Amila Jayasuriya, 4/34)
Paddy Foley's C.C.: 63 (19.2 overs) (N. Tainaka, 3/6; K. Orita, 3/17)
Fuji far East C.C. won by 122 runs
Umpire: Tauseef Azhar
Check Scoresheet HERE>>
Anton McCloy writes:
FFECC and Paddy Foley's met at Fuji 1 last Sunday on a cracking good day for cricket.
The toss, and who won it, is a mystery to your correspondent but FFECC batted first and struggled to 185 all out (only 10 of us) in the 35th over against an improved P.F bowling attack led by Amila Jayasuriya who finished his 8 overs with 4 for 35 – not a scruffy effort considering he was the 6th bowler used – another good discovery for Paddy Foleys' improving stable of cricketers. Mark Burns also applied good pressure at the bowling crease again finishing with 2/30 from his eight.
68 extras topped FFECC's scorecard as they failed to capitalize on a good opening 10 overs. The highlight being No. 10 batsman, Orita's boundary laden 13n/o showing the rest of us how it's done.
After a leisurely lunch break Paddy Foleys line-up started the chase badly and they were at one stage 3 down for 2 as FFE openers Orita and Saito put the pressure on.
The Paddy Foley's boys maybe under estimated the bowling and fielding skills of their opposition as all catches were taken and the pressure told with the last three wickets falling with the score on 63 in the 19th over.
Wickets were shared round with Orita and Tainaka taking three each with Tainaka going for only 6 runs of his 4.2 overs. Only Amila Athukorala's bold 19 of 18 balls at No.3 gave Paddy Foleys hope until a good catch close in by Masahiro Ito off Junior's bowling sent him back to the tent.
FFECC finally get a taste of victory and Paddy Foleys will be happy with a vastly improved performance in the field. The game was played in a good spirit displayed especially by the Paddy Foley men.

10/04/2005: Kanto Cricket League D-2:
The Kytes create KCL history by winning the first game through scoring rate rule!
Shizuoka Kytes C.C.: 279/9 (40 overs) (J. Chamberlain, 101; M. Sharpe, 63; M. Okamoto, 3/58)
MAX C.C.: 106/2 (24 overs) (M. Hirayama, 43)
Shizuoka Kytes won by 93 runs.
Umpires: B. Kininmont & G. Monteath
Scorers: R. Echigo, Y. Togashi, R-G. Martineau, H. Hirano
Check Scoresheet HERE>>
Neil Harrison writes:
Kytes kicked off their KCL 2005 campaign with a comfortable win over Max in a rain-affected match at the ACO. Yamaguchi won the toss and put Kytes in to bat, torpedoeing the Captain's hope of getting Max in and out as sharply as possible. Rain was due in the afternoon and it was a measure of Kytes' confidence that their main concern was to get a result before the heavens opened.
Pants and The Toddler put on another impressive opening stand for Kytes, taking the score to 130 at drinks, with the only casualty being Todd's hamstring on a pinched single the ball before the interval. Apart from Fukuyama, all of Max's bowlers proved far too inconsistent and the Pants in particular was batting with such authority that he was only going to get himself out. In fairness, he tried several times before succeeding, but always managed to pick out Ito on the boundary. Ito liked Pants' batting so much he even palmed one chance over the rope for six.
With Toddler ("I'm going to get fit") out of action for the rest of the day for a stately (that's what we in the trade call a euphemism) 23, Pants continued the post-beverage slaughter with Ashley, then shocked everyone by getting bowled by Uemura for 101. Uemura proved this was no fluke by cleaning up Lalith two balls later, but Matt stopped the rot, adding 40 runs with Ashley before the latter gobsmacked everyone by getting out for the first time this season and finally getting a batting
average (207, since you ask). Matt's been due a score for some time now (read between the lines), and after a few rusty clunks that nearly took off his own toes was soon timing the ball sweetly to the ropes, in the process blasting Uemura out of the attack.
Opening bowlers Okamoto and Fukuyama returned to pick up some cheap wickets in the slog overs, but by this time Kytes were easing past 250 and well in control.
For Max, Uemura continues to mystify batsmen with his triple windmill dobbers, but Matt proved that a little patience is the key to sorting him out. Fukuyama (8-0-2-29) was the pick of the bowling bunch, bowling accurately and getting good movement. Okamoto (8-0-3-53) took three late wickets, but was too wayward to be effective.
It was another good all-round batting show from Kytes. They really are getting the hang of this batting lark. The Pants' ton was obviously the pick: 101 off 79 balls with 11x4 and 6x6, but this was no slog fest - this was a cool combination of timing and confidence, such that it was a genuine surprise when he got out. Matt (63 off 51) also looked good after shaking off the cobwebs and there were valuable contributions from Todd, Ashley, Arbab and Bruce.
And spare a thought for our very own Bunny, who ran himself out again for a personal hat-trick in his last three dismissals.
With 279 runs on the board, defeat was never on the cards for Kytes and the only cause for concern was whether or not they could bowl the 20 overs necessary to get a result before the rain came in. As it was, the Captain kept the bowling and fielding changes to the absolute minimum and Kytes changed over with admirable speed. By the time it did start raining nastily, Kytes had run through 24 overs and a drinks break in under an hour and a half. This shouldn't give the impression that the Max bats were overwhelmed by the bowling. Yamaguchi and Hirayama opened up and put on 42 for the first wicket before Yamaguchi played back to Matt and played on. The expected collapse didn't happen as Amigo Kobayashi came in and looked just as solid as Hirayama. Some comedy Australian fielding gifted Amigo a couple of boundaries past long on at either end, but the bowling remained tight and, with the rain approaching, Max knew they were behind on run rate and decided to go after Lalith. This gave our Porn Correspondent down at long on the opportunity to show Ito how to do the job properly: Lalith pitched one up, Amigo heaved, Nick got under it and knuckled the ball safely inside the rope. It looked painful, but I bet it felt worse! Amigo made no mistake next over, heaving the ball way over the rope and into the bushes, never to be found.
This pair had put on 64 before Hirayama heaved Lalith once too often and picked out Matt on the midwicket boundary. With that, the umpires took the players off, and, with no sign of an end to the rain after 15 minutes, the match was called off. Hirayama was gone for 43 and Amigo remained not out on 28.
Matt (8-2-1-20) and Arbab (8-0-0-36) bowled their overs straight through and were replaced by Ashley (4-0-0-12) and Lalith (4-0-1-30), respectively. These were good tight spells until Max started to get after Lalith with the end of play looming.
We didn't get to see much of the Max batting line-up, but what we did see was very impressive, if a little stodgy. If they have any more batsmen who have improved as much as Amigo, they could be looking at another successful season.
Thanks to Max for the game, for all their help with the rolling and laying the mat (as usual, they beat the Kytes to their own ground). And thanks for joining us at the soba shop for the relocated barbecue.
The umpiring must have been good because there was nothing to say about it in the report, so thanks also to Brent and Gaz of the Embassy for a job well done.
Thanks finally to the scorers, all four of them, for a great job in what were, in the end, hideous conditions.
Man of the Match: Joel Chamberlain (The Pants) - Great innings - just wish it could have gone on longer.

03/04/2005: Kanto Cricket League D-2: Newcomers Cricket Club of Nagoya cruise past former D1 Fuji Far East C.C.:
Fuji Far East C.C.: 179/6 (M. Saito, 40)
Cricket Club of Nagoya: 182/6 (Saeed Masood, 44; Naveed Malik, 36; Saqib Khan, 32)
Cricket Club of Nagoya won by 4 wickets
Umpire: Mark Ferris
Check Scoresheet HERE>>
Mark Ferris writes:
In spite of predictions of 60% chance of rain, Nagoya were still able to record an emphatic victory over home side Fuji Far East on Sunday 3rd April. FFE captain Take did not hesitate in batting first once he won the toss and his openers looked comfortable against the Nagoya attack. They looked
comfortable but did not score freely. In fact, the first boundary of the innings came after about 10 overs and that is significant, given the quick outfield on Fuji Ground 2. The Nagoya side did not look like match winners at this point but then things changed. Three run outs occurred in the space of about 5 overs and the complexion of the game had changed. Even though the run rate was around 4 per over at the mid point of the innings, FFE were always going to struggle to post an imposing target. Some lusty hitting towards the end saw them scrape to a total of 179. Khan the Nagoya captain used his bowlers intelligently and special mention should be made of Shafeeq Ur Rehman (1/17) and Saqib Khan (1/30).
Chasing 180, Nagoya needed a few batsmen to see off the new ball and then settle in for some runs. This was made easier by the number of wides bowled by FFE's mostly medium pace attack, each of which took the pressure off. Some sloppy shots and some inspired fielding (Mark McTamney took a diving catch and executed a run out with a direct hit) gave FFE reason to hope for a win from time to time. But good knocks by Saeed Masood (44) and Naveed Malik (36) proved too much for FFE. A. McCloy was pick of the bowlers with 2 for 15.
In the end both teams will go away thinking they could have played a lot better and will hope to raise their standards as the season progresses.

04/04/2005: Kanto Cricket League Divisions 1 & 2 Schedules have been posted again due to JCA priorities and others!
Check 2005 Kanto Cricket League Divisions 1 & 2 Schedules HERE>>
Check Kytes' schedule HERE>>

27/03/2005: Kytes sweep double-header against newcomers Paddy Foley's C.C.:
Paddy Foley's C.C.: 49 (17.4 overs) ( A. Harvey, 3/7; N. Shannon, 3/13)
Shizuoka Kytes C.C.: 50/0 (4.2 overs)
Shizuoka Kytes won by 10 wickets
Shizuoka Kytes C.C.: 198/6 (20 overs) (A. harvey, 79*, K. File, 39)
Paddy Foley's C.C,: 165/5 (20 overs) (C. Jennings, 82; M. Davies, 35; T. Phillips, 3/17)
Shizuoka Kytes C.C. won by 33 runs)
Check Scoresheets HERE>>
Joel Chamberlain writes:
KYTES FINALLY GET NOT ONE BUT TWO WINS FOR 2005
Game One Result: Shizuoka Kytes C.C. defeated Paddy Foley C.C. by 10 wickets
After a shambles of a start to 2005 the Kytes finally got their game on as they trounced the hapless Paddy Foley C.C. boys. The day started strangely for the Kytes as all but one member had turned up before the opposition (which seems to be the same guy that leaves early too!) which got the lads asking the question: Do we have a game today? The captain reassured us that the P.F.C.C. were definately on their way but were having trouble finding the ground as it was their first time out to Shizuoka. As the P.F.C.C. lads slowly trickled in it was decided that they would bat first which only made sense.
When the game finally got underway it didn't take long before the wickets fell. Not like recent games, the Kytes kept on with attacking bowling and fielding which was relentless. Champion bowlers Ashy (Ashley harvey) and The Gazelle (Todd Phillips) ripped through the opening order who were later replaced but the deadly fierce spinning force of Porno (Nicholas Shannon) and Larry (Lalith Prelis). Porno who had his good luck charm ie his father watching from the terraces made his old man proud by snagging three sensational wickets. Porno gave Bigamist Robb McKenna good wraps for a spectacular diving catch and to Larry who yes "ran" and had the ball "fall" into his hands which he will claim, and a sensational stumping from Kieran whose years of honing of his catching sheep skills on the farm truly paid
off by taking the widest delivery Porno had to offer which he took
effortlessly and turned it into the best stumping money could buy! The P.F.C.C. lads must have been praying for rain at this time but only lunch came which they accepted with both hands. Lunch itself was special as both teams enjoyed the delicious curry made by Bunny (Shoaib Aziz). A special thanks goes out to all those who were also involved with assisting Bunny with the curry on game day and the night prior. It truly was a great curry and Im sure that we are all looking forward to Bunny's next effort. Looks like Bunny has
found his natural position for the Kytes. After lunch Larry cleaned up the end of the order with the first over back.
After a lovely lunch Bigamist McKenna and Pants (Joel Chamberlain) were left the daunting task of chasing 50 runs with only 35 overs. When out in the middle it seemed that some of the P.F.C.C. lads thought that they were in for a chance of snaring a few or if not all the Kytes wickets as their Captain Matt Burns started with a good over then they were quickly brought back to thinking that 50 is not much to defend when McKenna (32 off 10) was seeing the ball like a
basketball and tonked bowler C.Jennings for 24 off his only over hence pretty much sealing the win there and then. Pants (15 off 15) was able to steal a little bit of the lime light by scoring the winning runs. The game finished al ot quicker than it begun but the second match was definitely a morale boosting game for the travelling team.
Game Two. 20 over match. Shizuoka Kytes C.C. defeated Paddey Foley C.C. by 33 runs
Well the Kytes started off how they finished off the first game in a blaze of 4's and 6's. McKenna (18 off 9) and Safe Hands Kieran (39 off 27) paved the way for a big total. At this time the P.F.C.C. boys must have been thinking a couple of beers at the soba shop would've been better then continuing against the fierce?Kytes. But after two quick wickets there was a glimmer of hope shown by the away team and perserverd on. Kieran and Bunny had an interesting time in the middle where apparently Kieran gave Bunny (5 off 12) lesson 101 in Calling and Running Between the Wickets which he later failed as predicted by Porno during a turbulent partnership with Larry (18 off 20). With that in came in "Neil, I hope you don't mind I gotta leave early" Ashley (79 off 32)" and as in previous games terrorised the opposition with not only a timeless batting display but also superb bowling.
Don't worry mate, we will get you rolling the pitch with the rest of us one day soon! And finally finishing off the batting was our captain Neil Harrison (13 off 11) who must be happy with his batting so far as it doesn't matter what he does with the bat now as I am sure that whatever happens with future games he has surely got the runs to help him better his last year's batting average.
After scoring of 6 for 198 it was surely a seemingly impossible total for the P.F.C.C. lads to reach but with this in mind the Kytes never let off
their relentless fielding. Neil decided to open the bowling with ever
reliable Ashley and decided to give Pants a go and didn't let the Captain and his team down. With Pants' newfound bowling ability the Captain must now has another capable bowler to back up his already strong bowling line up.
The opening spell kept the visitors scoring at a snail's pace but they were able to see off the starting bowlers to their credit but by now it seemed surely out of reach. But as they say cricket is a funny game. The captain decided to bowl himself and Bunny who both started well but were later taken to by the big hitting opening batsman C.Jennings (82 off 58) and partner M.Davies (35 off 25) who apparently also enjoyed the spin attack off Bigamist McKenna and Porno. At this time near the end of the game the Kytes Captain decided to bring on The Gazelle to make sure that we got the win who had an interesting spell claiming three scalps and with the runout off Paddy Foley's star batsman C.Jennings killed off any chance of them getting a win.
It must be noted that The Gazelle fielded like a man possessed diving and chasing and showed the agility of a sixteen-year old ballerina! Truly you had to have been there to have seen it. Maybe the only time you would have been able to see such a performance from the big fella. Kytes ran out eventual winners but the day finished in the way it started which was in a good spirit. Cricket was a winner today (maybe we should add Bruce as well) as not only a great game off cricket was played on the Kytes number one oval but a fun game of Kanga cricket was also played out by the lovely supporters of both teams. Surely a great day of cricket enjoyed by all.



20/03/2005:
Kytes' makeshift team loses second friendly to newcomers Cricket Club of Nagoya in exciting encounter:
Shizuoka Kytes C.C.: 245/7 (J. Chamberlain, 69; R. McKenna, 59; Shafique Rehman, 3/57)
Cricket Club of nagoya: 247/6 (Saqib Khan, 72; Saaed, 47)
Cricket Club of Nagoya won by 4 wickets
Check Scoresheet HERE>>
Robert-Gilles martineau writes:
In Pendragon's words, another little blip on the Kytes' March to Glory at the weekend, but (no offence to the XI themselves) a pretty impressive performance, with the bat especially, when you consider the team we put out.
And after our first two performances the question on everyone's lips has to be: Have Kytes metamorphosised from "Can bowl but can't bat" to "Can bat but can't bowl (or field)"? Time will tell.
After Pendragon won the poss and elected to bat, Pants (69) "The Coach" amaased a healthy 136-run first wicket partnership bofr Pants fell to his first miscue. Newcomer Samir showed his batting ability in the few strokes he was allowed but rustiness after a 3-year blank made him miss a cross batted hit. Everyone after contributed his runs (not a single duck) and Prince Arthur hit his maiden boundary to the dismay of his Sire who could not match his Sibling's score. After 40 overs a score of 245 would have been enough in any game hadn't we missed 3 of our mainstay bowlers (who also double as very able batsmen) and our regular wicket-keeper, the opposition should have been sent packing. It did not happen, because apart of Kojak and Larry/Ali Baba, the bowling was simply woeful, Bilbo's keeping was a nightmare, except for a sharp run-out which surprised everyone and the fielding indifferent to mediocre with the exception of a fine catch by Prince Arthur to give his Sire better-looking figures than he deserved.
The discovery of "orders" not to consider lbw's two days later did not help and left a sour taste. But we did not deserve to win, although we thoroughly enjoyed ourselves.
Well, I know some future opponents who are in for a surprise next time they face us!

18/03/2005:
Youth Cricket demonstration held for Teachers at Miwa Primary School.
Cricket demonstration held for Teachers at Miwa Primary School.
Robert-Gilles Martineau visited Miwa Primary School for the first Youth Cricket demonstration aimed at the teachers of that particular establishment.
At 14:45, all 8 teachers of that comparatively small school (130-odd pupils) were all here eagerly waiting for your servant.
Due to very windy conditions outside, the lecture was held inside the gymnasium on a wooden floor.
The first step saw a board instruction (the teachers had already viewed a real cricket tape) with an explanation of terms and rules.
The second step stressed on the bowling and batting techniques.
The third step witnessed a real game lecture in pair matches (4 pairs).
Before bringing the demonstration to an end (the teachers had to attend a school meeting soon after), stress was put on the social side of Cricket and coaching in contrast with some military and outright offensive behaviour in some other sports in Japan, although it was clearly pointed out that Cricket was more a complementary discipline than a sport competing with others.
The lecture ended at 16:00 as all teachers were due for a general meeting.
After the demonstration your servant met Headmaster Satoh who explained that the school still had to establish its budget (mid-April) before they could decide how many cricket sets they would need. Kwik (Kanga) Cricket demonstrations for kids would start in May (the scholar year in Japan starts in mid-April). Cricket will be on the Physical Education regular classes as well as in sports Club Activities after classes and on weekends from April 2005.
I have extensively read the Milo manual sent to me and found it very usefule. However, I do think it better to develop an original programme aimed at the needs and mentality of Japanese kids. As soon as I have initiated a relation with their parents, I shall invite them on Sunday mornings before our games where they will play for a couple of hours and then spend some time watching real Cricket in the company of our Members.

14/03/2005:
Dragons C.C. beat the Kytes in penultimate over in firat friendly match of the year in spite of of Ashley harvey's maiden unbeaten century:
Shizuoka Kytes C.C.: 191/5 (A.Harvey, 102*)
Dragons C.C.: 192/5 (Ranjan, 100)
Dragons C.C. beat Kytes by 5 wickets
Check Scoresheet HERE>>
Todd Phillips writes:
For those of you who came to watch or play the Shizuoka Kytes 2005 opening match against the Dragons last Sunday, you would have noticed that whoever had forgotten to bring their scarf AND their ski jacket, were going to feel pretty uncomfortably cold for the whole days' play. Not exactly perfect playing conditions. A freshening South-Westerly that made the temperatures drop! Still, we managed to have a fairly competitive game which, 'shock, horror' Shizuoka lost!

The Kytes, sent into bat/choosing to bat first, had to go without the usual opening pair of myself and Pants due to a sudden bowel movement on my behalf just minutes before the start of play, forcing Ashley Harvey up the order to open. A tentative start was made by both openers as Shearer and Vallet kept them in line with some good, straight bowling. Then Pants got into his destructive mode with a cracking 4 but fired one straight to mid-on soon after off Shearer for 5. This brought on myself and I must say I was feeling a lot better after just having returned from the port-a-loo. I, who by the way hadn't brought my scarf or ski jacket, was very eager to start running for quick singles and two's to which Ashley took advantage of. I warmed up soon enough and started hitting some 4's, then promptly got myself out with a mis-timed pull shot for 14. Well caught at mid-on by C. Nick off B. Vallet's, in my opinion, nice, juicy chest-high full toss. Unlucky!
At this stage Shizuoka were 37/2 but still no panic bells yet as Ashley was looking well-settled. M. Sharp was next and was incredibly lucky NOT to get a golden duck when he hit one straight down the throat of backward square leg who dropped the sitter! With a second life Sharpie went on to make 7 before attempting almost the identical shot at the other end! This time, though the backward square leg fielder cleaned up. Now 56/3 with Lalith and Ashley batting. Lalith made a good start to 12 before being cleaned bowled by a goodie from David. This more than made up for the previous overs' blunder when David put down a relatively simple catch that Lalith had offered him on a silver platter. Kieran, our new wicket keeper, was Ashley's next partner and those two really accelerated the run rate. Beautiful cricket! Fast running between the wickets, working the 1's and 2's around the ground together with the odd 4 thrown in. That was the partnership that got us to 168 before Kieran was stumped for 28. With only a few overs remaining, Ashley and Arthur got stuck into some weak bowling at the end with the highlight being Ashley's 102 not out. Well-done mate! Awesome! Arthur finished on 7 not out and our final score was 191/5 off 35 overs. Not a bad total I reckoned.
So, freezing, and with the wind still not letting up, the Dragons started their first over with a 4, a wicket and a couple of singles. David completely leaving the gate open with a Sharpie delivery and finding his stumps uprooted. Bowled for 4. Then myself at the other end being rewarded with the wicket of Miland as I got one to hit his off stump. In the following over there was even more drama when Sandeep was run out by some suicide calling. The Dragons were in deep trouble at 16/3. Sharpie and I had them cornered but we were pulled out of the attack to make way for our spinners Lalith and Nick. Although they didn't bowl too badly, the batsmen Seen and Ranjan were able to settle in and rebuild the innings and I thought we had lost the initiative to put them into even further turmoil. So, with a bit of luck, and some good hitting on their part and lousy fielding on our part, those two went on to seal a great victory for the Dragons with Seen finishing unbeaten on 44 and Ranjan blazing his way to 100 before finally getting bowled by Sharpie. Then, with one over to spare, 192/4 was reached. I don't think our performance was too bad though. Our batting showed some positives although all of us except Ashley looked rusty. Our bowling for the most part was tight but there were some loose deliveries/overs and that's to be expected in our first game. Sharpie had the best figures of 2/20 off 6, Ashely 0/9 off 7 and myself, getting a bit expensive towards the end, with 2/43 off 7. BUT, our fielding was dismally awful as well as some placement decisions and that was a big contributing factor towards losing the game. Obviously, everyone will be looking to improve themselves in the field otherwise our fining system will go through the roof again like last Sunday!

06/03/2005:
First Kytes practice of the season at the Abe River Kano Bridge Oval!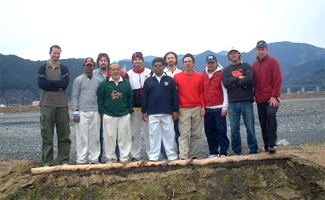 Look at the photos of the practice HERE>> (11 of them!)
March the 6th 2005 saw a record of 11 Kytes taking part in a 4-hour practice session at the Abe River Kano Bridge Oval
They are represented above proudly standing on the new Scorer's mound:
Lumbering Elephant (Todd phillips), Rabbit (Shoaib Aziz), The Bruce (Bruce Harris), Bilbo (Robert-Gilles Martineau), Ali baba (Lalith Prelis), Frizzy (Mark Steward), Pendragon (Neil harrison), Castaignede/Sharpy (Matthew sharpe), Porno (Nicholas Shannon) & Ashy (Ashley Harvey).
No less than 6 nationalities. Guess them?

27/02/2005:
Shizuoka Kytes acquire a new mower!
Avery much needed mower was acquired for 130,000 yen with tha help of the KCL contributing 100,000 yen.
Some Kytes Members gracefully donated more money to help the club: Patrick Harrington (5,000 yen), Neil harrison (5,000 yen), Robert-gilles Martineau (5,000 yen), Robb McKenna (3,000 yen), Joel Chamberalin (3,000 yen), Mark Steward (2,000 yen), Ashley harvey (1,000 yen) and Todd Phillips (1,000 yen).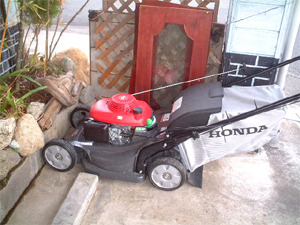 27/02/2005:
First Youth Cricket Demonstration to be held in Miwa Primary School on March 18th!
Robert-Gilles Martineau will hold a demonstration of Kwik (Kanga) Cricket for the benefits of the teachers of Miwa Primary School on Friday march 18th from 15:00.
The first demonst\ration/coaching session for children will be held in late April when children are introduced to their Club activities (the scholar year in Japan starts second week of April).

26/02/2005:
Our boozer bar/pub in Shizuoka City has become our Official Sponsor in March 2005!


For a start, Our Boozer has kindly accepted to help us with our new logo-ed Cricket shirts which should bear both logos!
Read Introduction to our Sponsor HERE>>

26/02/2005:
a few changes in2005 Shizuoka Kytes Cricket Club Schedule:
Check Kytes Schedule in 2005 HERE>>

16/01/2005:
More Major works started on Shizuoka Kytes Ground:
Australian Hi-Tec!

(Rabbit, The Escapee and Castaignede)

From 09:30 to 17:00, a horde of Members came and went to assist with some more heavy work:
(in nicknames order) Bilbo (Robert-Gilles Martineau), The Bruce (Bruce Harris), Bubbly (Ayako Fujii), Castaignede/Sharpy (Matthew Sharpe), The Dowager (Kyoko Harrison), The Escapee (Kieran File), Frizzy (Mark Steward), Hachi & Beehive (Jamie Rowe and the Tribe), Lumbering Elephant (Todd Phillips), Pendragon (Neil Harrison), Prince Arthur (Arthur Harrison), Princess Belle (Belle harrison), and Rabbit (Shoaib Aziz)
Th first seating area has been at last all dug up, flattened with the help of Australian High Technology, and partially gravelled. The Scorers' Mound has been grassed on 3 sides (just needs one more layer of gravel and some grassing at the back). The drainage has been upgraded, and the weeding been started in earnest.
What's left to do?
A little more work on the Scorer's Mound, the gravelling of the firts seating area, a second and third seating area and weeding, more weeding and even more weeding!

15/02/2005:
Youth Cricket development programme:
First Interview at Miwa Primary School successfully conducted!
Today we went through the first stage of a Youth cricket Programme we are initiating in Shizuoka City (and hopefully in Shizuoka Prefecture!).
Robert-Gilles Martineau was interviewed by Mr. Koichi Sato, Headmaster of Miwa Primary School and Mrs. Kazuo Nishida, teacher at same school who happens to be a student/friend of his.
Mr. Sato agreed to introduce Cricket in the school curriculum as a subject in Physical Education classes as well as an extracurricular recreation/club activity after classes and on weekends. This is a small school, but being very near our ground in Shizuoka, it is ideal for a start and for exposure to real Cricket!
Robert-Gilles shall visit the School twice again in February and March to hold a demonstration/instruction session for the teachers' benefit. We shall start in earnest from April, beginning of the Japanese scholar year. Robert-Gilles has put aside every Tuesday afternoon to that effect, and will personally supervise (voluntarily) school (s) from now on.
There are 35 primary schools in Shizuoka City (Shimizu not included) and we hope to cover them all within the next 6 years. The next 3 years will see the club concentrate on Junior High Schools, and the following 3 years on Senior High Schools, making a total of 12 years, which will hopefully see a noticeable development of Cricket in our area!

06/02/2005:
2005 Shizuoka Kytes Cricket Club Schedule announced!:
The active season will start on March 13th vs. new club Dragons C.C. (formerly called Goldman sachs C.C.) and finish with a friendly as late as December 11th (due to global warming!).
For the first time, it will include a tour of Hokkaido with 2 games against the locals!
As for 2006, a tour to New Caledonia is also on the cards end of March!
Check Kytes Schedule in 2005 HERE>>

16/01/2005:
More Major works started on Shizuoka Kytes Ground:
(A few) Kytes Members again came to the ground (between 10:00 and 13:00) to spend the day (until 16:30) to continue the work started last December. The trench has been finally completely dug and the drainage checked. Good job done. Special note for Prince Arthur who had made it hiss Knight Coming of Age Task! The building of the of the Scorer's Mound is almost completed, mainly thanks to Prince Arthur, Pendragon, Bilbo and the stomping off Porno. Just some more gravel on top after a few rains and the grassing of the slopes are left to do. The first seating area has seen its first third tilled mainly thanks to the sweat and tears of Lumbering Elephant, Whinger and Rabbit with the occasional encouragements of Porno, and will become the main job for the days ahead.. We also pared and carried an enormous log from the river to create an original piece of seating with the help of Yoshida San's expertise and the brute work of The Bruce!
This ant's work was achieved thanks to the hard work of (alphabetical order):
Harris Bruce, Harrison Arthur, Harrison Neil, Martineau Robert-Gilles, Phillips Todd, Newman Francis, Shannon Nicholas, Shoaib Aziz.

29/12/2004
Youth Cricket expansion Programme: one public Elementary school greatly interested:
Miwa Shoogakko (Miwa Elementary School) , located in the vicinity of the Kytes C.C. Ground has expressed a great interest in introducing Kanga (Kwik) Cricket in their curriculum from 2005.
Robert-Gilles Martineau will hold a conference in February 2005 at the school for the benefit of its teachers. Members of the Kytes C.C.. will regularly visit the school to demonstrate the game. Miwa Elementary school, a City public School will also help the Kytes C.C. obtain contacts with other public schools in their drive to expand the game at the roots level.
Regular reports will be posted!

29/12/2004
The new Kytes Logo announced:

The members of Shizuoka Kytes Cricket Club have voted for the above logo designed by Ayako Fujii and will be embroidered on the Club Shirts to be woen by all members from 2005!

23/12/2004
Greetings from Martin Firbank: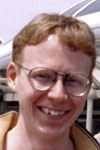 Dear All,
Thanks for keeping me up to date with the Shizuoka Cricket news.
I trust that you are well and are continuing to enjoy life in Japan.
2004 was a good cricket year in England. The test team has been very successful, and, after the good start in South Africa, is continuing the trend. Let's hope Australia in the summer won't destroy the run! On a personal note I had a good year, and scored quite a few runs.
My Club, Attenborough Cricket Club, will be celebrating its Centenary in 2005. We have a lot of events planned to celebrate, and hope that we will have a lot of fun along the way.
Wishing you and all the Kytes a great Christmas, and hoping that 2005 will
be a very enjoyable year for you all.
Best wishes
Martin


12/12/2004:
Major works started on Shizuoka Kytes Ground and AGM: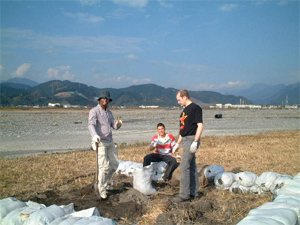 (A few) Kytes Members and a couple of lost souls came to the ground (between 9:30 and 13:00) to spend the day (until 16:00) digging a trench (unfinished) to evacuate stagnant rain waters, clean the "street" from the muck (almost finished) and build a scorer's mound (half finished) which required moving more than 4 tonnes of earth and dirt. This convict's task was achieved thanks to the hard work of (alphabetical order):
Chamberlain Joel, Francois the Swiss, Fujii Ayako (Lady!), Harrison Arthur, Harrison Neil, Lalith Prelis, Martineau Robert-Gilles, Phillips Todd,Ribault Pierre-Laurent, Shannon Nicholas, Shoaib Aziz.
(part of) the group repaired later to Yoshidaya Soba Shop to hold a raucous AGM: Check AGM Report here!
Important footnote: Ayako "Bubbly" Fujii submitted four possible logo projets to the AGM, one of which was chosen as the base for the Kytes' new logo. The definite logo sould be ready within the next few days!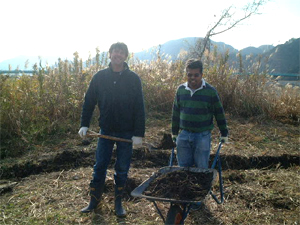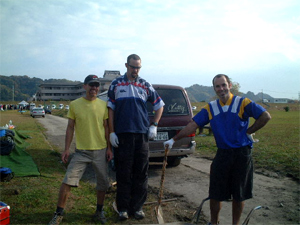 30/11/2004:
Shizuoka Kytes C.C.'s STATS Horror Show!
Shizuoka Kytes somehow finish the season with 7 wins for 5 losses. Yes, only 12 games and all that rain! A new schedule format will be discussed at the Club AGM on December 12th to provide more games for all members!
See STATS Horror Show HERE>>

28/11/2004
Shizuoka Kytes C.C. 20th Anniversary series:
Shizuoka Kytes completes its celebrations with another thrilling win!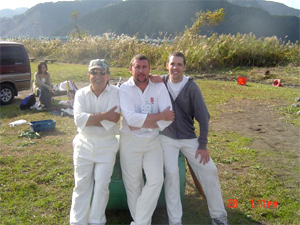 Bilbo, Maka & Cagey

Shizuoka Kytes C.C.: 212/7 (35 overs) (N. Harrison, 63; T. Phillips, 45; Extras, 35; Rahul, 3/22)
Tokyo Indian Engineers C.C.: 206/9 (35 overs) (nari Ram, 45; Viswa Ghosh, 35)
Shizuoka Kytes C.C. won by 6 runs
Look at the pictures. 19 of them, blimey!!>>
Read Report by "Porno" Nicholas Shannon>>

14/11/2004
Shizuoka Kytes C.C. 20th Anniversary series:
Shizuoka Kytes C.C. squeeze past with 1 ball to spare over the Tokyo Brtish Embassy C.C. in the thriller of the year:
Tokyo British Embassy C.C.: 158 (K. Irie, 65, N. Shannon, 3/15)
Shizuoka Kytes C.C.: 159/7 (M. Sharpe, 39; K. File, 33)
Shizuoka Kytes C.C. won 3 wickets
Robb McKenna writes:
For a match devoted to celebrating cricket in Shizuoka for the past 20 years, the Shizuoka Kytes and their best of foes down the years, the British Embassy put on a game to be remembered through the ages (or for a week or so at least).
And although a slow pitch stifled the quality of cricket at times, the spirit of the match and the contest really shone through on the day. And as Robert Martineau would no doubt attest, cricket was the winner, and long grass was the loser.
With a planned BBQ for the afternoon, the match started a little earlier than normal at just after 10:30 and was reduced to a very civil 30 overs apiece. The Embassy won the toss and opened up with Captain King and Doherty adhering to the captain's policy of batting order decided by arrival time at the ground.
Unfortunately Andy had his stumps shattered by Matt Sharpe in the 3rd over for 2, a favour he was to return later in the match. Anton Winston then achieved that rarest of feats, a diamond duck, by attempting a suicide single without facing a ball and being beaten by a direct hit from Francis at square leg.
The Embassy in early trouble but enter the batsman of the day Ko Irie, who with an uncomplicated style of keeping the good ones out and belting the bad ones for 4's and 6's managed to put together a good partnership with Doherty, before Doherty played over the top of one from a man wicketless for 2 years, Nick Porno Shannon.
Ko Irie was particularly harsh in Lalith with a few mighty 6's onto the gateball track, and thankfully a cessation to the gateball soon after the carnage began saved the Kytes from forking out massive amounts of insurance for geriatric pain and suffering.
The old adage of never running on a misfield raised its ugly head again, when a powerful drive from Irie ricocheted off Arthur Harrison's body (the foolhardiness of youth), and Porno swooped to calmly run out Tom Goodwin at the keeper's end.
Porno also managed to bowl Gareth Monteath soon after to raise his bowling average to an impressive 1 wicket per year, and it looked like the Kytes could roll the Embassy for a reasonable total.
The sticking point was Irie of course, and it was the unlikely bowling heroes of the Harrison family that came to the rescue. Papa Harrison started things off with an LBW on Daley and then Arthur Harrison was thrown the ball by Dad, and proceeded to follow a first ball which bounced twice with a straight one that Brent Kininmont attempted to smash out of the park only to delight his young adversary by missing it and being bowled for a duck.
Well Dad wasn't going to be outshone by the young upstart from the next bedroom, and managed to tempt Irie into chipping back a catch to the bowler in the next over, removing the dangerous young batsman for a match topping 65, an innings which impressed everyone not only for brute power, but for the composure and intelligence shown throughout.
The ding-dong father-son battle continued when Arthur removed a charging David Envall stumped for 6 by Kieran File. The final rites of the innings were not complete however, and Chris Thompson managed to show Arthur the other side of bowling with a few big sixes over square to record a potentially match turning 25. McCloy finally caught him on the last ball of the innings at deep mid-on off the bowling of Porno again, who proved that he is well and truly back in Japanese cricket as much with the ball as with his mouth.
And where you might all be asking was one Mr. R-G. (Bilby) Martineau during all of this? Well the Kytes have finally found a fielding position that suits him down to the ground, or should we say the grass. Robert dutifully spent almost the entire Embassy innings slashing the long grass by the river in a project to reclaim more of the ground back from Mother Nature. Even when we tried to talk to the famous Frenchman he ignored us, much to the chagrin of a team bred on the fatherly banter of the 20-year veteran.
The second innings began soon after with King and Envall keeping things very tight against the Kytes' openers McKenna and Joel Chamberlain.
Joel was in fact stumped off Envall from very handy glovework from Tom Goodwin, but a no-ball call cancelled out the wicket.
The Kytes' openers managed to see off the dangerous King, but Chamberlain succumbed to Kininmont LBW in the next over, and then Envall had McKenna playing all over the top of a good yorker to change the match fortunes very quickly.
It took an obstinate former Kytes' Captain, Anton McCloy to bring some stability back to the proceedings and manage to stave off the dangerous Envall, who in the mean time had also had Lalith stumped off a wide down the leg side by Tom Goodwin, surely the best keeper in Japan.
Matthew Sharpe joined McCloy for a consolidating 43 run partnership that looked like at least giving some respectability to the score for the Kytes at first, but started to raise a few possibilities when Sharpe and McCloy upped the ante after drinks.
Still it was a long shot by any stretch of the imagination, and when McCloy holed out to a good spiraling catch by that man Ko Irie, and Francis had his stumps rattled by Daley for 1, the match certainly seemed to favour the Embassy boys.
However one thing that the McCloy/Sharpe partnership had succeeded in doing was keep wickets in hand for the final assault, and despite Sharpe's departure for a match turning 39 when bowled in the revenge battle with Andy King's second spell, there was still some batting to come for the Kytes. New Zealand calm and forthrightness came to the rescue in the form of new Kytes recruits Kieran File and Ashley Harvey, who were finally faced with the imposing yet very possible target of 39 runs off 4 overs. Harvey took the initiative with some handy 4's, and scampered runs kept the score flowing. It was a quick run however that left Harvey run out by half of the pitch during confusion off the last ball of the second last over, and it left Kieran File facing the last over with young Arthur Harrison supporting at the other end. The Kytes needed 14 to win off 6 balls from Chris Thomson, and even Robert stopped cutting the grass to watch.
Kieran succeeded in flaying the first ball high over square leg to register a 6, followed by a wide, and then lofted a 4 over midwicket off the second. From the jaws of defeat it was now the Embassy on the defense, but a dot ball a kept things interesting. A scampered 2 runs looked to secure the match for a draw at least, but a short run left 2 to get off 2. Kieran finished the match off with a steer through gully for 2 more, to register the most unlikely of victories for the Kytes. It is rare that a match will come down to the last over, an appropriate finish for one of the best but most friendly of rivalries in Japan cricket. Player of the match goes to Ko Irie on the losing side.
The match was followed by a BBQ organized by Robert and the Soba shop dude with at least 20 supporters from the Shizuoka area coming along to join in the celebrations. It was in the dwindling twilight that all players stayed around to enjoy the real essence of cricket in Japan and raise a little money for club coffers along the way.
Well done to Robert and Neil for working very hard to organise the event and particularly to Robert for keeping cricket in Shizuoka going for the past 20 years. Thank you to the Embassy boys for their hearty opposition and to an unmentioned trio for filling in and taking some of the local lovelies Karaoke singing after the formalities were completed.
A great day played in good spirits with Robert presiding over all on the back of his devotion to cricket, and even greater devotion to long grass destruction!

07/11/2004
Shizuoka Kytes C.C. 20th Anniversary series:
Shizuoka Kytes C.C. beat new club Goldman Sachs C.C.
Shizuoka Kytes C.C.: 217/4 (A. Harvey, 67, Lalith Prelis 43; Deepak, 3/21)
Goldman Sachs C.C.: 173 (Seane, 63; D. davies, 32; A. McCloy, 4/40; M. Sharpe, 3/30)
Shizuoka Kytes C.C. won by 44 runs

13/11/2004:
Mr. O'Connor, Vice-Chairman Of Cricket Australia visits Japan:
The vice-Chairman of Cricket Australia visited the Fuji and Shizuoka Grounds as part of a survey in view to consider the JCA as a new Associate member of the ICC. Subsequently talks were conducted about Under-19 and Under-15 Squads programs.

24/10/2004
Pacific Cup Semi-final:
Tokyo Wombats C.C. demolish Shizuoka Kytes C.C.
Tokyo wombats C.C.: 223/7
Shizuoka Kytes C.C.: 36
Tokyo Wombats C.C. won by 187 runs
No comments there as R-G. Martineau was away on scoring duty and that Captain Neil Harrison was drowning into chagrin!

19/09/2004
Friendly: Wyverns crush a made-up Kytes team:
Wyverns 227/9 (40 overs) (Edagawa 55; Anajna 37; Noguchi 30, N. Harrison, 3/46)
The Real KCL All Stars 78 (24.4 overs) ( Mori 4/34; Anajna 3/11)
Wyverns C.C. won by 149 runs
I really enjoyed that match! Although the team showed its age in the field, I thought the on-field atmosphere was great.
Neil.
Well, not me! Robert-Gilles

05/09/2004
Kanto Cricket League: Typhoon No 18 wrecks the day fot the Kytes and their last chance to qualify for the play-offs:
Dicision 2:
Shizuoka Kytes C.C. vs. Tokyo Bay Districts C.C. (Shizuoka/Nari Ram)
Drawn (rained out)

08/08/2004
Friendly:
Shizuoka Kytes C.C. get their revenge against Tokyo Indian Engineers C.C.
Tokyo Indian Engineers C.C.: 129 (31 overs) (Extras, 41; M. Stewrd, 4/16)
Shizuoka Kytes C.C.: 120/3 (29.5 overs) (J. Chamberlain, 54*)
Shizuoka Kytes C.C. won by 7 wickets
Neil "Skipper" Harrison writes:
The Kytes and the Indian Engineers pulled off another of their "ultra-friendlies" down at the Abekawa Cricket Oval, Kytes avenging their defeat earlier in the year with an eventually convincing 7-wicket win.
Biju again won the toss for Engineers and chose to bat in humid conditions that promised help for the bowlers, although a mid-morning drizzle left a slippery sheen on the mat to slow down the bowlers' approach early on. Both teams were missing three key players.
Nisar and Anil opened up for the Engineers, but apart from their openers, the Engineers had reversed their batting order. Mark opened the bowling from the Mountain End for his first extended spell for the Kytes and didn't disappoint, taking a wicket in each of his first four overs. The Toddler meantime made up the entertainment from the Ocean End by taking himself out of the attack after two overs suffering from total body failure, which he tried to pass off as heat exhaustion. But the Engineers just couldn't get going and Mark knocked back the stumps of both openers, had Ashok the Spin caught behind by the Grand Old Man and then had to hold onto a skier from Santosh which, judging by his body language, he really wanted somebody else to get under. By this time, Sylvester had anchored himself at one end and he saw off the remainder of Mark's first spell as well as some accurate bowling from the Captain and new Kiwi Ashley. The Captain managed to snare Yogesh with a slow full toss - one of those LBWs that you shouldn't have to appeal for - but from then on the Engineers batted with more grit and technique and started to build a decent-looking score. It took a sharp bit of work from the Grand Old Man to get the next wicket, as Biju was sent back by Sylvester and Robb's throw came in high. A run of half-decent partnerships then followed, but the wickets fell regularly enough for the Captain to mix up the bowling. Of particular note was the dismissal of Bobby Phillips - caught by Patrick "I only came down to watch" Harrington after skying high and wide to mid-off. Sanjeeb was eventually left without partners when Nari mistimed a full toss to Lalith at mid-on.
For the Engineers, Nari Ram (20) was the only man to reach 20 and he looked in good touch (the sort of touch that gets you selected for the JCA Board XI - well done, Nari!). He was well supported by Sylvester (18 - in fact, he didn't play a single false shot and was unlucky to play a firm clip straight to Mark at square leg) and Bobby Phillips (15), but the Kytes' fielding was too sharp and the outfield too lush for the score to go too far.
With two exceptions, Kytes bowled very well indeed. Mark (5-0-4-16) did the early damage, while Ashley (8-1-2-28), the Captain (5-1-1-10) and Lalith (5-0-1-12) kept the Engineers tied down. Unfortunately, the Captain allowed a couple of Australians to bowl, and their 6 overs went for 50 runs.
Robb and Joel opened the Kytes' chase and had to deal with excellent spells from Nari and Sanjeeb. Robb tried to break out by punching drives to the mid-wicket boundary, but a good piece of field placement got him third time, although Sylvester had to juggle the catch and suffered a nasty cut for his troubles. Ashley and Arthur then fell in the space of a few balls and at 35/3 the hint of a collapse was in the air. But the Toddler and Joel batted very solidly for an unfinished partnership of 78. Then, with the score on 113, the Toddler copped a full toss on his hand to give him another injury to whine about (well done, Nisar!) and then Biju persuaded Joel to tonk the ball into his own cheek. Two batsmen retired hurt with no addition to the score, but Francis and the Captain saw the Kytes home with little fuss.
Sanjeeb (7-2-0-13) and Nari (7-1-1-28) bowled extremely well, and Nisar (6-0-1-15) and Biju (5.5-1-1-20) also chipped in, but as with the Kytes' bowling, there's always a minority that tries to spoil it for everybody, and two regular bowlers, who will remain nameless for the sake of their pride, went for 47 off 4 overs.
The Engineers fielded very tidily and, like the Kytes, took every chance that came their way.
Thanks to the Engineers for another great day, for the loan of fielders early on and for joining us in the soba shop again.
Thanks also to Patrick for that blast from the past - sent a shiver down your correspondent's spine, it did.
Man of the Match: Joel - Made amends for some shocking bowling with a patient, well-judged innings.
Congratulations not only to Nari, but also Vishwa and Sriram of the Engineers and Matt Sharpe of Kytes on being selected for the KCL All Stars and JCA Board XI for the upcoming Japan Friendship Cup in Fuji.
And finally, commiserations and apologies to the Toddler who, it turns out, was suffering from a lung infection.

18/07/2004
Friends XI C.C. confirm against Fuji Far East C.C. in record few wickets game!:
Fuji Far East C.C.: 210/3
Friends XI C.C.: 214/2
Friends XI C.C. won by 8 wickets
Umpire: Jarrad Shearer
Details coming soon!

11/07/2004
Kanto Cricket League
Division 1:
Sudden hailstorm wrecks the day in Fuji:
Division 1:
Fuji Far East C.C. vs. Tokyo British Embassy C.C.: Drawn (washed out)

04/07/2004
Kanto Cricket League:
Division 1:
Fuji Far East C.C. bowlers send Yokohama C. & A.C. packing in another upset:
Fuji Far East C.C.: 169/9 (40 overs) (H. Takahashi, 38; Extras, 35; Kamran Ali, 3/32)
Yokohama C. & A.C.: 102 (30.4 overs) (Avinash Jadhav, 31; N. Tainaka, 4/31; J. Saito, 3/27
Fuji Far East C.C. won by 67 runs
Umpire: Chris Thurgate
Division 2:
T. Yamaguchi and M. Hirayama score first-ever 100-partnership by Japanese players from an exclusively Japanese team to upset Shizuoka Kytes C.C.!:
Shizuoka Kytes C.C.: 130 (38.4 overs) (T. Phillips, 45; Extras, 31; K. Kitamura, 4/31)
MAX C.C.: 131/2 (T. Yamaguchi, 59*, M. Hirayama, 37)
MAX C.C. won by 8 wickets
Umpire: Vimal Vikrant
Scorers: Yukiko Togashi & Robert-Gilles Martineau

27/06/2004
Friendly: 9 Shizuoka Kytes no match for Tokyo Indian Engineers C.C. in spite of 3 hat-trick chances:
Tokyo Indian Engineers C.C.: 151 (33.5 overs) (Bobby Phillips, 33; Extras, 32; N. Harrison, 3/18; S. Akagi, 3/38)
Shizuoka Kytes C.C.: 82 (25 overs) ( Sanjeeb Sahoo, 4/21)
Tokyo Indian Engineers C.C. won by 69 runs.

27/06/2004
KCL Umpiring Seminar
Anton McCloy conducted a very successful and instructive lecture at Okubo sports Plaza, Shinjuku, Tokyo, Everyone truly interested in cricket ought to read the minute of the lecture HERE>>

19~20/06/2004
Kanto Cricket League
Division 1, June 19th:
Captain T. Fuji helps Millennium C.C. to somehow squeeze past improved Fuji Far East C.C.
Millennium C.C.: 213 (40 overs) (T. Fuji, 72; Munir Ahmed, 51; T. Yamamoto, 3/41)
Fuji Far East C.C.: 206/9 (Mahen Fernando, 53; T. Sugimoto, 44)
Millennium C.C. won by 7 runs
Umpire: Kamran Ali

06/06/2004
Kanto Cricket league
Rain spoils the fun:
Division 1:
Fuji Far East C.C. vs. Wyverns C.C.
Drawn (rained out)
Division 2:
Shizuoka Kytes C.C. vs. Ichihara C.C.
Drawn (rained out)

30/05/2004
Kanto Cricket league Division 2:
Shizuoka Kytes C.C. brought back to earth by solid new-look Tokyo Wombats C.C.
Shizuoka Kytes C.C.: 80 (A. Koolhof, 3/34)
Tokkyo Wombats C.C.: 83/2 (R. Conway, 45)
Tokyo Wombats won C.C. won by 8 wickets
Umpiires: Y. Shimada & H. Yonekura

16/05/2004
KCL Division 2:
Rain once again frustrates Shizuoka Kytes C.C.!
Shizuoka Kytes C.C. vs. Lalazar Sports C.C.: Match drawn (rained out)

08~09/05/2004
May 9th
Unwelcome rain the only guest at the Shizuoka Oval!
KCL Division 2:
Shizuoka Kytes C.C. vs. Adore C.C.: Drawn (Rained out)
May 8th
KCL Division 1:
Indian Engineers C.C. clobber unfortunate Fuji Far East C.C.:
Indian Engineers C.C.: 216 (39.3 overs) (Bikash Mohanty , 37*; wides: 59; T. Yamamoto, 3/28)
Fuji Far East C.C.: 88 (34 overs)
Indian Engineers C.C. won by 134 runs.
Record broken: wides (59)
Umpire: Tim Lodge

25/04/2004
Kanto Cricket League
Division 2:
Joel Chamberlain (151) and Matthew Sharpe (79)'s all-time record-breaking partnership of 239 help Shizuoka Kytes C.C. beat new-look Edogawa Falcons C.C. in run fest!:
Shizuoka Kytes C.C.: 307/6 (40 overs) (J. Chamberlain, 151; M. Sharpe, 79, Extras, 44, Pupa Ranasinghe, 3/19)
Edogawa Falcons C.C.: 238 (29.2 overs) (Udaya Athukorala, 44; Mohammad Irfan, 42; Sujith Dharmasena, 32; Neal Walpolla, 30; Extras, 38; T. Phillips, 3/6)
Shizuoka Kytes C.C. won by 68 runs
Records: 3rd-wicket partnership (all-time record): Joel Chamberlain & Matthew Sharpe: 239
7th-wicket partnership: Udaya Athukorala & Pupa Rasaninghe: 59
Umpire: Tauseef Azhar
Scorer: Robert-Gilles Martineau

12/04/2004
KCL Division 1
2003 Champions Tokyo Giants C.C. easily overwhelm Fuji Far East C.C.
Fuji Far East C.C.: 82 (Tauseef Azhar, 3/18)
Tokyo Giants C.C.: 83/4
Razzaq Chima of Tokyo Giants C.C. equalled the record for most catches in a single match (3)!
Tokyo Giants C.C. won by 4 wickets
Umpire: Kamran Ali

09/04/2004
TheFinal National Japan Squad has been announced! Takahashi Hirokazu ("Junior") and Orita Kazuhisa of Fuji Far east C.C. have been selected!
The composition of the Japan Squad is as follows:
Fuji Tetsuo (Captain/Millennium C.C.)
Hanada Jummei (Vice captain/Wyverns C.C.)
Chino Tatsuro (Wyverns C.C.)
Ferris Mark (Yokohama C. & A.C.)
Matsubara Yuta (Millennium C.C.)
Miyaji Naoki (Millennium C.C.)
Mohammed Rizwan (Millennium C.C.)
Mumtaz Alam (Tokyo Giants C.C.)
Munir Ahmed (Millennium C.C.)
Nakamura Shuichiro (Wyverns C.C.)
Orita Kazuhisa (Fuji Far East C.C.)
Saida Naoaki (Millennium C.C.)
Takahashi Hirokazu (Fuji Far East C.C.)
Wadano Ken (Tokyo Bay Districts C.C.)

21/03/2003
Friendly: Ozzies somehow carry Kytes past stubborn Tokyo Bay Districts C.C.!
Shizuoka Kytes C.C.: 208/6 (40 overs) (J. Chamberalin, 61; F. Newman, 40*, Extras, 36)
Tokyo Bay Districts c.C.: 180 (34.4 overs) (Sameer Chowdhery, 49; Extras, 35, M. Sharpe, 4/32)
Shizuoka Kyes C.C. won by 28 runs
Robert-Gilles "Decrepit Napoleon" writes:
Once again we did not make the numbers (only 10 of us!), once again the game was somehow managed in spite of the prevailing bad weather (Bleeding cold it was, mate!) and once again Skipper Neil "Genius" Harrison lost the toss, but would have opted to bat anyway!
All was in our favour, apparently.
Genius decided on a new opening pair and dividends were paid off in spite of Todd "Lumbering Elephant" Phillips (10) being bowled by a horrendous shooter (mate, if you had contributed to the rolling, you would have nothing to complain about!).
Arbab "Kojak" Mohammad (28) took the leading role in his partnership with Joel "Pants" Chamberlain who was happy to let his partner enjoy some lucky breaks in their 64-run partnership. Once Kojak had departed, comprehensively clean-bowled by a better one, Pants (61) took over in typical Ozzie aggressive manner with gutsy boundaries and sixes over the top. Matthew "Castaignede-Barrel-XXX" Sharpe (10) tried to emulate him but fell to a splendid first-slip catch, prompting him in his usual colourful comments which had ladies and faint-hearted souls flee from the place. At 127, Pants was somewhat harshly adjudged lbw to a full toss and the expected collapse was around the corner.
Thanks to a rejuvenated Francis "Softhands" Newman (40*), for once it did not happen. After some interesting French cuts and Ozzie steaks, his bat found the middle and the balls started flying over the bemused bowlers. After Shoaib "Joker" Aziz (7) ran himself out in a desperate attempt to prove he could score a "score", Neil "Genius" Harrison (14) made his point that ducks and pixies were not going to plague him any longer and was rewarded with the relieved clappings of his charges when his short but entertaining stay at the crease ended with an lbw, which for once drew no comments. Aditya "Adi" Kulkarni (2*) finally made an impression by scoring on each ball he received and the innings was finally closed with an extra dessert of 36 extras.
For once the Kytes bowlers were impatient to resume hostilitites and interestingly enough everyone seemed keen to go through the warming up catching.
But the Tokyo Bay Districts boys and their Wyverns allies were certainly not ready to go quietly.
Cataignede-Barrel-XXX got the first breakthrough by tempting D. Davies (6) into a rash shot to knick for Genius to catch behind, although it took some deliberations for the umpires to agree that the ball had carried till the keeper's gloves. Sachin Chowdhery (12) fell shortly later to the same bowler's sharp inswinger. Sachin's brother Sameer chose the moment to enjoy some insolent luck as well as the seven lives of a cat widly edging drives over the slips with an alarming regularity before his partner K. Wadano (17) finally fell to Adi's best ball of the day tempted into a false shot to lose his off stump. Mayank Dabral soon fell crossbatting Lumbering Elephant into Softhands's safe belly. The score was 68/4 at that point and the Kytes were already celebrating and expecting an early beer. But the truth was when they had to do with water only at drinks the TB had scored 99 for 4 wickets and were dangerously batting at the required pace.
Upon resumption, the Kytes' bowlers became baffled by some appeal rejections and Lumbering Elephant had to be calmed down by his teammates after the opposing batsmen (and umpires) resented some of his expletives.
Lumbering Elephant finally got his reward by trapping lbw T. Chino (12), Wyverns' regular wicket keeper, a young and capable player who must be pushing hard to take the national team's keeping gloves
Decrepit Napoleon made a mess of a cutter from Castaignede-Barrel-XXX which clipped Sameer's outside edge to the general wrath in spite of some lame excuses ("Genius told me to look for the inswing and prevent the extras...) and the Kytes had to wait until Genius produced a floated yorker to take Dinesh Shandiliya's (16) middle stump. Score 141 for 6 and TB going well. Castaignede-Barrell-XXX finally induced Sameer in one mor false shot which skied to the covers into the Genius' safe hands. Score 149 for 7. C-B-X got his fourth, lbw-ing N. Kanna (1) with a full toss on the batsman's toes, a lucky decision in spite of our dear Ozzie's arguments to the contrary. Score 158 for 8.
Then at 177 and TB well on par, came the catch of the day which won the match. Genius bowled short and K. Edogawa (16) lustily wacked it baseball-style only to see the ball lodge into the the left hand of Lumbering Elephant standing like a scarecrow at mid-on. The ball did not even hurt his hand.
It was left to Kojak to finish the job with a plumb lbw to dispose of Amit (2) while a disconsolated H. Hayashi (6*) was left stranded at the other end.
Great fun and a very useful practice in the end and thanks to Tokyo Bay Districts C.C. who sportingly congratulated the Kytes who could not wait to go to Yoshida Sobaya to celebrate their second win in a row and boast about their newly found form!



14/03/2003
Friendly: Arbab "Kojak" Mohammad saves the day for the Kytes against a gritty MAX C.C.!
Shizuoka Kytes C.C.: 131 (25 overs) 37.2 overs)(Arbab Mohammad, 62; H. Uemura, 3/11; M. Okamoto, 3/22)
MAX C.C.: 124 (T. Yamada, 39; T. Phillips, 3/10; 3 run outs)
Shizuoka Kytes C.C. won by 7 runs
Todd "Lumbering Elephant" Phillips writes:
Finally, the weather was good to us as the Shizuoka Kytes opened up the season with a match against Max from Tokyo. Shizuoka won the toss and decided to bat first, then faced one of the most bizarre 1st overs to be bowled. 4 wides to start, a full toss next which only got us a single then a wicket, our captain, Neil, continuing on with his form from last season, another wide, before the bowler settled down. Arbab a.k.a Kojak, a regular member of the Kytes since last year, came in to replace our rather dejected captain and went on to smash a quick fire 62 before holing out to mid-on. I offered some support with 20 before playing an incredibly spastic shot known as the ' let's not look at the ball or move my feet ' shot then hearing that all too familiar ka-chink sound as one's off stump is disturbed. Stupid! But other than that, it was another sad batting display from the Kytes. 100/3 after 12 overs to be all out for 131 after 25! Of that total, 32 were extras including 26 wides from the Max bowlers. Thanks for that, Max. Best bowlers for Max were M. Okamoto with 3/22 off 6 and surprisingly H. Uemura with 3/11 off 7. Good work!
Despite not having Robert's infamous spicy as hell vege curry for lunch, Sharpie opened the bowling with a fiery couple of overs but was extremely unlucky not to capture at least one scalp. However he did treat the Japanese umpires and players to some 'colourful' Australian English as the ball somehow kept beating the batsman but missing the stumps. At the other end, Arbab was putting ball after ball on the spot forcing the batsmen to defend and defend. Excellent bowling but alas no wickets down. Then, Sharpie made the break, it had to come really, with two successive inswinging yorkers but wasn't quite able to get a hatrick. Still it was good start. I eventually came on and produced a tidy spell claiming 3 wickets in the process. So at that stage Max were in deep trouble at 45/5 after 20 or so overs. Shizuoka were well in the driver's seat but we decided to pull over and have a picnic on the side of the road. Firstly, there were a few dropped catches and run-out opportunities, then lots of byes finishing with a nightmare over from J. Rowe a.k.a the Startled Gazelle which included 10 wides. Also T. Yamada put in an aggressive knock of 39 before tragically running himself out. However that was after he ran out 2 other Max players including his captain who didn't face a ball at all. (You see Neil, there are always people worse off than you). I don't know whether T. Yamada did more harm or good for his team but one thing's for sure. He definitely needs to work on his judgement of singles and calling! Anyway it was nail biting stuff until J. Chamberlain a.k.a. The Missing Link or sometimes known as Pants thankfully bowled the last guy out with Max only needing 7 more runs for an upset. Phew!!!! It was too close for comfort!
Special mention should go to our bowlers for really tying down their batsmen with some accurate deliveries. Notably, Sharpie who ended up with 2/18 off 8, Kojak: 0/14 off 8, myself: 3/10 off 7 and our beloved captain: 0/18 off 8. Also Arthur, our youngest member at age 14, got his first catch in the outfield and scored his first boundary with the bat. Well done mate! Keep it up! However, 3 dropped catches and a couple of chances gone begging behind the stumps certainly prolonged Max's innings. A win's a win I suppose but Shizuoka certainly needs one or two more batsmen to put on more runs for us. Otherwise, our bowlers will be defending smaller totals than last weekend's effort and against better sides too! Not something to look forward to but it is something for the lads to think about or even perhaps, pray about!
Report by Todd Phillips a.k.a. Lumbering Elephant.

14/12/2003
The Fuji Grounds are being made ready for the ICC-EAP Tournament next May!
Read Mark McTamney's message below!: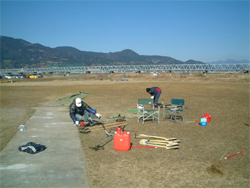 Dear everyone
Firstly, congratulations on each of you playing a role in the development of cricket in Japan. Thank you from the ICC, thank you from theJCA, thank you from FFECCand thank you from the grounds committee for the EAP challenge. For the record, we had 36 volunteers on the Saturday and 32 on the Sunday, representing KCL division 1 and 2, women's teams, and university teams - an excellent representation of cricketers in Japan. Well done to all involved.
Thanks again and see you all on March 14 for the re-seeding of the second ground....
Best regards,
Mark McTamney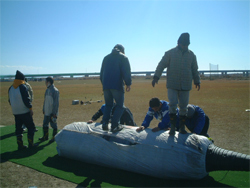 23/11/2003
Pacific Cup: Tokyo Indian Engineers C.C. crush undermanned Shizuoka Kytes C.C.:
Tokyo Indian Engineers C.C.: 124 (Sanjeeb, 40; M. Sharpe, 5/37)
Shizuoka Kytes C.C.: 50 (Ashok Kumar, 6/5, Bikash, 3/11)
Tokyo Indian Engineers C.C. won by 74 runs

09/11/2003
Friendly:
Adore C.C. finally get their revenge on Shizuoka Kytes C.C.:
Shizuoka Kytes: 134/6 (P. Harris, 54)
Adore C.C.: 135/5 Y. Murata, 58*)
Adore C.C. won by 5 wickets

25~26/10/2003
Pacific Cup:
Tokyo British Embassy C.C. blasts Shizuoka Kytes C.C. in "double header"
Shizuoka Kytes C.C.: 106/9
Tokyo British Embassy C.C.: 107/ 3; D. Benson, 39*, W. Daley, 34)
Tokyo British Embassy C.C. won by 7 wickets

05/10/2003
Pacific Cup:
Shizuoka Kytes C.C. start well against Tokyo Indian Engineers C.C.:
Shizuoka Kytes C.C.: 133 (M. Sharpe: 60; P. harris, 35; Gijo Shivan, 3/16)
Tokyo Indian Engineers C.C.: 72 (J. Chamberlain, 4/26)
Shizuoka Kytes C.C. won by 61 runs.
Present Pacific Cup standings:
Tokyo Indian Engineers: 1 win, 1 tie, 1 loss
Shizuoka Kytes C.C.: 1 win
Tokyo British Embassy C.C.: 1 tie, 1 loss
The Lord of The Ringes revisited!:
After he great battle which saw the Kytes House's victory over the dark foes from the East, Monseigneur Phllip Harris, the gate-keeper, sent an urgent message by magic scroll to the Grand Old Vizier, Guardian of the Archives and Armoury, to beg him search for his Betrothal Ring, which had eluded him inside his gauntlet that he had left with his weapons inside the Armoury Chamber.
Your servant, in spite of excruciating pain and worry caused by wobbling knees, an arthritic back and a flabby stomach upset by the previous night victory celebrations, finally unearthed the Ring from under a pile of bloody garments carelessly thrown in with armours and what else, and took the jewel in his keeping until Monseigneur Phillip Harris deigns pay him a visit. Although the Grand Old Vizier had immediately informed him of his successful search, the nobleman curtly answered he was enjoying his momentous bachelor state and was not in a hurry to resume his happy marital duties. Needless to say, Lady Meredith was not in the vicinity when her husband had answered your servant's message on the secret Message Dragon Link!

28/09/2003
Kanto Cricket Division 1:
-Division 1 Semifinals:
Tokyo Giants beat Fuji Far East C.C. but Fuji Far east C.C. has T. Sugimoto to thank for scoring the best-ever score by a Japanese batsman in Division 1 (72)to amass enough runs and finish 6th, thanks to a better run-rate:
Tokyo Giants C.C.: 203 (33 overs) (Jahangir Babar, 59; H. Takahashi, 3/40)
Fuji Far East C.C.: 166 (T. Sugimoto, 73)
Tokyo Giants C.C. won by 37 runs

21/09/2003
Kanto cricket league Division 1
Typhoon prevents game between Fuji Far East C.C. and Friends XI C.C. to give a lifeline to Fuji Far East C.C. and eliminate Friends from semi-finals for the first time ever!

03/08/2003
Millennium C.C. overwhelms Fuji Far East C.C.
Millennium C.C.: 159 (33.4 overs) (Mohammad Rizwan, 37; Munir Ahmed, 31; J. Saito, 3/41)
Fuji Far East C.C.: 87 (28.1 overs) (H. Takahashi, 37; Mohammad Rizwan, 4/11)
Millennium C.C. won by 72 runs

06/07/2003
Kanto League Division 1:
Fuji Far East C.C. overwhelms Adore C.C. in spite of somewhat difficult conditions:
Fuji Far East C.C.: 156/7 (Extras, 55)
Adore C.C. 121 (T. Takita, 36, Masaki Saito, 3/15)
Fuji Far East C.C. won by 35 runs
Rain prevents important game between Shizuoka Kytes C.C. and Tokyo Indian Engineers C.C.
Shizuoka Kytes C.C. vs. Tokyo Indian Engineers C.C.: game drawn (wateerlogged ground)
Whereas Fuji Far East C.C. managed to hold their games and even enjoy a couple of hours of sunshine, eavy rain during the night and until late in the morning, with occasional drizzles all day prevented the game, meaning that the Kytes will probably finish 7th in Division 1 and the Tokyo Indian Engineers C.C. will have to win all their remaining games to qualify for the semi-finals

05/07/2003:
Some pictures of new and semi new members!
| | | |
| --- | --- | --- |
| Arbab Mohammad | Stuart Black | Asanka Senaka |
-Arbab Mohammad hails from Pakistan and is the younger brother of former Kytes' captain, Imtiaz Mohammad. Presently lives in Shimada. All-rounder. Nickname: "Kojak". Joined the club in Autumn 2002.
-Stuart Black hails from Australia. Joined the Kytes in May 2003, thanks to this homepage. Presntly lives in Tokyo. All-rounder.
-Asunka Senaka hails from Sri Lanka. Prsently lives in Shizuoka where he is studying japanese. Was introduced to the club by Melvin de Silva. Bowler.

22/06/2003:
Kanto League Division 1:
Robb McKenna's century helps the Kytes renew their winning ways in spite of a courageous Adore:
Shizuoka Kytes C.C.: 226 (R. McKenna, 126; Y. Hashimoto, 5/37)
Adore C.C.: 108 (S. Kanazawa, 37; Melvin De Silva, 3/25)
Shizuoka Kytes won by 118 runs.
Umpires: N. Kanna & N. Shiramizu
Scorers: K. Mamda, R-G. Martineau

15/06/2003:
Kanto League Division 1:
M. Lay & Kamran Ali save Yokohama C. & A.C. from blushes against a 9-man Fuji Far East C.C.!
Fuji Far East C.C.: 100
Yokohama C. & A.C.: 104/6 (M. Lay, 38)
Yokohama C. & A.C. won by 4 wickets
Umpire: D. Envall

08/06/2003
Kanto league Division 1:
Rag-rag Shizuoka Kytes no match for new-look Millennium!
Shizuoka Kytes C.C.: 135 (R. McKenna, 38; 3 run outs9
Millennium C.C.: 138/2 (Munir Ahmed, 81)
Millennium C.C. won by 8 wickets
Umpire: J. Saito

25/05/2003
Kanto League Cup, Division 1:
Depleted Shizuoka Kytes C.C. no match for Yokohama Country & Athletics Club:
Shizuoka Kytes C.C.: 132/6 (Melvin de Silva, 59*; Mark Ferris, 8 overs, 3 maidens, 3 wickets for 9)
Yokohama C. & A.C.: 133/2 ( Mark Ferris, 60*, Michael Lay, 40)
Yokohama c. & A.C. won by 8 wickets.
Umpire: Jarrad Shearer
Scorer: Hiroko Hirano

11/05/2003
Kanto League Cup, Division 1:
Friends XI C.C. breeze past a decimated Shizuoka Kytes C.C.
Shizuoka Kytes C.C.: 128 ( R. McKenna, 55; M. Walker, 32; Manzoor Ahmad, 3/11; Aamir Ali, 3/21; Shahensha Hussain, 3/28)
Friends XI C.C.: 133/2 (Asad Ali, 45; Umar Farooq, 48)
Friends XI C.C. won by 8 wickets.
Umpire: David Envall
A decimated ( 6 starting players either injured or at work) Kytes was no match to Friends XI C.C. who this time brought their best team!

20/04/2003
Kanto Cup Cricket League:
Night and morning deluge again plays havoc with Division 1!:
Thegames between Shizuoka Kytes C.C. vs. Tokyo Giants C.C. and Fuji Far East C.C. vs. Tokyo Indian Engineers C.C. were washed out and drawn.
Fuji Far East C.C., Shizuoka Kytes C.C. and Tokyo Indian Engineers C.C. were left with 4 points, whereas they could have hoped for a minimum of 5!
The more galling, when the skies started to clear up around 11:30!

06/04/2003
Last net practice:
Not many members this time as many people were away on holidays or at work or biking!
Nonetheless, we have confirmed two new members, ladies, would you believe it! Namely, Ms. Kaori fukushima, 25, working for Fujitsu and seems to enjoy bowling in particular, and Belle Harrison, 12. who does not enjoy her father kissing her in public! When shall we be able to field a full ladies team in the national championship?

06/04/2003
Kanto Cup Cricket League:
Shizuoka Derby did not occur as rain plays havoc once again!
The game between Friends XI C.C. vs. Tokyo Indian engineers C.C. and the Shizuoka Derby between Fuji Far East C.C. vs. Shizuoka Kytes C.C. could not take place as more than 30 hours of continuous rain flooded both grounds in Fuji City and Shizuoka City!

30/03/2003
Net practice with new members!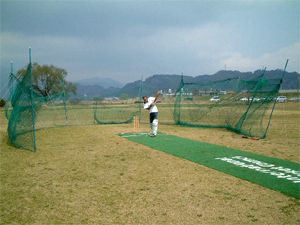 As our scheduled friendly against Tokyo Giants had to be canceled due to the involvement of their captain with the National Team Camp, we held a net practice where we had the pleasure to make acquaintance with new players!
Viraj Besaram could not make it, but we welcomed a new member in Sampath Senaratna, a very useful bowler, and Allan Hamer's son david (12) who has become our youngestd member ahead of Arthur Harrison!
David Hamer
| | |
| --- | --- |
| Melvin De Silva | Chanuka Sanjeewa |
| | |
| --- | --- |
| Sampath Senaratna | Charith Gamage |

24/03/2003
Cricket humour!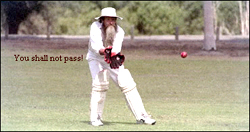 No, this is not R-G Martineau impersonating Gandalf!
(Courtesy of Bruce Harris)

23/03/2003
The Kytes beat Wyverns out of nowhere in their first friendly of the year!
Shizuoka Kytes C.C.: 120 (Melvin De Silva, 49;Extras, 36; M. Mori, 3/13, Yanai, 3/18)
Wyverns C.C.: 106 (N. Harrison, 3/13)
Shizuoka Kytes won by 14 runs.
New Players and Fans!
On Sunday March 23rd, we had again the pleasure to welcome new players and a very enthusiatic fan for our game against Wyverns! All of them come from the distant island of Sri lanka!
They are Viraj Beasaram (bowler), Melvin de Silva (All-rounder), Chanuka Sanjeewa (bowler), Charith Gamage (Batsman) and our newest fan, Sujith Chaminda!
I hope we shall have their pictures next week!

16/03/2003
New player: Phillip Harris!
On Sunday March 16th, we had the plesaure to welcome Phillip Harris, an all-rounder from Melbourne, Australia, who presently lives in Susono City!


16/03/2003
We put the flex pitch on the pitch!

26/01/2003
KCL AGM
The Kanto Cricket League held its Annual General meeting on Sunday January 26th at the Yokohama Country and Athletics Club.
Among the main points discussed, the league saw a slightly different composition with an increase from 6 to 8 clubs participating in the First Division, whereas the Second Division will include 10 teams divided into groups.
Both divisions will feature semi-finals and finals. The bottom 2 teams in Division 1 will go down to be replaced by the 2 top teams in Division 2.
A new KCL Committe was elected and is comprised of:
Biju Paul, Imamura Kei, Kamran Ali, Kojima Hideharu, Martineau Robert-Gilles, Shearer Jarrad, Syed Aamir Ali.
Umpires shall be given more authority, while an umpire seminar will have to be attended by all clubs.


06/01/2003
Mark "Coatsy" Coates has a new address!

Mark has changed his e-mail address! Write to him at:
mcc100lbw@yahoo.co.uk

20/12/2002
Greetings from Martin Firbank: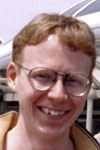 Dear All!
Just a quick note to wish you and all the Kytes a Happy Christmas and
peaceful 2003.
How is the cricket in Shizuoka going? When I last looked on the web-site it
seemed the team had been quite successful.
I still manage to turn out for my local team in England, however, I think we
should keep any references to the national team's performance in Australia
to a minimum.
Hope all is well.
Best wishes
Martin.


08/12/2002
M. McTamney nominated for the Kanto Cricket League Awards!:
Division 1 Champions: Tokyo Giants C.C.
Division 1:
Best Batsman: Avinash Jadhav (Y.C. & A.C.)
Best Bowler: Shahzad Siddiqui (Friends XI C.C.)
Best All-rounder: Aamir Ali (Friends XI C.C.)
Division 2:
Best Batsman: Ijaz Ahmad (Pakistan Eaglets c.C.)
Best Bowler: S. Nakazawa (Adore C.C.)
Best All-rounder: M. McTamney (Fuji Far East C.C.)

29/11/2002
The new flex pitch has arrived!
On Wednesday November 27th, Mark Sharpe and Robert-Gilles Martineau rode all the way to Fuji to pick the new flex pitch cricket mat sent from South Africa and sponsored by the ICC through the JCA!
The new mat shall allow us to play games even after heavy rains on days preceding games. Another such mat is in service on Fuji Second Ground and more are expected to come every year!
Fuji Far East also gracefully offered us nets for better practice, so no excuse from now on!

27/10/2002
Pacific Cup:
Tokyo Indian Engineers C.C. clobber Shizuoka Kytes C.C. again!
Tokyo Indian Engineers C.C.: 147 (Nari, 43; Dinesh, 30; M. Sharpe, 3/20)
Shizuoka Kytes C.C.: 76 (3/19)
Tokyo Indian Engineers won by 71 runs

20/10/2002
Pacific Cup:
Shizuoka Kytes c.C. Vs. Tokyo British embassy C.C. washed out

13/10/2002
Pacific Cup:
Tokyo Indian Engineers c.C. clobber Shizuoka Kytes C.C. to take spot in the final:
Tokyo Indian Engineers C.C.: 274 Sanjeeb, 58; Vishwa Gosh, 53; Prasad Pooppully, 52; T. Matsuura, 4/42)
Shizuoka Kytes C.C.: 72 (Ashok Kumar, 4/23)
Tokyo Indian Engineers C.C. won by 202 runs

06/10/2002
Pacific Cup:
Tokyo British Embassy C.C.'s batting too much for Shizuoka Kytes C.C.:
Shizuoka Kytes C.C.: 147 (R. McKenna, 77; A. King, 4/12; D. Envall, 3/21)
Tokyo British Embassy: 151/4 (A. Winston, 34)
Tokyo British Embassy C.C. beat Shizuoka Kytes C.C. by 6 wickets


22/09/2002
Kanto Cricket league Division 2 Semi-Final:
Fuji Far East C.C. promoted to Division 1 in 2003 after beating Tokyo British Embassy C.C. by 3 wickets thanks to partnership between K. Imamura and M. McTamney:
Tokyo British Embassy C.C.: 79 (Saito, 3 wickets)
Fuji far East C.C.: 84/7 (45* partnership between K. Imamura and M. McTamney)
Umpitre: N. Harrison
Fuji Far East C.C. won by 3 wickets

15-16/09/2002
Rain plays havoc Pacific Cup:
Tokyo Indian Engineers C.C. vs. Shizuoka Kytes C.C.
Match postponed

19/07/2002
Fuji Far East C.C. make short work of MAX C.C. to make sure of a spot in the semi-finals:
MAX C.C.: 92 (29.5 overs) (Extras, 32; T. Miyazaki, 3/12; H. Takahashi, 3/35)
Fuji Far East C.C.: 93/2 (28.3 overs) (Extras, 38, T. Kawashima, 30*)
Fuji Far East C.C. won by 8 wickets
Umpire: T. Fuji

07/07/2002
Three new players have joined the Shizuoka Kytes C.C.:
The game held against the Tokyo Indian Engineers C.C. saw the inclusion of three new players in the Shizuoka Kytes C.C.. They all are presently studying Japanese at the Shizuoka International Language School.
| | | |
| --- | --- | --- |
| Sandeep Kumar | Rajeev Taliyan | "Vipin" Rahul Kumar |

07/07/2002
Robb McKenna's century and bowlers see Shizuoka Kytes C.C. past Tokyo Engineers C.C.
Shizuoka Kytes C.C.: 196 (39.4 overs) (R. McKenna, 109; Biju Paul, 3/53)
Tokyo Indian Engineers C.C.: 103 (19.3 overs) (M. Sharpe, 4/41; M. Wilson, 3/18)
Shizuoka Kytes C.C. won by 93 runs
Umpire: Chandrasiri

23/06/2002
Kanto Cricket League Division 1:
Injury-depleted Shizuoka kytes outclassed by Yokohama C. & A.C.
Yokohama C. & A. C. : 276/4 (40 overs) (A. Coles, 77*; Avinash Jadhav, 71; M. Ferris, 63)
Shizuoka Kytes C.C.: 111 (28 overs) (T. Phillps, 45*, Kamran Ali, 4/17)
Yokohama C. & A.C. won by 165 runs



14/06/2002
Patrick Harrington' wife Chikae gives birth to a son!
Healthy? - Yes, both mother and baby.
Below is Patrick's statement:
What is it? - Boy
On time? - A few weeks early.
Weight? - Bit heavy.
Height/length? - No idea.
Name? - Dunno yet(not Bekuhamu).
Looks like? - A little pink baby with black hair.
Where's Monica? - With her grandparents, merci dieu.



09/06/2002
Kanto Cricket league
Division 1:
Friends XI C.C. clobbers injury-ridden Shizuoka Kytes C.C. for all kinds of records!
Friends XI C.C.: 371 (Munir Ahmed, 164; Aamir Ali, 71, Asad Ali, 45)
Shizuoka Kytes C.C.: 101 (T. Matsuura, 30; Shahzad Siddiqui, 5/13)
Friends XI C.C. won by 270 runs
Division 2:
Fuji Far East C.C.'s "Magnificient Seven" beat Bangladeshi Tigers C.C.!:
Fuji Far East C.C.: 157 ( Extras: 43; M. McTamney, 40*)
Bangladeshi Tigers C.C.: 109 (H. Takahasi, 3/31)
Fuji Far East C.C. won by 48 runs

26/05/2002
Friendlies:
Wyverns C.C. dominate Shizuoka Kytes C.C.:
Shizuoka Kytes C.C.: 159/8
Wyverns .C.: 160/7
Wyverns C.C. won by 3 wickets

12/05/2002
Kanto Cricket League
9 Fuji Far East overwhelm 11 Tokyo Bay Districts in Division 2 Group A:
Fuji Far East C.C.: 150/6 (Extras, 49; M. McTamney, 36*; N. Kanna, 3/15)
Tokyo Bay Districts C.C.: 76 (K. Orita, 3/6)
Fuji Far East C.C. won by 74 runs
Umpire: Munir Ahmed

29/04/2002
Mark and Yukapi Chaffey will visit us!
Mark and his wife Yukapi shall spend the next two weeks in japan with a finale on the 26th when Mark will play for the Kytes!

28/04/2002
Friendly: Shizuoka Kytes go past Adore C.C., thanks to Matthew Sharpe and Mark wilson's bowling:
Shizuoka Kytes C.C.: 124 (Shimizu, 4/20; T. Ito, 3/17)
Adore C.C.: 97 (M. Sharpe, 7/23; M. Wilson, 3/15)

21/04/2002
Kanto Cricket League
Division 1:
2 days of rain wash out the game between the Kytes and the Giants:
Shizuoka Kytes C.C. vs. Tokyo Giants C.C.: Match drawn (rained out)
The game had to be cancelled at 23:00 on Saturday the 20th due to a lot of rain on Friday and a bad weather report for the week-end. On sunday it actually pissed from the middle of the night til Monday morning. Only Todd bothered to call on Sunday morning (where was he when we tried to get in touch with him on Saturday night?). He was subsequently offered a swim which he refused on the grounds it was still unseasonable for such frolics!
The extra point for that "draw" against last year's champions could prove vital atthe end of the year!

14/04/2002
Kanto Cricket League
Division 1: Kytes crush Millennium
Shizuoka Kytes C.C. 190/7 (40 overs) (M.Sharpe, 71; R. McKenna, 47)
Millennium C.C.: 73 (23.1 overs) (M. Wilson, 5/5)
Shizuoka Kytes C.C. won by 117 runs
R-G. Martineau reports:
A rare sunny, hot day in April on a new green turf pitch and ground prepared under the exacting standards of Nicholas Shannon saw the first match of the 2002 KCL seemingly easily won by the locals.
Actually, had Millennium not dropped 5 sitters given away by the first 3 batsmen and botched 2 run-out chances, whereas the Kytes dropped only one hard chance and exploited a rare tight run out opportunitye (P. Harrington), the context might have been a lot tighter in the end.
The Kytes' new Captain, Neil Harrison, having won the toss, he decided to bat first on a pitch he knew well since he happened to be also one of the main "club's gardeners" (could you guess the other ones?).
Matthew Sharpe (71) and Robert Hutton (15) awarded his good judgement with a solid 75 partnership in contrasting styles. Although Matthew Sharpe was dropped twice, he suffered a freak dismissal by a tenacious Shu Kanzaki, effectively robbing him of a dream century.
Robb McKenna did the rest by anchoring the innings with a solid 47 to help the Kytes reach a total of 190, their best for a long time.
After Matthew Sharpe and Robert Hutton had limited the Millennium to only 36 runs in the first 12 innings contributing to the fall of 3 wickets, Mark Wilson came to prove that he ought to have been elected the best bowler last year by destroying the opposition with the figures of 5 overs, 3 maidens , 5 wickets foronly 5 runs conceded.
Millennium finally folded for 73 after the Kytes' Captain gave some useful practice to his other bowlers.
At the following drink up at Yoshida Soba Shop, matthew Sharpe, backed by a sporting Mark Wilson was voted Man of the Match.
Division 2: Eaglets outplays Fuji Far East


13/04/2002
Kanto Cricket League Schedule changes:
Due to Yokohama Country & Athletics Club C.C.'s refusal to travel to Shizuoka this year and their consequent request for a change of date being upheld by the KCL Committee, a change had to be operated in this year's schedule.

31/03/2002
Third and probably last (!) practice. More rolling, lawnmowing and cutting!
Wealso had the pleasure to welcome a new player, namely Allan hammer from Australia, whose mother is actually Japanese!

24/03/2002
Second practice, Rolling and a lot of Weeding for the Kytes!
Our youngest member, Arthur Harrison, 12, took part in the practice and showed remarkable coordination and application under the tutelage of no less than 4 coaches. We finally had to stop him!

03/03/2002
2nd AGM finalizes 2002 Kanto Cricket League format:
Tough task ahead for the Kytes to stay in Division 1, while Fuji Far East is favourite for promotion!
The clubs participating in the Kanto Cricket League have agreed to follow the rules of the JCA as a JCA-sanctioned competition, mainly that illegal residents will not be able to qualify for the KCL.
The format of two Divisions is kept as planned in 2001 and reads as follows:
Division 1:
Friends XI C.C.
Shizuoka Kytes C.C.
Millennium C. C.
Tokyo Giants C.C.
Tokyo Indian Engineers C.C.
Yokohama Country & Athletics Club C.C.
Division 2:
Adore C.C.
Fuji Far East C.C.
MAX C.C.
Pakistan Eaglets C.C.
Tokyo Bay Districts C.C.
Tokyo British Embassy C.C.
Wyverns C.C.
The two top clubs of each Division will play a final (KCL Trophy & Plate).
The last two clubs of Division 1 will be demoted to Division 2 in 2003 and the two top clubs of Division 2 will be promoted to Division 1 in 2003.
Report to come soon

19/02/2002

Letter Riitta Jarvelainen, our Fan Club Honorary Chairwoman!
Hi !
Thanks for your greetings. I've been busy as always. Before Christmas I working like maniac trying to get everything done before my holiday. I took 4.5 weeks off as Antony and I went to South-EastAsia: Thailand, Cambodia and Laos.
We travelled by bus from Bangkok to Cambodia, the first place to stay was called Sihanoukville.Sihanoukville is by the sea and has gorgeous beaches. White sand and nobody there!
We spent about two weeks in Cambodia, and basically travelled from one place to another byboat along the Mekong river. It was very beautiful there. The capital of Cambodia, Phnom Penh was a weird place. On the one hand, loads of French looking houses from the time of the French colonialism, and on the other hand, very dusty and dirty roads full of basic hut looking houses.
In Phnom Penh we went to a holocaust museum, it was very interesting. Maybe you remember the times of Pol Pot regime in Cambodia in 1975 - 79? He was a horrible man who caused the killing of nearly 2 million Cambodian people. The museum used to be a prison were Pol Pot's men tortured people trying to make them "proper" communists. After these people were tortured they were taken to the Killing Fields were they were either shot dead or most often beaten dead. They didn't want to spend any bullets as they were expensive so they rather used beating. It was awful.
We also went to see the Killing Fields.
The history of Cambodia is so interesting, that it made the trip exiting. Also there was so much to see in the country.
The royal palace in Phnom Penh was gorgoeus, much more beautiful than the royal palace in Bangkok. Also the temple area Angkor in the middle of the Cambodian jungle was something I have never seen. If you ever have chance to go there, you should definitely go.
And do you know, we went to see some fresh water irrawaddy dolphins in the Mekong river. It was amazing! There are only about 60 of these dolphins left in Cambodia. They are so cute, they noses are flat so they don't look like ordinary dolphins at all.
The most exiting part of the trip was crossing the border of Cambodia and Laos in a border station that is not officially open. We had to pay some money first to the Cambodian officials to be able to leave Cambodia, and then we had to pay some money to Laotian officials to be able to enter Laos! But we made it.
Laos was a very interesting combination of communism and Buddhism. Everything is very slow in Laos, nobody is in a hurry. Sometimes you had to wait for a meal for a long time, and gradually we learnt to order food well before we felt hungry. There were plenty of wats (temple) in Laos, and monks everywhere in their orange robes. The scenery was also so beautiful, it was like I always thought Indo-China would have looked like.
So calm.
In the northern Laos it was quite cold and then it started raining a lot. Then we decided we'd spent the last week of our holiday somewhere in Thailand where it would be warm. We went to a small island called Ko Samet.
Oh, it was so hot and nice there. Just beach and sun and good food. I really enjoyed it. Ko Samet is a national park and it is very well kept. There are plenty of stray dogs but they don't disturb you at all.
One night we heard a dog crying under our hut and thought two dogs are fighting. But soon we also heard some squeaking... We went out to see what is happening, and the dog had given birth, there were 8 tiny puppies there!
Now we're back home and not very motivated doing any work. Winter has been very strange, there is hardly any snow even though this time of year it is usually very cold with loads of snow.
I hope you are ok. Please tell me some news from Shizuoka.
Take care.
br,
Riitta
Ext-Riitta.Jarvelainen@nokia.com

02/02/2002
Shizuoka Cricket club Emblem

We finally have our emblem/logo/arms! thanks to Mr. Tetsu Iwase, owner of Camelot British/Irish Bar in Shizuoka and first official sponsor of Shizuoka Cricket Club (i.e. Shizuoka County C.C., comprising Fuji Far East C.C., Mucha CPC & Shizuoka Kytes CC).
Please check Camelot article on our other HP!

15/01/2002
Anton McCloy's change of e-mail:

Let everybody be informed that Anton's new e-mail is: straw@sf.tokai.or.jp

25/12/2001
Greetings from Mark "Coatsy" Coates

Dear all , a merry christmas and a happy new year from the land of smiles where there is no christmas whatsoever! Hope you are well wherever you are and that times are good now and for the following year. I'm working today(christmas day!) but will be on the beach beer in hand for four days at new year. All the best, Mark
mcc100lbw@hotmail.com


26/12/2000
Greetings and Letter from Mark & Yukapi Chaffey

.

Merry Christmas & A Happy New Year!
Our new address:
9/241, Anzac highway, Plympton, SA, Australia, 5038
tel.: (61)(0)8-83511091
E-Mail: go_chappy@hotmail.com

02/12/2001
2002 Kanto Cricket League Divisions 1 & 2 composition:
The Kanto Cricket League's two new Divisions will read as follows:
Division 1:
Tokyo Giants C.C.
Friends XI C.C.
Yokohama Country & Athletics Club C.C.
Shizuoka Kytes C.C.
Millennium C.C.
Tokyo Indian Engineers C.C.
Tokyo Sri Lanka Lions C.C. (very doubtful)
Division 2:
Tokyo British Embassy C.C.
Fuji Far East C.C.
Adore C.C.
Wyverns C.C.
MAX C.C.
Tokyo Bay Districts C.C.
+ possible 7th club

18/11/2001
Tokyo Indian Engineers C.C. retain Pacific Cup after levelling series against Shizuoka Kytes C.C.
Tokyo Indian Engineers C.C.: 205/8 (Viswa Gosh, 53; Jaganath panda, 36; Vikram, 33; Extras, 33)
Shizuoka Kytes C.C.: 145
Tokyo Indian Engineers c.C. won by 60 runs

14/10/2001
Shizuoka Kytes taking advantage of postponed pictures to do work on their pitch

Your faithful groundskeepers, Nicholas "Nick" Shannon & Robert-Gilles "Grandad" Martineau at work on Wednesday afternoon 14th of November 2001!

Click for more recent pictures of the ground>>

14/10/2001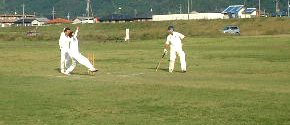 Takashi Matsuura bowling

Friendly: Second-string Kytes beat Adore C.C. with difficulty:
Shizuoka Kytes C.C.: 169/6 (M. McTamney, 56*; Farhan Ulla, 30: Extras, 38) (35 overs)
Adore C.C.: 152/8 (Takita, 39; M. Wilson, 3/19) (35 overs)
Shizuoka Kytes C.C. won by 17 runs

16/09/2001
Kanto Cricket League 2002 Division 1 Play-offs:
Gary Parsons' heroics (6/16 & 49) not enough to prevent Tokyo British Embassy's defeat by Shizuoka Kytes led by Matthew Sharpe's bowling (6/19)
Shizuoka Kytes C.C.: 159/8 (Extras, 43; T. Phillips, 34; G. Parsons, 6/16)
Tokyo British Embassy C.C.: 99 (G. Parsons, 49, M. Sharpe, 6/19, M. McTamney, 3 catches)
Shizuoka Kytes Kytes C.C. won by 60 runs
Umpire: T. Ohira

10/08/2001
The new roller has come to the Shizuoka Ground: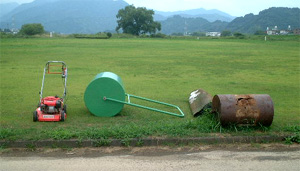 From left to right:
Our new lawn mower (bought by the club for 150,000 yen), the new roller (paid by the KCL for 134,000 yen), the defunct roller (originally kindly offered by Glenn Carter)


14~15/07/2001
Kanto Cricket League:
Shizuoka Kytes make sure of their berth in Division 1 play-offs past Tokyo Indian Engineers C.C. in another bowlers' cliffhanger:
Tokyo Indian Engineers C.C.: 97 (M. Wilson, 4/28; M. Sharpe, 3/22)
Shizuoka Kytes C.C.: 100/8 (Extras, 38)
Shizuoka Kytes won by 2 wickets
Umpire: H. Smith

08/07/2001
Fuji Far East C.C. crush Wyverns C.C. by 9 wickets to send both teams in Division 2:
Wyverns C.C.: 99 (T. Baba, 34; K. Orita, 3/9; T. Yamamoto, 3/25)
Fuji Far East C.C.: 100/1 (H. Takahashi, 61*)
Umpires: A. McCloy & M. McTamney
Fuji Far East C.C. saved some honour for a disappointing season by crushing Wyverns C.C. in one of the most one-sided games of the season. H. Takahashi (61*9) set a second best batting record for Japanese batsmen.
(the recored is held by N. Miyaji of Mullennium C.C. with 64)

01/07/2001
Kanto Cricket League:
Tokyo Indian Engineers C.C. relegate Fuji Far East C.C. to Division 2 in 2002
Fuji Far East C.C.: 151/4 (40 overs) (Extras, 51; T. Kawashima, 37*)
Tokyo Indian Engineers C.C.: 152/8 (37.4 overs)(extras, 43; K. Orita, 3/23; T. kawashima, 3 catches)
Tokyo Indian Engineers C.C. won y 2 wickets

17/06/2001
Kanto Cricket League
Friends XI'S Naeem Qureshi put things right against Shizuoka Kytes C.C. in bowlers' festival!
Friends XI C.C.: 99 (M. Wilson, 3/5; R. Hutton, 3/11; N. Shannon, 3/34; Wides, 33; A. McCloy, 4 catches=record)
Shizuoka Kytes C.C.: 31=lowest innings record! (Naeem Qureshi, 5/8)
Friends C.C. won by 68 runs
Umpire: T. Fuji

10/06/2001
Kanto Cricket league
Kytes tame Lions in major upset to take the lead of Group A!
Tokyo Sri Lanka Lions C.C.: 89 (28 overs) ( T. Phillips, 3/21)
Shizuoka Kytes C.C.: 91/5 (31.3 overs)
Shizuoka Kytes C.C. won by 5 wickets.
Friends XI C.C. confirm their might in big win against Fuji Far East C.C.
Friends XI C.C.: 273/8 (Asad Ali, 52; Aamir Ali, 40; Zafar Iqbal, 38*)=Highest total of the year!
Fuji Far East C.C.: 156 (P. Rundell, 34; wides, 33; Aamir Ali, 5/15; Munir Ahmed, 3/20)
Aamir Ali's bowling figures, second best for the year!
Friends XI C.C. won by 117 runs
Umpires: T. Awazu, Higuchi

27/05/2001
Kanto Cricket League
R. McKenna (60) and Kytes' bowlers too much for Adore C.C.
Shizuoka Kytes C.C.: 148 (R. McKenna, 60; S. Nakazawa: 3/7)
Adore C.C.: 75
Shizuoka Kytes C.C. won by 73 runs
Umpires: H. Uemura, S. Fukumoto

20/05/2001
kanto Cricket league
Shizuoka Kytes C.C.'s bowlers skittle Fuji Far East C.C. to throw Group A open!
Fuji Far East C.C.: 78 (N. Shannon, 3/18; R. Huttoon, 3/20)
Shizuoka Kytes C.C. : 83/3 (M. Sharpe, 36)
Shizuka Kytes C.C. won by 7 wickets
Umpire: Mumtaz Alam

06/05/2001
Kanto Cricket League
Fuji Far East C.C. crushes Adore C.C. with an 184-run third wicket partnership
Fuji Far East C.C.: 241/2 (G. Carter, 106*, T. Kawashima, 51*; extras, 62) (40 overs)
Adore C.C.: 112 (H. Takahashi, 4/14; K. Orita, 3/20) (37.4 overs)
Umpires: T. Fuji & N. Miyaji

22/04/2001
Kanto Cricket League
J. Hanada and H. Kojima's bowling give surprise win for Wyverns C.C. over Shizuoka Kytes C.C.!
Wyverns C.C.: 72 (T. Phillips, 4/6; R. McKenna, 3/25; N. harrison, 3 catches)
Shizuoka Kytes C.C.: 62 (J. Hanada, 5/22, H. Kojima, 4-7)
Wyverns won by 10 runs
Umpires: F. Nakano, T. Kamei
Sujith Dharmasena's bowling helps Tokyo Sri Lanka Lions C.C. crush undermanned Fuji Far East C.C.
Fuji Far East C.C.: 82 (Sujith Dharmasena, 4/12; Indika Anurudha, 3 catches) )
Tokyo Sri lanka Lions C.C.: 85/2 (Fuard Junaideen , 34*)
Tokyo Sri lanka Lions C.C. won by 8 wickets
Umpire: R.A. Fordyce

25/02/2001
Sizuoka Kytes Cricket Club Annual General Meeting
On Sunday February 25th, 2001, the shizuoka Kytes C.C. held their AGM.
The following hierarchy was agreed upon:
General manager: Robert-Giles Martineau : Mobile: 09041977698
e-mail: contact@japan-cricket.com
2001 Captain: Anton McCloy, mobile: 09092200934
e-mail: warts69@hotmail.com
2001 Vice Captain: Ptrick Harrington, Tel.: 054-2564417
e-mail: patch@mail.wbs.ne.jp
Other members (random order): Bruce Harris, Todd Phillips, Tariq Hussain (new!),Aminul Talukder (new!), Syed Dilshad Ali, Hisatsugu Umehara, Takashi Matsuura, Kenji Ichikawa, NeilHarrison, Rob McKenna, Matthew Sharpe,
Nicholas Shannon, Francis Newman,Gerald Ruel, Joel Chamberlain, Kevin Roberts, Muneali Matsumoto
AS far as the 2001 schedule is concerned:
March 25th: First Practice
Kanto Cricket league matches:
April 15th: vs. Indian Engineers c.C.
April 22nd: vs. Wyverns C.C.
May 21st: vs. Fuji/Far East C.C.
May 28th: vs. Adolescents C.C.
June 10th: vs. Tokyo Sri lanka Lions
June 17th: vs. Friends XI C.C.
We shall also have the second edition of the Pacific Cup against our good friends the Indian Engineers C.C.!


---

Hampshire CCC Expats Page
---
Other Cricket Homepages in Japan:
(English)
Japan Cricket Association
Bangladesh Tigers C.C.
British Embassy C.C.
Indian Engineers C.C.
HIBA (Sapporo) C.C.
Lalazar Sports C.C.
Matsuyama C.C.
(also in Japanese)
Nagasaki C.C.
Osaka C.C.
Saga Cricket Club
Yokohama C. & A. C.
------
Sakhalin C.C. (Russia/E-mail only)
------
(Japanese)
Japan Cricket Association
Nippon Cricket Community
Adore C.C.
Aoyama Gakuin C.C.
Chuo University C.C.
Crickies Ladies C.C.
Far East C.C.
MAX C.C.
Senshyuu University C.C.
Keio University C.C.
Milennium C.C.
Team Flying Flapper
Tokyo Bay District C.C.
Tokyo Kooka University C.C.
Wyverns C.C.
---
For Cricket lovers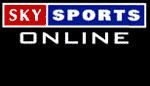 ---
WEATHER FORECAST
(For Cricket players)
---
These are the flags of the countries of all the cricketers who played for the Shizuoka County Cricket Club